This Crown Roast of Pork recipe will wow your holiday guests! Make this beautiful Pork Crown Roast with Whiskey Glaze for Christmas, Easter, or any special occasion. It will be the star of the holiday table!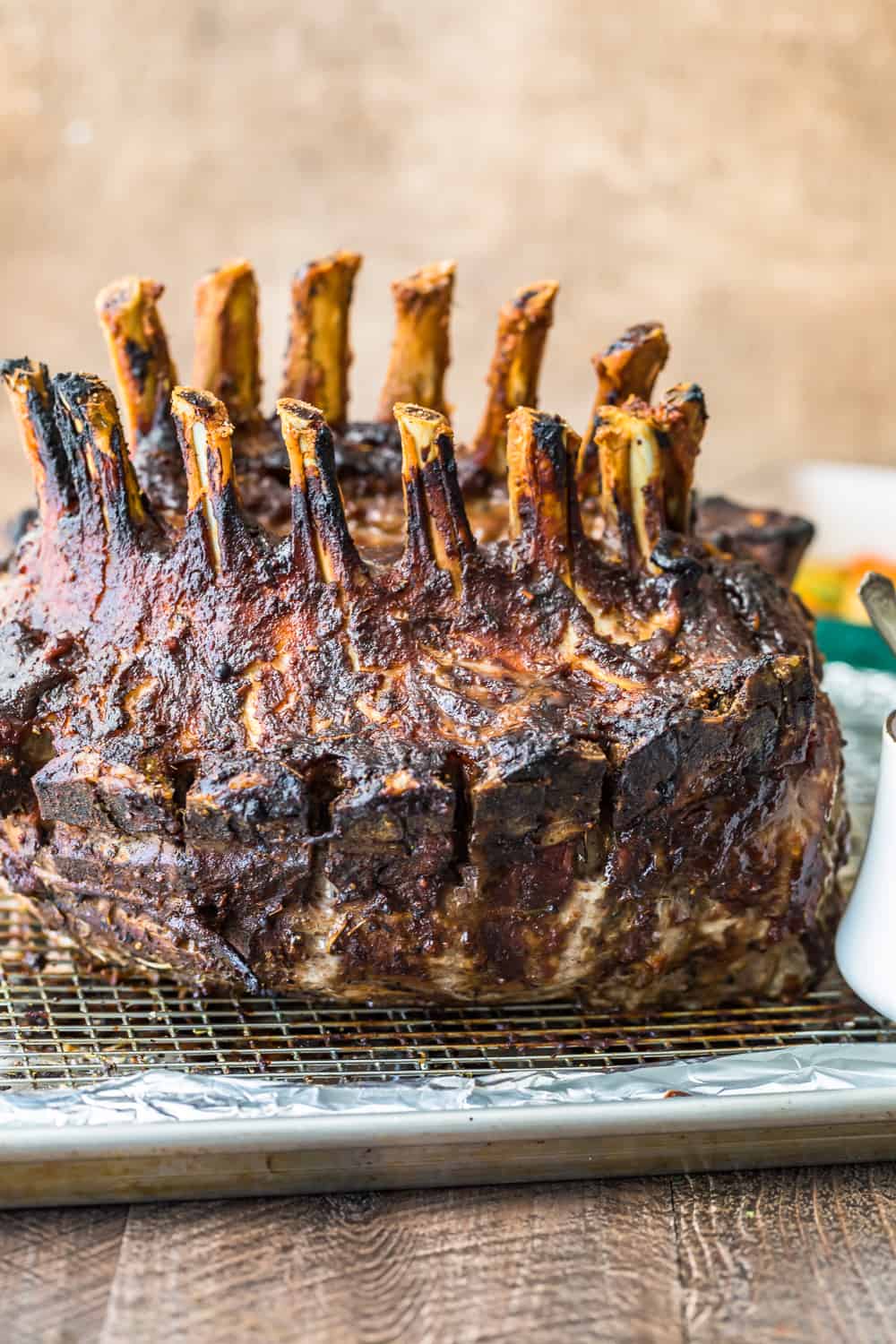 Crown Roast of Pork Recipe
If you're looking for the perfect main dish for an amazing holiday feast, then this Crown Roast Pork Recipe is for you!
Skip the typical turkey and hams this year, and make this pork dish to really wow your guests instead. It looks absolutely beautiful at the center of the table, and it will elevate your Christmas dinner.
My favorite part of this pork crown roast is the delicious whiskey glaze. We brush it onto the meat during the roasting process, then make extra to serve with it. It just adds the best flavor!
This recipe does take quite a while to prepare and roast, so plan ahead. I love this recipe for Easter too, or any occasion that deserves something extra special.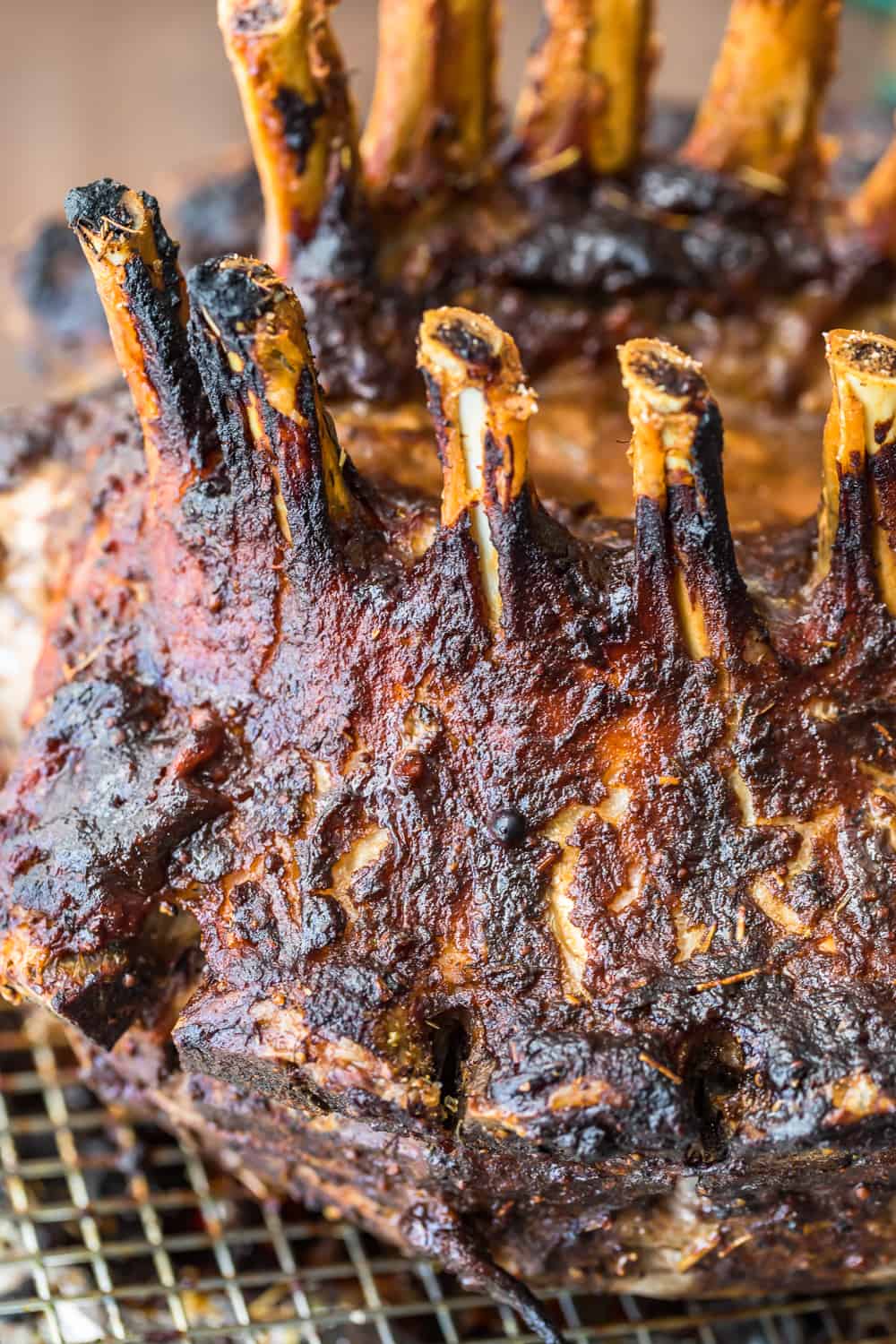 What cut is a crown pork roast?
Pork crown roast is actually 2 bone-in pork loin roasts. The rib bones have been frenched and the chine bones removed. The two roasts are then tied into a crown shape.
It isn't an easy task and the best thing to do is to ask your butcher (about 2 days ahead) to form the crown roast for you.
Whiskey Glaze for Pork
I'm obsessed with this whiskey glaze. Slather it in while it roasts, while it rests, and save some for serving! It adds so much flavor and moisture to the meat.
Glaze Ingredients:
Chicken Broth
Dijon Mustard
Worcestershire Sauce
Whiskey
Minced Garlic
Ginger (paste or ground)
Honey
Apple Cider (or apple juice)
Kosher Salt
Unsalted Butter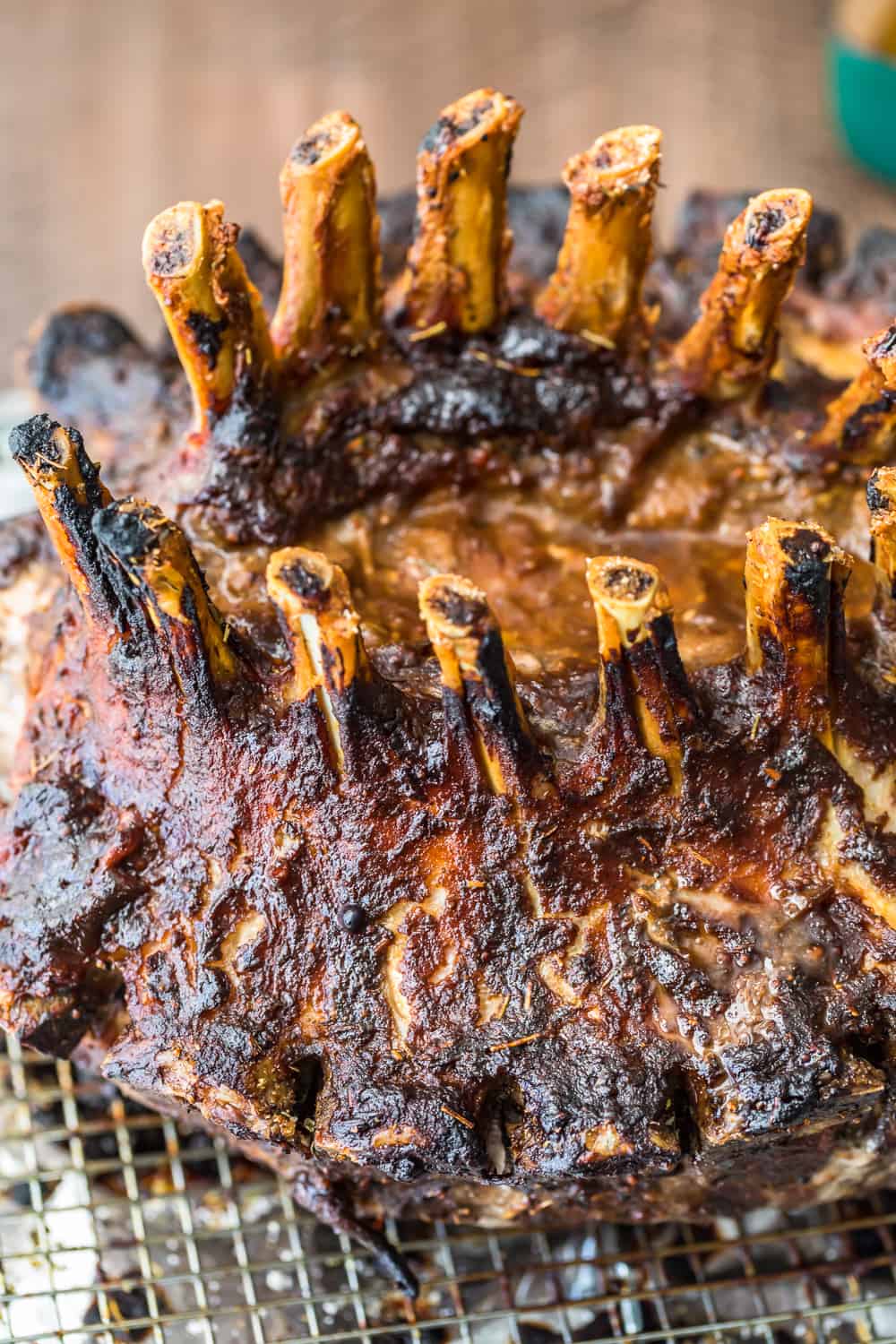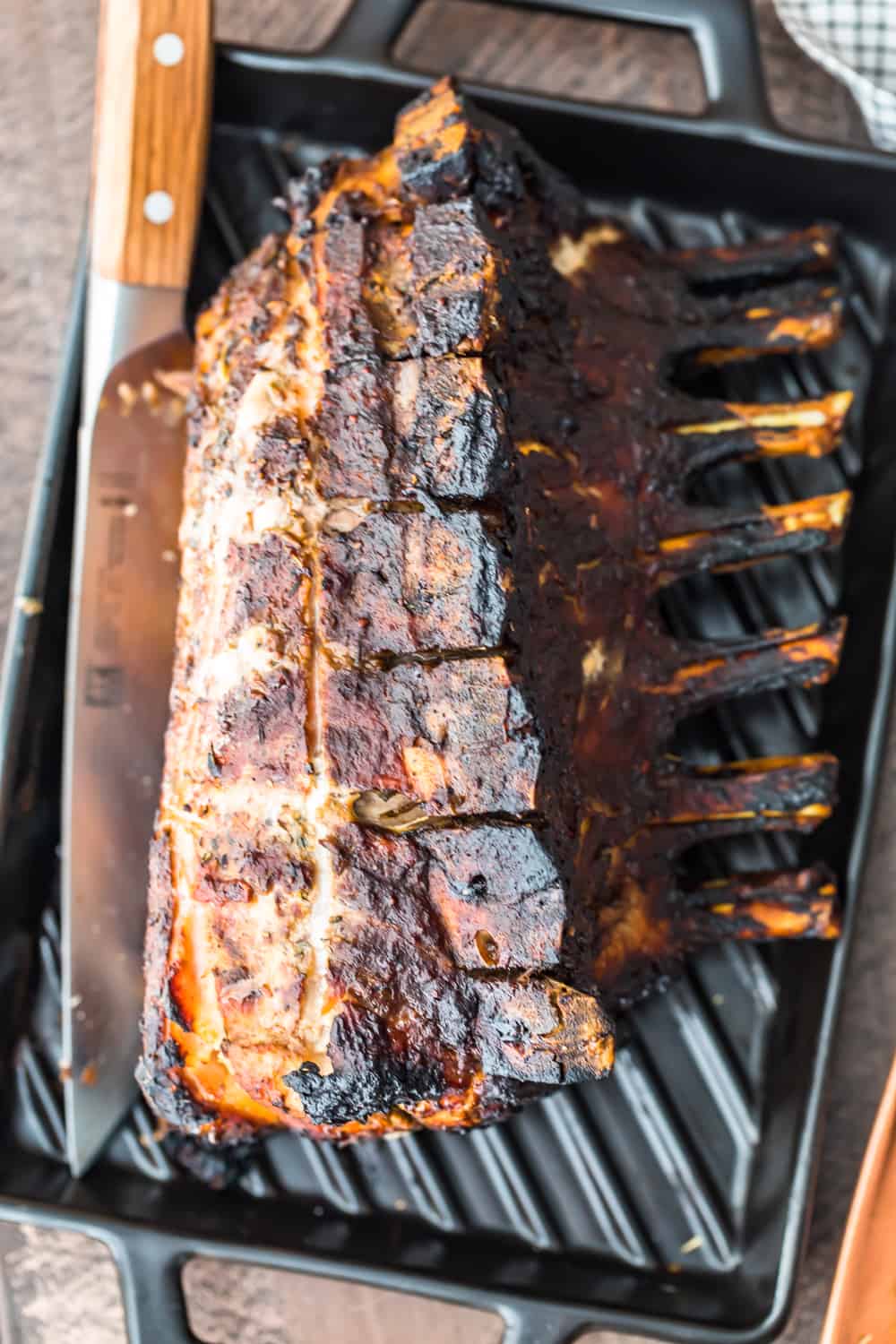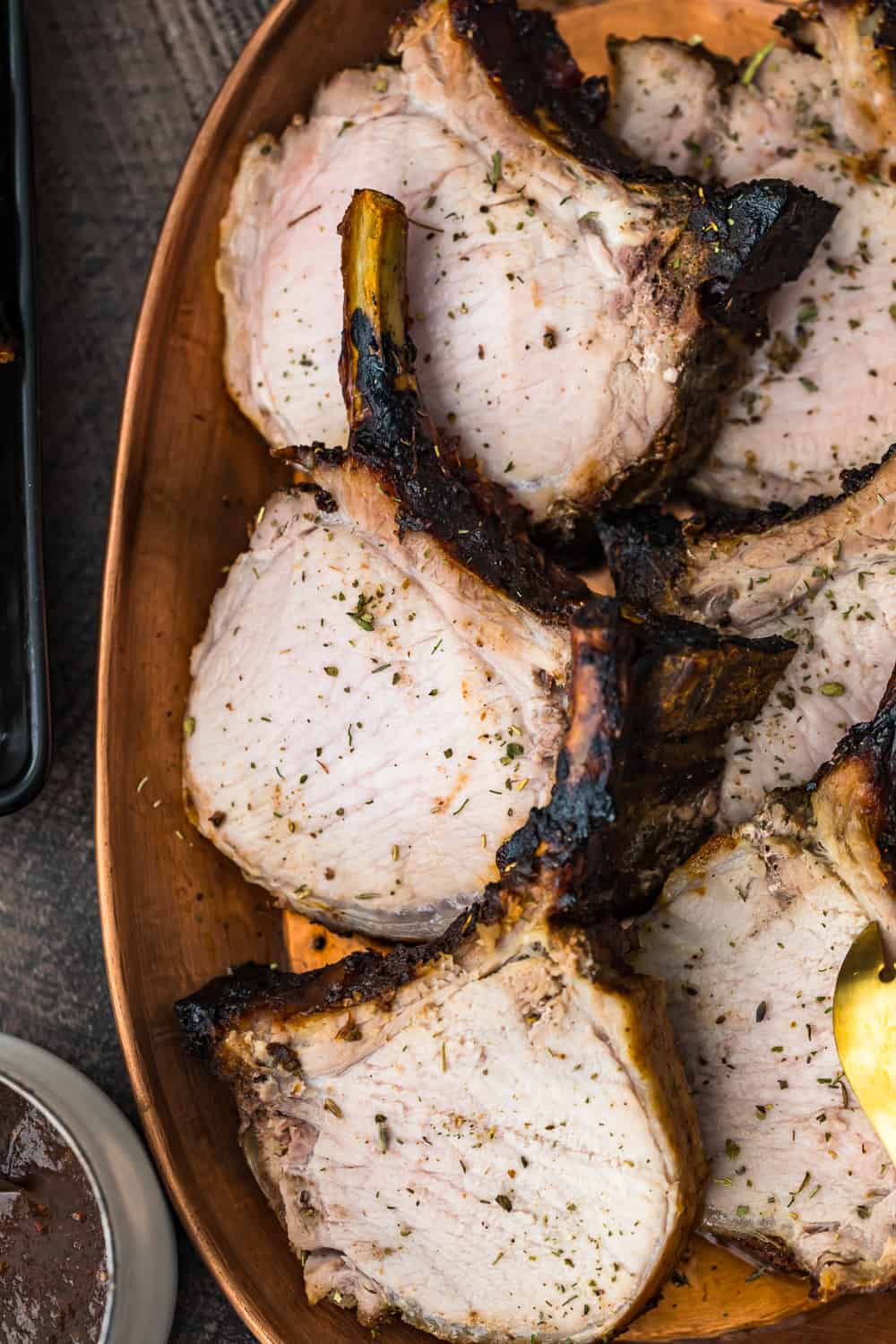 How to Make Pork Crown Roast
This definitely isn't one of those last-minute, throw a meal together, kind of dishes. It takes time to prepare and cook, but it is well worth the effort! That's why I save this for holidays, because it adds something special to the table.
Here are a few tips to keep in mind:
Instead of trying to form the crown roast yourself, ask your butcher to do it for you.
Plan ahead! The roast needs to sit at least 6 hours before cooking, so it is best to prepare and let it rest overnight in the fridge.
A good serving size is about 1 1/2 to 2 chops per person. A 7-9 pound roast will make 14-18 chops.
Internal temperature of pork should reach 140°F. Use an instant read thermometer to check the temp.
After roasting, tent with foil to rest for 20-30 minutes.
How do you cut a crown pork roast?
Each rib bone will become its own chop, so use those as your guide. Use a carving knife to cut between bones.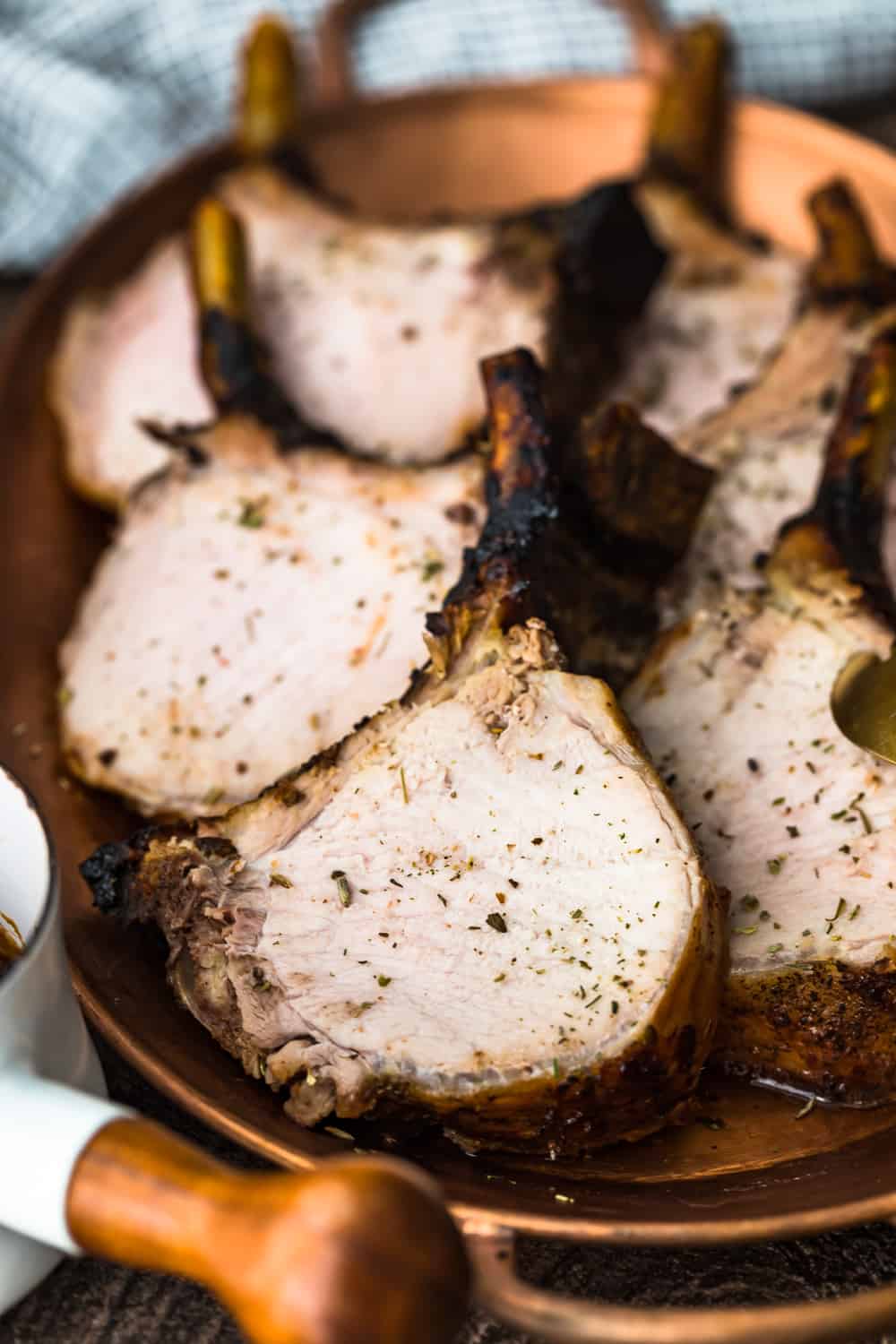 Holiday Dinner Ideas
This pork crown roast is such a wonderful main dish for Christmas dinner. It will add that special touch to create a delicious feast that everyone will love.
Holiday meals are such a special time with friends and family, so taking the time to cook a dish like this just shows so much love. Christmas dinner only comes around once a year, so (usually) I'm willing to spend that extra time in the kitchen to prepare something like this.
Side Dishes to Serve with this Pork Roast
If we're talking about a holiday feast, then we can't forget about the side dishes. I have a huge list of my best Christmas sides and Thanksgiving side dishes, and any of those will due. But here are my favorites to pair with this roast.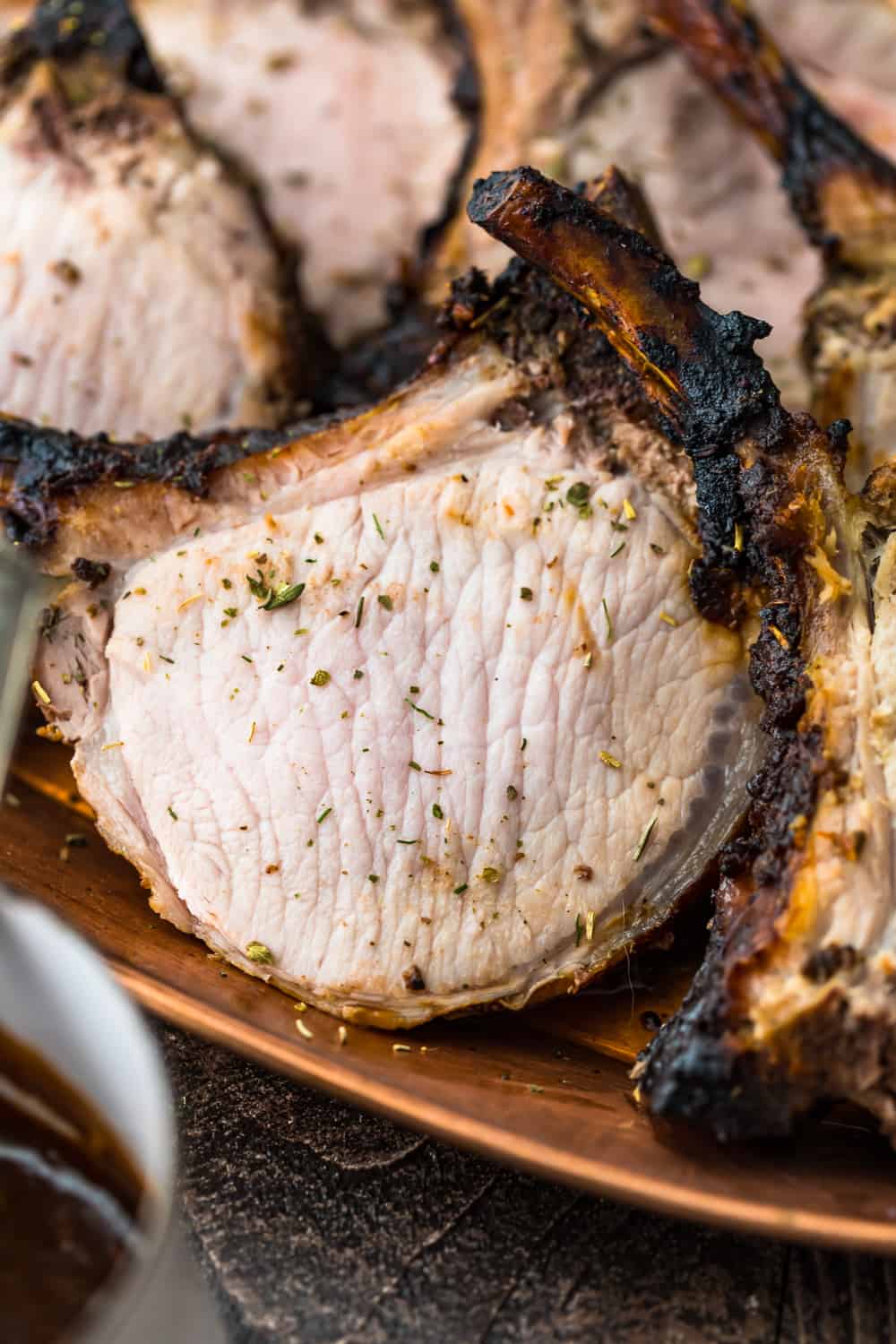 Make this beautiful roast for the perfect holiday meal and everyone will be amazed. Happy Holidays!
See the recipe card for details on how to make pork crown roast. Enjoy!
Looking for other holiday dinner ideas? Try these other main dish options: