This homemade Chicken and Noodles recipe is quick and easy to make for a creamy, comforting dinner. You only need a handful of ingredients, like egg noodles, shredded chicken, peas, and cream of chicken soup, to whip up these cafeteria noodles.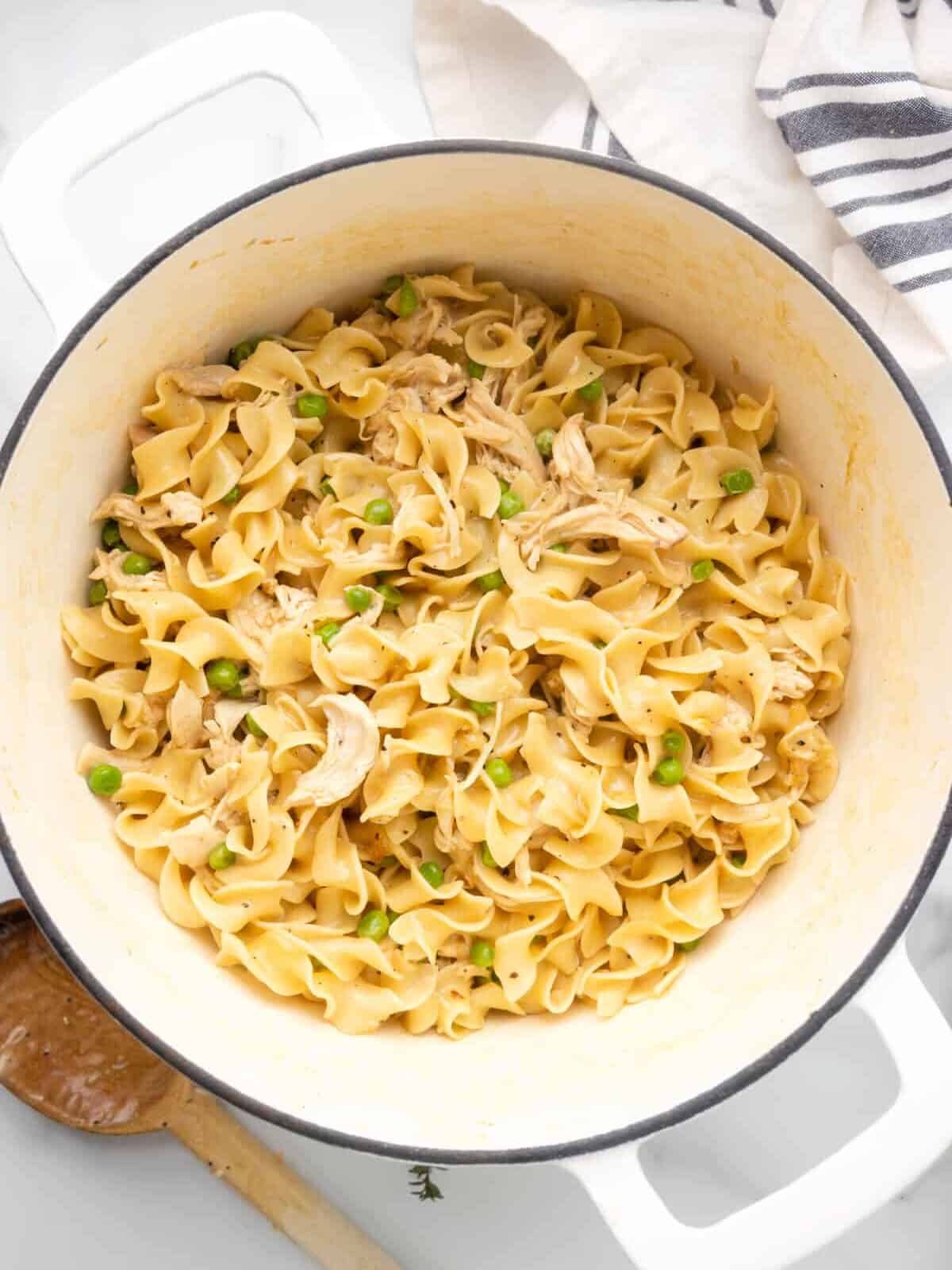 What's in this Chicken and Noodles Recipe?
Pantry staples like chicken broth, bouillon, egg noodles, and cream of chicken soup combine with freshly shredded chicken, frozen peas, and butter to create a simple comfort food meal.
Chicken Broth: We cook the egg noodles directly in chicken broth to give them extra flavor! I like to use unsalted or low-sodium chicken broth to avoid overly salty noodles.
Better than Bouillon: A must-have pantry ingredient. You can find it near the regular bouillon cubes in the grocery store, and it just adds so much flavor!
Egg Noodles: I love wide egg noodles for their rich flavor, but you could use any short pasta shape you love! Just adjust the cooking time according to the instructions on the package.
Black Pepper: Adds a bit of spice.
Shredded Chicken: You can use homemade shredded chicken or a rotisserie chicken.
Condensed Cream of Chicken Soup: Makes this pasta dish ultra-creamy and enhances the chicken flavor.
Frozen Peas: Add a pop of color and sweet flavor. This is a great way to sneak in some veggies for the kids.
Butter: Helps loosen up the sauce and adds extra creaminess! Use unsalted butter to avoid oversalting the noodles.
Pro Tip: Feel free to add in extra veggies, like frozen carrots or corn, for even healthier pasta!
Variations on Cafeteria Noodles
This old-fashioned chicken and noodles recipe is so easy to modify for just about any diet! Use gluten-free pasta and cream of chicken soup to make it gluten-free. For a vegetarian version, use unsalted vegetable broth, Better than Bouillon Seasoned Vegetable Base, and condensed cream of mushroom soup or cream of celery soup. Leave out the chicken, or swap in some roasted mushrooms. Try adding some caramelized onions for an even richer flavor!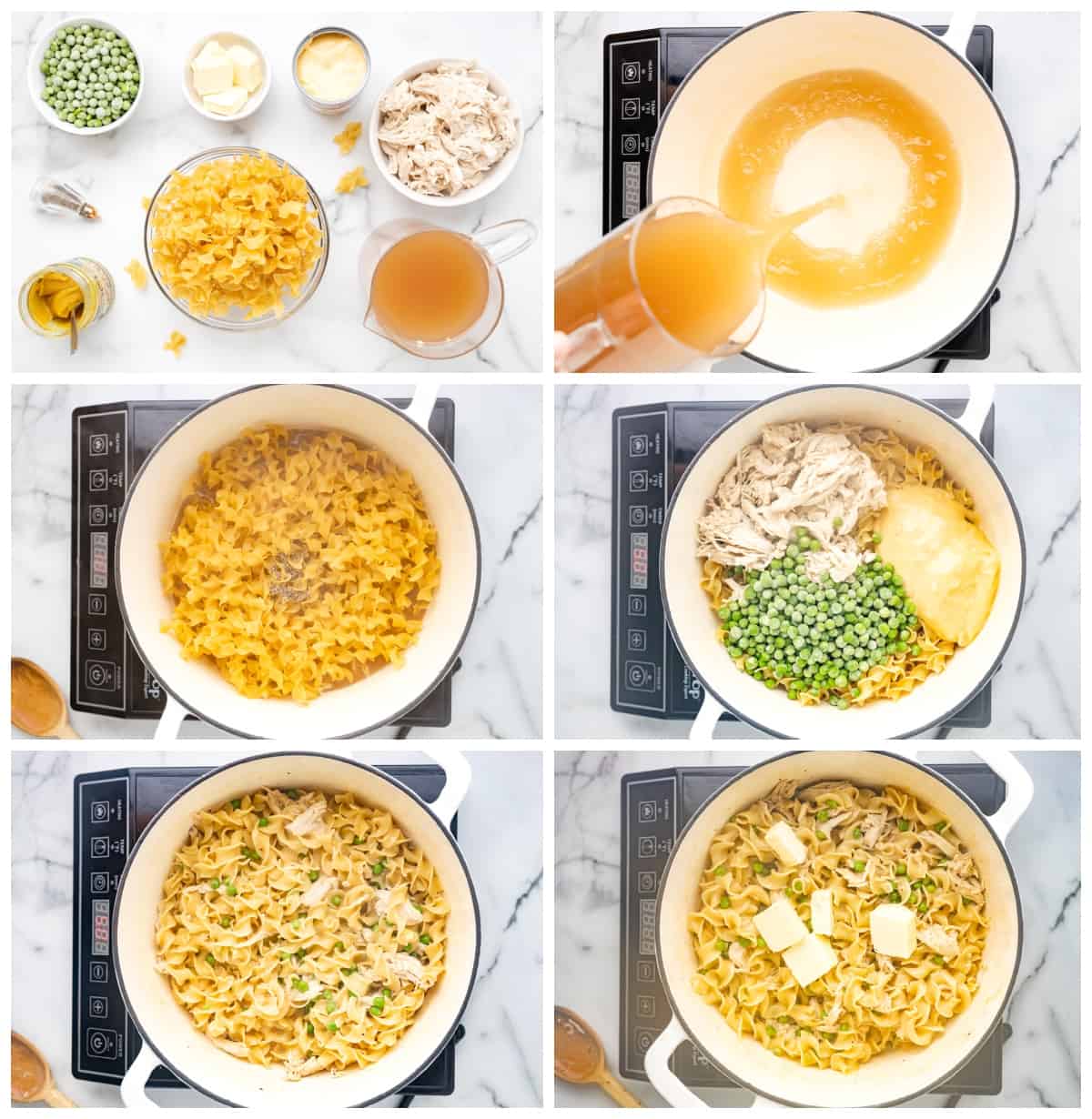 Is chicken and noodles a healthy meal?
Chicken and noodles are high in protein, potassium, fiber, vitamin A, vitamin C, and iron. However, it is also high in carbohydrates, saturated fat, cholesterol, and sodium. This dish is best enjoyed in moderation.
Will noodles cook in chicken broth?
Yes! The chicken broth acts just like regular water, but it adds so much extra flavor to the noodles!
Can you make it ahead of time?
You can make these up ahead of time, but it will not be as good. The sauce gets very thick as the noodles sit, so you will have to add a little extra chicken broth to the noodles when you reheat them.
Should you use the no-salt-added cream of chicken soup?
This is up to your taste. If you don't like it to be salty, you can use that kind. I don't add any extra salt to the recipe, so I like the salt from the soup.
Can you use a different type of noodles?
Yes, but you will have to adjust the cooking time based on your type of pasta.
How do you thicken broth for chicken and noodles?
This recipe is thickened by adding the condensed soup. However, if your noodles still seem too watery after cooking for a while, you can thicken them by mixing together 2 teaspoons of cornstarch with 2 teaspoons of cold water, stirring that slurry into the noodles, then cooking on low until it reaches your desired thickness.
Can you freeze chicken and noodles?
I do not recommend freezing this dish, as the sauce will separate as it thaws, leading to a gritty texture.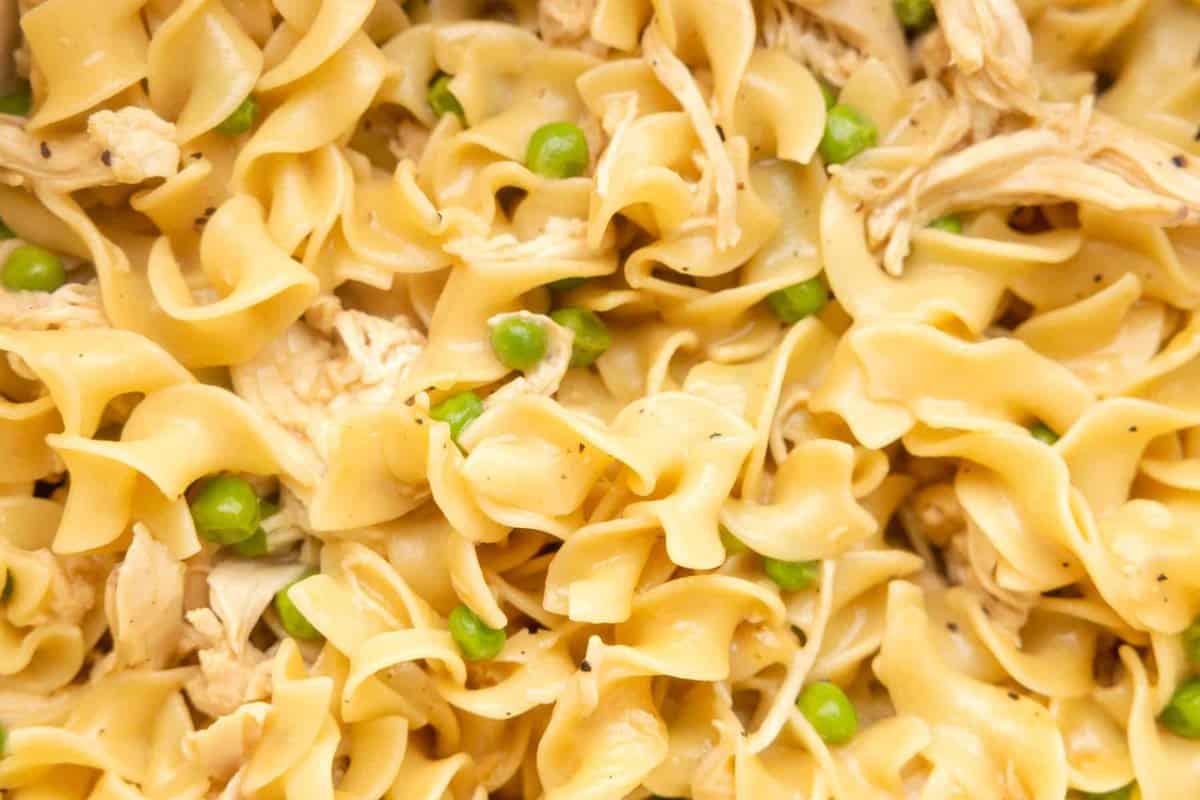 How to Store and Reheat Leftovers
Store leftover chicken and noodles in an airtight container in the refrigerator for up to 3 days. Reheat in a pot set over medium-low heat, or in the microwave in 30-second increments until warmed through. I do not recommend freezing this dish.
Serving Suggestions
These cafeteria noodles are a complete meal all on their own, but they're also great served with a green goddess salad or spinach bacon salad. A side of roasted Brussels sprouts, air fryer broccoli, or creamed green beans would also be delicious. And if you really want to put the comfort in comfort food, serve it with a side of creamy mashed potatoes.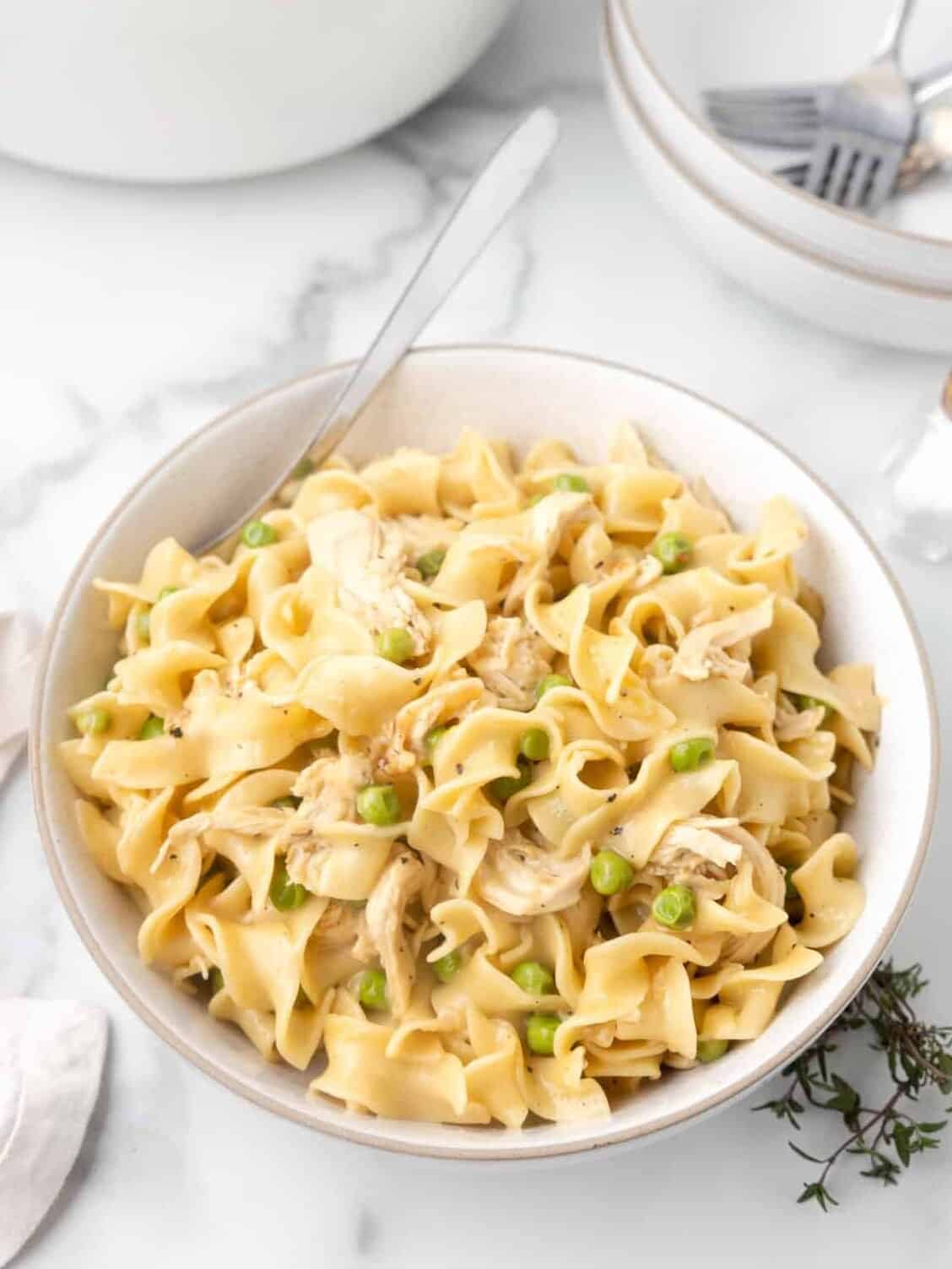 More Egg Noodle Recipes We Love