Crockpot Chicken Pot Pie is a revolutionary recipe in the world of easy to make comfort food! Simple and savory ingredients meld together to creamy perfection in your slow cooker to make a decadent and delicious chicken dinner. This might just be your new favorite pot pie recipe!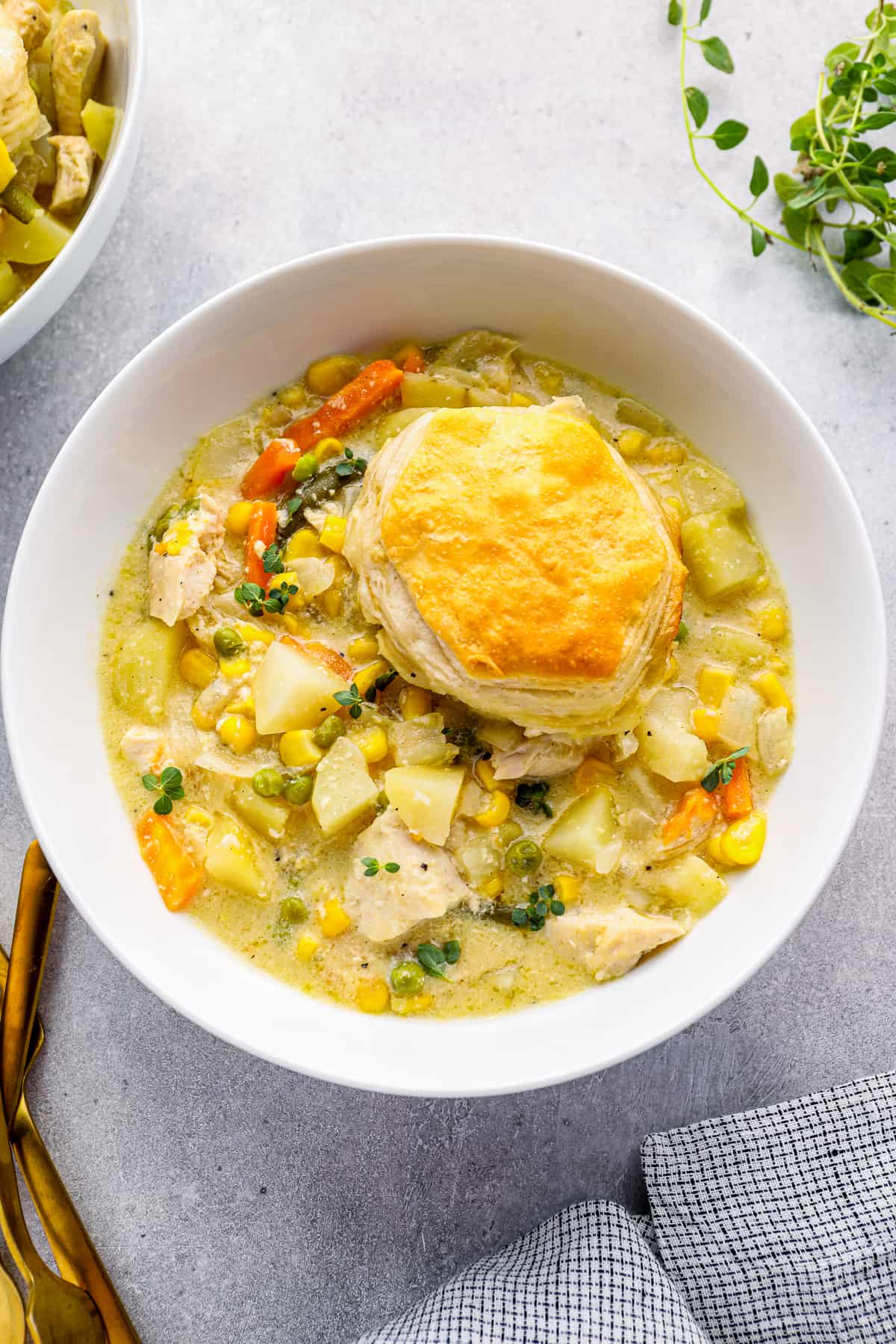 Slow Cooker Chicken Pot Pie
Everyone loves those two magical words – slow cooker! Wait, I mean the other two magic words – chicken pot pie! Well, I guess this whole recipe is pretty magical, actually. It's the most comforting dinner ever, and it's easy as pie to make! (See what I did there?!)
I know what you must be thinking, too. How is the crust formed for the pot pie if it's cooked in the slow cooker? Well, you'll need your oven for just a little bit at the end to get the biscuits perfectly golden brown. However, the warm, creamy, flavorful filling is all cooked in the Crockpot.
Why You'll Love this Chicken Pot Pie Recipe:
EASY: Slow cooker recipes are always such a cinch to whip up, and this recipe is no exception!
CREAMY: Ingredients like milk and cream of chicken soup keep the filling of this pot pie deliciously thick and creamy.
COMFORT FOOD: There's nothing quite like digging into some chicken pot pie after a long hard day, now is there? This stuff is the definition of comfort food!
With the EASIEST steps to follow and simple, inexpensive ingredients, this slow cooker recipe is sure to become a staple in your kitchen.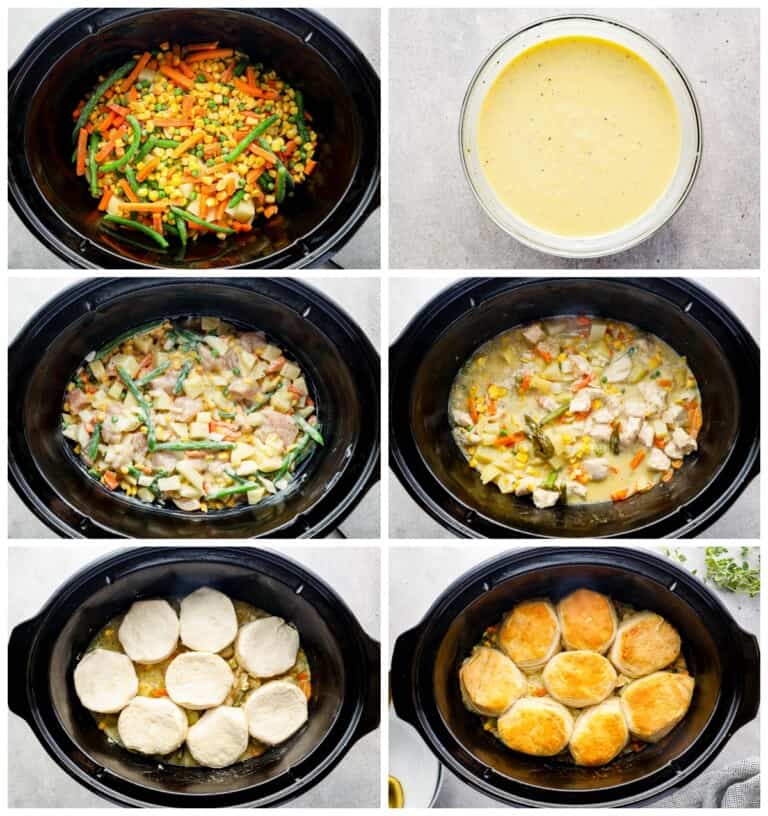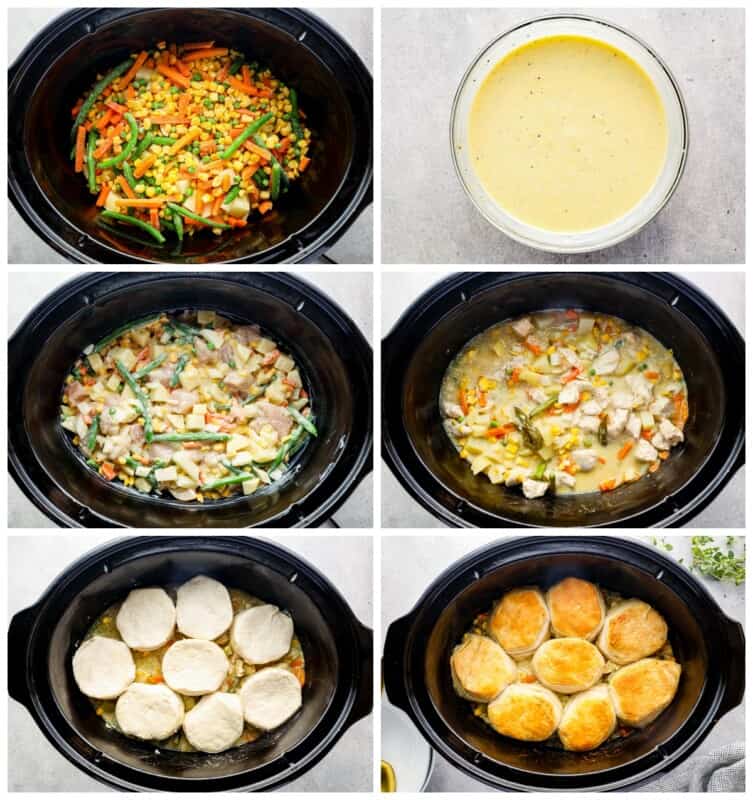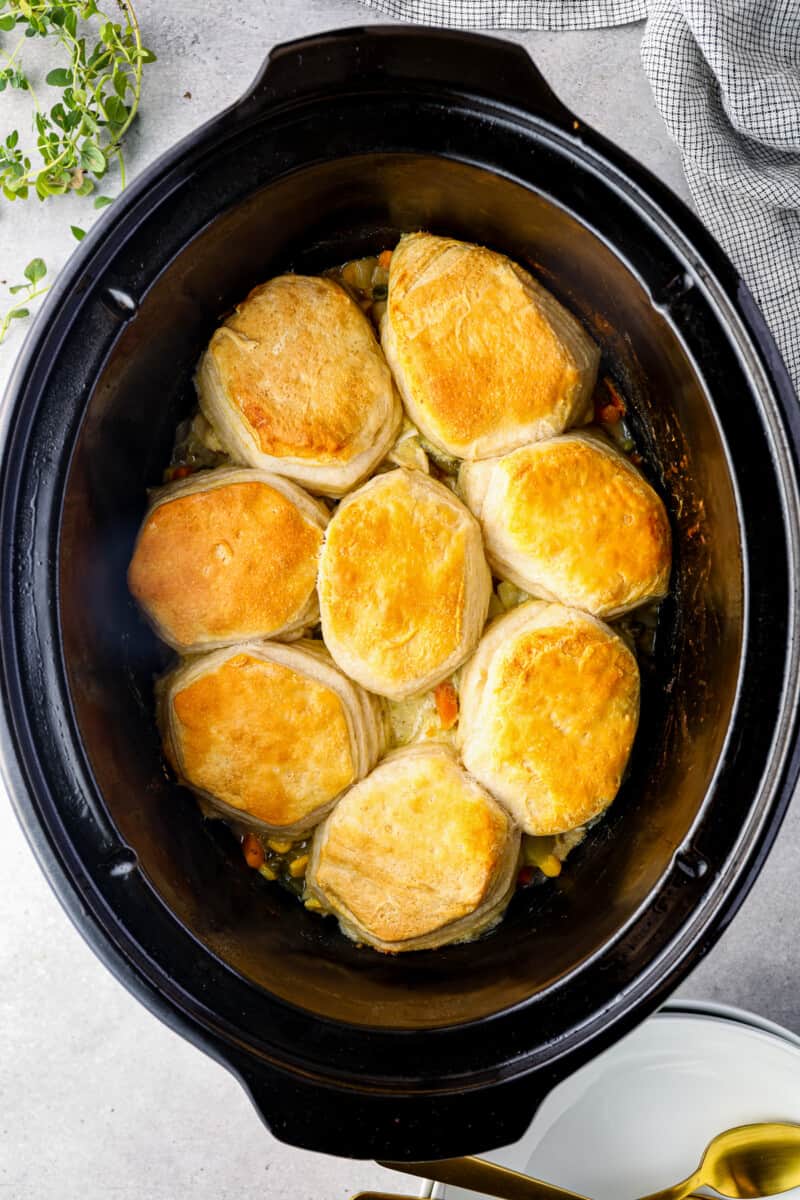 How to Make Crockpot Chicken Pot Pie
You can jump to the recipe card for full ingredients & instructions!
Spray the inside of the slow cooker with nonstick spray.
Add the chicken, onion, potatoes, and frozen veggies.
In a separate bowl, combine the cream of chicken soup, milk, and seasonings. Pour this mixture into the Crockpot and stir.
Cook on low for 6-8 hours or on high for 3-4 hours.
Preheat the oven to 350°F near the end of your cook time.
Remove the insert from the slow cooker.
Place the biscuits on top of the creamy filling.
Bake for 30-40 minutes.
Recipe Notes
For the biscuits, I like to use Grands Biscuits for the best results.
If you need to substitute the russet potatoes, you can use Yukon gold instead.
Spraying the slow cooker with nonstick cooking spray helps to ensure that none of the creamy filling gets burned on the side, so don't skip this step!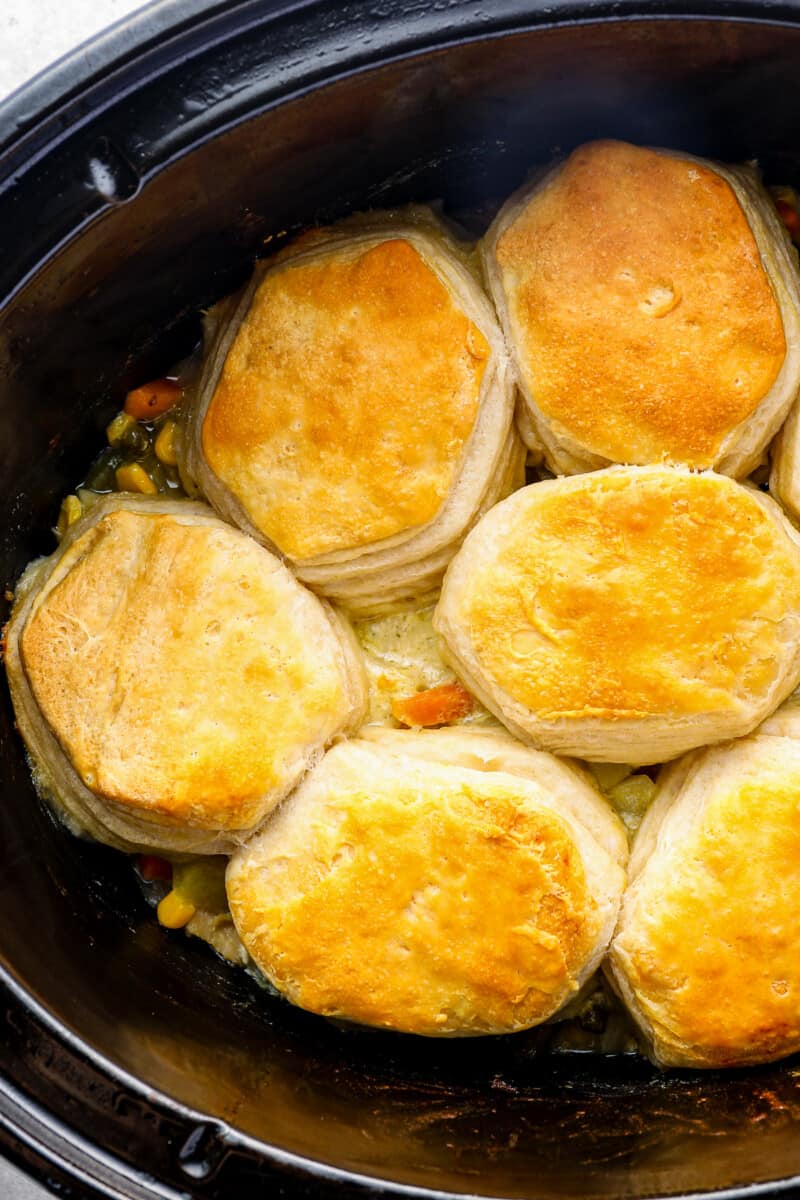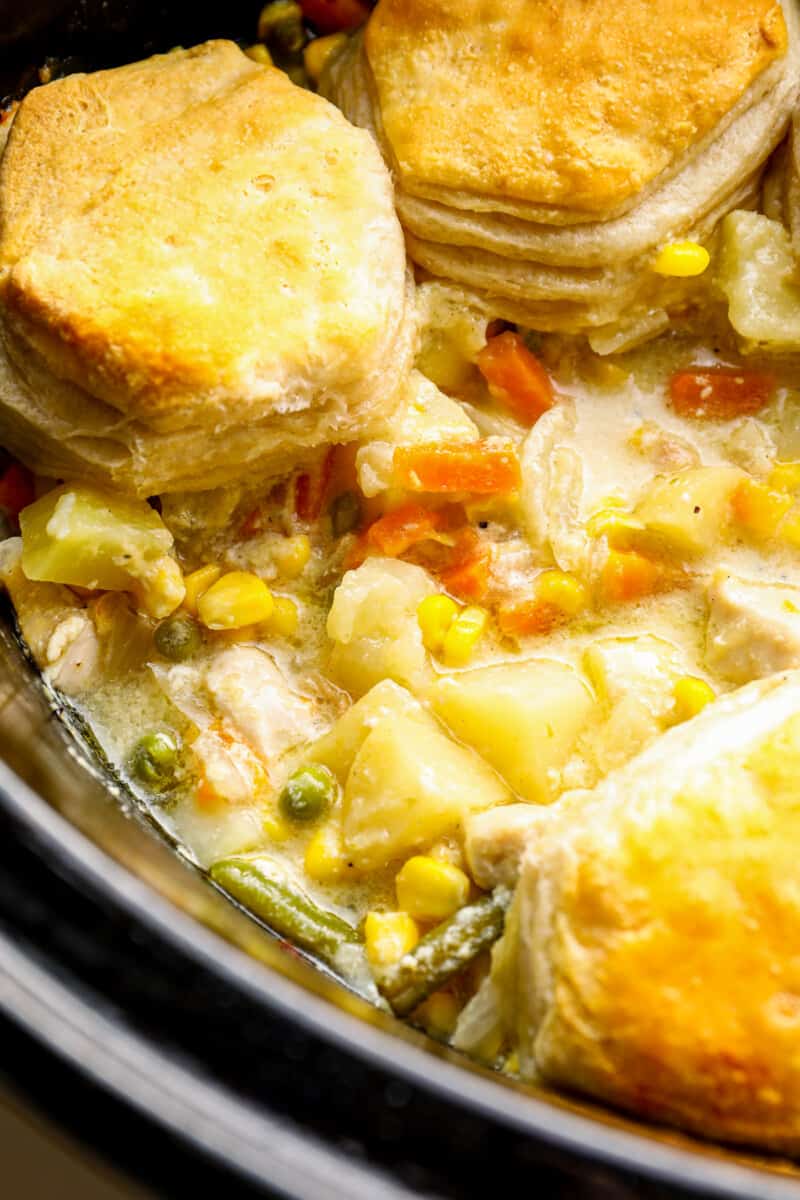 Can I use frozen chicken?
Yes, but you'll want to let it thaw before using.
How long does chicken pot pie last?
In an airtight container in the fridge, this pot pie will stay fresh for about 3-4 days.
What is the best way to freeze chicken pot pie?
Make sure the chicken pot pie is totally cooled to room temperature. Then, transfer it to a food storage container and pop it into the freezer where it'll stay fresh for up to 3 months.
This warm, creamy, and protein-packed dinner is sure to keep you cozy no matter how cold it gets outside!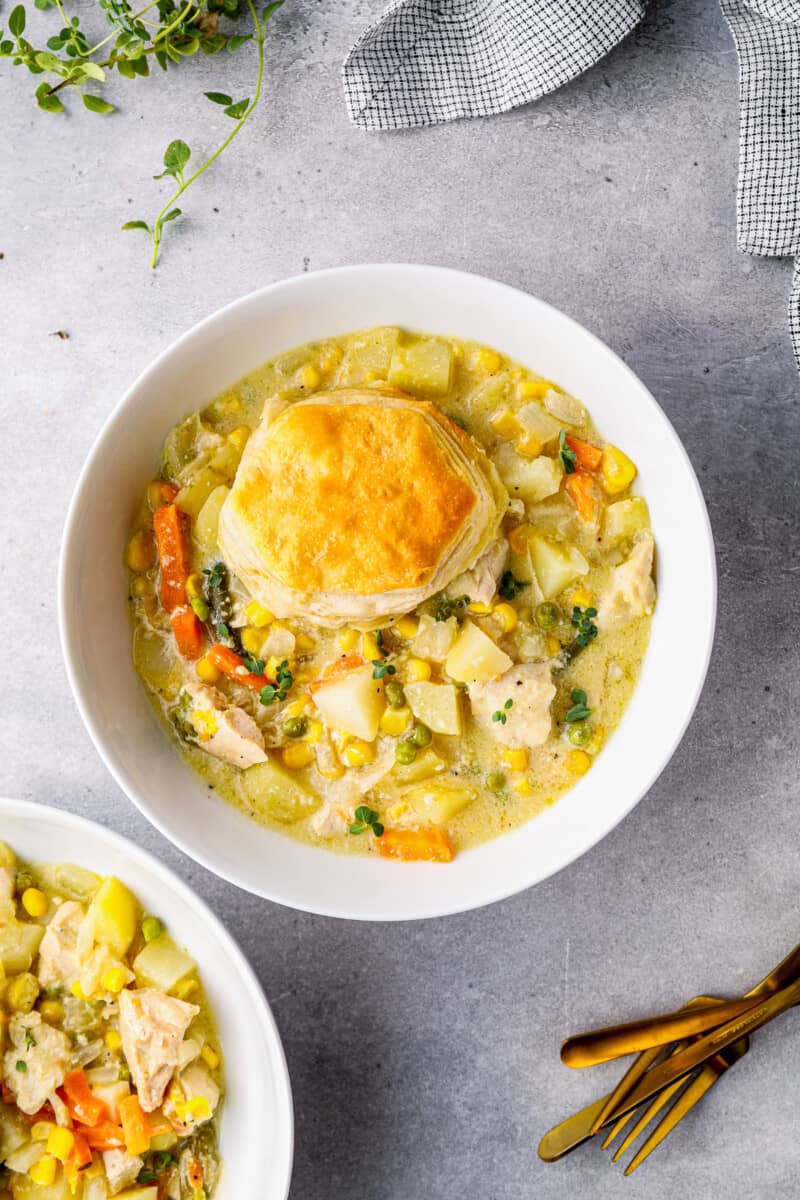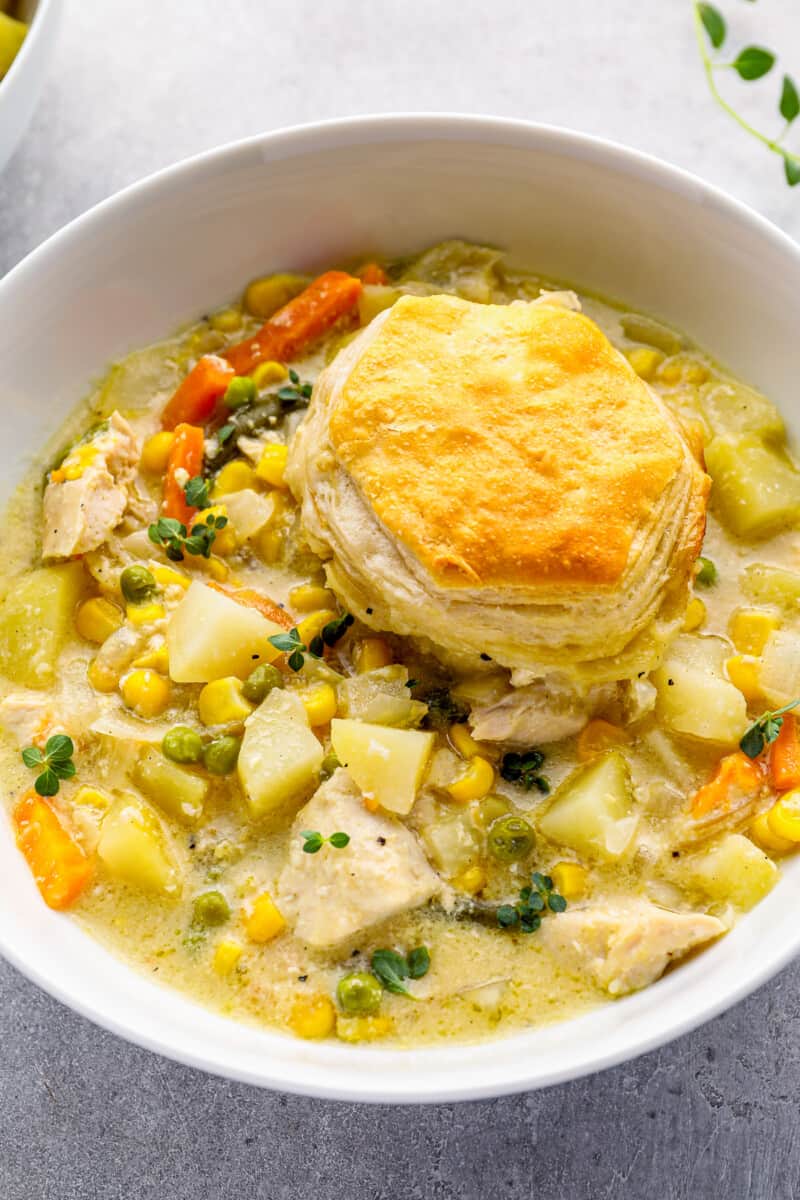 Tips!
If you want even more flavor, consider sprinkling in some fresh parsley or garlic powder. Just don't add too much!
Use chicken breast meat, not chicken thigh meat. Thigh meat just isn't pot pie material.
I personally prefer cooking this dish on low for 6-8 hours to really let the flavors settle in.
Slow cooked chicken pot pie topped with buttery biscuits is what all my dreams are made of.
What if my Crockpot isn't oven safe?
If your Crockpot isn't oven safe, bake the biscuits on a sheet pan according to the package directions. Prior to serving, top the pot pie filling with the baked biscuits.
Can I use homemade biscuits?
If you really feel like showing off, feel free to make some Easy Buttermilk Biscuits to go on top of this pot pie!
Can I use fresh instead of frozen vegetables?
It's a lot easier to use frozen vegetables for this recipe, as they tend to hold their shape a bit better while cooking – especially peas. However, fresh veggies can also be used.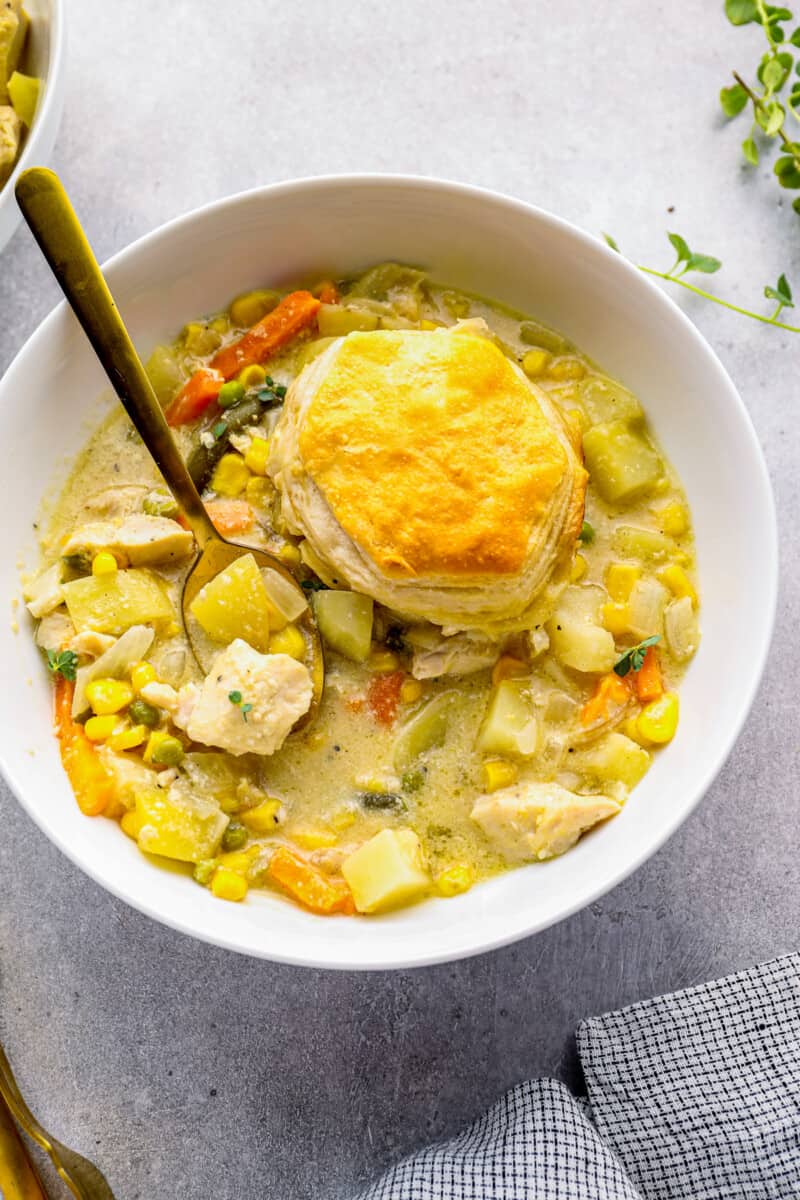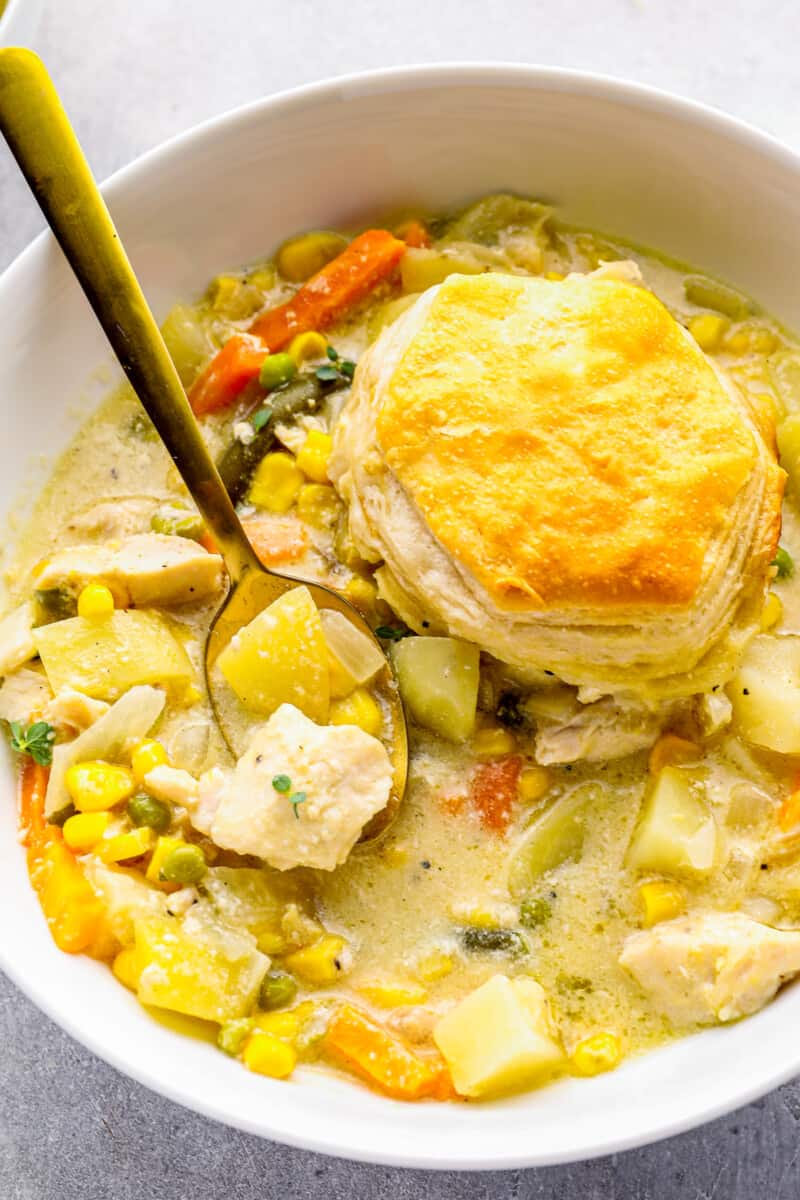 Crockpot chicken pot pie is might not be quick, but it sure is worth the wait! Make this easy dinner ASAP – your family will thank you.
If you make this recipe be sure to upload a photo in the comment section below or leave a rating. Enjoy! You can also jump to recipe.