These Crockpot Cheesy Potatoes are one delicious recipe that's perfect for breakfast or as a side to go with your favorite dinners. Slow cooker cheesy hashbrowns are simple and easy to make and the ultimate holiday side dish.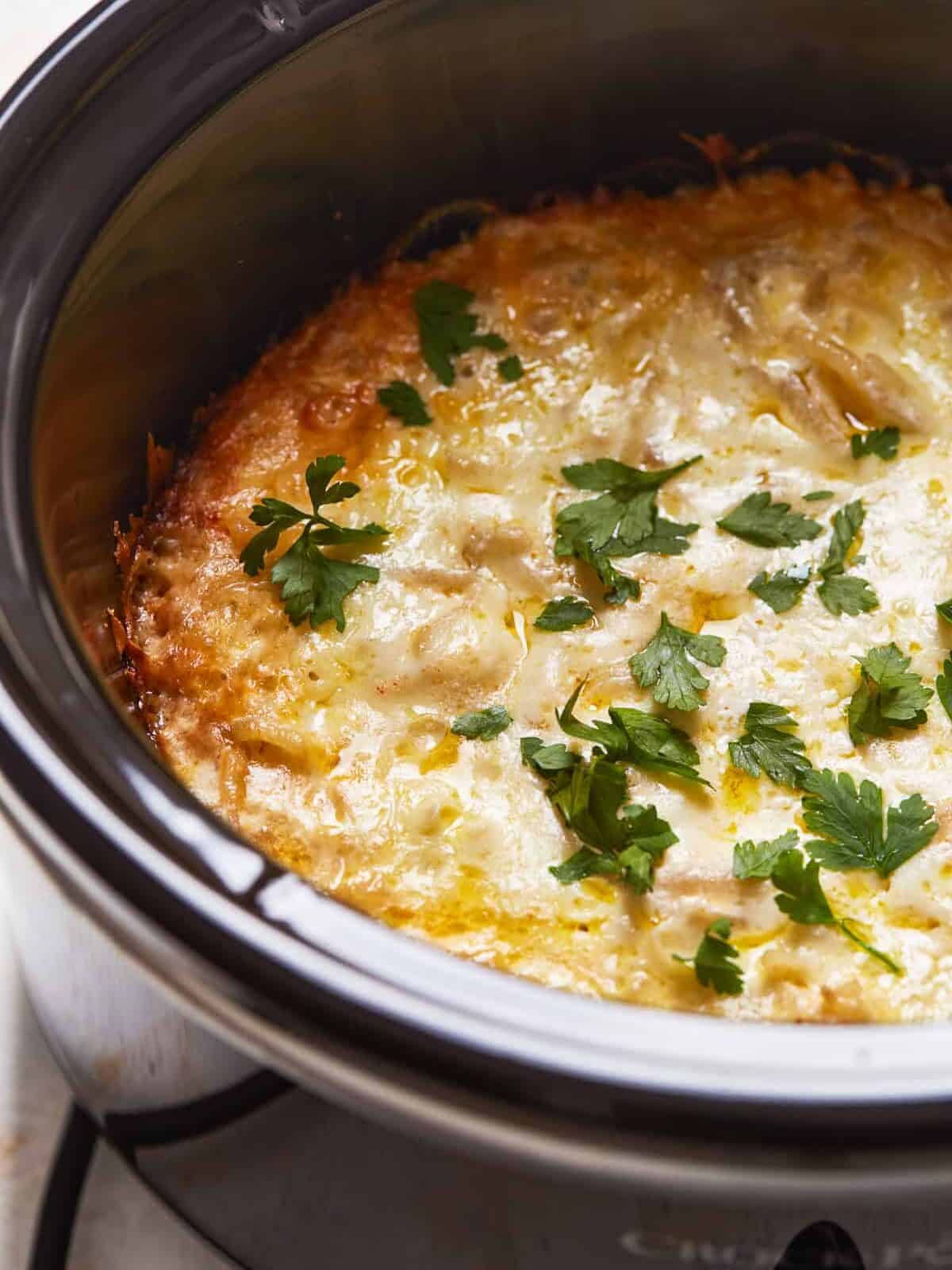 What's in Crockpot Hashbrown Casserole?
Frozen hashbrowns, cheese, sour cream, and spices come together to create the perfect creamy, cheesy potato casserole to serve with breakfast or dinner.
Hashbrowns: Prepped and ready to go, frozen hashbrowns make this recipe super simple!
Cheese: A mixture of freshly shredded cheese (choose your favorite!) and cream cheese makes these potatoes super creamy and cheesy.
Sour Cream: Adds a bit of tanginess and helps make these potatoes even creamier.
Butter: Adds richness and flavor.
Spices: Onion powder, garlic powder, and paprika are the perfect blend of spices for these potatoes.
Pro Tip: There's no need to thaw the hashbrowns; just dump and go!
Variations on Crockpot Cheesy Hashbrowns
Change up the flavor of these potatoes by using different cheeses and spices. Colby, Monterey jack, pepper jack, mozzarella, or Swiss cheese are great choices. And try your favorite spice blends, like ranch, Italian seasoning, taco seasoning, or everything bagel seasoning for breakfast.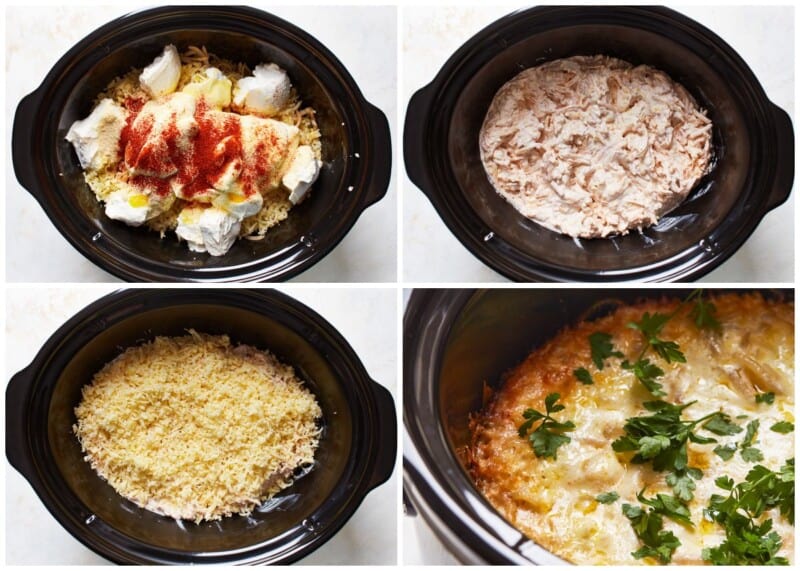 What's the best cheese to use for potato casserole?
I like to use shredded cheddar cheese for this casserole. It's best to use freshly grated rather than pre-grated. Pre-grated usually has a coating on it, which makes the cheese harder to melt. For the cream cheese, I prefer to use full-fat, but you can use a reduced-fat one if you prefer.
Do potatoes need to be submerged in a slow cooker?
Nope! Keeping the lid on the crockpot will allow the potatoes to steam, which will prevent them from burning.
How long does it take for potatoes to get soft in a crockpot on high?
Because we're using frozen hashbrowns, it only takes 2½-3 hours to cook this casserole. If you choose to use raw shredded potatoes, it may take a bit longer for them to turn tender.
Why did my potatoes turn brown in the crockpot?
This is the result of a process called oxidation, and it can happen to potatoes no matter how you cook them because they are starchy. The potatoes are still perfectly safe to eat!
Can I make this casserole in the oven instead?
I love the convenience of cooking this side in the slow cooker as it frees up oven space, which is perfect if you are planning to serve it as part of a big feast. If you prefer, you can cook it in the oven in less time.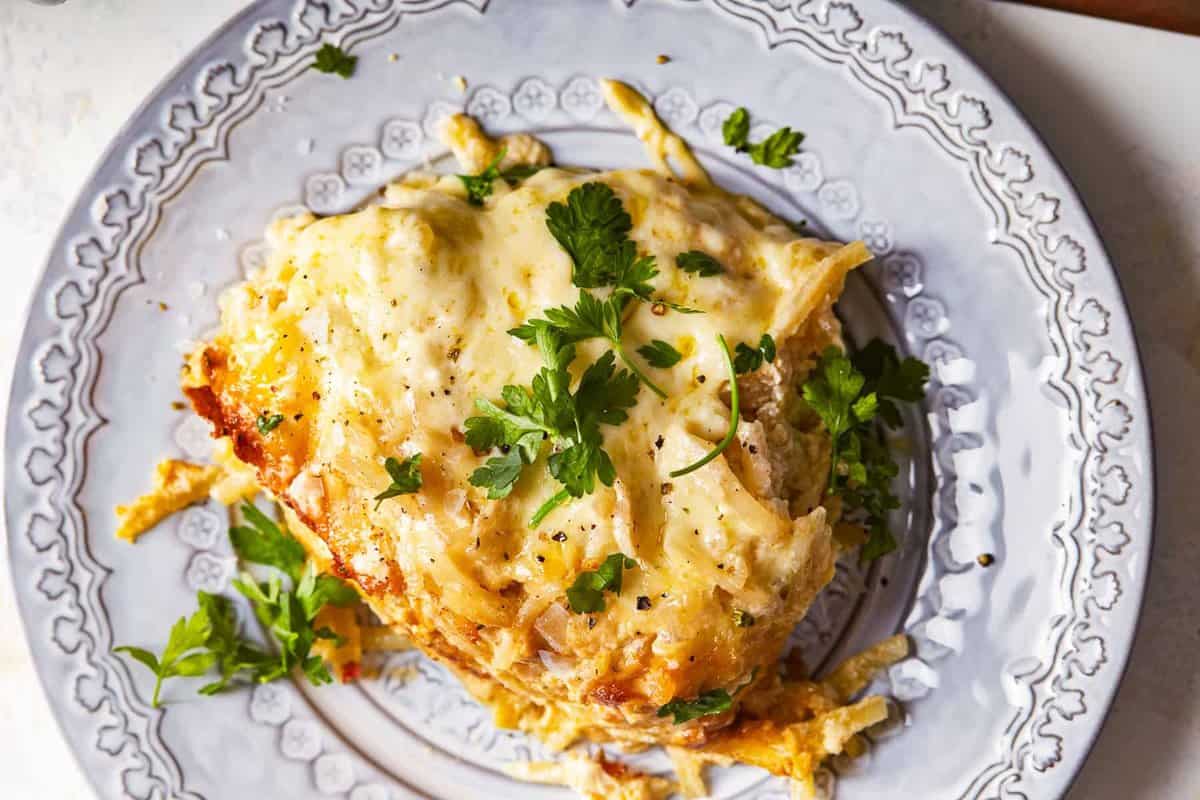 How to Store and Reheat
These Crockpot cheesy hashbrowns will keep well in the fridge for up to 3 days. You can warm them through in the oven at 350°F until the cheese has melted to serve.
You can reheat them in the microwave if you are in a hurry, but they can get a bit soggy.
How to Freeze
Freeze crockpot cheesy potatoes in an airtight container for up to 3 months. Let thaw overnight in the refrigerator before reheating.
Serving Suggestions
These crockpot cheesy hashbrowns are so versatile! You can serve them for breakfast alongside scrambled eggs, bacon, and pancakes or as a side dish for dinner! Try them with crockpot chicken breasts, Caesar chicken, pan-seared ribeye, air fryer beef tenderloin, honey baked ham, or pork tenderloin.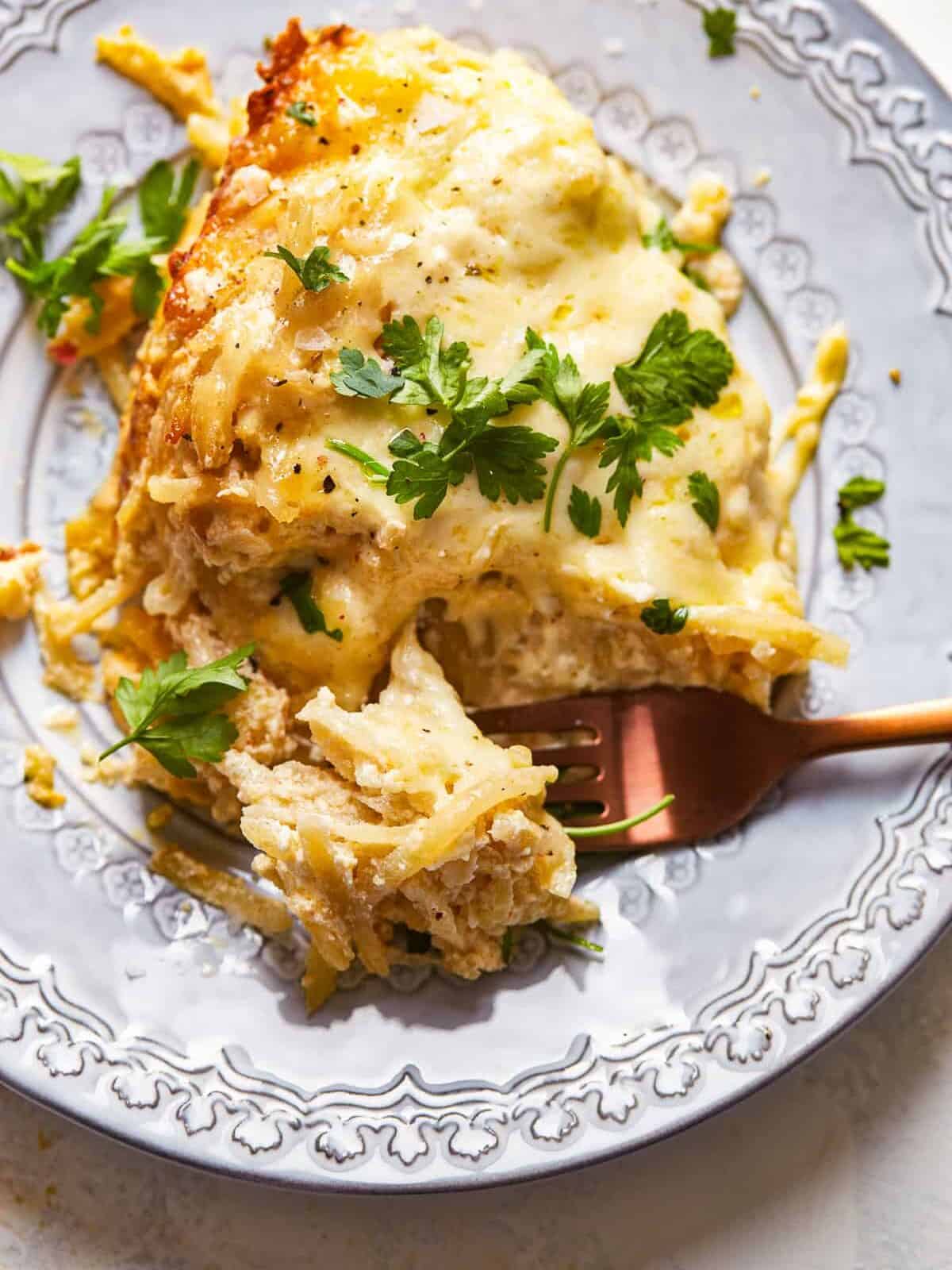 More Crockpot Potato Recipes We Love