This loaded Steak Salad recipe makes for a heart yet healthy lunch or dinner. The combination of lean and tender flank steak with crisp romaine greens, grilled corn, fresh vegetables, and tangy balsamic dressing delivers an explosion of satisfying flavors and textures in every bite!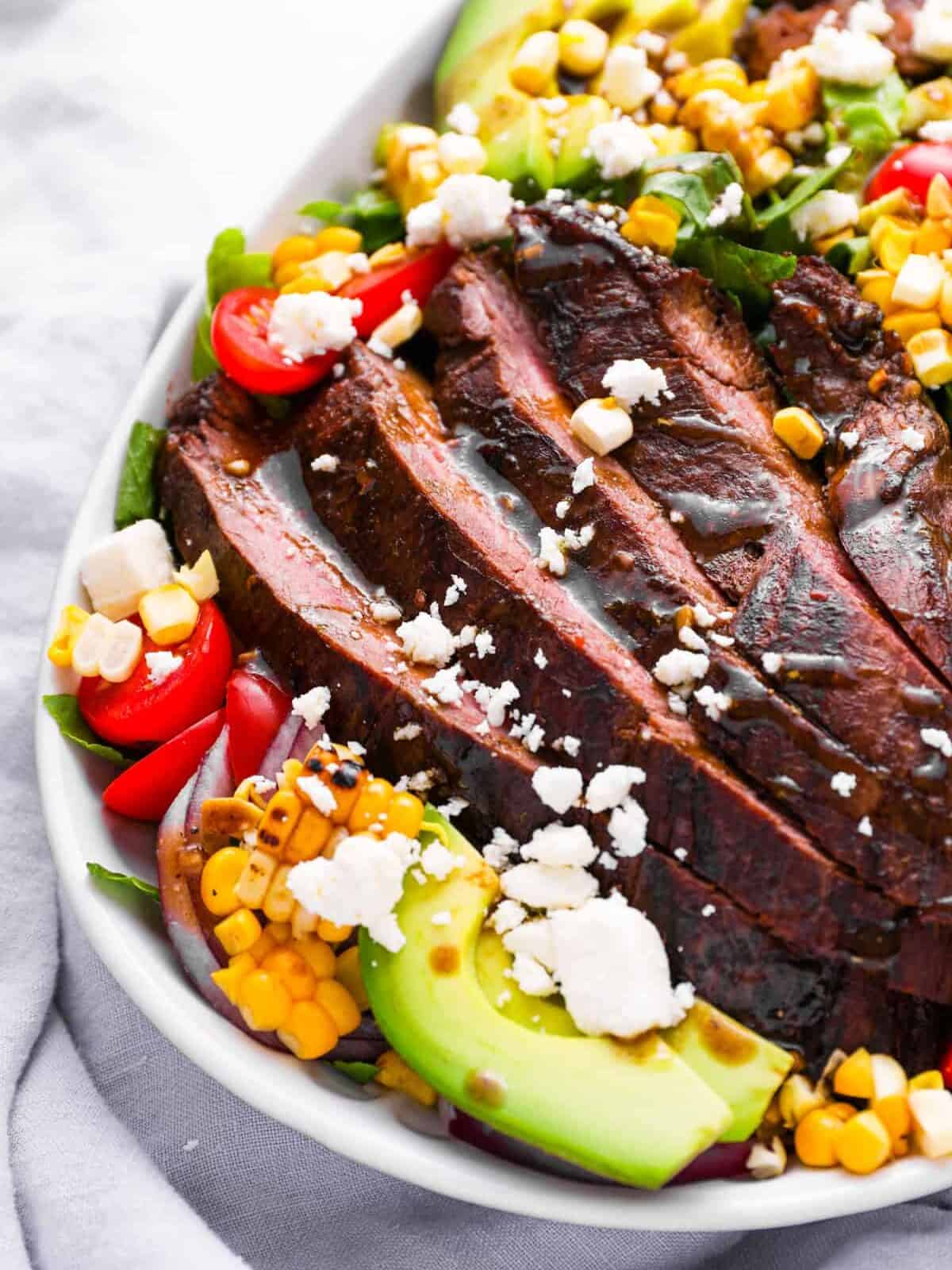 What's in this Flank Steak Salad recipe?
Perfectly cooked flank steak over crispy Romaine, cherry tomatoes, ripe avocados, tangy red onions, summer corn, and Greek feta is complemented by the most delicious balsamic dressing.
Pro Tip: Of all the ingredients in this recipe, be sure your avocados are perfectly ripe! A good creamy avocado without any hint of mushiness or bitterness will make or break this salad.
Grilled Steak Salad Variations
The marinated and grilled flank steak makes the most delicious topping for this hearty and vibrant salad. But you can easily change out the protein, or skip the meat and this becomes a vegetarian-friendly recipe. Replace the steak with grilled salmon, grilled chicken breast, shrimp, or crispy tofu. Or use a different steak recipe to throw on top, like carne asada steak!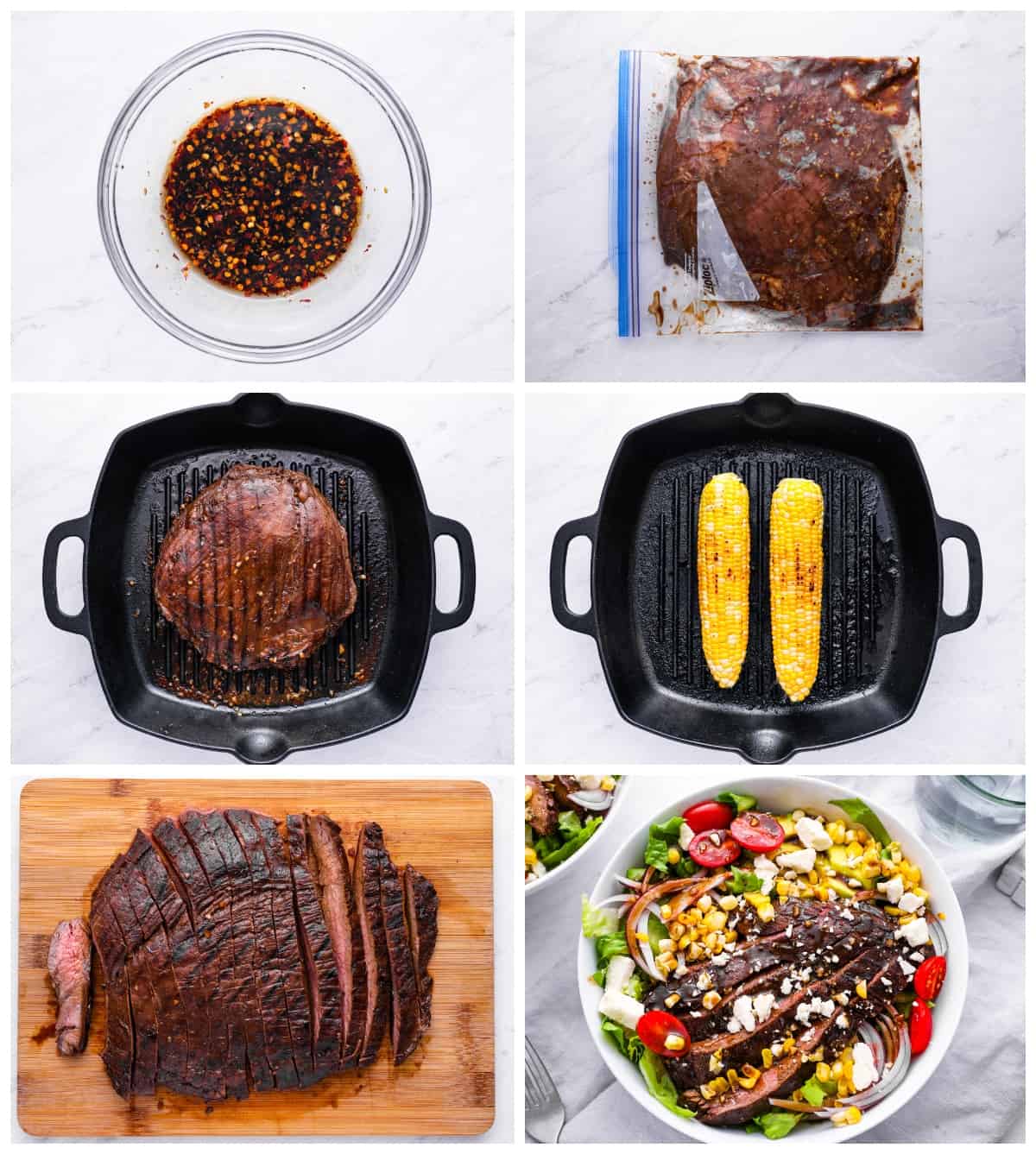 What's the best steak for steak salad?
The best steak for this salad, in my opinion, is flank steak. It's a great all-purpose cut! You can also use New York strip steak or sirloin.
Do I have to marinate steak before cooking it?
Yes! Marinating the steak allows the flavors to penetrate deeply, leading to a tastier, more tender cut of meat. I recommend at least 2 hours, but you can marinate it overnight if you prefer.
Can I grill the steak?
You sure can! I used a grill pan as an easy indoor option, but an outdoor grill also works for this recipe!
Can I use a different kind of lettuce?
You sure can! I love romaine because it is crisp and holds up to the dressing. Iceberg lettuce is also a great crisp lettuce with a mild flavor. A spring mix would also work well, adding a bit of variation in texture and flavor.
Can I freeze steak salad?
I do not recommend freezing salad! However, you can freeze the cooked steak for up to 3 months! Let thaw overnight in the refrigerator before reheating.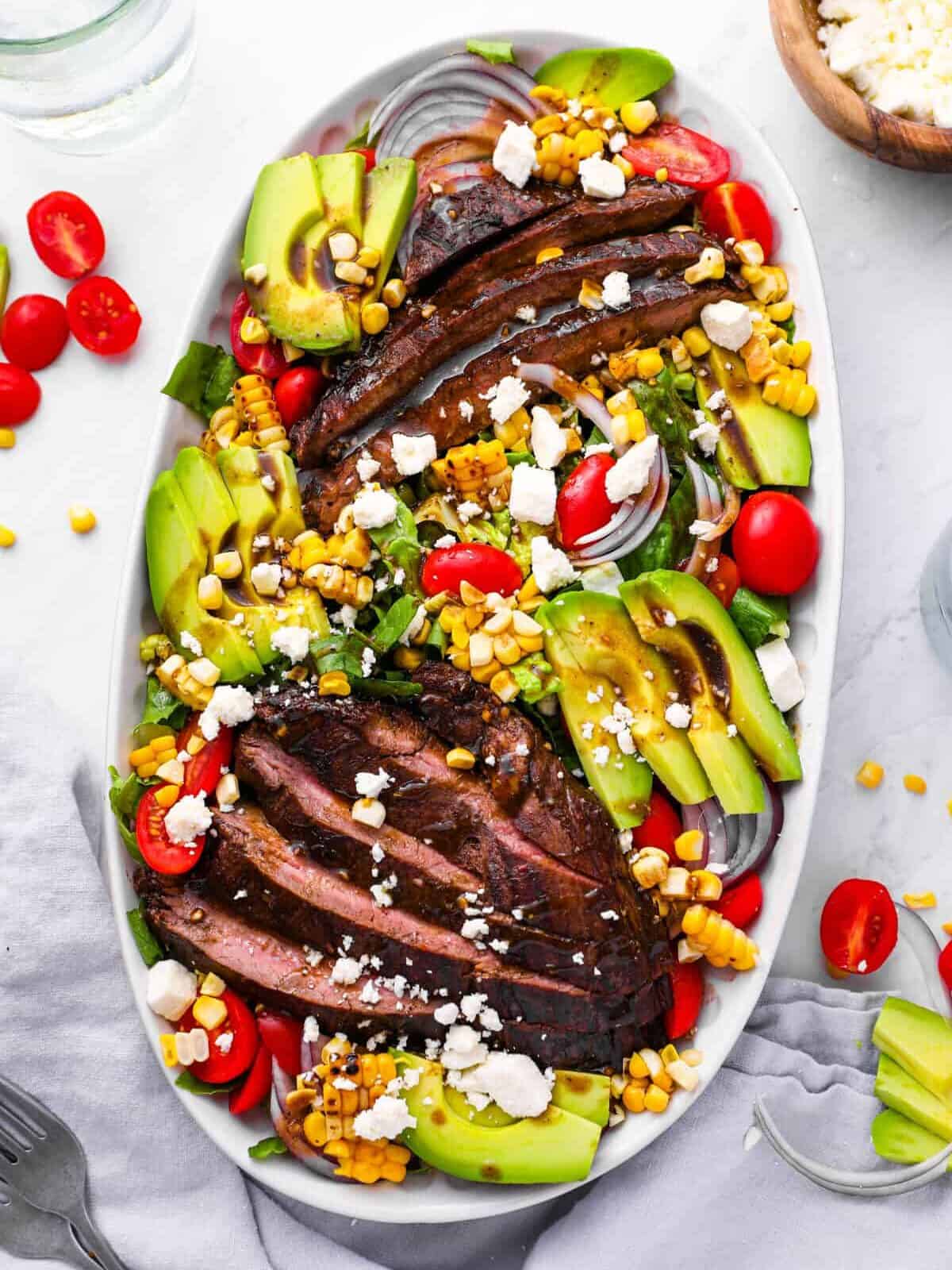 How to Store and Reheat
I recommend preparing this steak salad recipe fresh for the best taste, but you can store ingredients separately before tossing everything together.
Store leftover steak, salad, and dressing in separate airtight containers in the refrigerator until ready to assemble. The steak will keep well for up to 5 days, while the greens and vegetables will keep well for 3-5 days. The dressing will keep for up to 2 weeks.
Assemble the salads just before serving. The steak can be added cold or hot to the salads. If serving hot, reheat the steak in the microwave or in a frying pan set over medium-low heat until warmed through.
Serving Suggestions
This steak salad makes a completely healthy meal on its own, but it would also go nicely with some homemade breadsticks or my Pull Apart Cheese Bread. For an extra festive complement to this already colorful meal, serve it with Sweet Tea Sangria! This is one of my favorite summer salads and goes well with the rest of your summer grilling recipes!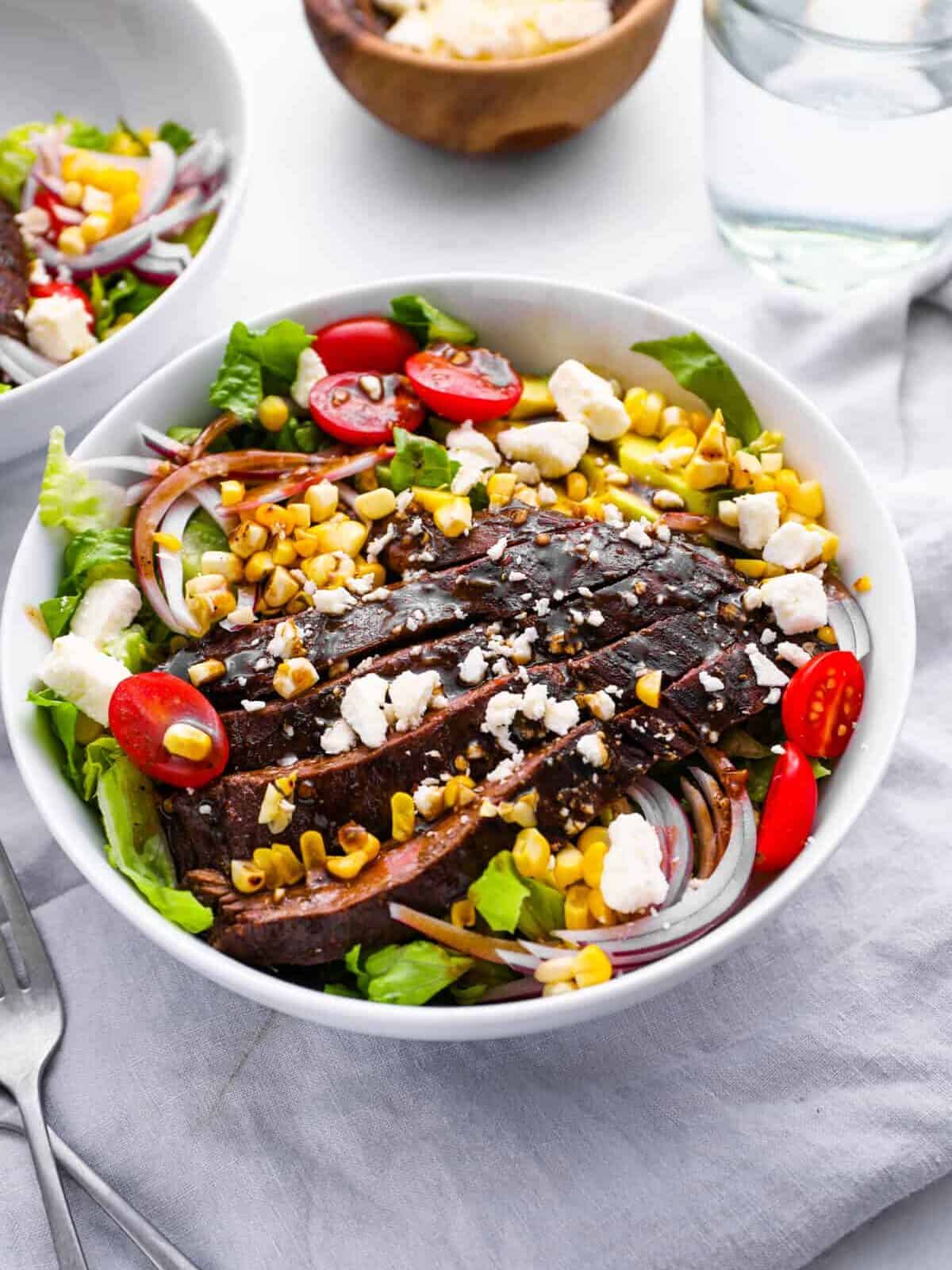 More Hearty Salads We Love