MAKE AHEAD TURKEY GRAVY is an absolute must for an easy and stress free Thanksgiving! YES It's possible to make Turkey Gravy without drippings and YES you can make it ahead of the big day. Once we learned How to Make Turkey Gravy we have never gone back to store-bought. This Make Ahead Easy Gravy Recipe is genius.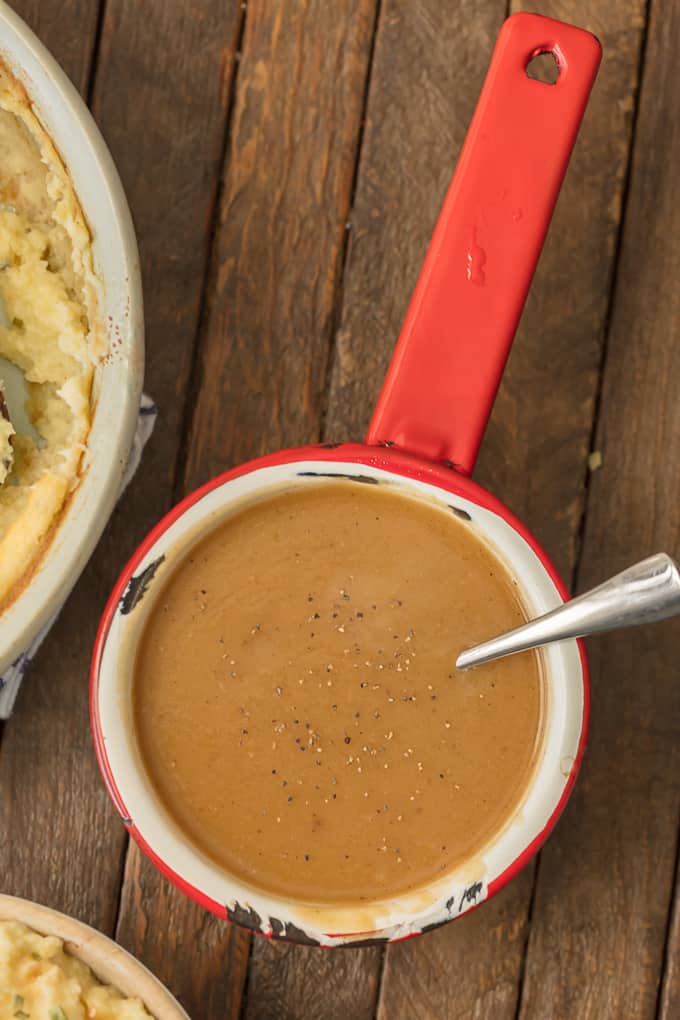 Make Ahead Turkey Gravy
This Make Ahead Gravy Recipe is the ultimate Thanksgiving side. You'll want to slather this all over the turkey, potatoes, and possibly everything else too.
This homemade turkey gravy is so easy to make. You don't need turkey drippings, and you can prepare it ahead of the holiday (which always makes cooking easier). This delicious brown gravy is a must for Thanksgiving or Christmas.
Why You'll Love This Easy Turkey Gravy Recipe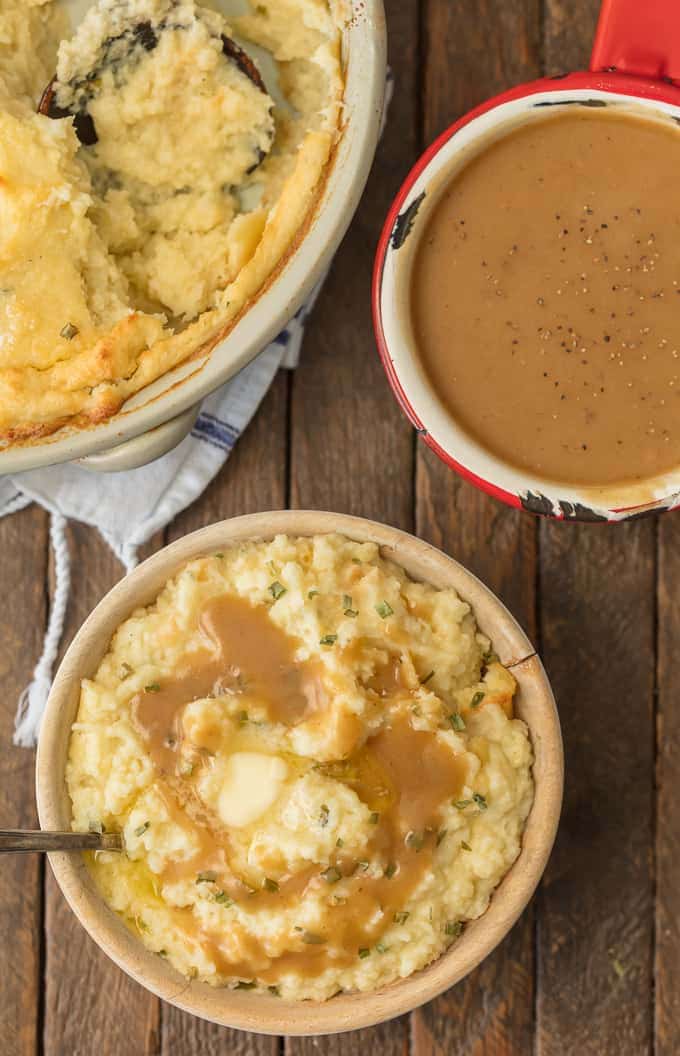 This Make Ahead Turkey Gravy is my go to easy gravy recipe for mashed potatoes, turkey, and everything else on Thanksgiving!
I'm all about making holiday cooking EASY. So along with this homemade turkey gravy, try these simple Thanksgiving recipes too.
We have lots of favorite holiday recipes, but these make a nice menu for a simple feast!
Easy Gravy Recipe
Make Ahead Turkey Gravy is the perfect easy recipe for the holidays. Thanksgiving isn't complete without the perfect easy gravy recipe to serve with turkey and mashed potatoes.
I'm not the girl who wants to be in the kitchen all dang day while friends and family hang out for Thanksgiving. I'm just not. Never have been, never will be. So easy recipes like this Make Ahead Turkey Gravy Recipe is just the ticket for me. I can still prepare an awesome meal and feed the ones I love, but I don't have to miss all the festivities. The more you can have done ahead of time the better!
This make ahead gravy still has all the flavor, so you won't be sacrificing any home cooking flavor if you make it. It's so tasty and hearty!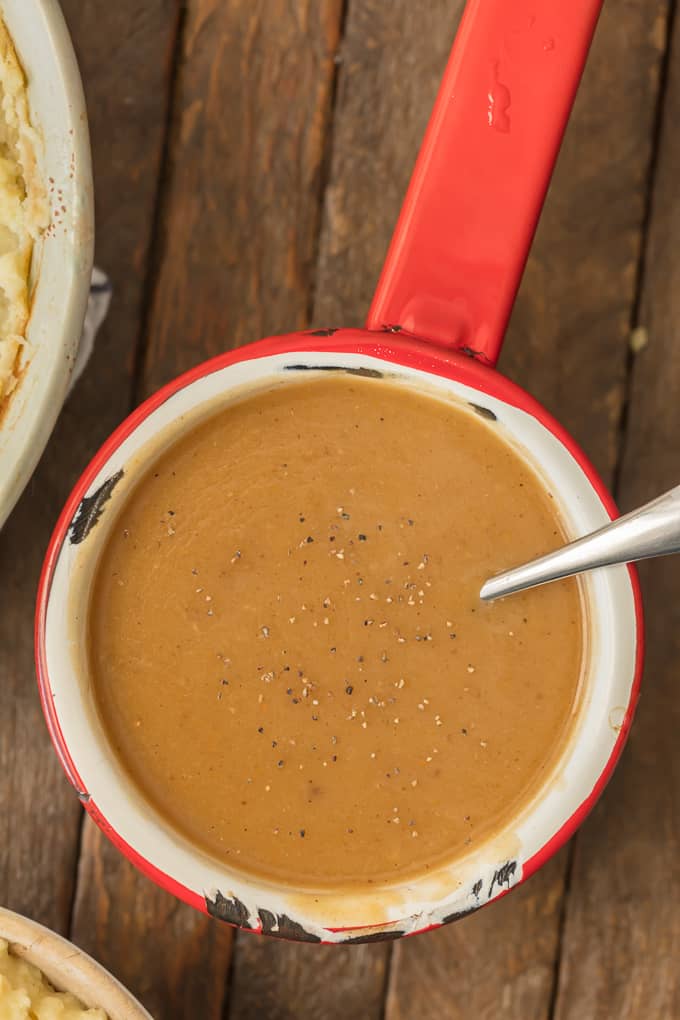 How to Make Turkey Gravy without drippings
You can check the recipe card below to get the full set of instructions for this make ahead gravy. But here's a quick overview of how to make this easy gravy recipe.
Cook turkey pieces on the stove with vegetables, then add in sherry and herbs and continue cooking.
Pour chicken or turkey broth through a strainer into a large bowl, and shred turkey meat from the bones.
Make the roux by melting butter in a pan and whisking in flour.
While the roux is cooking, pour the broth into a saucepan, add in the turkey, and bring to a simmer.
Add 2 cups of broth into the roux, whisking vigorously until smooth. Then whisk the mixture into the saucepan of broth and turkey.
Let the turkey gravy simmer for 30 minutes until it thickens, stirring occasionally.
You can make this easy gravy recipe up to 2 days ahead of time for your Thanksgiving meal.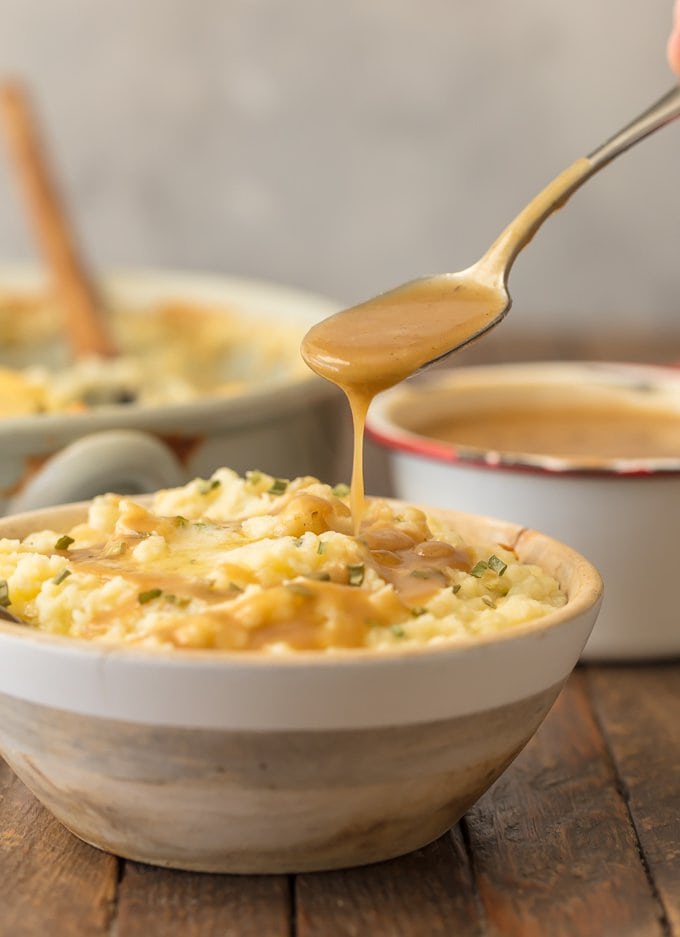 How long does homemade gravy keep in the refrigerator?
Homemade gravy will only keep about 2-4 days in the fridge. Bring it back to life by boiling right before serving.
Can you freeze gravy?
Yes, you can freeze this make ahead turkey gravy! If you want to make it more than a couple days before the holiday, it will keep in the freezer up to 4 months.
Gravy is best if only reheated once. So I recommend freezing it in smaller portions, or the amount you think you'll need. For a holiday like Thanksgiving, you might want to keep a large portion ready that can serve all your guests. Otherwise, try freezing small amounts in separate containers. You can even use large ice trays to make portion-sized cubes of gravy.
What other Thanksgiving recipes can I make ahead of time?
You've got the make ahead gravy, here are some more recipes you can make ahead of the big holiday feast.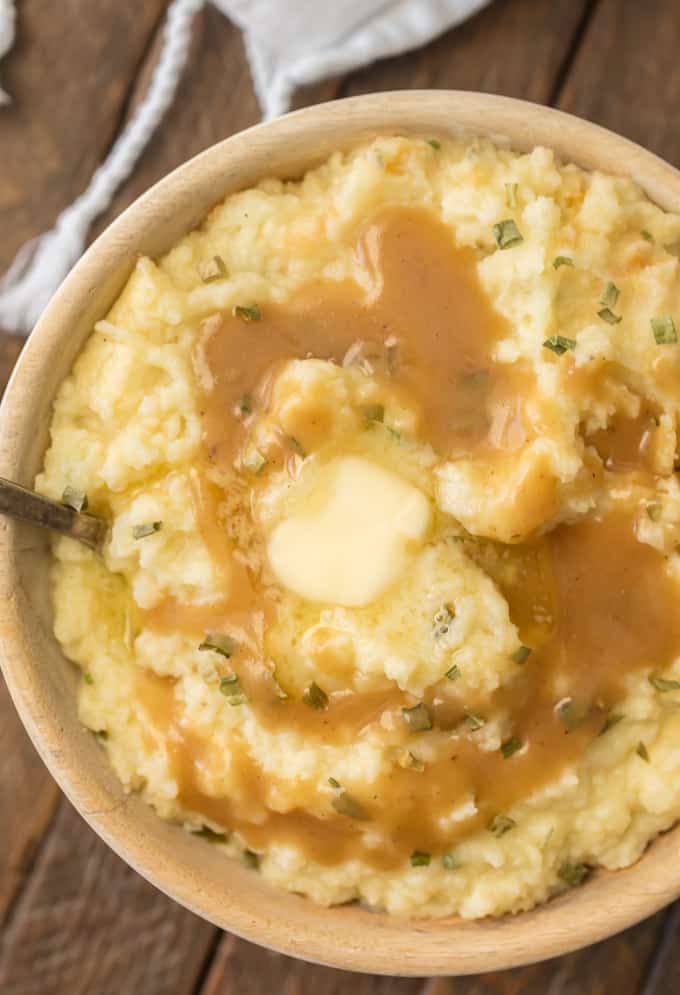 Best Turkey Recipes
You've got the best turkey gravy recipe, now you need the best turkey recipes to serve.
Thanksgiving Side Dishes
Add these other sides to the Thanksgiving table, along with the turkey, gravy, and potatoes.
More Side Dishes