Mushroom Swiss Burgers feature sautéed mushrooms, caramelized onions, juicy beef, and melted Swiss cheese all sandwiched between two buns. Next time you're craving an easy weeknight burger for dinner, elevate it with this simple yet oh so satisfying recipe!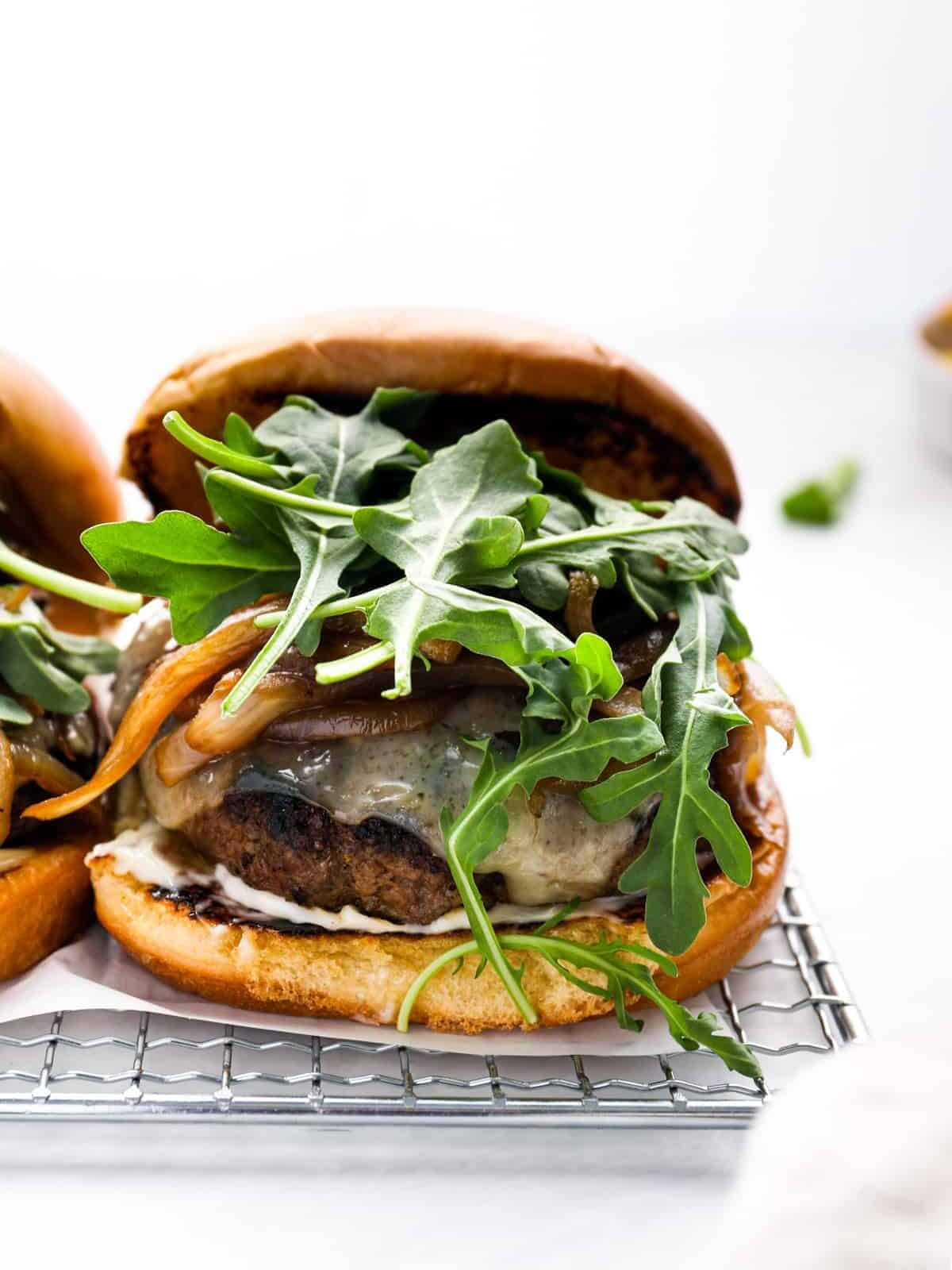 What's in Swiss Mushroom Burgers?
Homemade beef burgers are all dressed up with melted Swiss cheese, sautéed mushrooms and onions, and just enough mayo and arugula to really tie it all together!
Ground Beef: I like to use 85% lean ground beef for my burgers.
Mushrooms: Feel free to use your favorite variety of mushrooms on the burgers.
Swiss Cheese: To properly melt the Swiss cheese, be sure to cover the skillet with a lid or aluminum foil.
Salt and Black Pepper: Don't be too heavy handed with these simple seasonings! Salt can especially take over the burgers.
Fresh Rosemary: The rosemary adds a delicious herby note to the burgers, but you can leave it out if you prefer. Or try fresh thyme.
Butter: Unsalted butter is needed for both to sauté the mushroom and onions, and to toast the buns.
Yellow Onion: You can use a white onion if preferred. Just keep in mind that a yellow onion has a naturally sweet flavor that will compliment the other ingredients.
Balsamic Vinegar: This adds a subtle sweetness and tangy flavor to the onions and mushrooms.
Hamburger Buns: If you want to make it even more gourmet, the secret ingredient is in the buns (brioche buns are my favorite!).
Toppings: Mayonnaise and arugula are optional but highly recommended toppings!
Pro Tip: 85% lean ground beef has the perfect balance of fat for juicy burgers, but you can use 80% or 90% if you prefer.
Variations to Try
When it comes to mushrooms, there's room for creativity! You can use any mushrooms in this recipe – white button, cremini, portobello, shiitake, etc.
As for the meat for these mushrooms Swiss burgers, that can also be switched up. While ground beef is the most traditional, for a healthier twist, you can use ground chicken or turkey. For a really interesting twist, you could even try ground bison!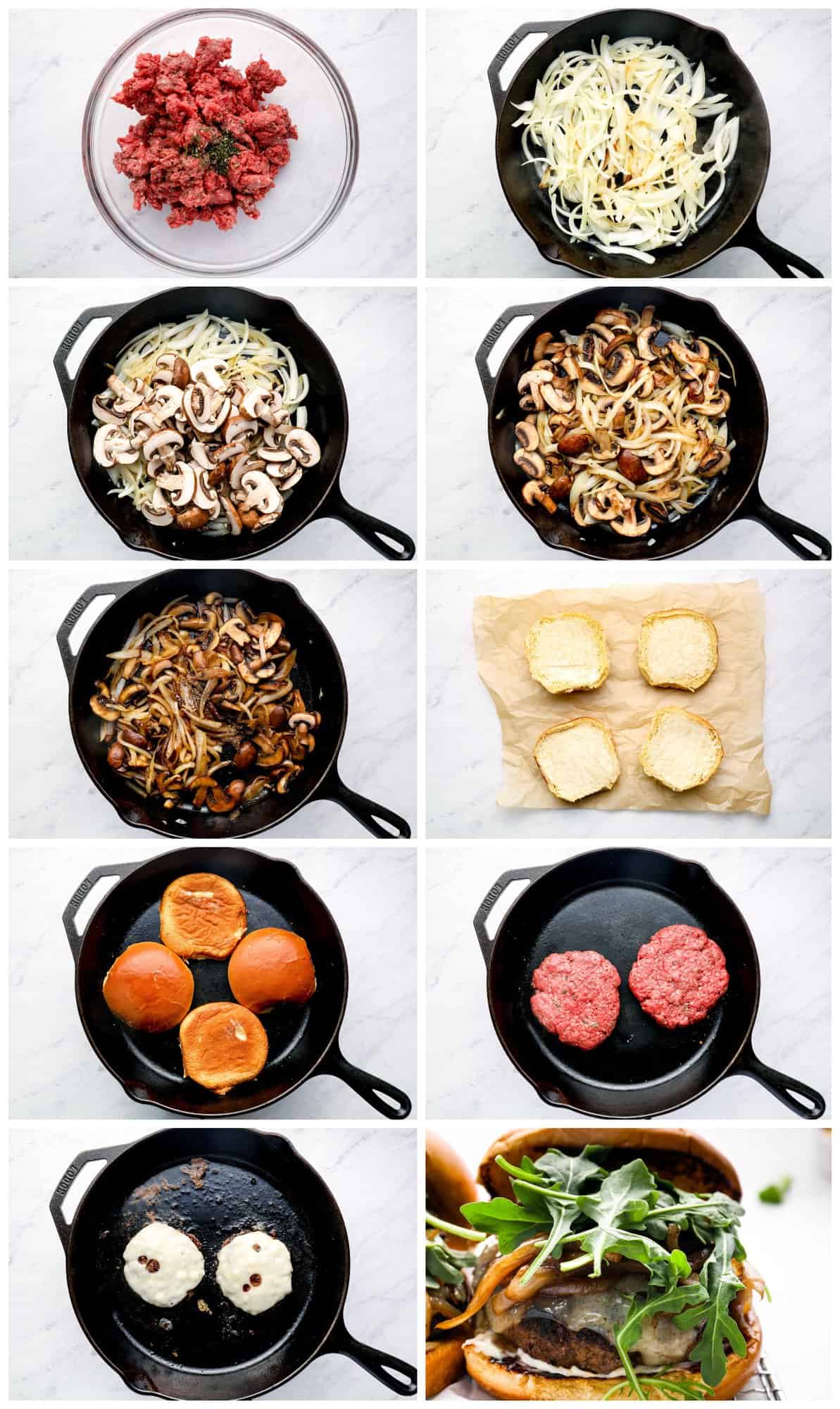 What should I do if my burgers are sticking to the pan?
Be patient! The burgers will form a crust and naturally release when they are ready to be flipped. Try flipping them again in another minute.
Are mushroom swiss burgers gluten-free?
The burger patties themselves are naturally gluten-free. Just be sure to put them on a gluten-free burger bun!
Can I make mushroom swiss burgers on the grill?
Absolutely! Preheat your grill to medium-high and cook the burgers for 3-5 minutes per side, until they reach your desired level of doneness. Here are all of my tips for how to grill burgers.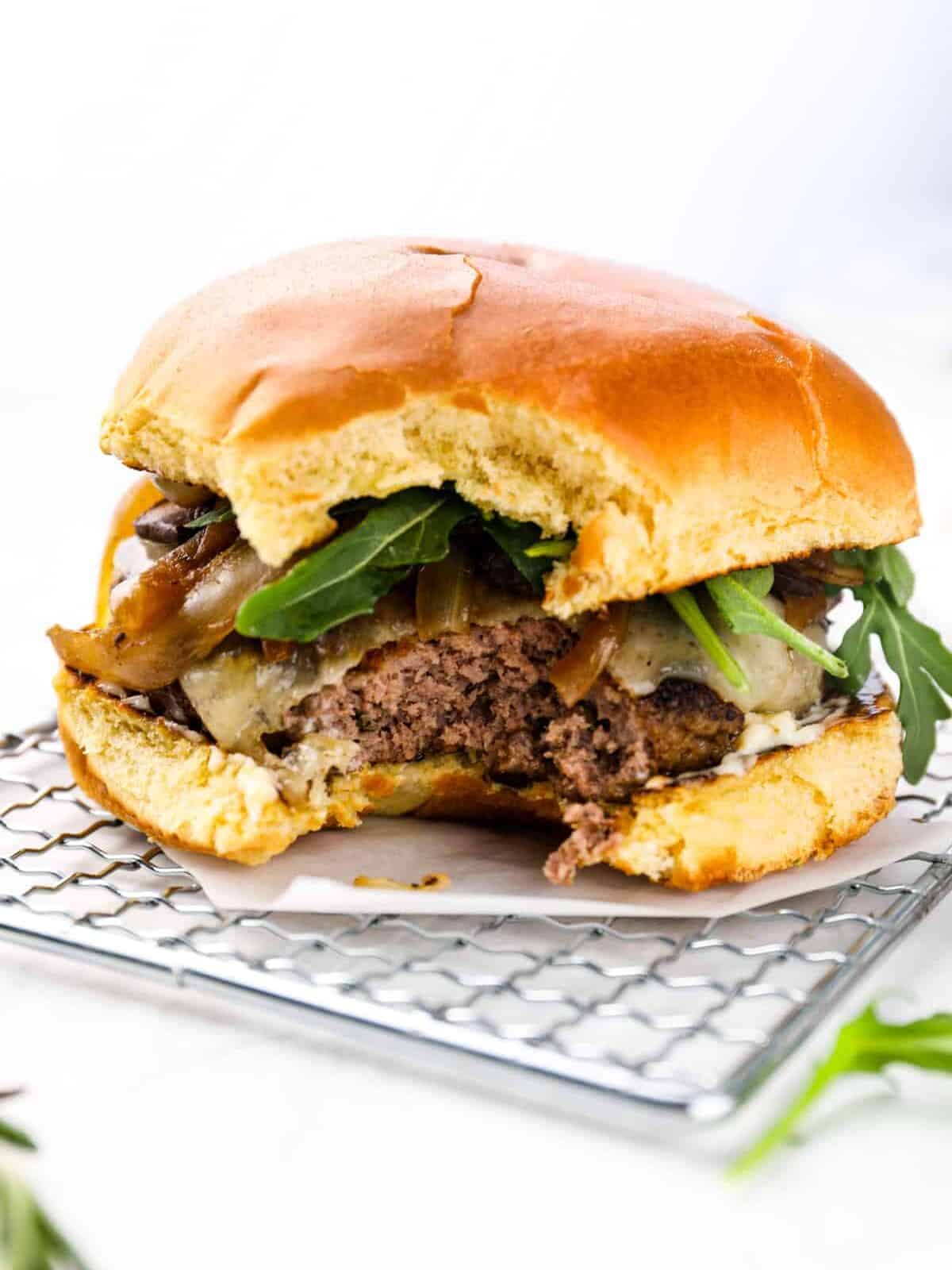 How to Store and Reheat Burgers with Mushrooms
Store leftover cooked burger patties in an airtight container in the refrigerator for up to 3 days. Store leftover cooked mushrooms in an airtight container in the refrigerator for up to 2 days.
To reheat, place the burgers and mushrooms in a baking pan covered with aluminum foil and bake at 350°F for 8-10 minutes, or until hot.
How to Freeze Homemade Burgers
Freeze cooked burger patties individually wrapped in plastic wrap and stored in a Ziplock bag for up to 3 months. Let thaw overnight in the refrigerator before reheating. I do not recommend freezing the mushrooms, as they can become mushy when thawed.
What to Serve with Mushroom Swiss Burgers
There are so many side dishes that go well with these cheesy burgers! Some of my favorites are garlic parmesan fries, roasted garlic asparagus, potato wedges, and macaroni salad. If you really want to complement the burgers, add some quick Air Fryer mushrooms on the side.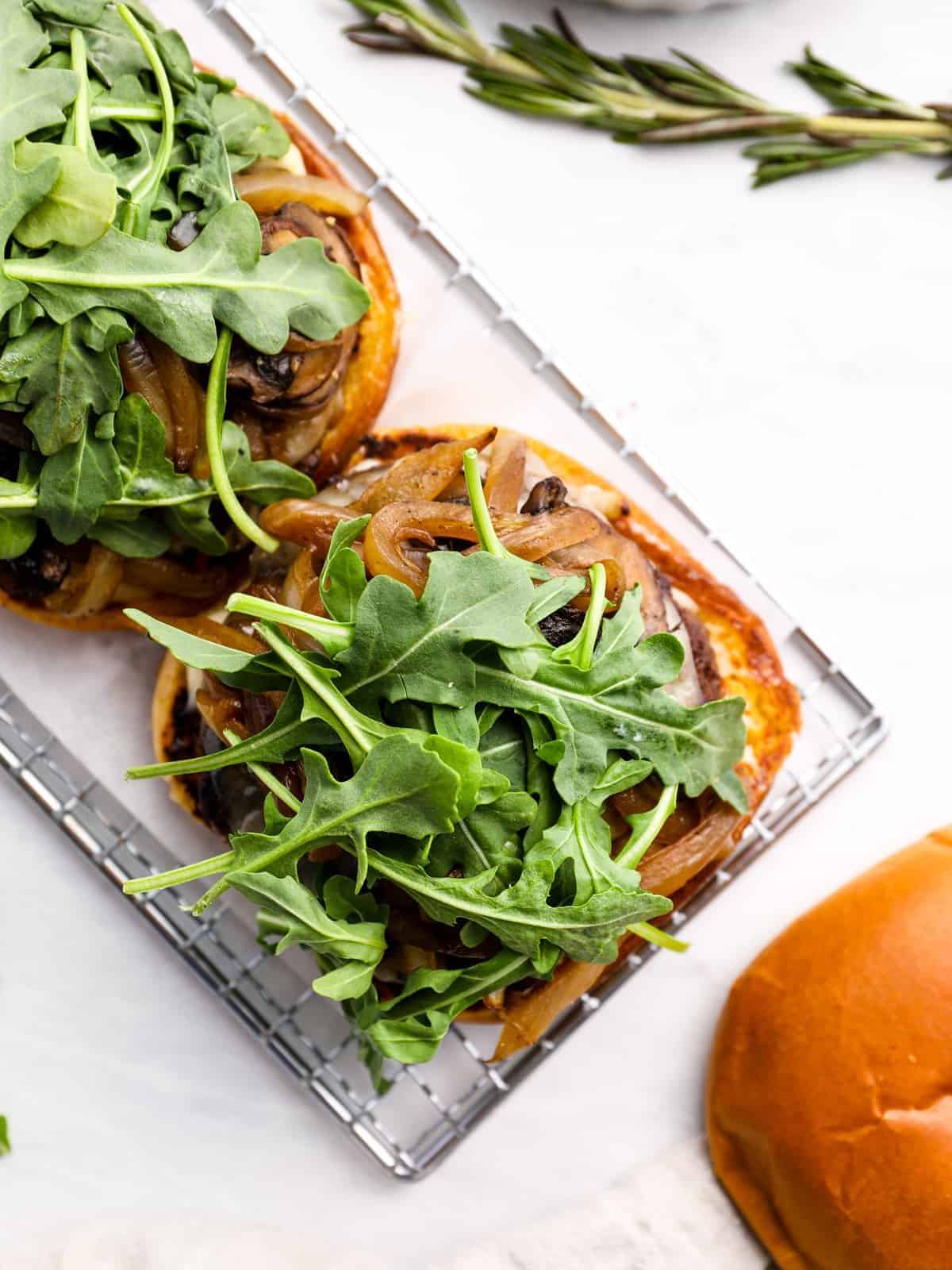 More Delicious Burger Recipes We Love