Mustard Chicken Thighs and Bacon together in one skillet make the perfect meal! This dijon mustard chicken recipe is so simple, and only requires one pot. It's made with white wine and cream for the most amazing flavor. Full of flavor and fool-proof!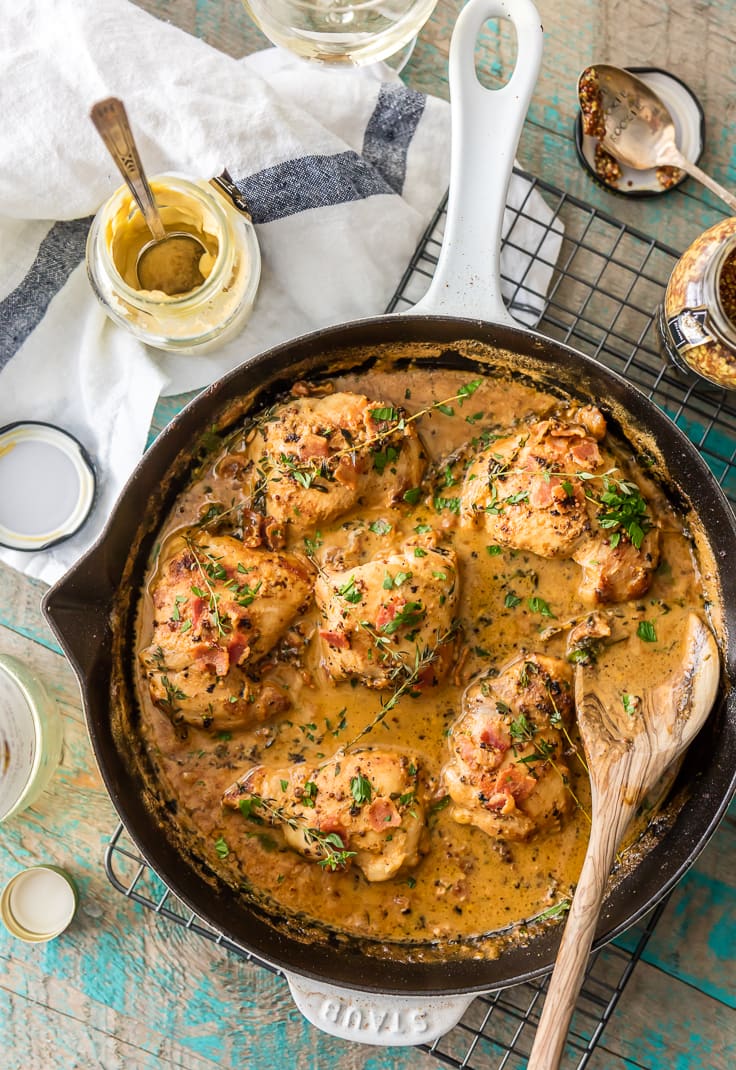 Mustard Chicken Recipe
This one pot mustard chicken recipe makes a great homemade meal for date night or any special occasion. Plus it's easy clean-up, which is always a bonus!
Today's recipe is a favorite from one of my very favorite cookbooks, My Paris Kitchen, from David Lebovitz. I made some slight changes, but the overall flavor remains the same. It's a winner every dang time, and this sauce is SO VERY CRAVE WORTHY.
We're making Dijon Mustard Chicken Thighs in a skillet, along with bacon, white wine, and cream. You really can't go wrong with chicken and bacon, especially when it's cooked in a delicious sauce, all in one skillet. That means you get an incredibly tasty dinner, and you don't have to waste any time with unnecessary dishes or balancing multiples recipes at once.
Keep in mind, you can use chicken breasts for this recipe if you prefer that over chicken thighs. Both work just fine, but thighs will make it extra juicy and delicious!
Make this delectable Mustard Chicken and Bacon Skillet Dinner for a romantic night in!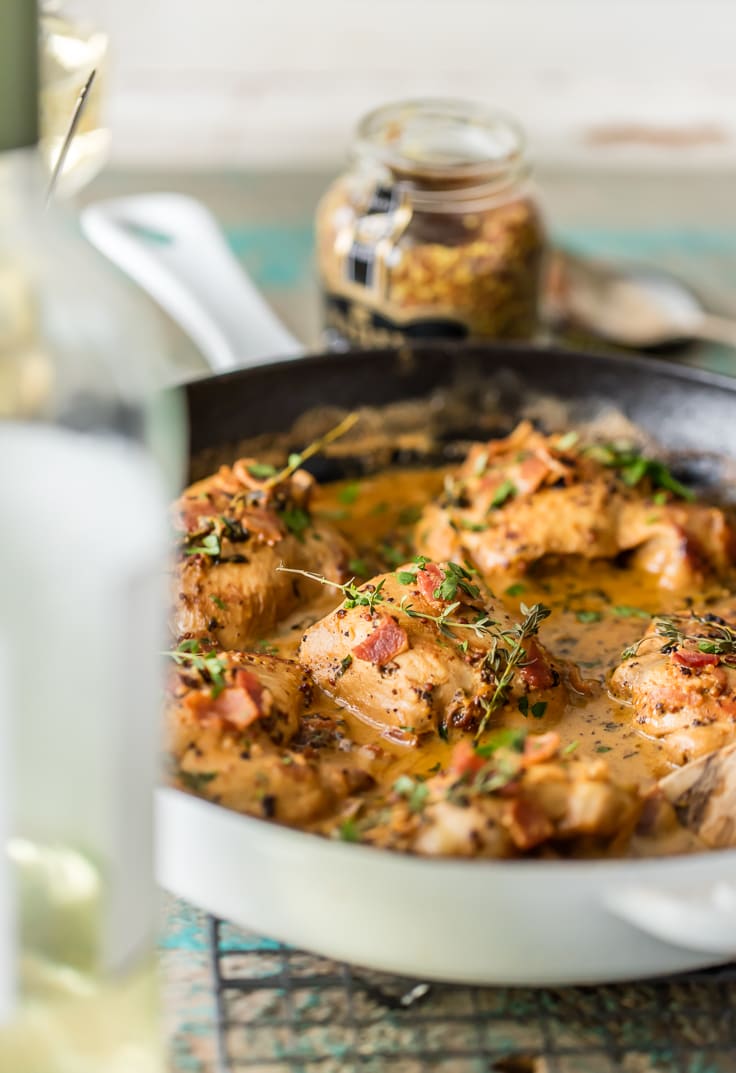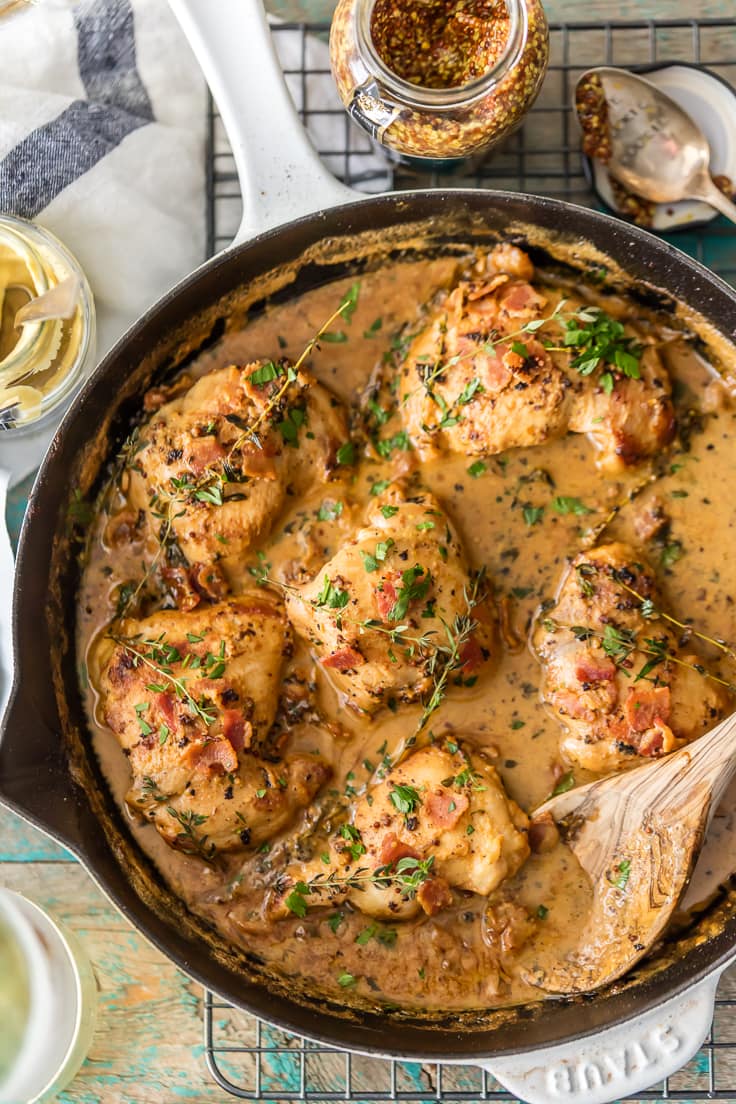 Dijon Mustard Chicken Thighs
This Mustard Chicken thighs recipe has it all. Crispy bacon, WINE, heavy cream, juicy chicken, and two kinds of tangy mustard. Divine! It's the perfect romantic meal to make at home, especially when you need to pull yourself out of a funk. It's just so dang delicious!
This one pot chicken dinner couldn't be easier, and it couldn't be tastier either! There's so much to love about this recipe, and I can't wait for you to try it.
If you're looking for some side dish ideas, try our Savory Mashed Sweet Potatoes, Grilled Corn Salad, Garlic Roasted Asparagus, or just add some brown rice and roasted veggies!
How to Make Mustard Chicken and Bacon
Be sure to check the recipe card for the full, detailed recipe and ingredients list. But I want to show you quickly how easy this dijon mustard chicken recipe is!
Start by making the mustard chicken marinade (dijon, paprika, salt & pepper), then fully coat the chicken (you can use thighs or breast) in the mixture.
Place chicken in resealable bags, then let them marinate in the refrigerator for up to 2 hours (the longer the better, but you can cut down the time if needed).
When you're ready to cook, add bacon to your skillet and cook until crispy, then remove bacon from the skillet and set it aside.
Next, cook the chicken in the skillet for about 4-5 minutes (it won't be fully cooked just yet), then set it aside with the bacon.
Now add the wine into the skillet, and mix in the dijon, whole grain mustard, and heavy cream.
Place the chicken and bacon back in the pan, and let everything simmer for about 15- 20 minutes.
I just love the way this chicken comes out full of flavor. The sauce is really just SO amazing. Be sure to drizzle any extra back over the chicken, or drizzle it over rice or veggies on the side.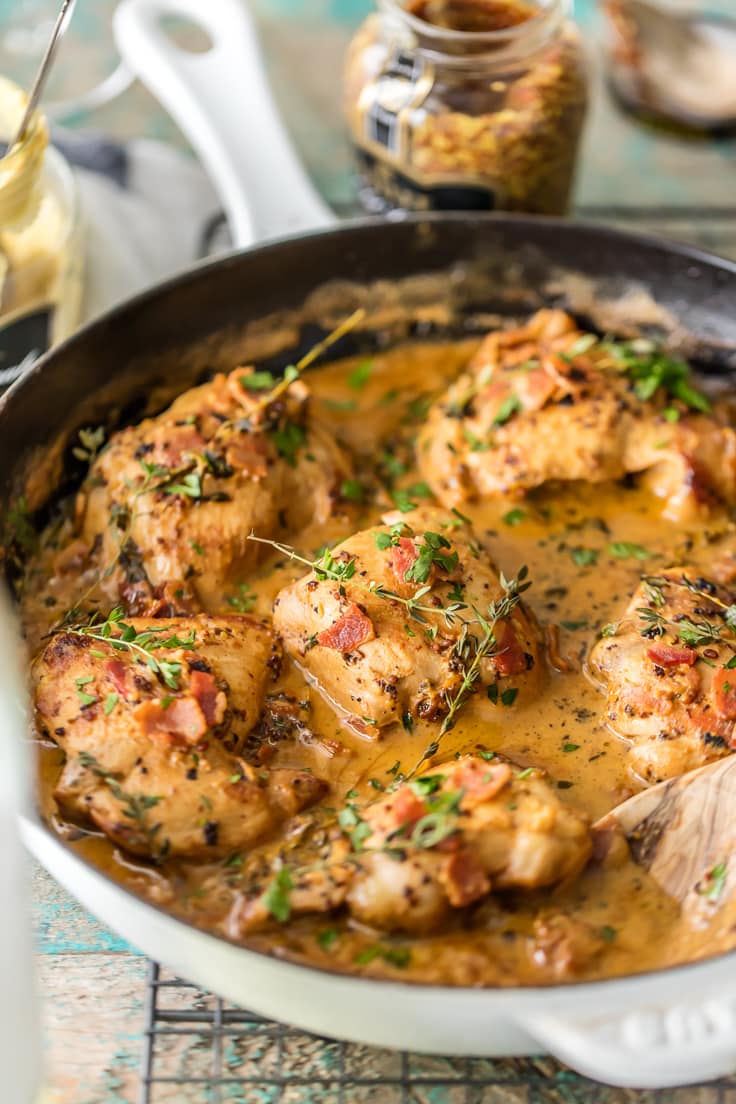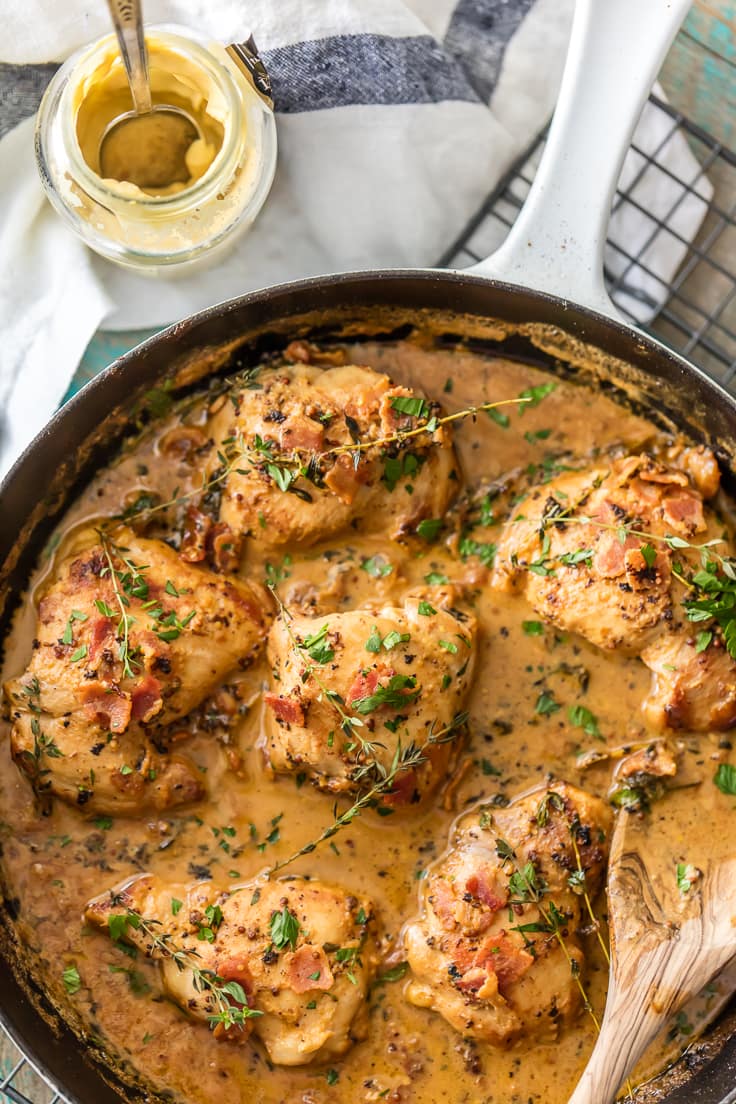 One Pot Chicken Recipes
This dijon mustard chicken is one of my very favorite one pot recipes, but we've got plenty more to try out when you need an easy dinner.
See the recipe card for details on how to make Mustard Chicken and Bacon. Enjoy!
You'll love these other easy chicken recipes too: