Mustard Chicken and bacon together in one skillet make the perfect meal! This Dijon mustard chicken recipe is so simple and only requires one pot. It's made with white wine and cream for the most amazing flavor. Full of flavor and foolproof!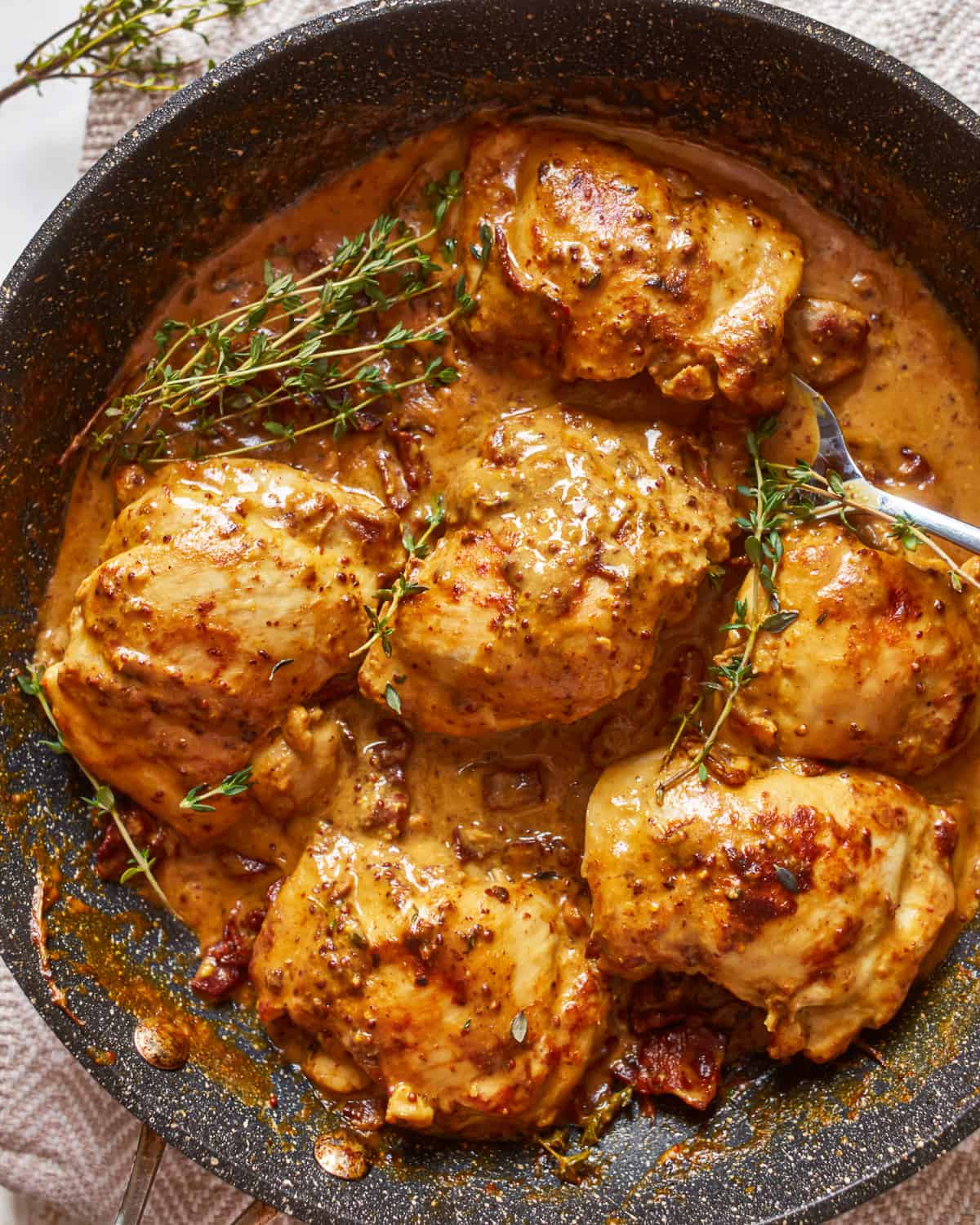 What's in this Mustard Chicken Recipe?
This Mustard Chicken thighs recipe has it all. Crispy bacon, wine, heavy cream, juicy chicken, and two kinds of tangy mustard. Divine! It's the perfect romantic meal to make at home, especially when you need to pull yourself out of a funk. It's just so dang delicious!
Mustard: Give this dish a one-two punch with both Dijon and whole-grain mustard!
Smoked Paprika: Adds a smoky element to the dish.
Salt + Pepper: Enhances the natural flavor of the chicken.
Chicken: I like to use boneless, skinless chicken thighs, but breasts will also work.
Bacon: Look for thick-cut bacon for the tastiest result.
White Wine: Choose a dry white wine, like Sauvignon Blanc.
Heavy Cream: Makes this dish creamy.
Thyme: Adds a fresh herbal flavor that complements the tangy mustard.
Pro Tip: If you can't find smoked paprika, you can use regular paprika or chipotle chili powder.
Variations on Mustard Chicken Thighs
This dish has a great balanced flavor. However, you can really use any kind of mustard you like. I love the balance of spicy Dijon and pungent whole grain, but spicy brown or yellow mustard will also work.
If you're not a fan of bacon, you can leave it out or try using pancetta instead. To make this dish spicier, try swapping out the paprika for cayenne pepper.
Is it good to put mustard on chicken?
Yes! It acts as the perfect glue for any seasonings you might choose to add, and it also contributes a great tang to the chicken!
Do you put mustard on chicken before or after seasoning?
I prefer to mix the mustard and spices together, then add them to the chicken.
Can I omit the wine?
Sure! If you're not a drinker, you can swap out the wine for chicken broth.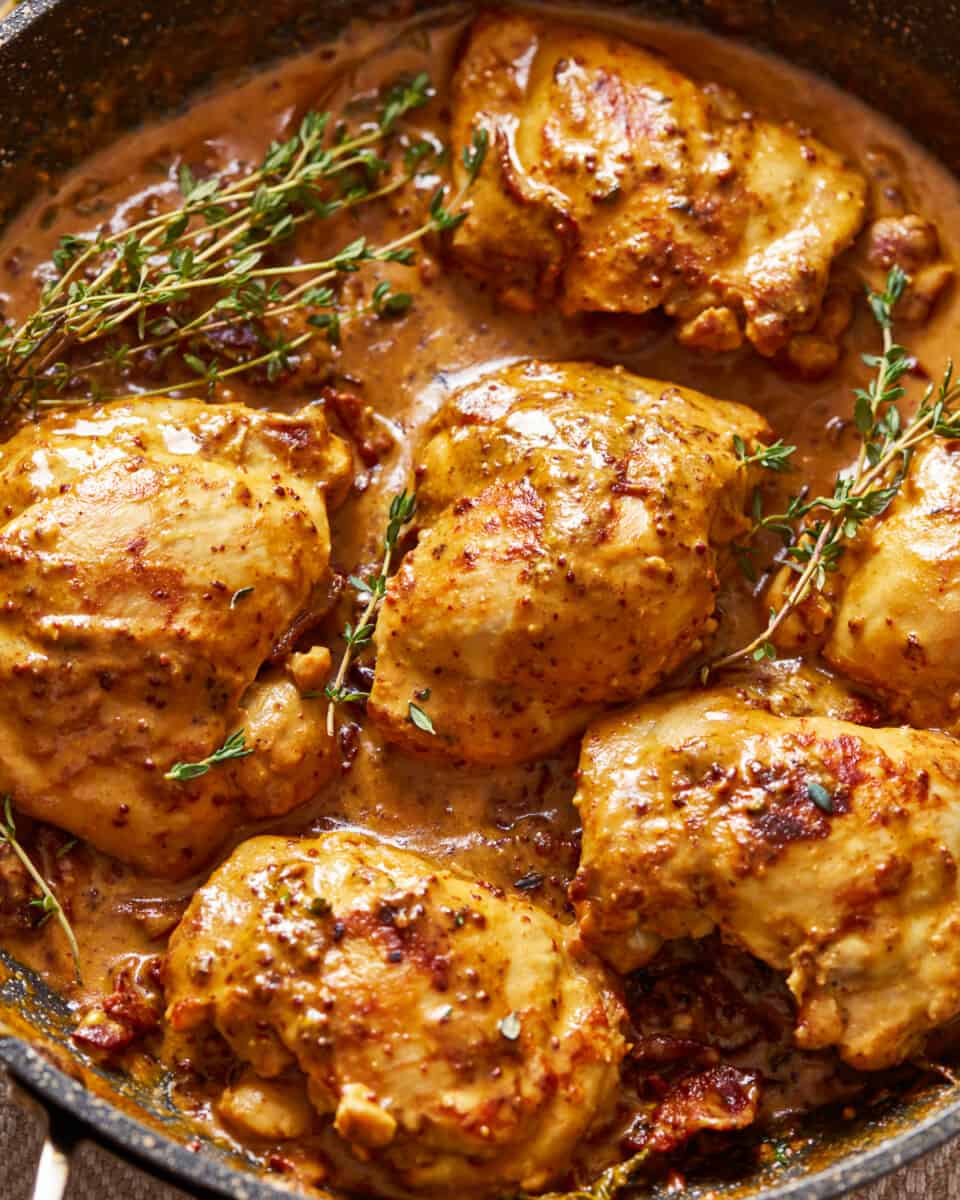 How to Store and Reheat
Store leftover mustard chicken in an airtight container in the refrigerator for up to 5 days. Reheat in the microwave in 30-second increments until warmed through.
I do not recommend freezing this recipe, as the cream will separate and create an unpleasant texture as it thaws.
Serving Suggestions
If you're looking for some side dish ideas, try our Savory Mashed Sweet Potatoes, Grilled Corn Salad, Garlic Roasted Asparagus, or just add some brown rice and roasted veggies!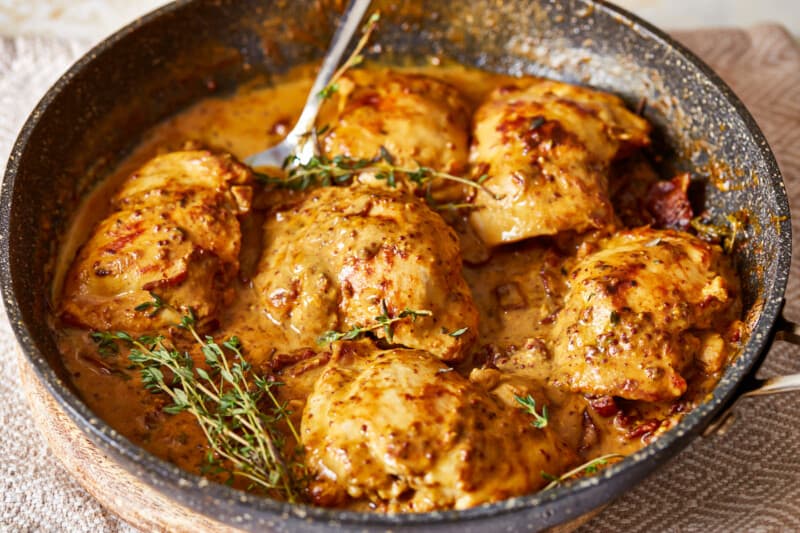 5-Star Review
"Absolutely delicious.
Probably the best chicken recipe I have ever made." – Michael
More Skillet Chicken Recipes We Love