Skillet Lemon Chicken with White Wine, an incredibly delicious and EASY recipe for a casual dinner or dressy nights! I love skillet meals and this is one of my favorites! So much flavor and so little work.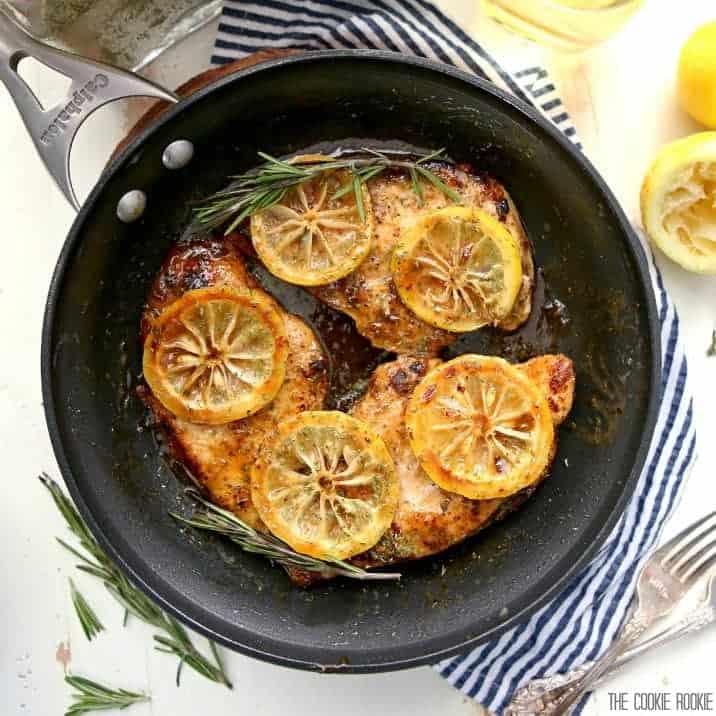 Everyone has a favorite type of food.  Mine is clearly cheese.  But SECOND to cheese, are easy meals.  Easy skillet meals.  Easy one-pot meals.  All of the above.  This recipe checks all of those boxes.  It's so good it doesn't even need cheese.  (I KNOW)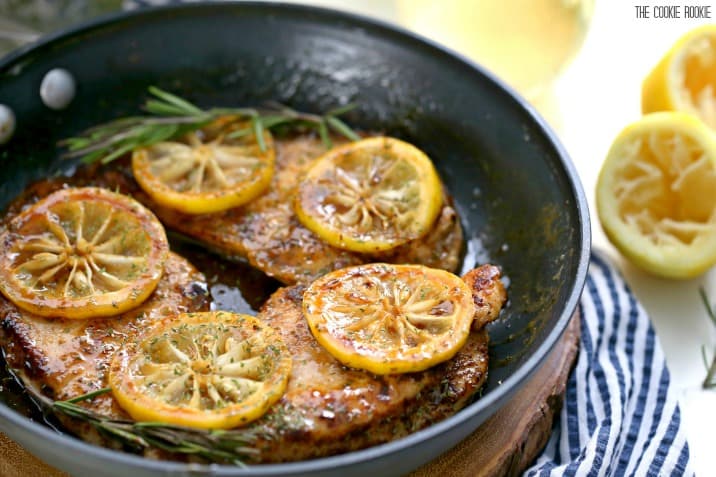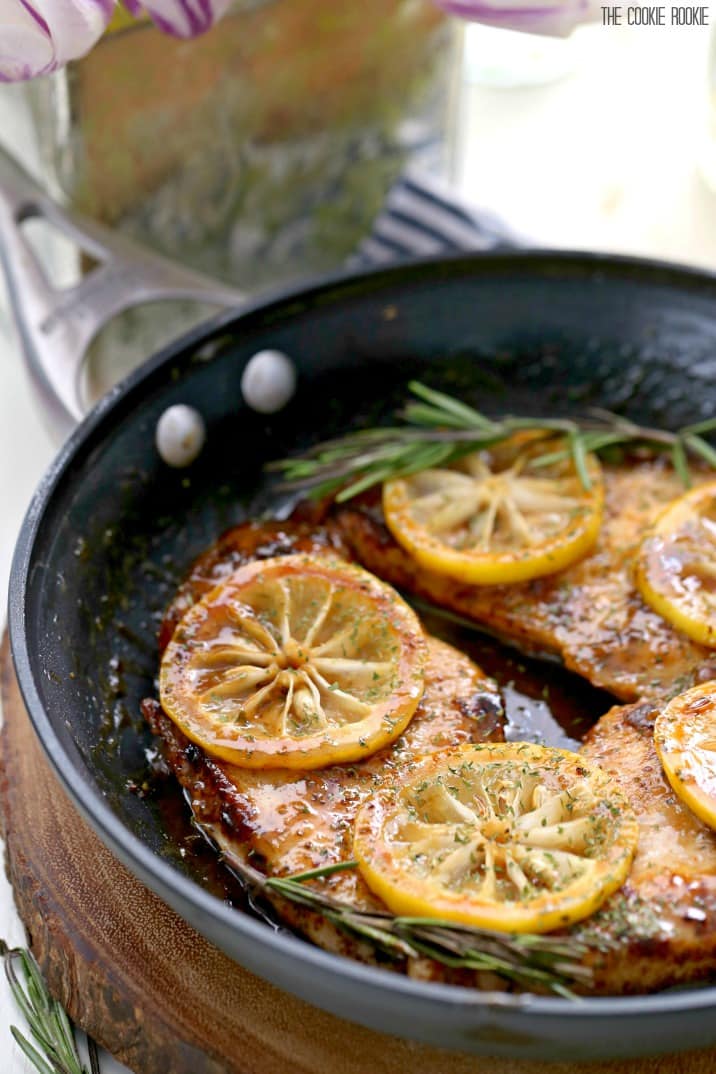 I've made a few easy skillet meals in my life.  Skillet Basil Cream Chicken and Skillet French Onion Chicken are two of my most popular recipes on the site! They're both made in under 30 minutes, have easy clean up, and are DELICIOUS.  I love when all the flavors cook up together.  It's just better that way!
This Skillet Lemon Chicken with White Wine is the perfect meal for any occasion.
Date night?? PERFECT.  Romantic.  Hello? White Wine.  Girls night in? Um yes.  Hello, white wine! See what I mean?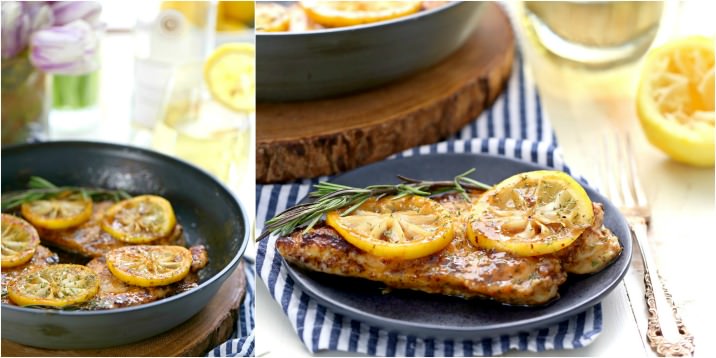 We leave for Europe TOMORROW!!!! I'm so excited.  Please be sure to follow along with our trip on Instagram!! I'm going to make Pat pose for tons and tons of pics!!
Enjoy :)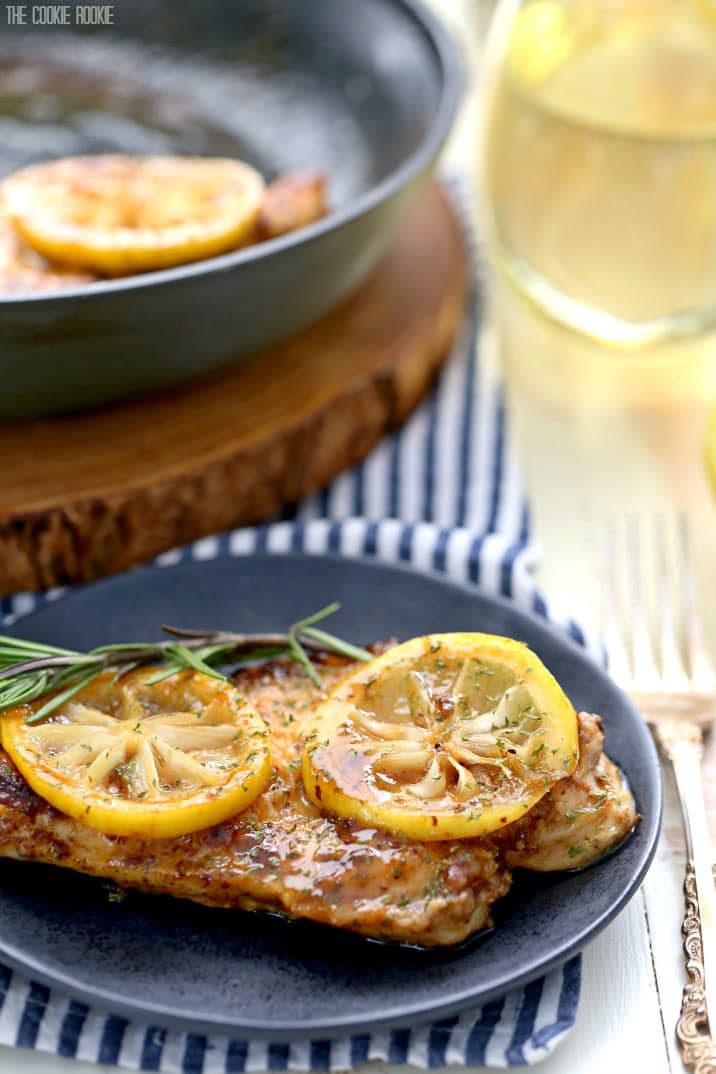 Skillet Lemon Chicken with White Wine
10 minPrep Time
20 minCook Time
30 minTotal Time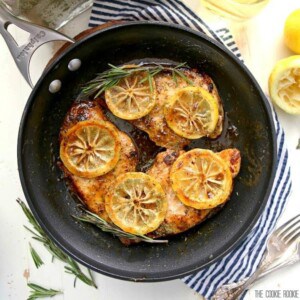 Ingredients
4 boneless skinless chicken breasts (thin breasts, or pounded thin)
1/4 cup butter, unsalted
2 tbsp. olive oil
1 lemon (juice and zest)
1 lemon sliced
1/4 cup white wine
1/2 cup flour
1 tsp. salt
1 tsp. ground black pepper
1/2 tsp. paprika
1/2 tsp. dried parsley
1 tbsp. honey (optional)
Fresh rosemary for garnish (optional)
Instructions
Combine flour, salt, pepper, paprika, and parsley in a shallow bowl. Set aside.
Heat oil and butter over medium-high heat.
Coat both sides of each chicken breast in the flour mixture and add to the hot skillet.
Add the lemon juice, white wine, lemon zest, and rosemary to the skillet.
Cook chicken about 3 minutes on each side until no longer pink in the center.
Remove chicken from the skillet and set aside.
Allow the sauce in the skillet to reduce by half. Add the lemon slices after reduced until they're softened/carmelized.
Add the chicken back into the skillet and you're ready to serve! If you want your sauce a bit sweeter/less tart, add the tbsp. honey to taste.
Serve over rice or pasta.
Enjoy!
7.8.1.2
2045
https://www.thecookierookie.com/skillet-lemon-chicken/