Oven Baked Ribs are the perfect meal for rainy days when you just don't have access to your grill. I like cooking ribs in the oven because it's super easy and they turn out so moist. These dry-rubbed ribs are one of our favorite easy dinners for summer!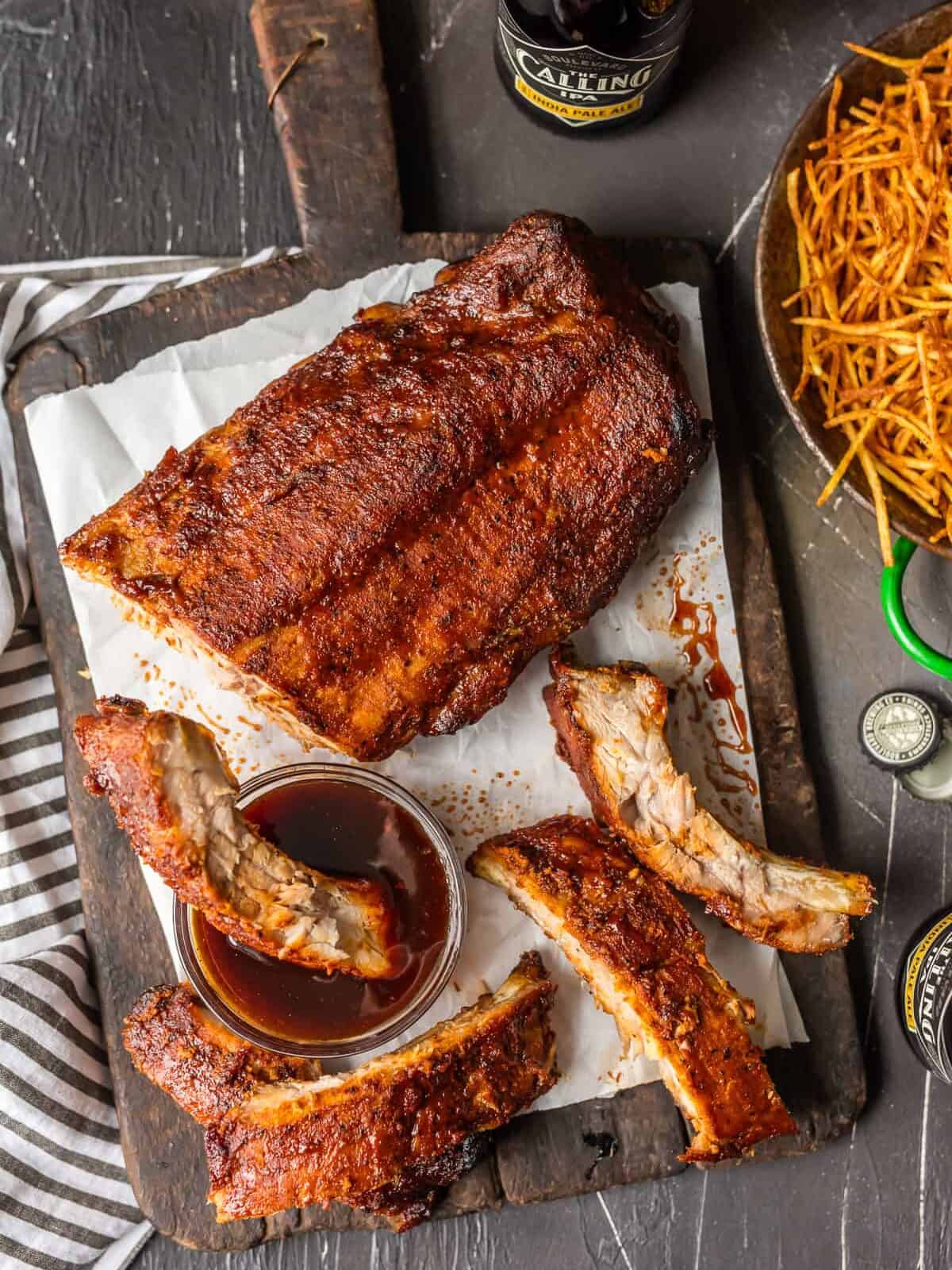 What's in this Oven Baked Ribs Recipe?
Ribs are great on the grill, but oven baked ribs might be even better! Baking them really brings out the flavor, especially with this amazing dry rub.
Ribs: This recipe works with baby back ribs or spare ribs, so use whichever you like best!
Dijon Mustard: Adds a bit of an earthy, spicy flavor.
Liquid Smoke: Adds that fresh-from-the-grill flavor. This is optional, so you can leave it out if you prefer.
Barbecue Sauce: Adds that classic BBQ flavor.
Spice Rub: A sweet, smoky, and slightly spicy blend of brown sugar, paprika, granulation garlic and onion, salt and pepper, cumin, chili pepper, mustard, and cayenne pepper takes these ribs to the next level!
Pro Tip: If you don't have liquid smoke, I highly recommend using smoked paprika in the spice rub to give these ribs that grilled taste!
Variations on Baked Ribs
I love the classic taste of BBQ baked ribs, but there are so many other fun ways to flavor these ribs. Try one of these variations:
Asian-Inspired: Marinate the ribs in a mixture of soy sauce, ginger, garlic, honey, and a touch of sesame oil. Serve with a sprinkle of sesame seeds and chopped green onions for added flair.
Honey Mustard: Combine honey, Dijon mustard, minced garlic, and a splash of apple cider vinegar to make a tangy and sweet glaze for the ribs.
Citrus-Glazed: Mix together orange juice, lime juice, honey, soy sauce, and grated ginger to create a bright and zesty glaze.
Herb-Rubbed: Create a dry rub using a combination of herbs such as rosemary, thyme, oregano, paprika, garlic powder, and salt.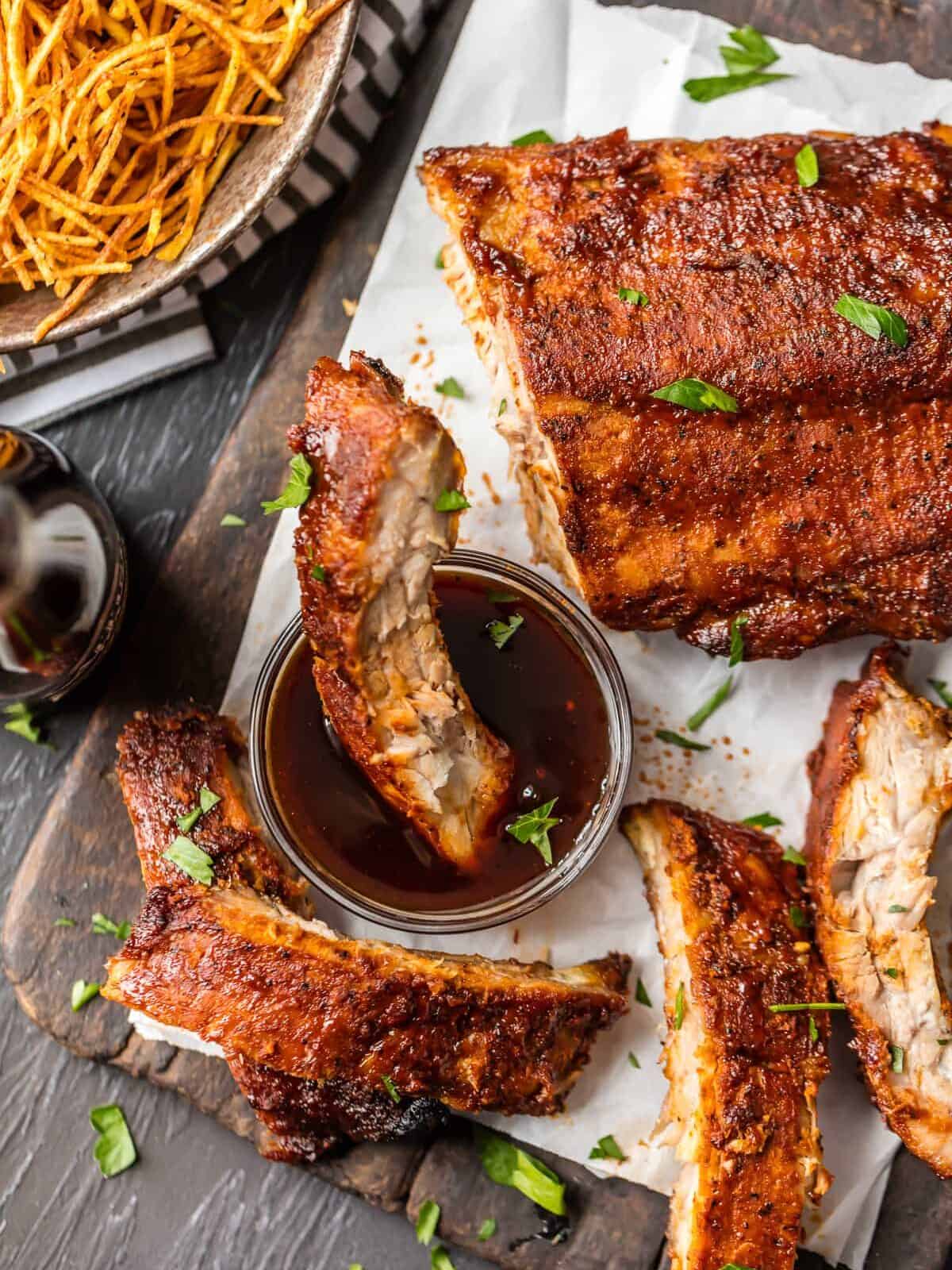 How long do you bake ribs for in the oven?
Cooking ribs in the oven will vary based on what type of ribs you're making. You can use spare ribs or baby back ribs for this easy oven baked ribs recipe. If you are baking Baby Back Ribs, cook them for about 1½-2 hours. If you are baking Spare Ribs, cook them for 2½-3 hours in the oven.
Do you bake ribs covered or uncovered?
I like to bake ribs in the oven uncovered at first, and then about halfway through the cooking time, I will cover them with aluminum foil for the remainder of the cooking time. I find this keeps them from drying out.
Should I wrap my ribs in aluminum foil?
It is common to wrap ribs in foil when cooking ribs in the oven, but it's not always necessary. In this recipe, the ribs spend some time uncovered and some time covered.
Should I bake ribs at 250 or 275?
Contrary to the super low-and-slow method, I actually like to bake my ribs at 300°F. They finish a little faster this way, but they still stay super moist and tender– trust me!
At what temp are ribs most tender?
Ideally, you want the internal temperature of your ribs to be 190-200°F. This will make them fall-off-the-bone tender!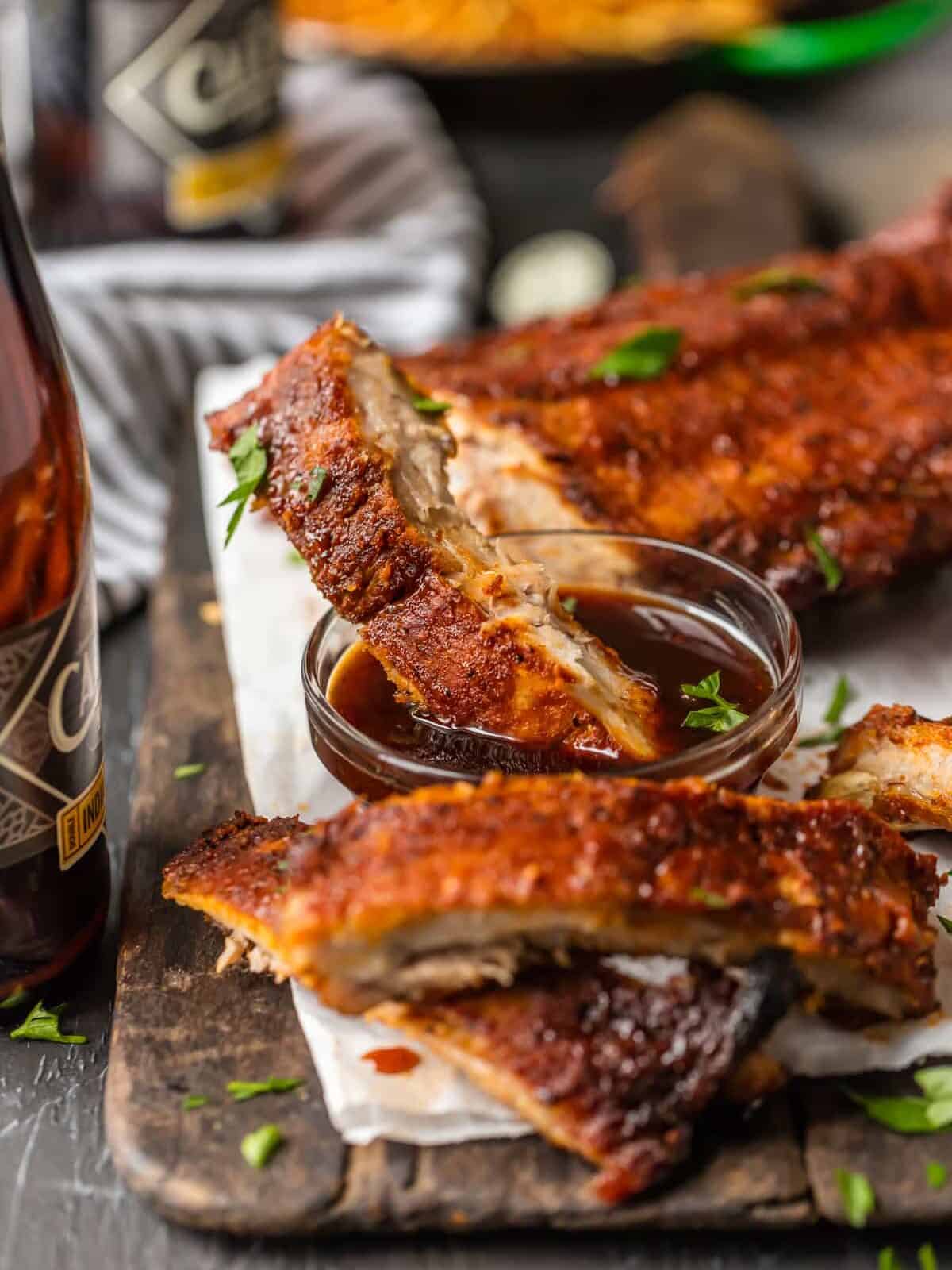 How to Store and Reheat
Store leftover oven baked ribs in an airtight container in the refrigerator for up to 3 days. Reheat in a 250°F oven in a pan covered with aluminum foil for about 30 minutes, or until the meat reaches 130-140°F.
How to Freeze
Freeze baked ribs tightly wrapped in 2 layers of aluminum foil for up to 3 months. Let thaw overnight in the refrigerator before reheating.
Serving Suggestions
These BBQ baked ribs are delicious served with the leftover pan drippings or some extra barbecue sauce and a side of shoestring fries (pictured), coleslaw, baked beans, and some freshly baked cornbread. Corn on the cob, potato salad, or macaroni salad would also be delicious!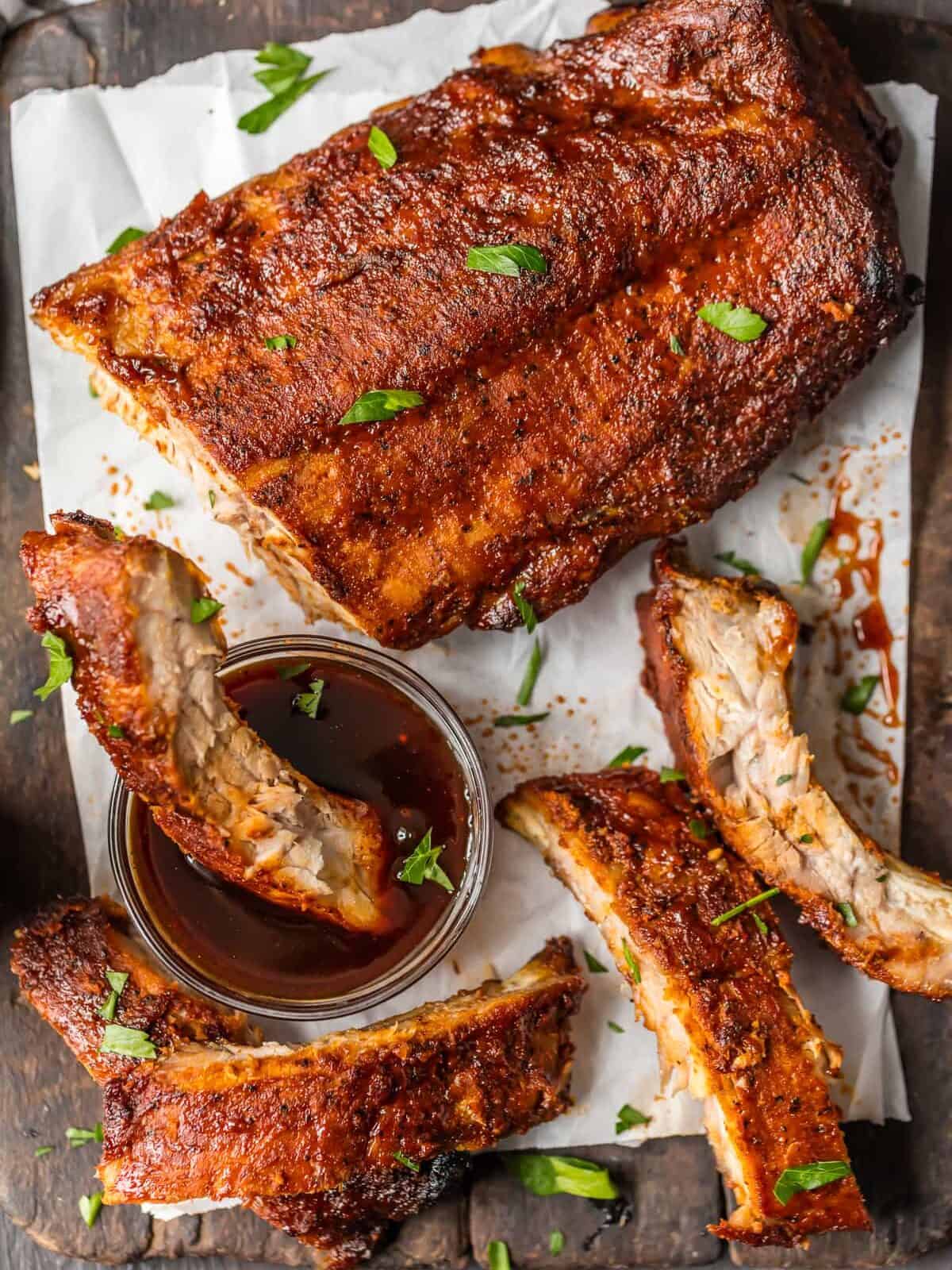 For more tips and tricks, check out my guide on how to cook ribs!
More Rib Recipes We Love