Kick your BBQ skills up a notch with OVEN BAKED RIBS! These dry rubbed ribs are one of our favorite easy dinner, SO MUCH FLAVOR!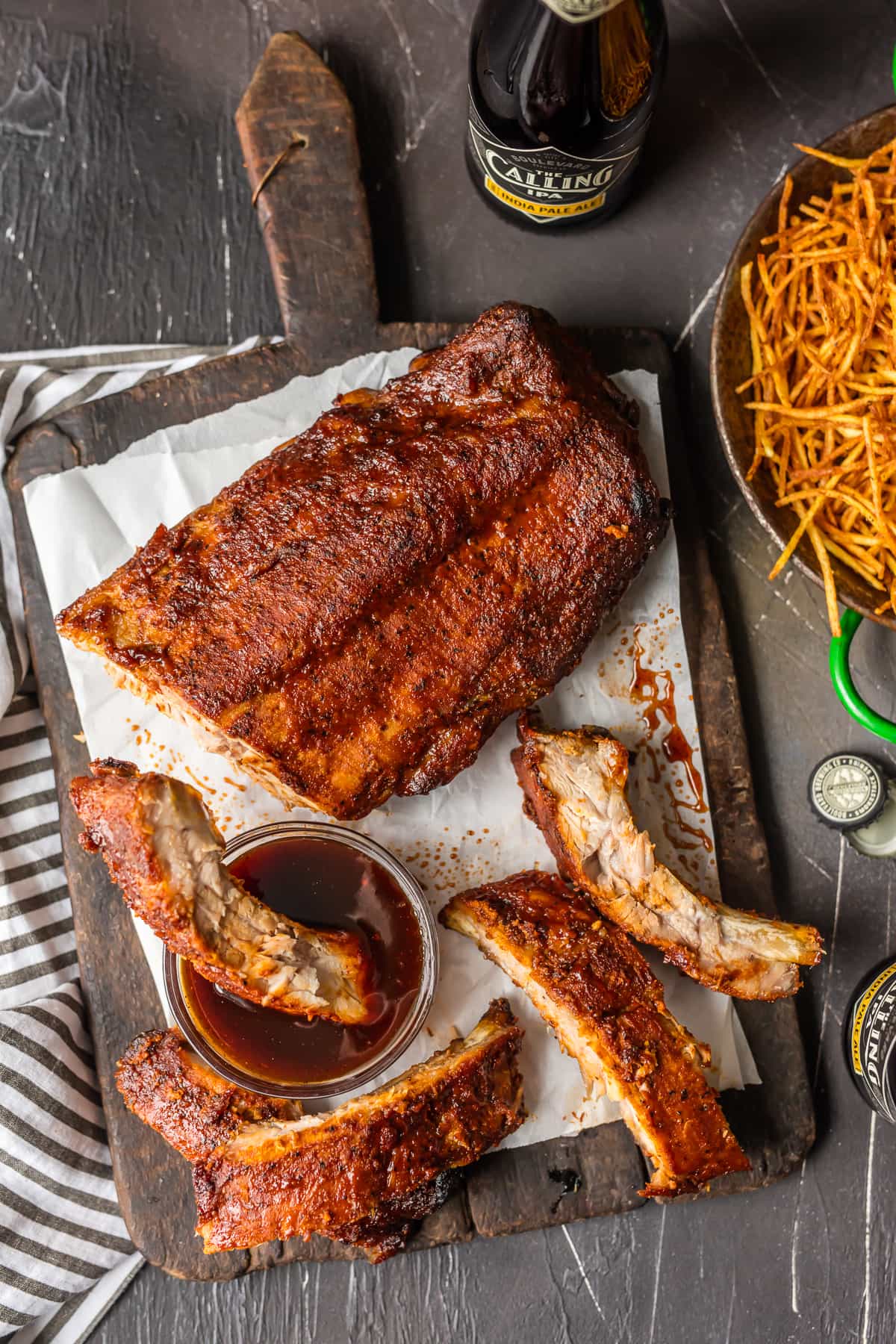 OVEN BAKED RIBS!!! Ribs that are easy, SO DELICIOUS, and practically fool proof. My kind of weekend recipe. The spice rub on these oven baked ribs is TO DIE FOR and so finger licking good. I actually hate that phrase…it grosses me out. But I don't know what other way to describe just how tasty these are from start to finish. Mom made these ribs and brought them over and I immediately made her give me the recipe. She has all the best recipes you guys!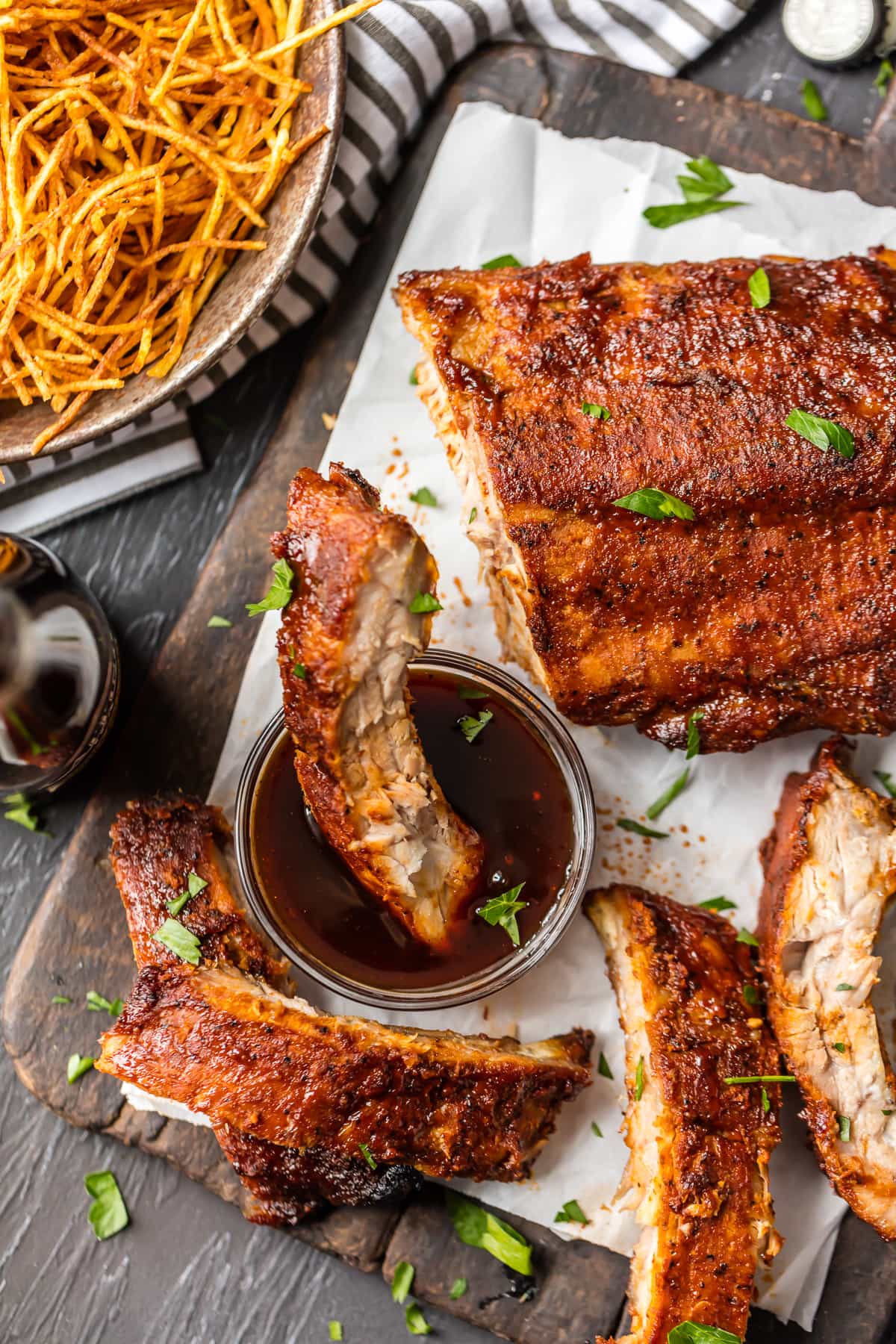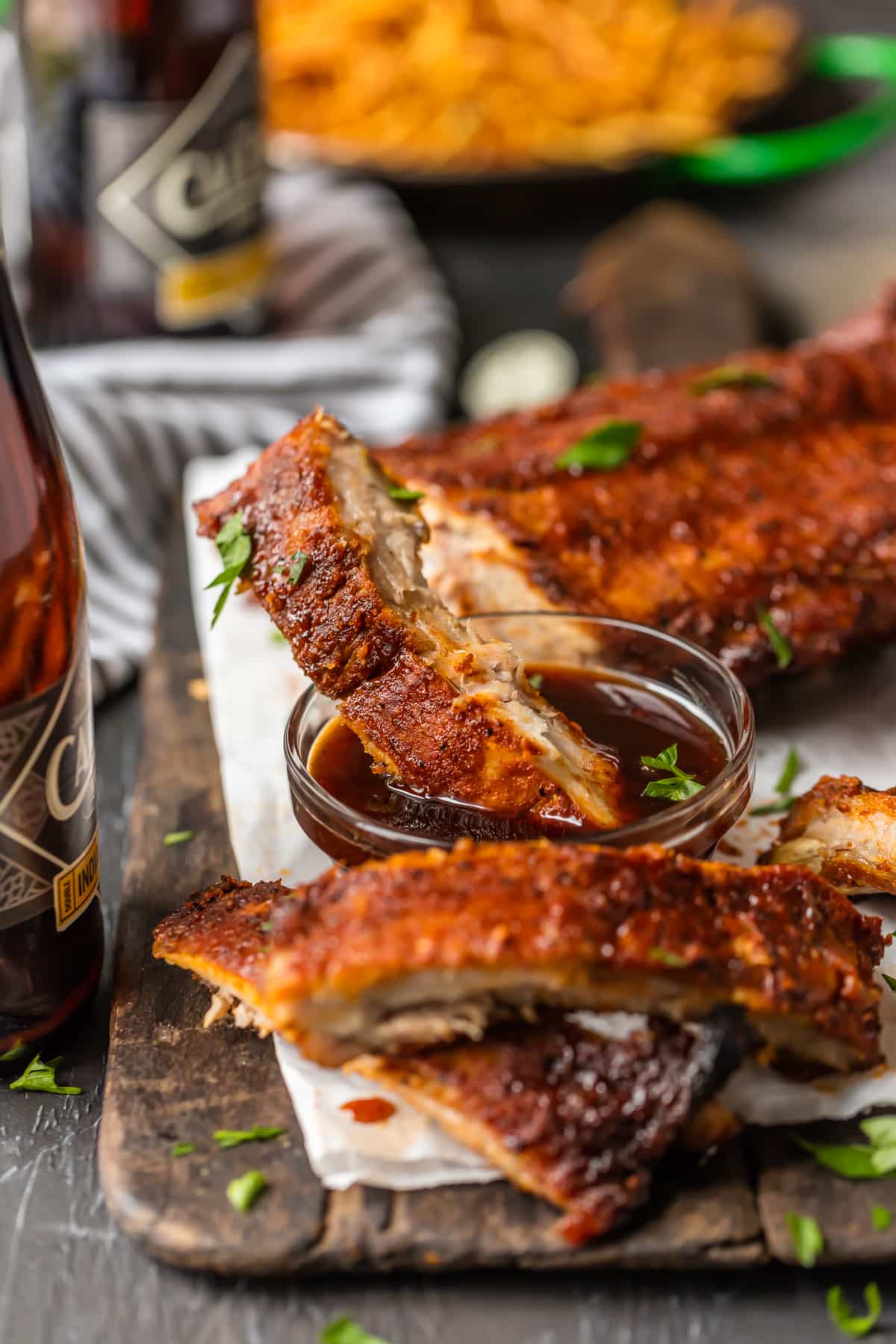 I'm gonna keep this short and sweet because that's just how this recipe is. It's the ultimate easy recipe for tailgating, weekends spent with friends, or a quiet dinner at home. So simple. So delicious. High fives all around.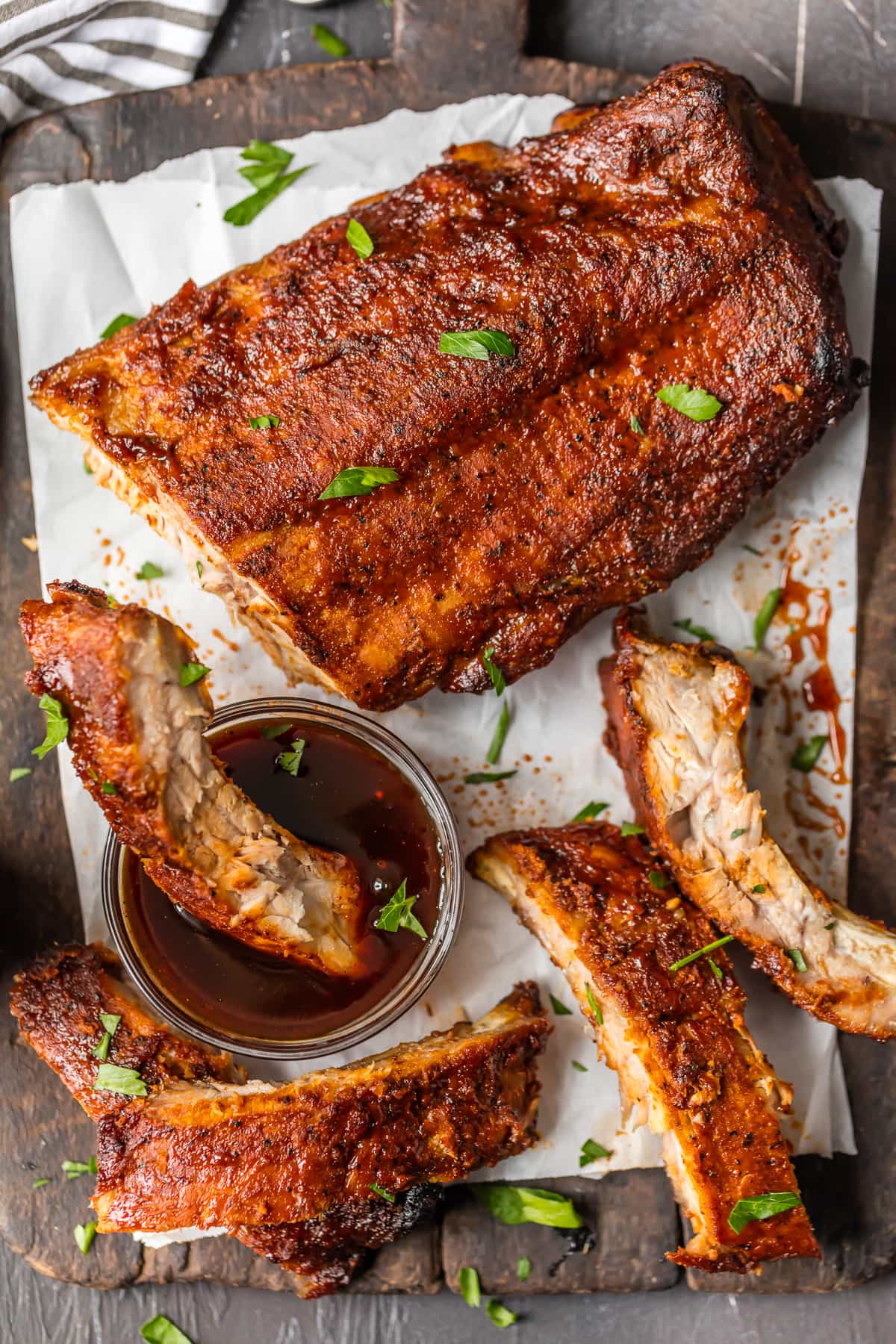 There's not much more to say other than MAKE THESE ASAP! You won't regret it. Enjoy!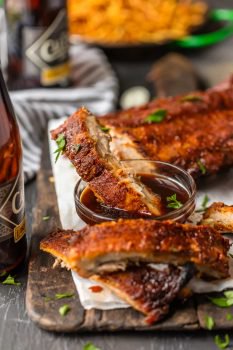 Oven Baked Ribs
Kick your BBQ skills up a notch with OVEN BAKED RIBS! These dry rubbed ribs are one of our favorite easy dinner, SO MUCH FLAVOR!
Print
Ingredients
For the Ribs:
3-4

pounds

baby back or spare ribs

¼

cup

Dijon mustard

1

teaspoon

liquid smoke

optional

½

cup

spice rub

recipe below

½

cup

barbecue sauce

Blue's Hog BBQ Sauce is my favorite.
For the Spice Rub:
4

cups

dark brown sugar

½

cup

ground smoked paprika or sweet

¼

cup

granulated garlic *NOT garlic salt

¼

cup

granulated onion *NOT onion salt

¼

cup

kosher salt

¼

cup

black pepper

¼

cup

ground cumin

1/8

cup

ground ancho or chipotle pepper

¼

cup

ground mustard

1/8

cup

ground cayenne pepper
Instructions
Line a baking sheet with double layers of aluminum foil and set a cooling rack inside the pan. The rack allows for heat to circulate evenly on all sides of the ribs. Place the ribs on the rack.

In a large bowl, combine all dry rub ingredients and whisk well until all ingredients are completely incorporated. Set aside 1 cup of dry rub and place the remainder in an airtight container/jar to save for later use.

In a small bowl, mix the mustard and the liquid smoke. Brush a thin layer of the mustard/liquid smoke mixture over both sides of the ribs. Sprinkle the dry rub over the mustard and pat it gently so the rub will adhere to the meat. If desired, the seasoned meat can sit overnight in the fridge, just be sure to cover the pan tightly with foil.

When ready to cook the ribs, set the oven to broil and place the pan on the top rack of the oven. Broil the ribs (watching closely) for 4-5 minutes or until the dry rub sugar is bubbling and ribs are browned.

Remove the ribs from the oven and set the oven to 300 degrees F. Move the oven rack to the middle position of the oven. Once the oven has heated to 300 degrees F, place the pan of ribs (uncovered) in the oven. If cooking Baby Back Ribs, roast the ribs for 1½-2 hours. If cooking Spare Ribs, roast for 2½-3 hours. Halfway through cooking, cover the ribs with aluminum foil to keep them from getting dry.

After the ribs have cooked with only 30 minutes left, brush the ribs lightly with barbecue sauce. Cover with foil and cook until the ribs are fork tender when tested in the thickest part of the ribs.

Allow the ribs to rest, covered for 15 minutes.

To serve, cut between the bones to separate into individual ribs. Serve with extra barbecue sauce or your favorite dipping sauce.

Enjoy!
Nutrition Facts
Oven Baked Ribs
Amount Per Serving
Calories 1005
Calories from Fat 432
% Daily Value*
Total Fat 48g 74%
Cholesterol 127mg 42%
Sodium 3930mg 164%
Potassium 569mg 16%
Total Carbohydrates 116g 39%
Protein 28g 56%
* Percent Daily Values are based on a 2000 calorie diet.