Instant Pot Ribs are flavor-packed, fall-off-the-bone tender, and utterly irresistible! These pressure cooker ribs look like they've been cooking low and slow on the BBQ for hours, but they're done in just 30 mins!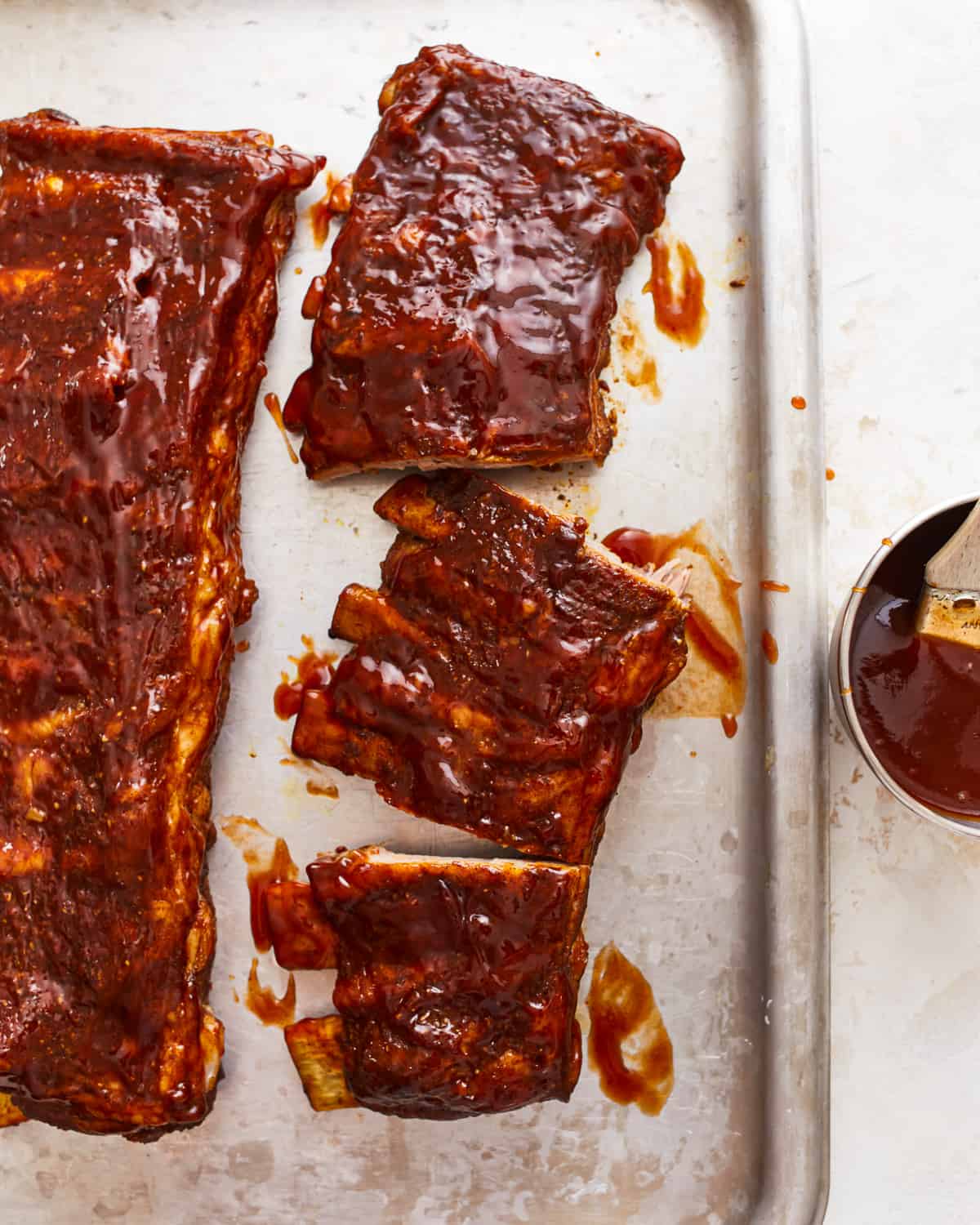 What's in this Instant Pot Ribs Recipe?
These Instant Pot BBQ Ribs will be a hands-down hit! Coated in an addictive dry rub then cooked in chicken broth, Worcestershire, garlic, and a host of other seasonings – these come out succulent, with a wonderful crust – slather in BBQ for the ultimate ribs.
Pork Ribs: You'll need 3½ pounds of baby back pork ribs for this recipe.
Spice Rub: A combination of onion powder, garlic powder, turmeric, salt, pepper, paprika, and chipotle powder infuses these ribs with a straight-from-the-grill flavor.
Onion: Adds an earthy sweetness.
Garlic: Adds an earthy flavor and a pungent aroma.
Liquid Smoke: Helps enhance the smoky grilled flavor of these ribs.
Worcestershire Sauce: Adds a tangy and sweet flavor.
Bay Leaves: Add an herbal flavor.
Chicken Broth: Helps the ribs cook without burning in the instant pot and adds a savory flavor.
BBQ Sauce: While this is optional, I highly recommend brushing these ribs with your favorite BBQ sauce before serving them!
Pro Tip: Make sure to pat down the ribs to remove any excess moisture.
Variations on Instant Pot Baby Back Ribs
This rib recipe is super simple and easy to customize. Feel free to swap out the spice blend for your favorite spice blend, such as pork chop seasoning, Italian seasoning, Creole seasoning, blackened seasoning, chili seasoning, fajita seasoning, taco seasoning, or herbs de Provence.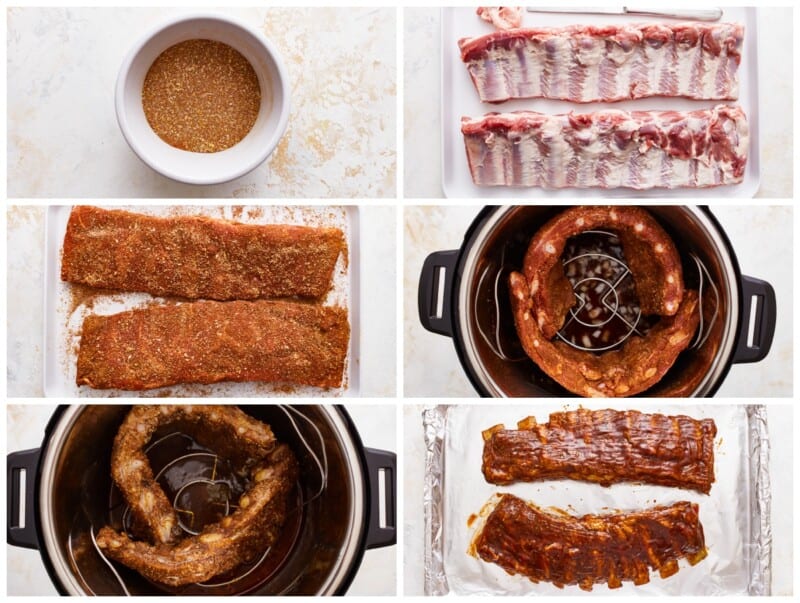 Are ribs better in the oven or Instant Pot?
I don't think one way is better than the other. They're just different methods to get that BBQ rib flavor without a grill. I love both instant pot and oven baked ribs!
How much liquid do you put in the ribs in an Instant Pot?
You'll need about a cup of liquid in the bottom of the pot to cook these ribs.
Do ribs get more tender the more you cook them?
Yes! Over the cook time, the tissues break down and become more tender!
Why are my ribs tough in the Instant Pot?
If your ribs turned out tough, they probably weren't cooked for long enough. Make sure to cook the ribs until they register 165°F.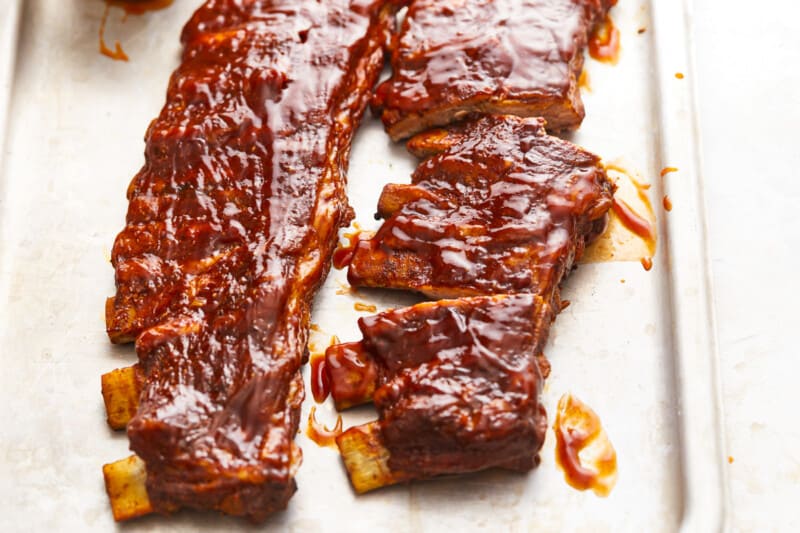 How to Store and Reheat
Store leftover instant pot ribs in an airtight container or wrapped tightly in aluminum foil for up to 4 days. Reheat wrapped in foil in a 350°F oven for 15 minutes, or until warmed through.
How to Freeze
Freeze pressure cooker ribs in an airtight container or wrapped tightly in aluminum foil for up to 3 months. Let thaw overnight in the refrigerator before reheating.
Serving Suggestions
These succulent ribs go well with a variety of sides, like potato salad, coleslaw, Caesar salad, macaroni salad, baked beans, corn on the cob, or cornbread.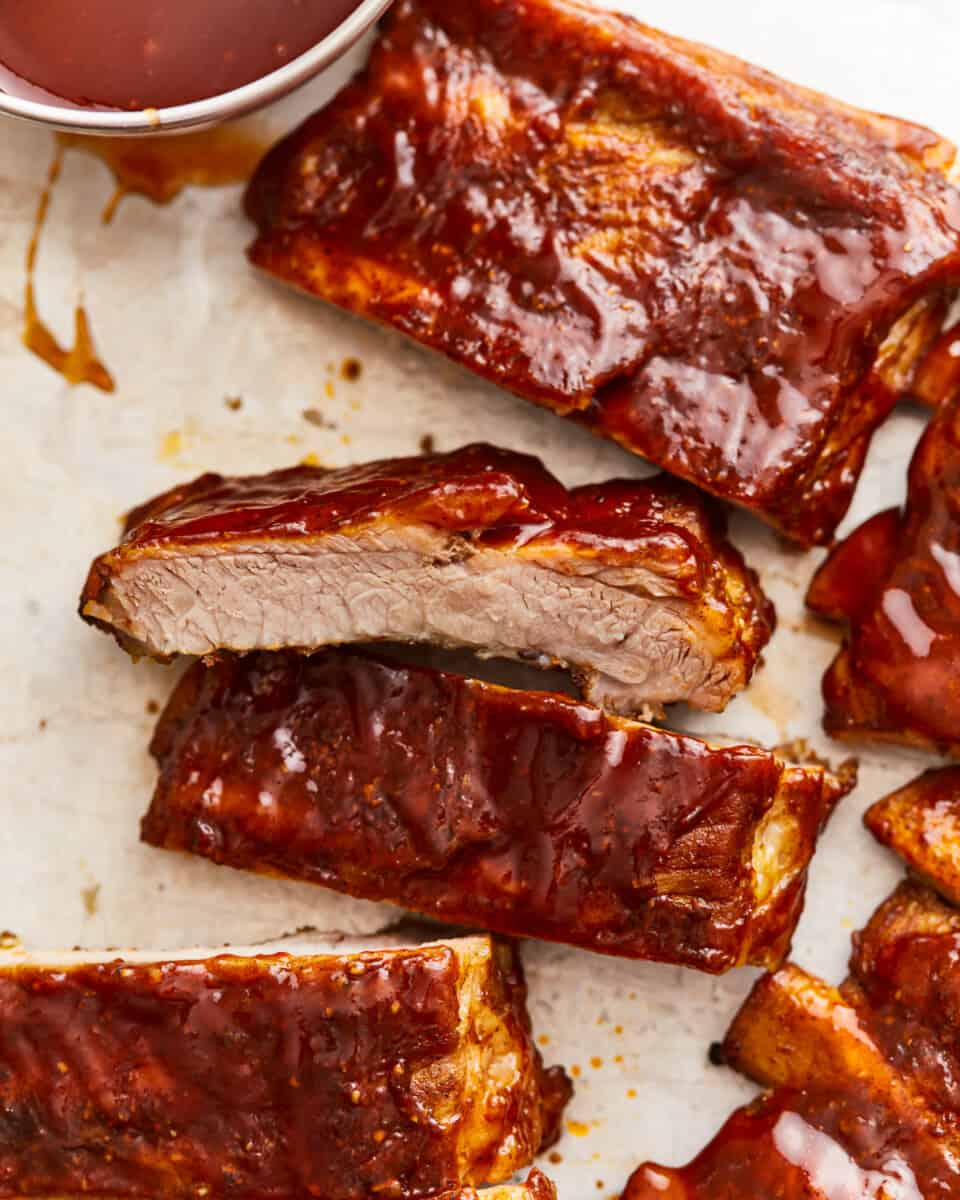 More Rib Recipes We Love