The perfect mashed potatoes are essential to life! You can make and serve mashed potatoes at almost any holiday and everyone wants seconds.
Susie (Becky's Mom) here. My husband has had a love affair with mashed potatoes since I've known him. Our first year of marriage, he gained almost 20 lbs. We were broke and potatoes were our main sustenance. So based on the amount of mashed potatoes he ate; I'm surprised he didn't gain more.
For years, mashed potatoes were a source of frustration for me. It seemed I made them the same each time, and yet they would not always turn out the same – sometimes not even edible.
I watched Bobby Flay make mashed potatoes on the Food Network one day and I realized I had been missing one crucial step all these years. When potatoes boil, they soak up a ton of water. To prevent too much water incorporating into the mashed potatoes (and the potatoes getting gummy) you need to mash them in the pan over low heat. This way, the excess water in the potatoes is released and they dry out just a little. Perfect. Since adding this step, my mashed potatoes come out great every time. I'm sure this little trick will work for you, too.
Perfect Mashed Potatoes for 4 (make more if you are feeding someone who loves mashed potatoes as much as my husband does.:)
Ingredients
2 1/2 lbs Yukon Gold potatoes, peeled and cut into 2 inch cubes
Cut the potatoes uniformly to insure they cook within the same amount of time.
1/2 teaspoon salt
4-6 Tbsp heavy cream or milk
4-6 Tbsp Butter (not margarine), cut into cubes
Salt and Pepper to taste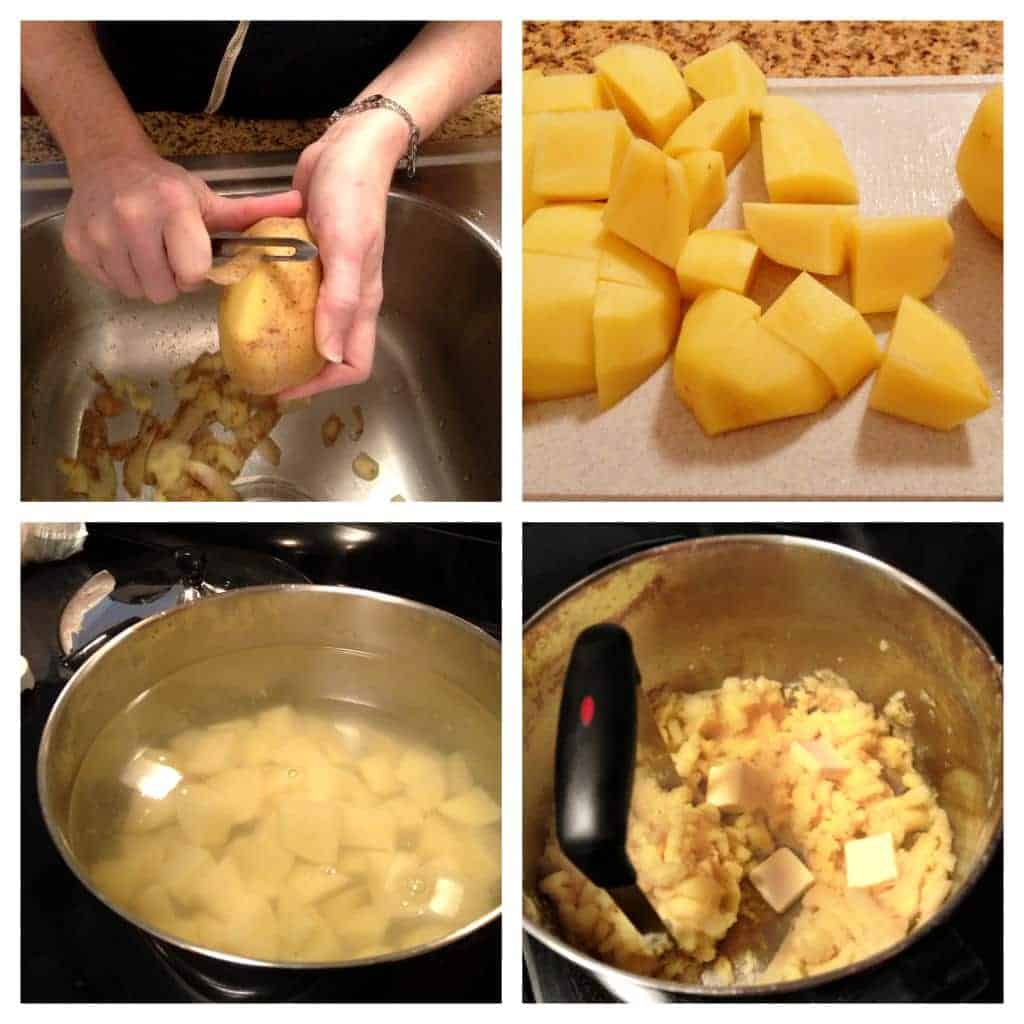 1. Bring a large saucepan of water and ½ t. salt to a boil.
2. Add potatoes (make sure the potatoes are covered by the water).
3. Bring back to boil, reduce heat and simmer, covered, 15-20 minutes, or until done – a fork can easily be poked through them.
4. Drain the water from potatoes.
5. Place the hot potatoes back into the saucepan over a low heat. (*This is the secret step which allows the excess water to escape and guarantees your potatoes won't be gummy).
6. Use a potato masher to mash potatoes until almost thoroughly mashed.
7. Add the butter and mash until butter in incorporated.
8. Add the cream or milk, salt and pepper (or whatever spices you like) and mash until you get the consistency you like. Be careful not to over-beat or your potatoes might get gummy.
9. Enjoy!!
(Of course, add whatever extras you love, i.e. cheese, basil, parmesan, garlic, etc., etc.)
Yield: Serves 4.