Creamy, cheesy, and loaded with flavor – this Pesto Potato Salad is the perfect side for BBQ season! Simple to make and super satisfying, it's a delicious twist on the classic potato salad.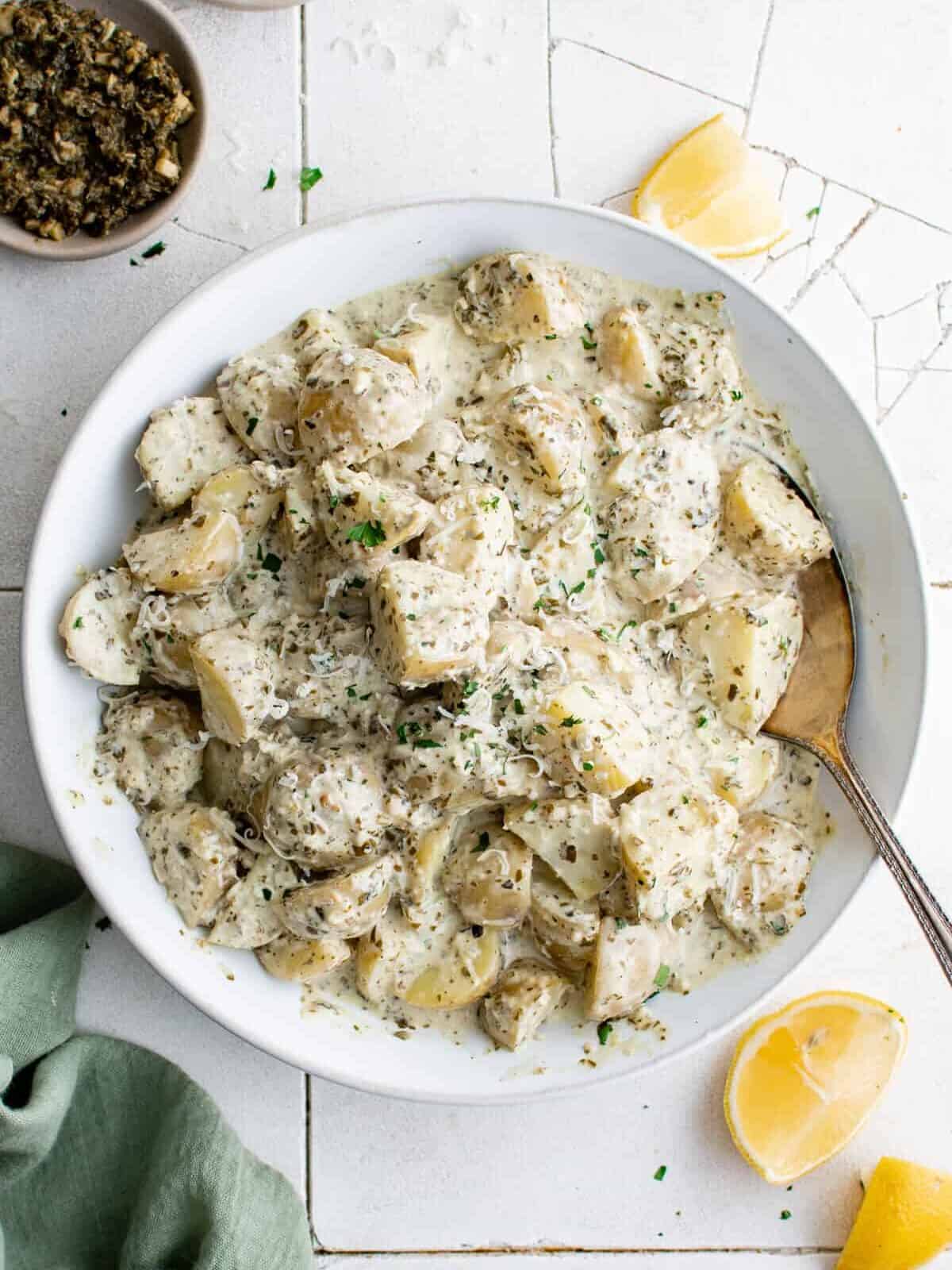 What's in Potato Salad with Basil Pesto
This potato salad recipe is simple, natural, budget-friendly, and oh so scrumptious!
Baby Yellow Potatoes: Make sure you rinse them well prior to preparing them! Most potatoes tend to have a little dirt or residue on them.
Basil Pesto: You can use homemade pesto or your favorite store-bought brand.
Mayonnaise: I recommend using a full fat mayo for the best consistency.
Asiago Cheese: Asiago cheese gives the nutty, cheesy hit, perfect with the slightly sweet potatoes.
Garlic: Fresh garlic will lend better flavor than pre-minced.
Lemon Juice: Freshly squeezed lemon juice is the way to go!
Kosher Salt: I always recommend kosher (coarse) salt over iodized.
Black Pepper: Freshly ground black pepper has the best flavor.
Made with pantry staples, this easy potato salad comes together in under 30 mins.
Different Potatoes to Try
You can use any waxy potato, such as red potatoes, fingerling potatoes, or new potatoes. You can also use Yukon Gold potatoes, although they are slightly less waxy. I do not recommend using starchy potatoes such as russets or Idaho potatoes because they tend to fall apart and turn mushy.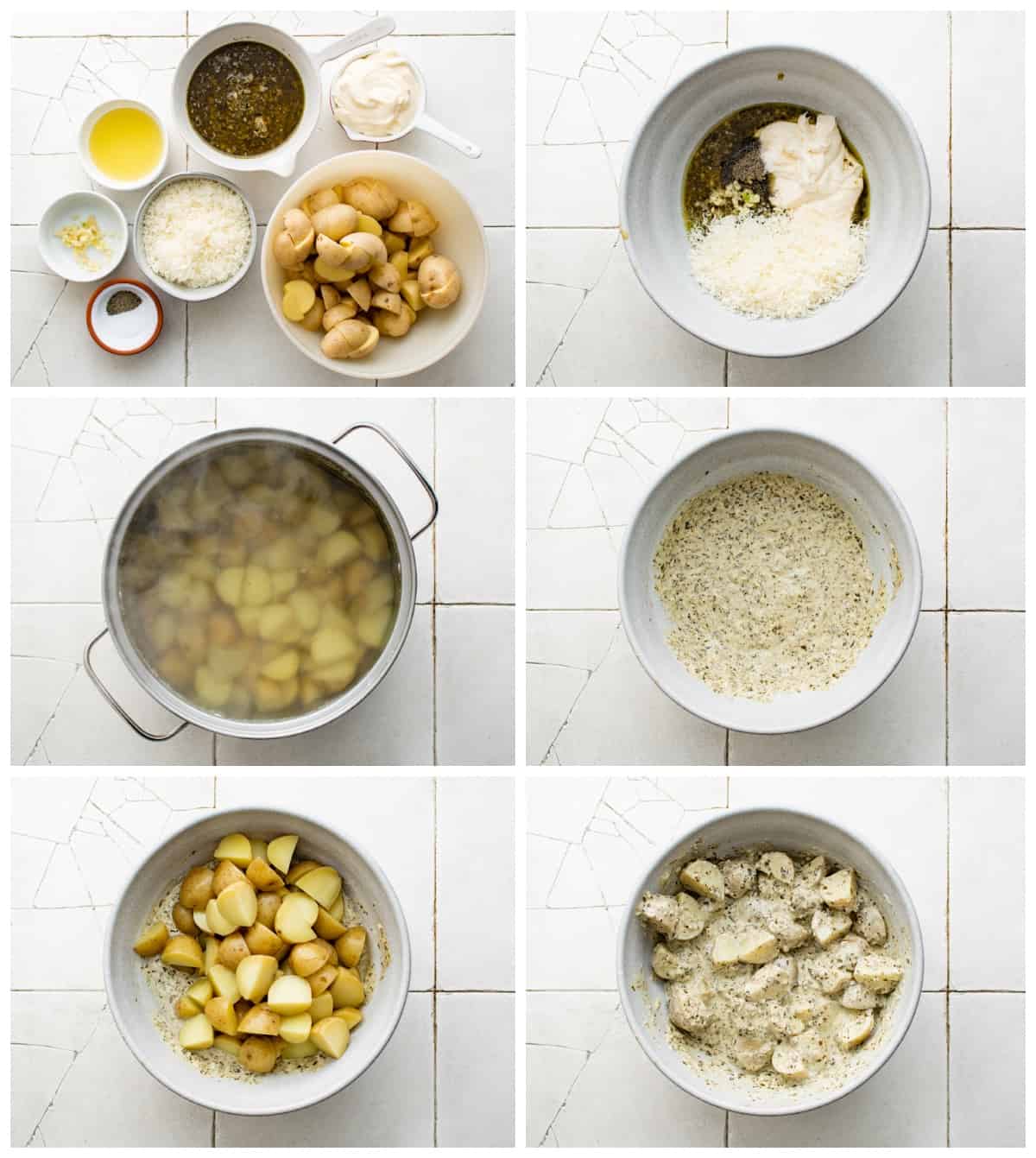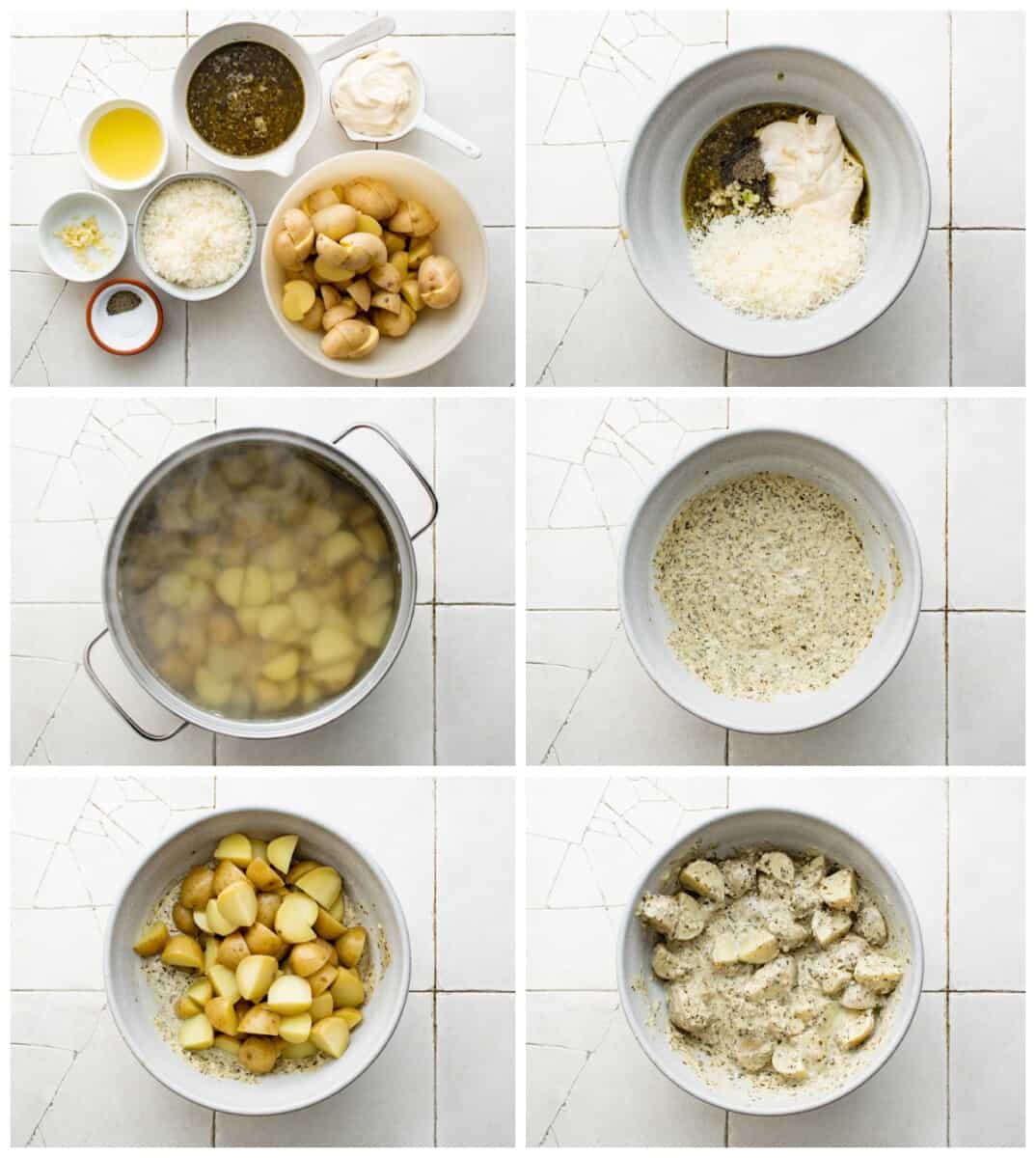 Is it better to boil potatoes whole or cut into pieces for pesto potato salad?
Potatoes will cook much faster when cut into chunks, so I recommend quartering your potatoes before boiling them. Whether or not you skin them is up to personal preference!
Do I need to salt the water before boiling potatoes for pesto potato salad?
Absolutely! Potatoes boiled in salty water are WAY more flavorful than those boiled in unsalted water. Use 1 tablespoon of kosher salt per quart of water.
Is pesto potato salad gluten-free?
Yes! You will need to make sure the pesto you choose is certified gluten-free.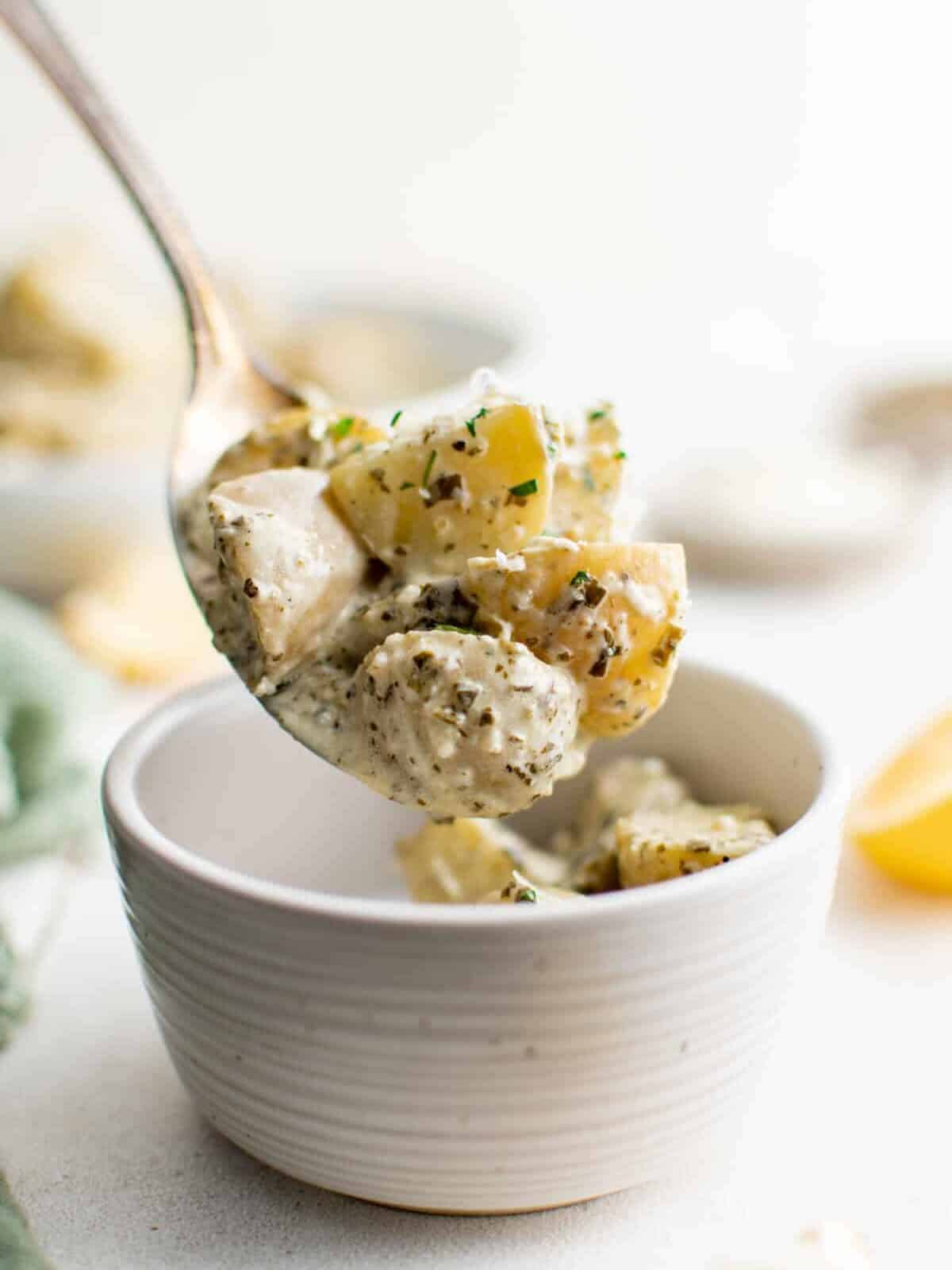 How to Store this Summer Potato Salad
Store leftover pesto potato salad in an airtight container in the refrigerator for up to 3 days. Serve cold or let come to room temperature for 30-40 minutes. I do not recommend freezing this potato salad.
What to Serve with Basil Pesto Potato Salad
Pesto potato salad is a great side dish for any summer gathering! Serve it alongside grilled pork chops, ribs, chicken, or burgers!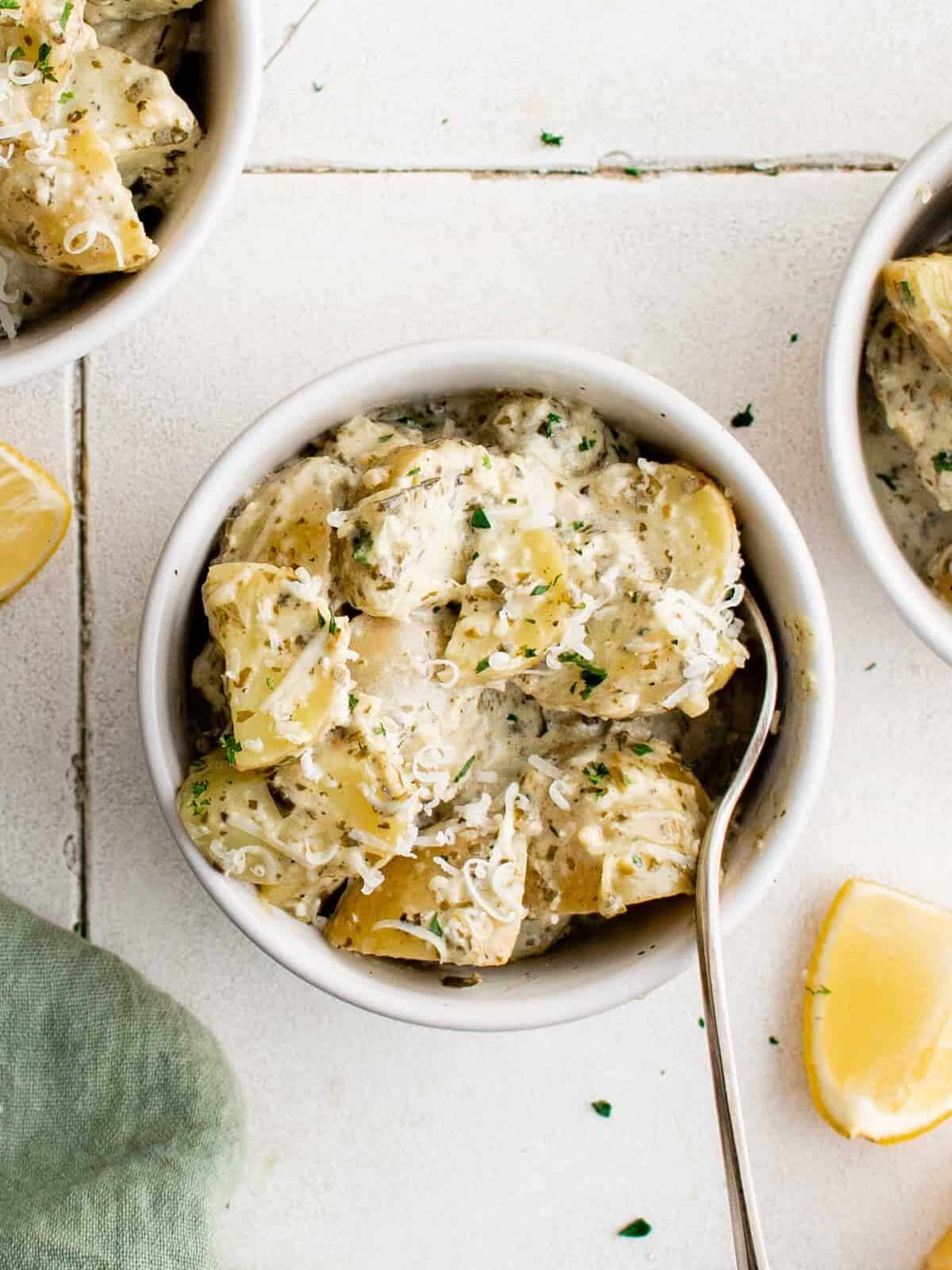 More Potato Salad Recipes
More Summery Salads We Love