Instant Pot Chicken Breasts are quick, easy, perfectly seasoned, and deliciously juicy! You just need a handful of pantry staples and 25 minutes to make this recipe. Cooking chicken breast in a pressure cooker is the easiest way to meal prep or make a healthy entree for weeknight dinners!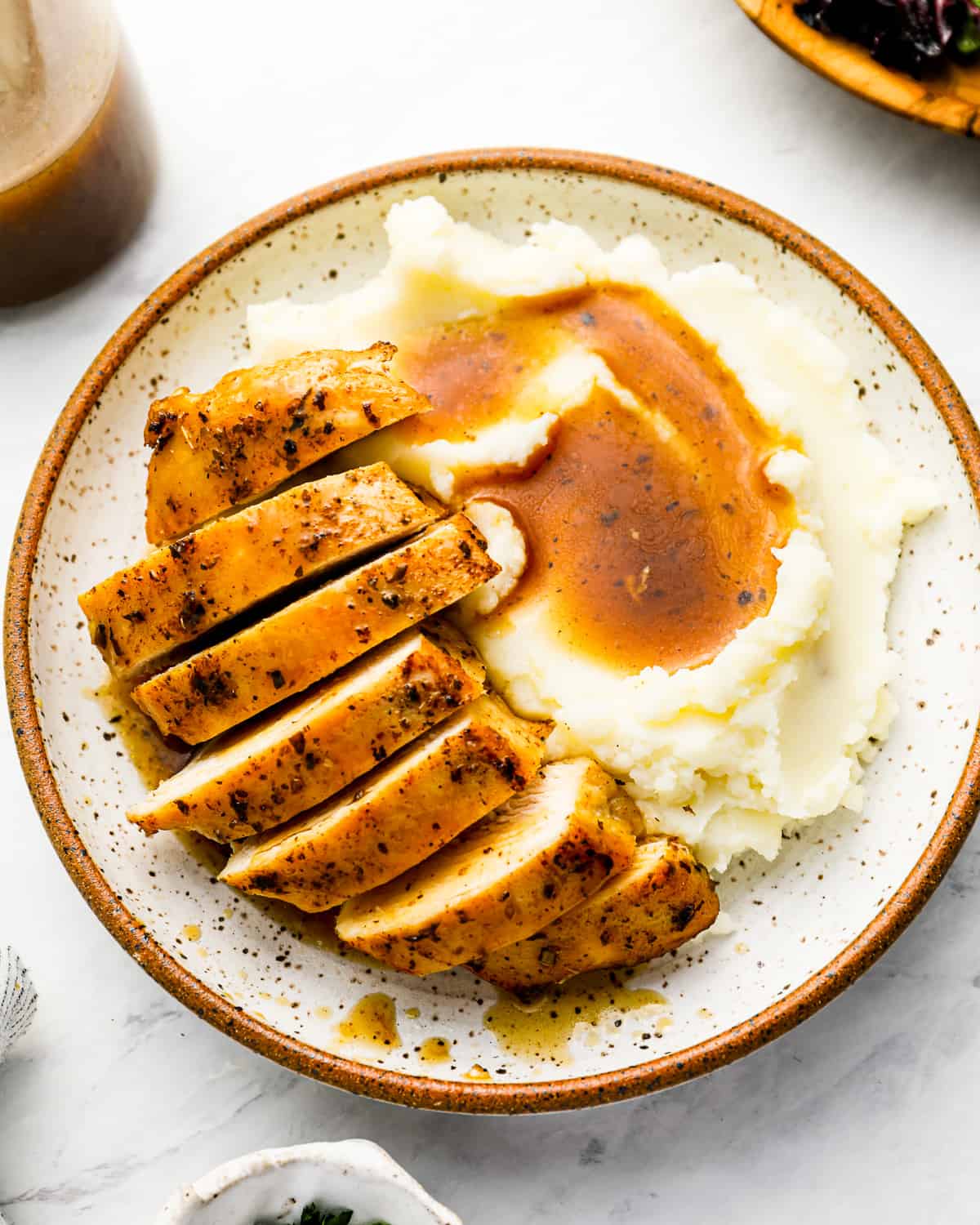 What's in this Instant Pot Chicken Breast Recipe?
With this easy instant pot recipe, you'll have juicy chicken breasts on the table in under 30 minutes!
Chicken Breasts: I used boneless, skinless chicken breasts. If using bone-in, you may need to cook them for longer.
Spices: Italian seasoning, kosher salt, garlic powder, onion powder, paprika, and black pepper season the chicken breasts to make them flavorful and delicious.
Olive Oil: Helps the chicken to sear without burning.
Chicken Broth: Adds moisture and flavor.
Pro Tip: Use some cornstarch to thicken the drippings and broth into a rich gravy to serve with this chicken!
Variations on Instant Pot Chicken Breasts
It's so easy to change up the flavor profile of these pressure cooker chicken breasts to suit any style of cooking. Simply swap out the spices for your favorite spice blends, like taco seasoning, chili seasoning, chicken seasoning, herbs de Provence, blackened seasoning, or Creole seasoning. Or use this simple chicken marinade to infuse flavor before you even start cooking!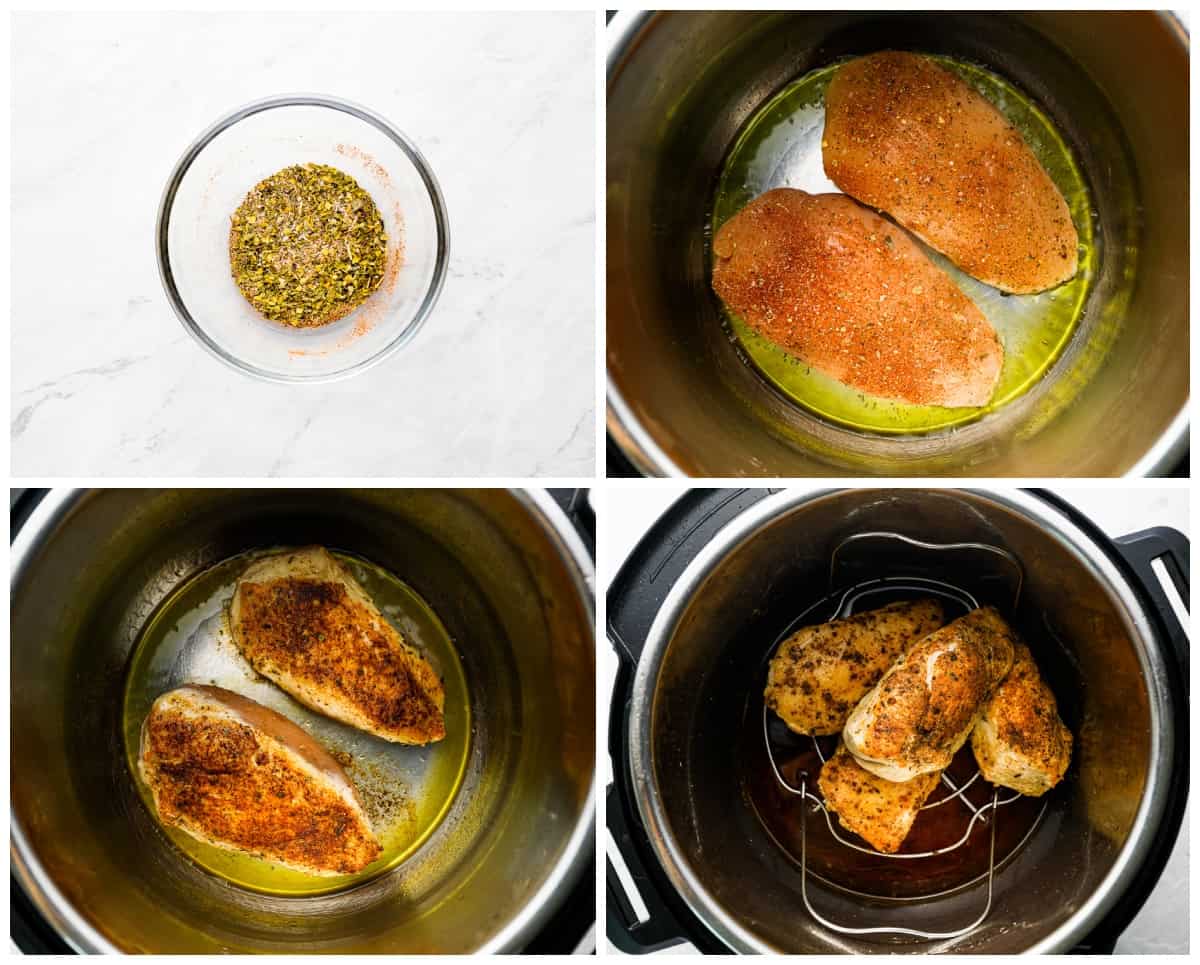 How long does it take to cook chicken breast in an instant pot?
It only takes about 5 minutes for the chicken to cook, but you'll need an extra 10-15 minutes for the pressure to naturally release!
Can I cook frozen chicken breasts in the instant pot?
Yes! You'll need to add an extra 5-7 minutes to the cook time depending on the size of the breasts, though.
Can I stack chicken breasts in the instant pot?
You sure can! Because of the way the instant pot cooks with pressure rather than direct heat contact, it is safe to stack your chicken breasts for the pressure cooking portion.
Why did I get a burn notice?
You can get a burn notice if there are stuck-on bits on the bottom of your instant pot. This is why we deglaze the instant pot with broth before pressure cooking.
Why are my chicken breasts tough?
It's really important to cook these chicken breasts for at least 5 minutes. If you don't cook them for long enough, they can turn out tough and chewy.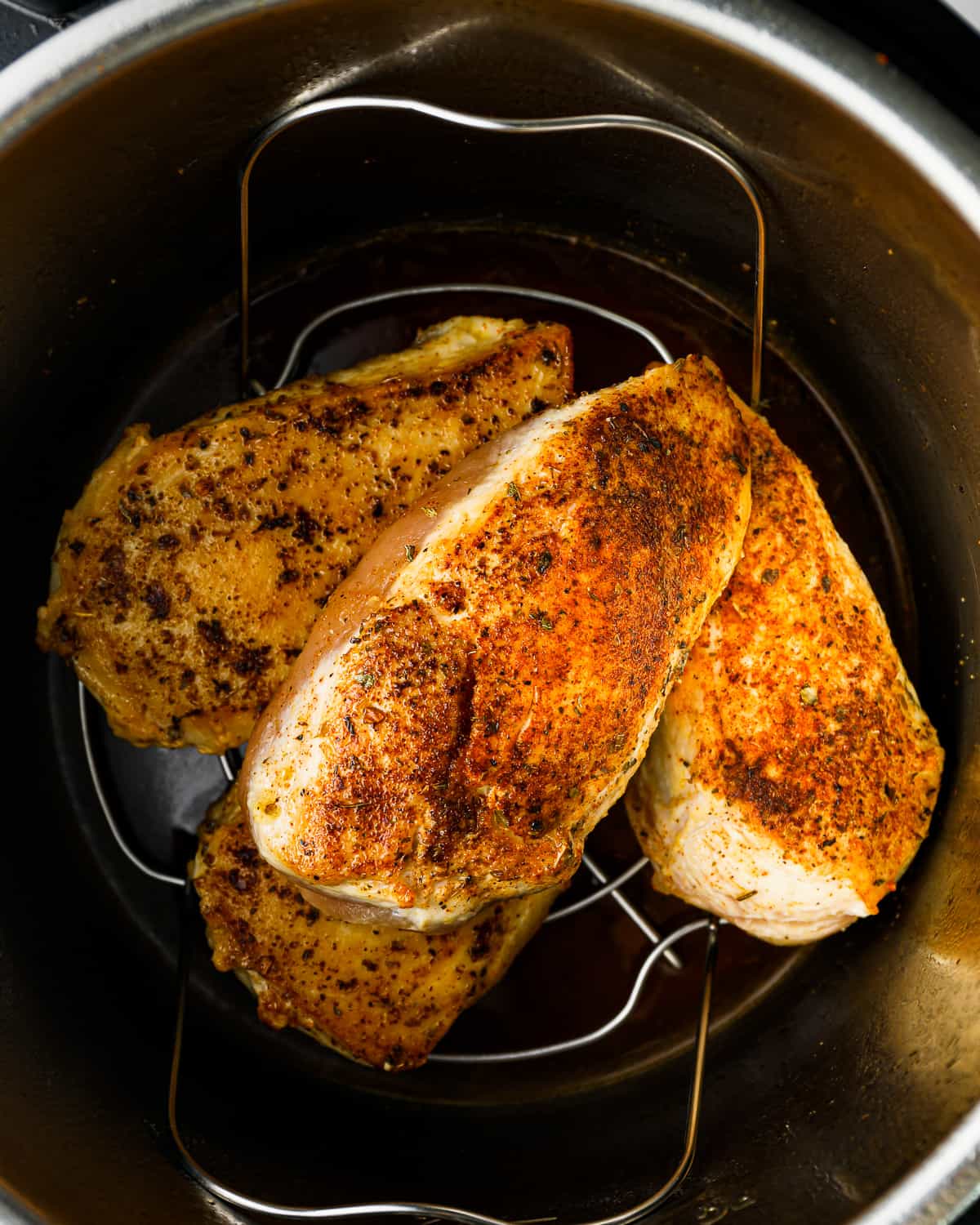 How to Store and Reheat
Store leftover pressure cooker chicken breast in an airtight container in the refrigerator for up to 3 days. Reheat in the microwave in 30-second increments until warmed through.
This has become a favorite for weekly meal prep, because it's quick, easy, and healthy.
How to Freeze
Let chicken breasts cool after removing from the Instant Pot, then freeze in an airtight container or Ziplock bag for up to 3 months. Let thaw overnight in the refrigerator before reheating.
Serving Suggestions
A simple chicken breast can be served for any meal, with any side dishes you love. For regular weeknight dinners, add anything from roasted mushrooms and creamy mashed potatoes to creamed green beans, Air Fryer baked potatoes, or broccoli cheese casserole.
Or go super healthy (and tasty), and serve these with Instant pot rice and roasted Brussels sprouts or sautéed vegetables.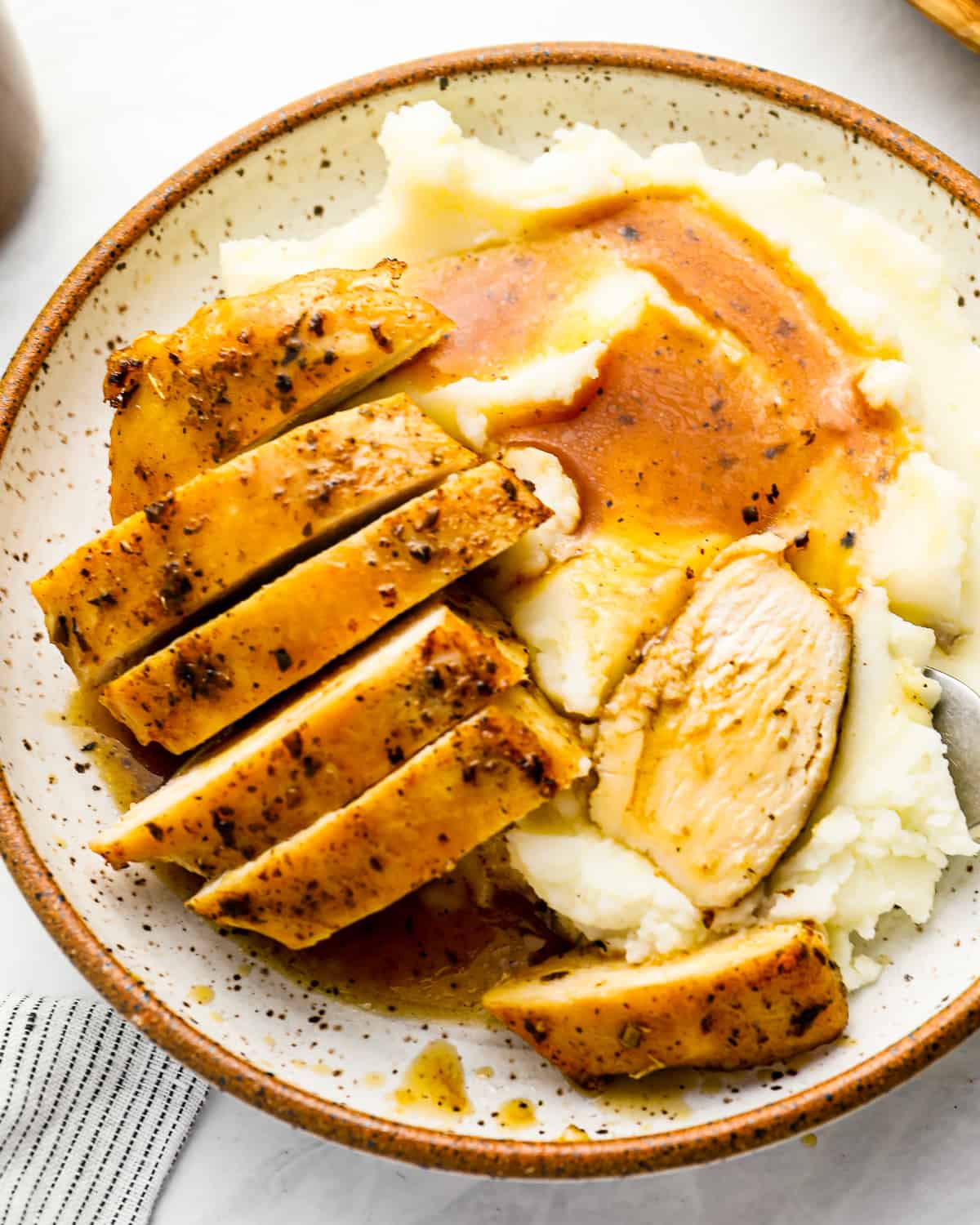 More Easy Chicken Breast Recipes We Love