Apple Cider Mimosas are simple, delicious, and perfect for any celebration this fall! These apple cider drinks are fun and bubbly thanks to the champagne! This fall cocktail is great for breakfast, brunch, Thanksgiving, or any time in the late summer or autumn season. I love a good mimosa recipe and this is my favorite cozy variation to enjoy this time of year!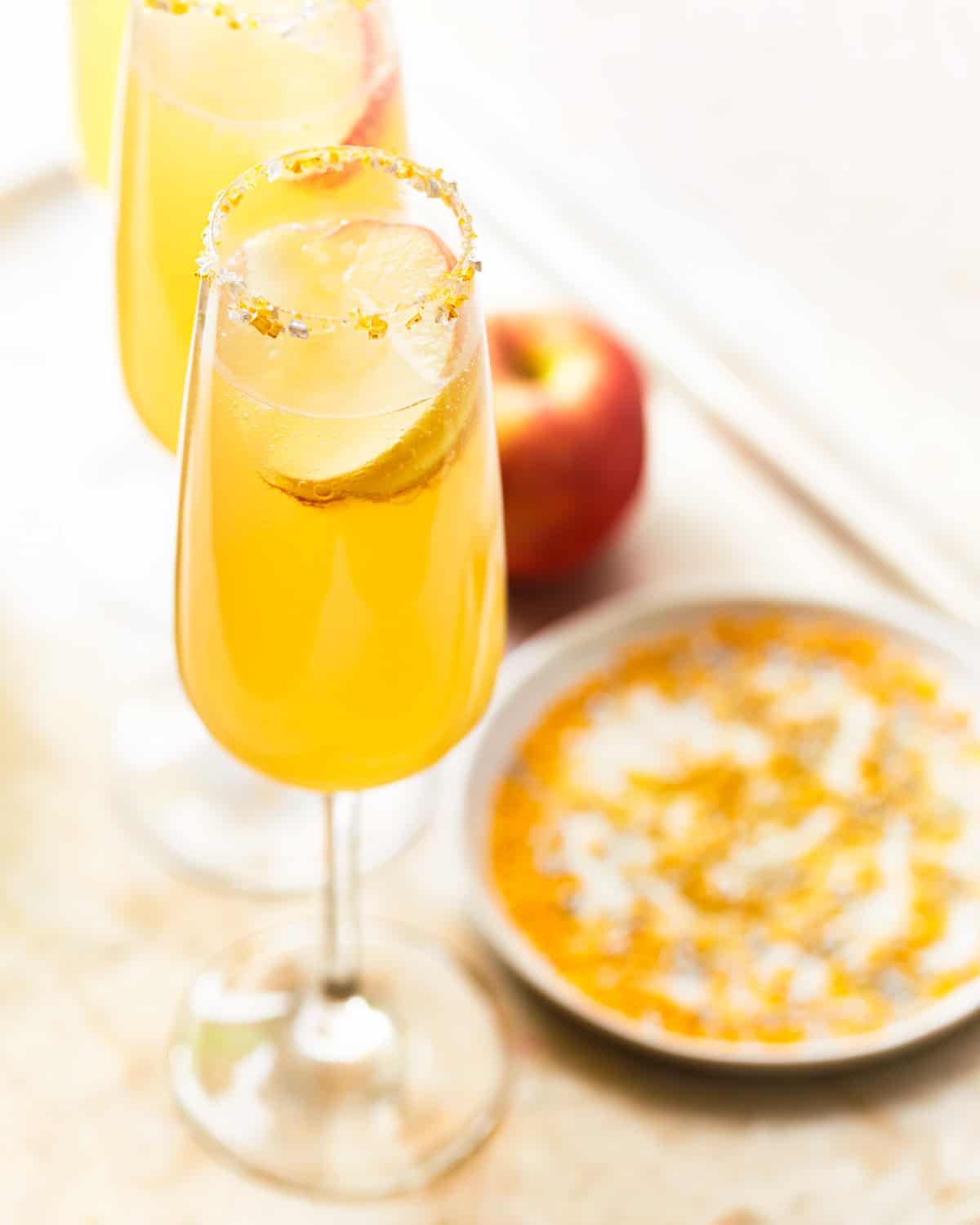 What's in Apple Cider Mimosas?
This is my favorite fall cocktail to make with apple cider, perfect for fall festivities, breakfast or brunch, or Thanksgiving. And you only need 2 ingredients, so it couldn't be easier!
Apple Cider: Apple cider creates a really fresh, sweet, and juicy base for these mimosas. Grab your favorite from the store or apple orchard, or try making apple cider in the Instant Pot.
Champagne: You can't have a mimosa without something bubbly! Champagne is a specific sparkling white wine that comes from the Champagne region of France. Feel free to sub it for your favorite bubbly drink like Prosecco, sparkling white wine, or Cava.
Apple Slices: Use these for garnish. Try using a combination of red and green apple slices, or even dried apple rounds.
Pro Tip: Gold and silver sprinkles add a fun, sparkly garnish to the rims of each champagne flute. Or add brown sugar, cinnamon, or caramel.
Make it a Caramel Apple Mimosa
Want this apple cider mimosa to taste more like a caramel apple? Feel free to add some caramel to this cocktail!
You can simply drizzle caramel sauce into the glass before pouring in the champagne and cider; dip the glass rim in caramel; or add 2 tablespoons of caramel-flavored vodka before adding the bubbly.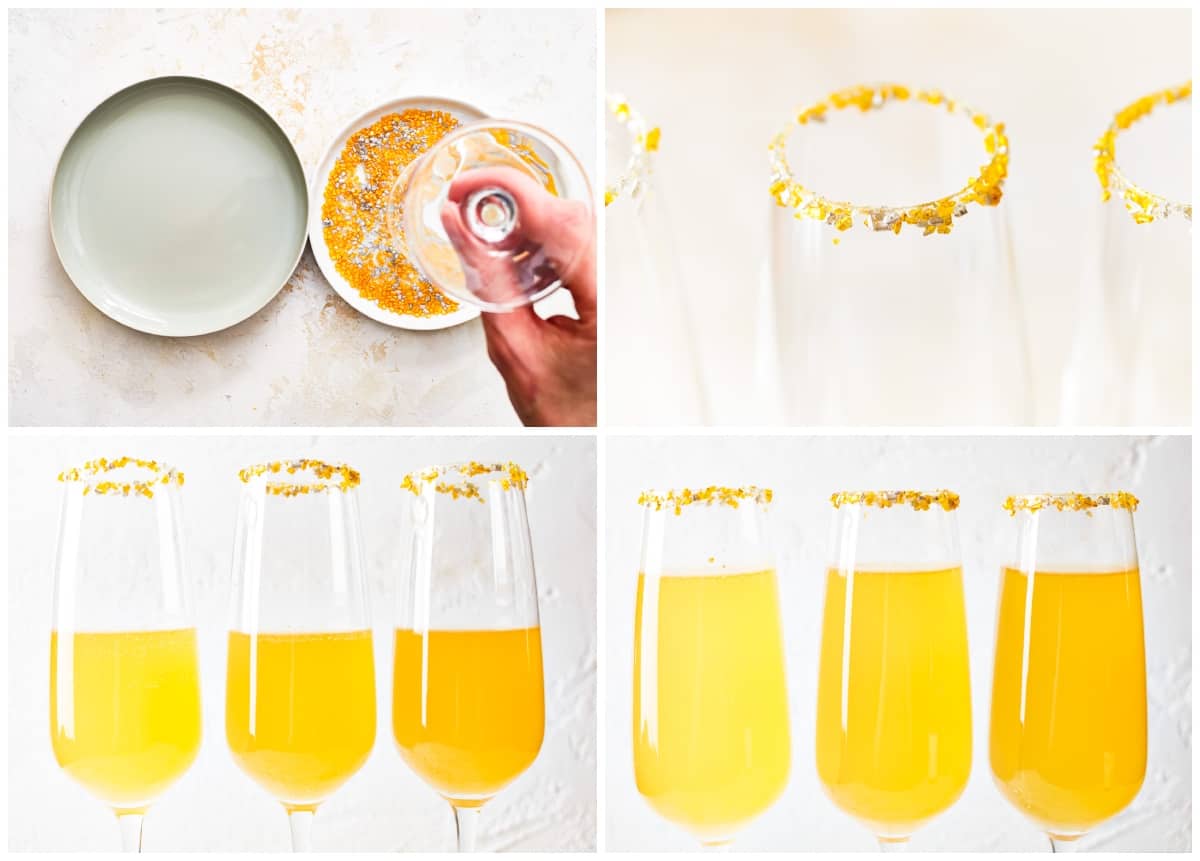 What is the best champagne for mimosas?
Your favorite mid-range champagne is perfect to use for mimosas. Or, use your favorite bubbly drink (like Prosecco or another sparkling white wine).
Can I make a non-alcoholic version of these mimosas?
Yes! Just use sparkling white grape juice instead of champagne.
Can I make mimosas ahead of time?
I don't recommend it because the champagne won't be as bubbly. This is such a quick and easy recipe to make in just a couple minutes!
Can I use hot apple cider in this drink recipe?
Cold apple cider works best for this cocktail. But if you make your own hot cider, just refrigerate it until you're ready to use it.
Can I use apple juice instead of cider for these mimosas?
I highly recommend using apple cider instead of apple juice for these mimosas! Cider is made from apples that are washed, cut, ground into an apple mash, and pressed into a juice with no heat used. The apple is much more concentrated and adds truly authentic fall flavor. Apple juice is heat-treated and highly filtered. It's a much milder choice, but if it's all you've got, it'll work.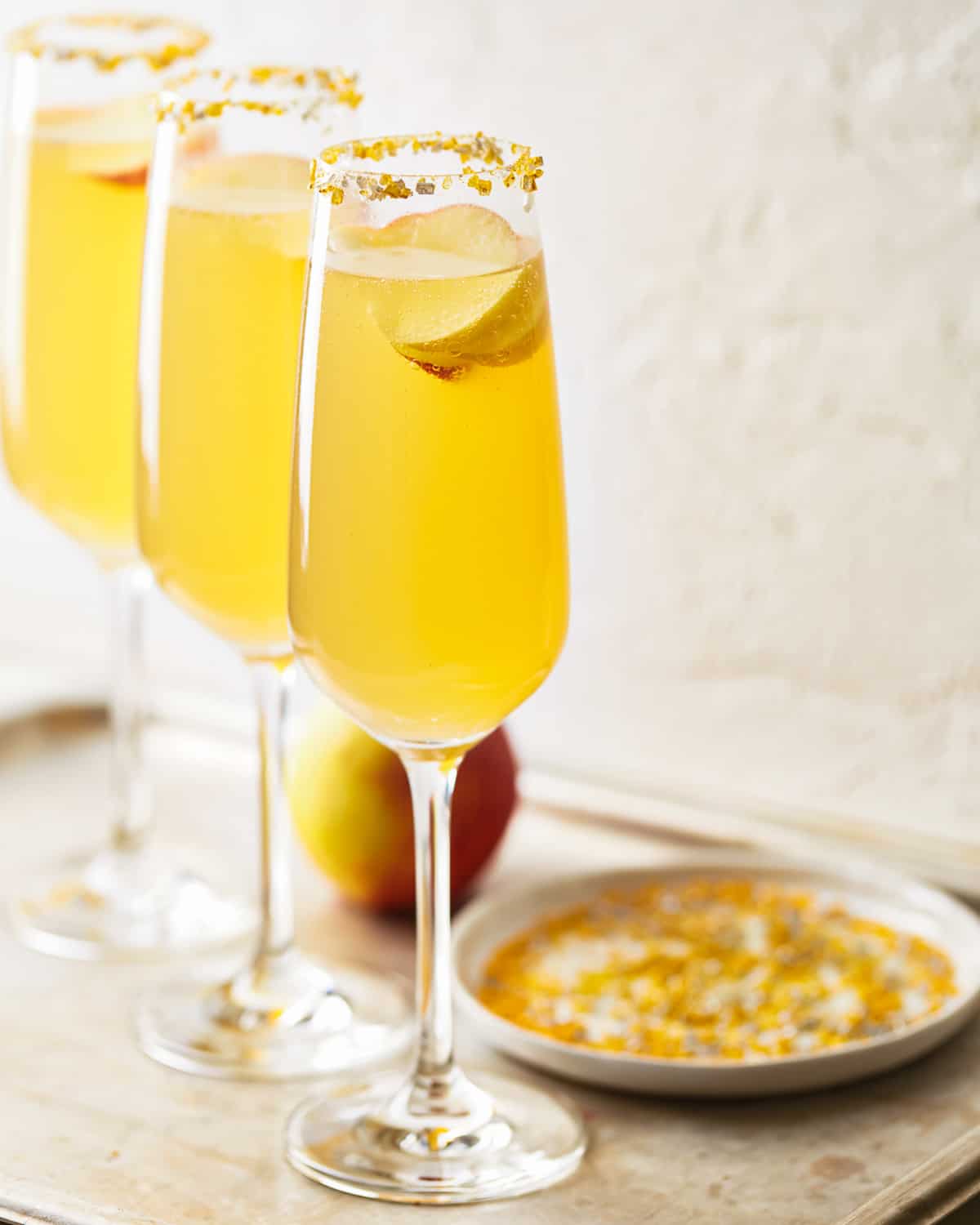 How to Store
I do not recommend making this apple cider cocktail ahead of time or storing extras because the champagne will fall flat. However, you can certainly store extra cider in the fridge, and keep your bubbly stored properly. It's only 2 ingredients, so it's quick to make in a moment's notice!
Serving Suggestions
This apple cider mimosa goes well with fall-inspired brunch recipes, like apple cinnamon bread, pumpkin pancakes, apple and ham frittatas, baked apple oatmeal, or any of your favorite apple recipes.
If you make this recipe be sure to upload a photo in the comment section below or leave a rating. Enjoy!
More Apple Cider Cocktails We Love