This Chicken Quesadilla Recipe for a crowd is made on a sheet pan! Sheet Pan Chicken Quesadillas are the easiest and best way to make delicious quesadillas for a crowd! These baked chicken quesadillas can be made with any filling and toppings, and are sure to please even the pickiest eaters. If you've wondered How to Make Chicken Quesadillas, this recipe is for you!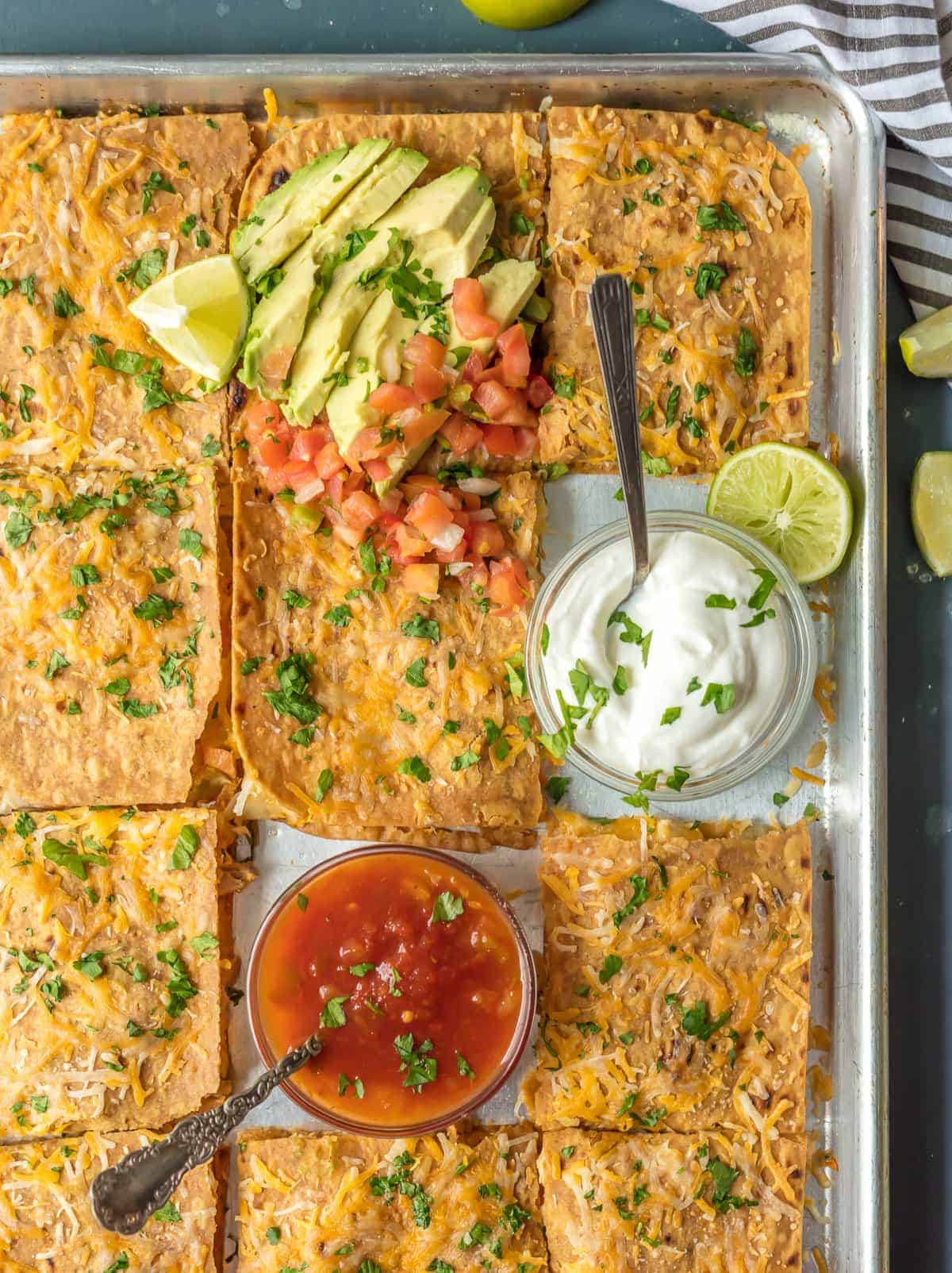 Looking for an easy recipe to feed a crowd? This is exactly what you need for game day, or any other occasion that calls for feeding lots of hungry people.
Why You Should Make This Chicken Quesadilla Recipe
I love sheet pan recipes because they make it so easy to cook and clean up afterwards.
This chicken quesadilla recipe is the perfect size for feeding a crowd while tailgating, at parties, or just for a hungry family.
You can use rotisserie chicken to save time, or make your own chicken to shred if you prefer.
It's easy to substitute different ingredients if you're missing something, or if you want to add something else in.
Everyone will LOVE these tasty quesadillas!
These Chicken Quesadillas are loaded with chicken, caramelized onions, CHEESE, and more, and all baked on your favorite cookie sheet. Excited?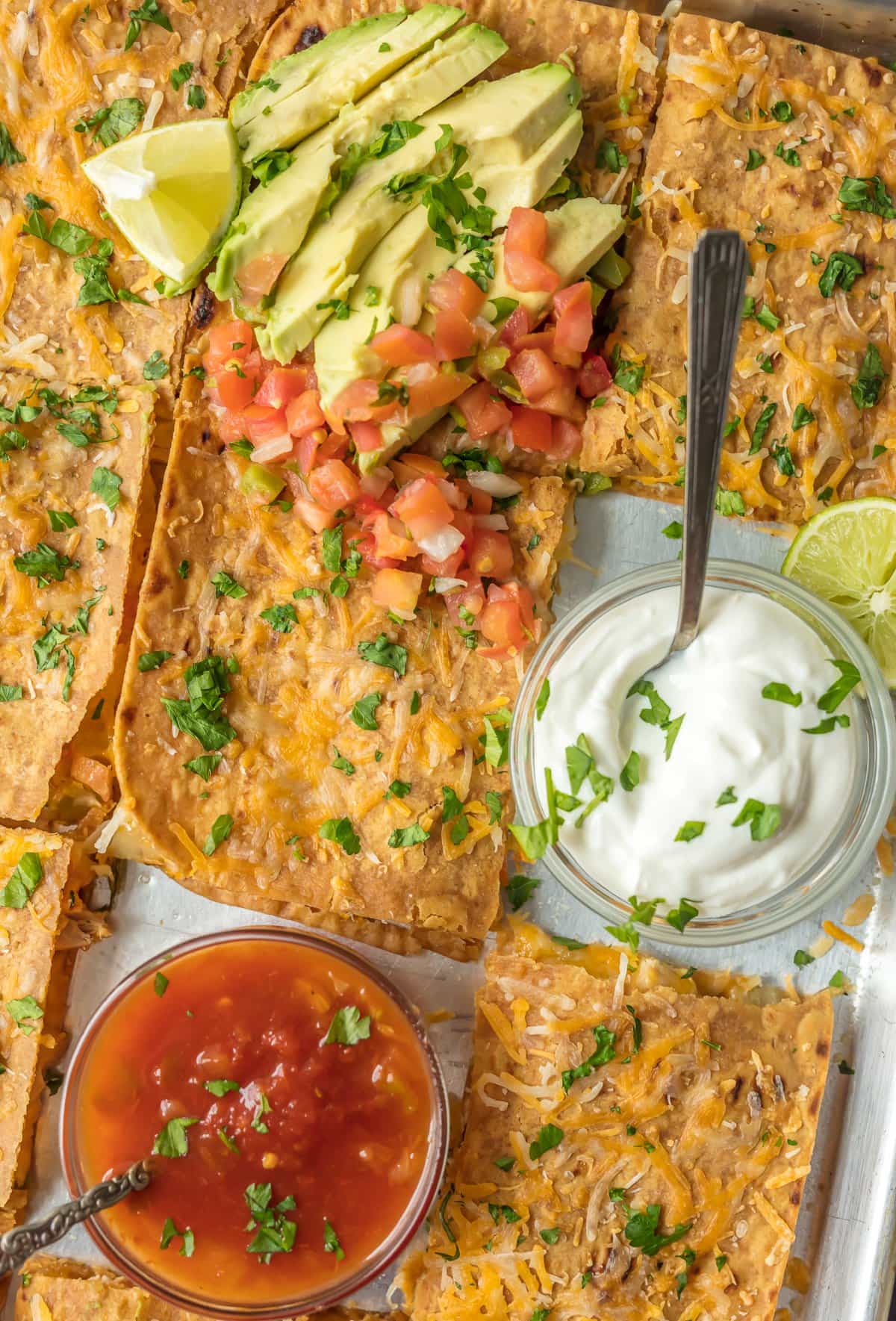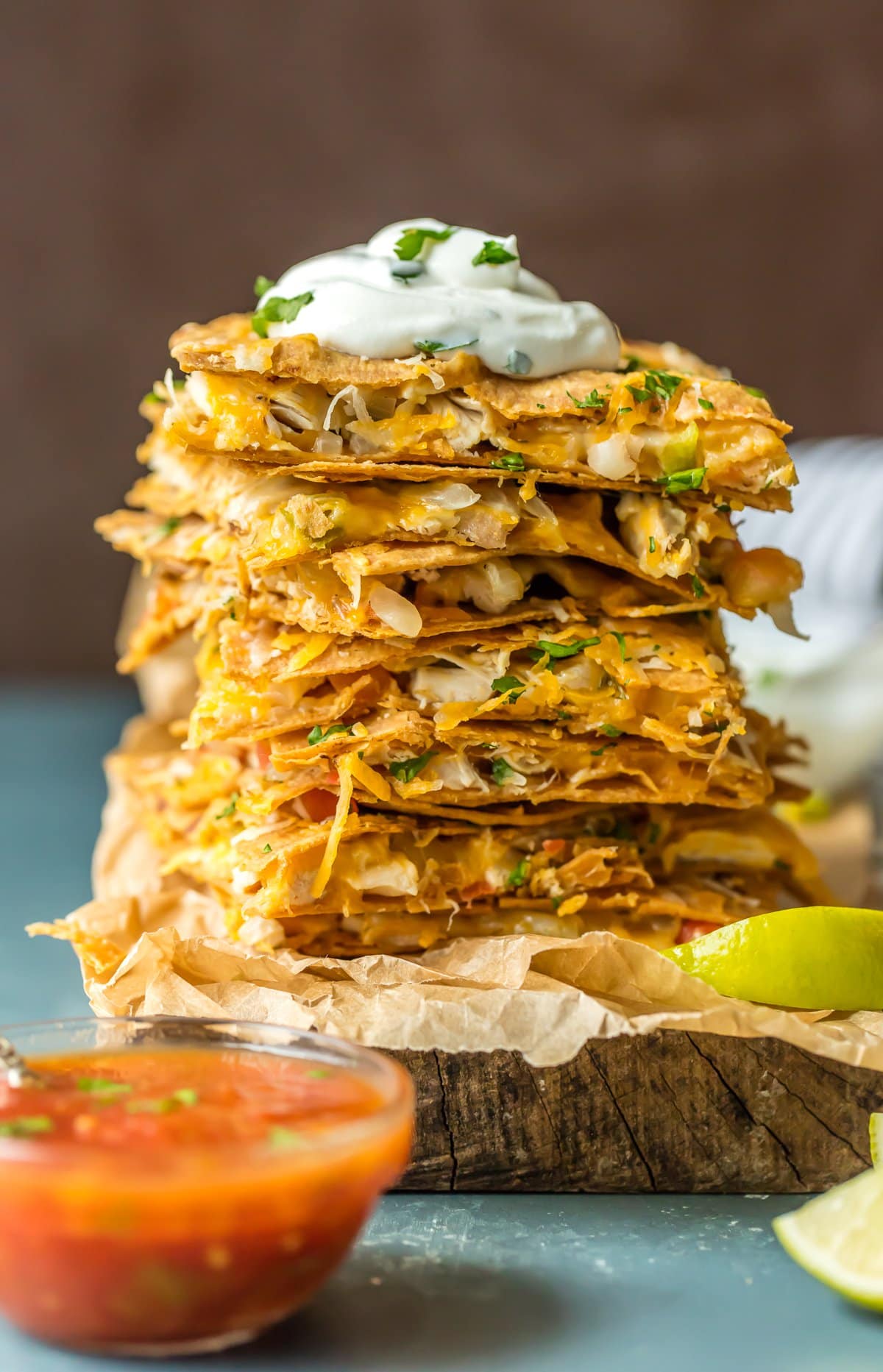 Sheet Pan Chicken Quesadillas for a Crowd
I love quesadillas in any form. Every time we go to our favorite Mexican restaurant (which is a lot), I order the Chicken Fajita Quesadilla. Every. Single. Time. I just love all that cheese and chicken.
When making them at home, this Sheet Pan Chicken Quesadilla Recipe are the easiest way I've found to perfect them. The tortillas come up crispy, the inside comes out melty, and the results are so crave worthy. If you're making them just for yourself they also make great leftovers. I ate these for days and I wasn't sad about it at all!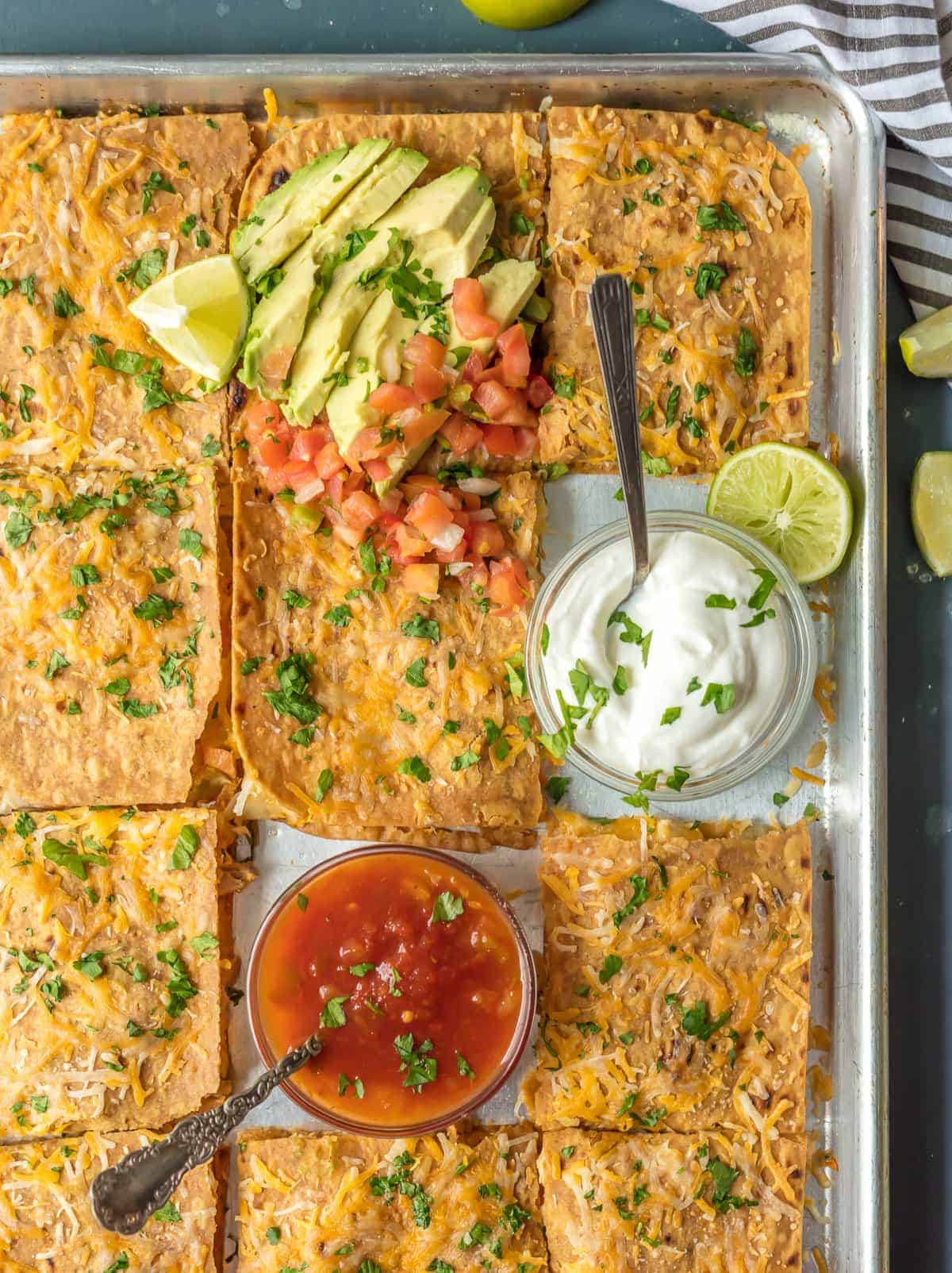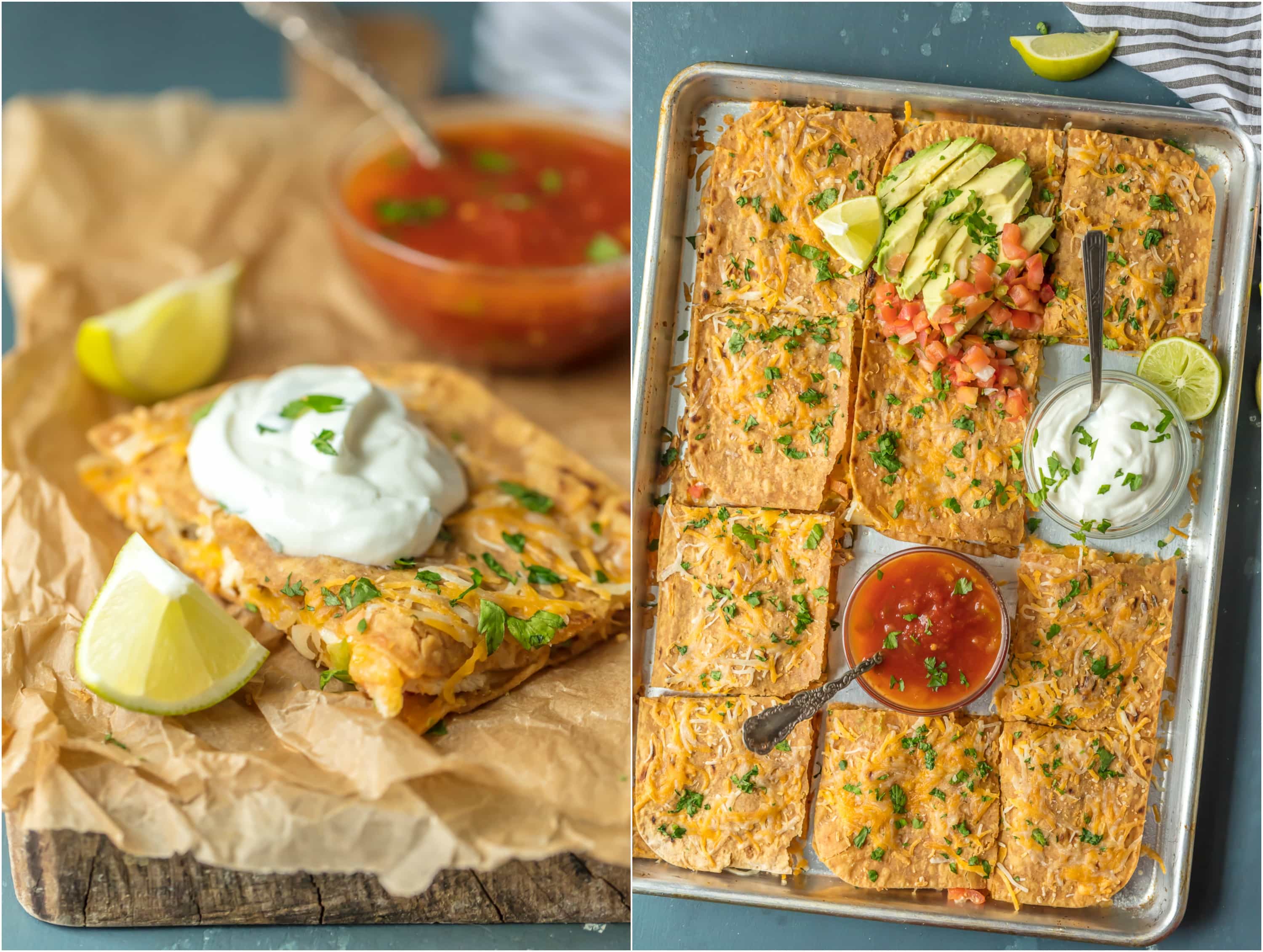 How to Make Chicken Quesadillas:
The great thing about these Sheet Pan Quesadillas if you can stuff them with whatever toppings you love best. You can make them steak, shrimp, or just cheese! Love peppers? Stack them in there! You can't go wrong and the possibilities are endless!
We chose chicken and cheese because…well I can never get enough chicken and cheese. But please don't feel like you have to stick to our recipe. Throw the kitchen sink in there…you won't regret it! We love to make this Chicken Quesadilla Recipe often and change the ingredients every time. Keeps things fun and interesting.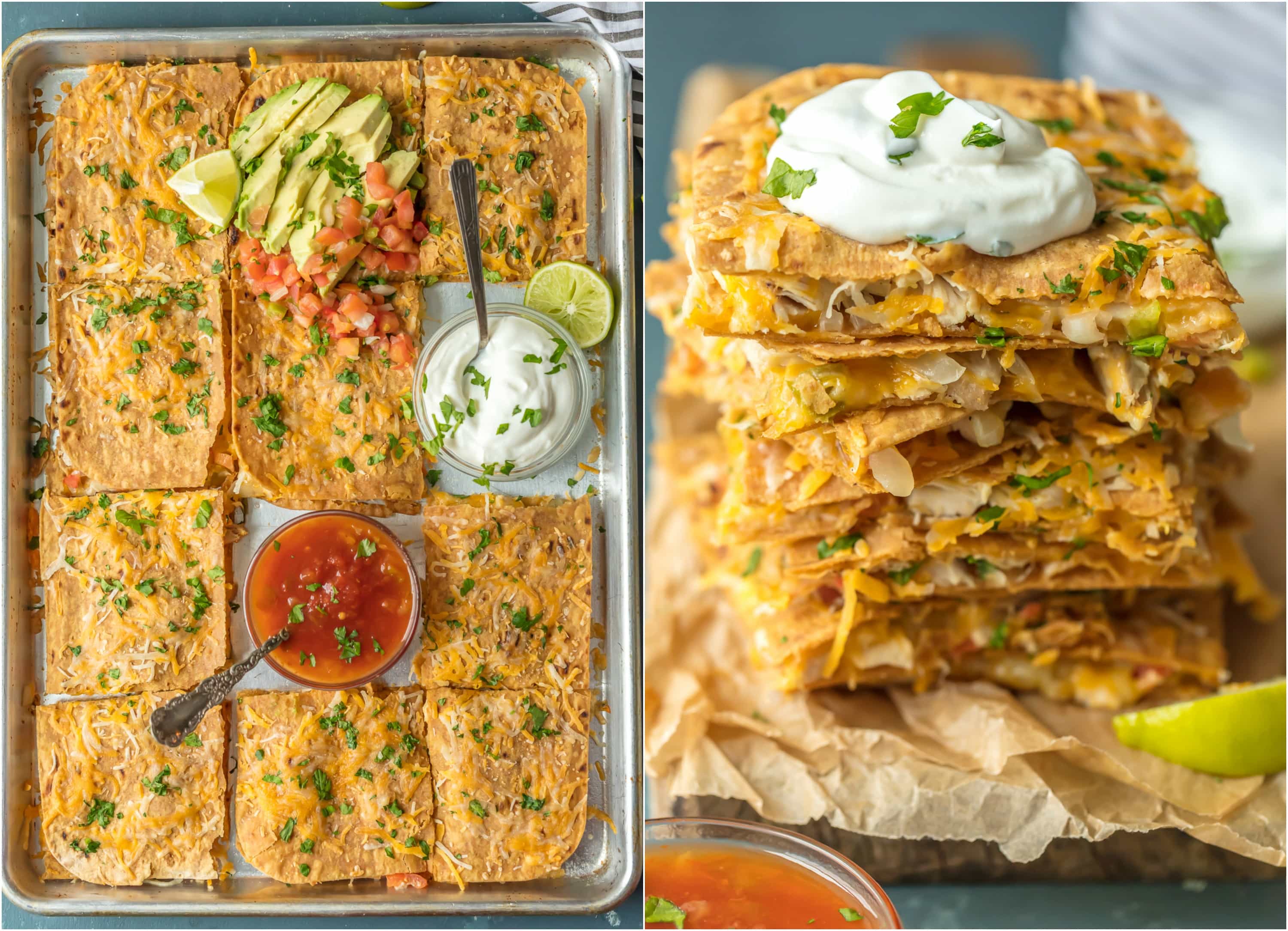 How do you cook shredded chicken?
You can buy pre-cooked rotisserie chicken and shred, or you can cook the chicken before making these Chicken Quesadillas and shred with two forks. To make shredded chicken, place chicken breasts into a saucepan and pour in enough water to cover. Place over medium heat, bring to a boil, and simmer until chicken meat is no longer pink, 10 to 12 minutes. Transfer chicken breasts to a bowl, allow to cool, and shred the chicken meat with 2 forks.
What goes well with Chicken Quesadillas?
We love to serve this Chicken Quesadilla Recipe with Cheesy Mexican Rice, White Queso, Homemade Tortilla Chips, and Baked Chicken Tacos. The ultimate Tex Mex feast!
What other Tex-Mex Recipes are your favorite?
Can you tell that Mexican food is my favorite? Some other favorites that we LOVE are Queso Smothered Chicken Fajitas, Enchilada Stuffed Peppers, Instant Pot Chicken Tortilla Soup, Mexican Grilled Corn, and a Skinny Margarita.
See the recipe card below for full details on How to Make Chicken Quesadillas for a Crowd. Enjoy!