Chicken Mole is a flavor-packed Mexican dish featuring a spicy, savory, and sweet sauce that's out of this world. This homemade mole poblano sauce is made with a range of ingredients, including peppers, cinnamon and cloves, tomatoes, garlic, sesame seeds, raisins, dark chocolate, and more. Let the chicken simmer and serve for a delicious dinner!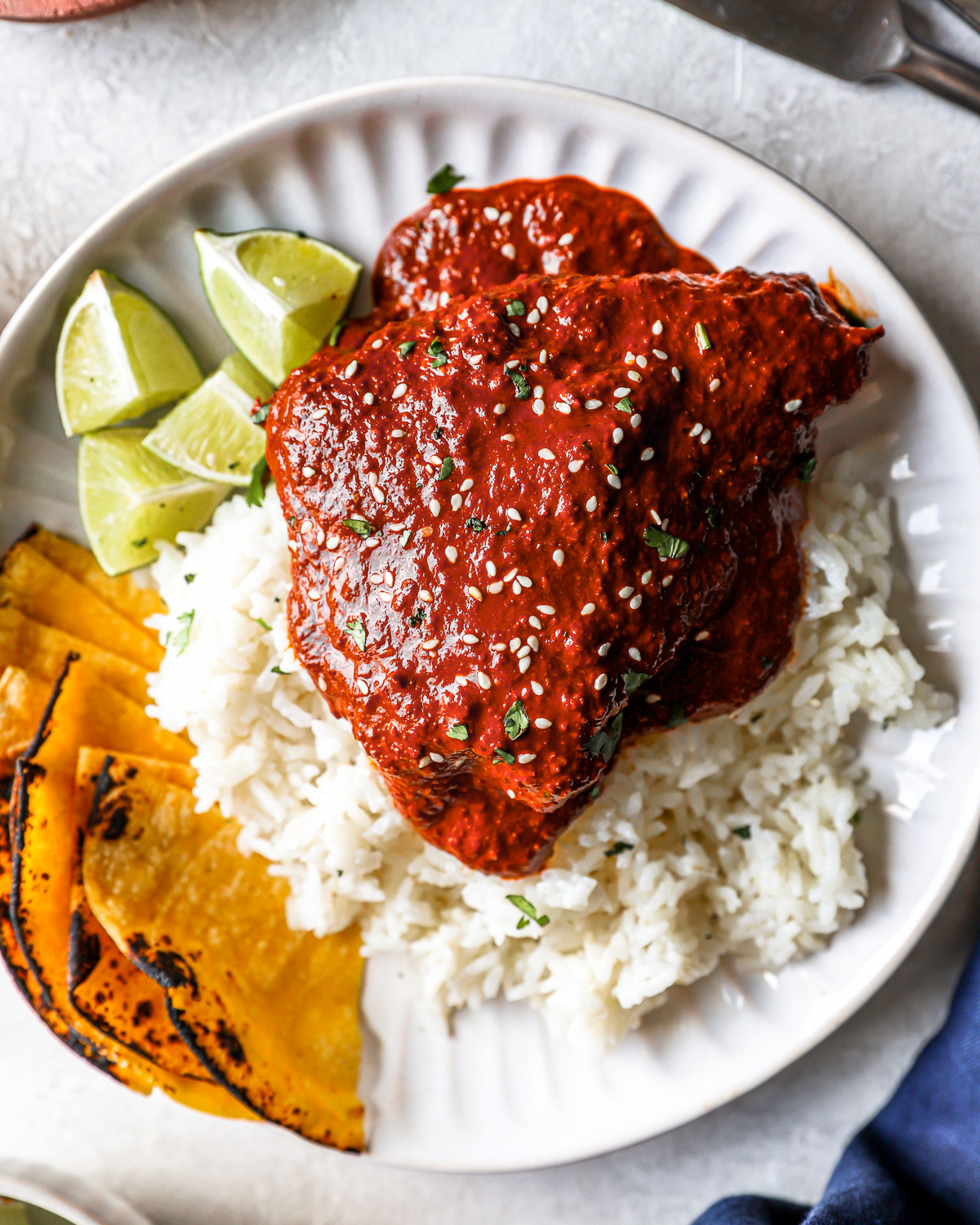 What's in this Chicken Mole Recipe?
A whole chicken is cooked in a rich, complex sauce made with peppers, spices, nuts, seeds, and chocolate.
Chicken: Provides the protein and flavor for the dish. I made a whole chicken for this recipe so we'd have every piece (thighs, drumsticks, and breast).
Onion: Adds flavor and aroma to the mole sauce and chicken.
Garlic: Adds a pungent and savory flavor.
Salt: Enhances and balances the flavor of the other ingredients in the dish.
Peppers: A mixture of Guajillo, Pasilla, and Ancho Chile peppers provide the signature flavor and spiciness of mole sauce.
Vegetable Oil: Used to sauté the onions, garlic, and peppers, and also to fry the sauce ingredients before blending them.
Chicken Broth: Provides liquid for the mole sauce and enhances the chicken flavor in the dish.
Cinnamon: Adds a warm, sweet, and slightly spicy flavor.
Cloves: Add a warm and sweet flavor.
Tomatoes: Provide acidity and sweetness to the mole sauce.
Raisins: Add sweetness and a hint of fruitiness.
Sesame Seeds: Add nuttiness and texture.
Almonds: Add richness, creaminess, and nuttiness.
Pepitas: Pumpkin seeds add nuttiness, crunch, and a slight bitterness.
Dark Chocolate: Adds richness, depth, and complexity to the mole sauce.
Pro Tip: Use Mexican chocolate if you can find it–it's the more traditional option for a mole poblano sauce.
Variations on Mole Poblano
I went with a mole poblano for this chicken mole recipe, but there are many variations on this dish that are traditional to different regions of Mexico. Here are some common variations to try:
Mole Negro: A darker and spicier sauce made with Ancho chiles, Mulato chiles, and blackened spices.
Mole Coloradito: A red sauce made with Ancho chiles and tomato paste, with a slightly sweet and spicy flavor.
Mole Amarillo: A yellow sauce made with Guajillo chiles and tomatillos, with a tangy and slightly spicy flavor.
Mole Verde: A green sauce made with fresh herbs, pumpkin seeds, and tomatillos, with a fresh and bright flavor.
Mole Manchamantel: A fruitier sauce made with pineapple and plantains, with a slightly sweet and spicy flavor.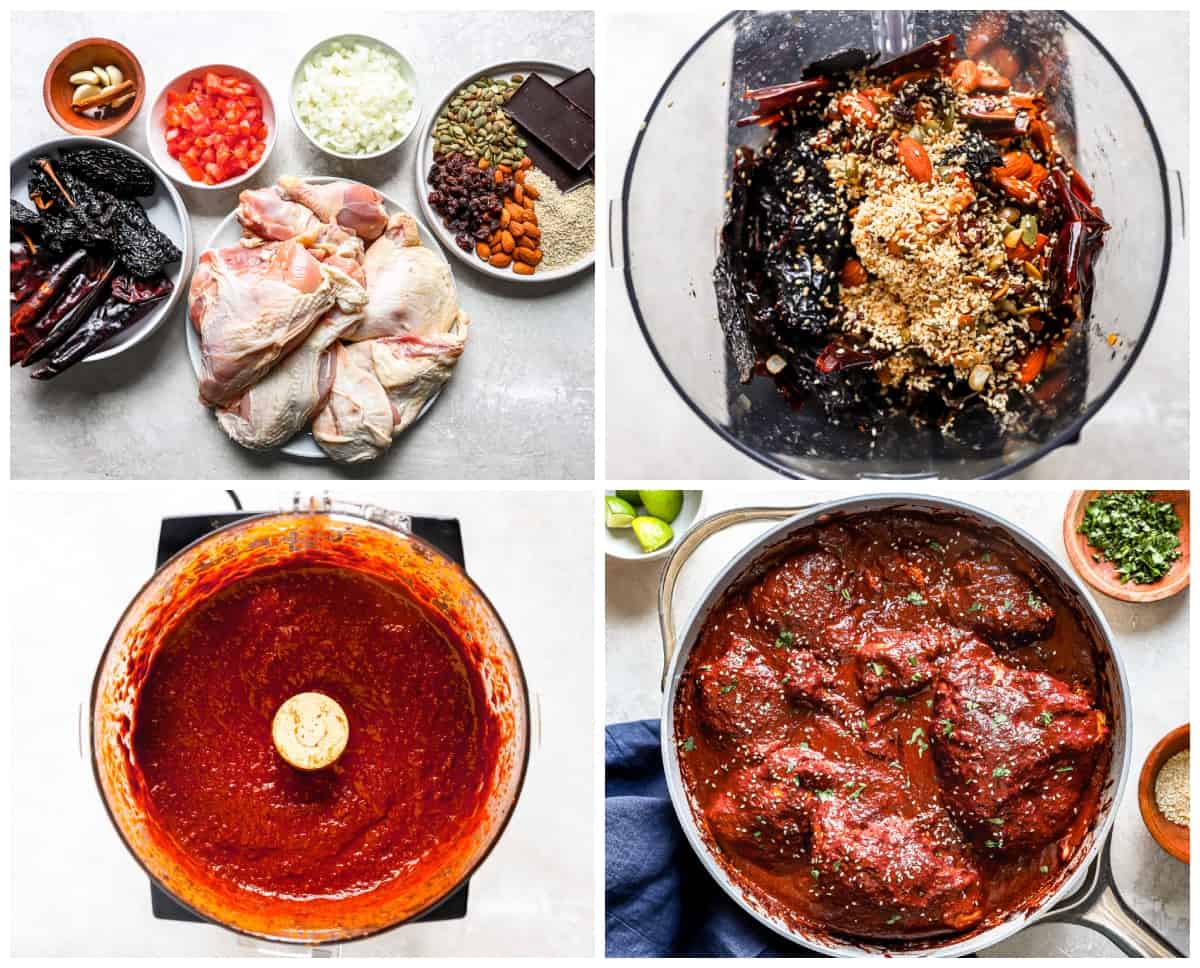 What does mole sauce taste like?
Mole sauce has a rich and complex flavor profile that is sweet, savory, and spicy all at once. The sauce has a deep umami flavor with hints of smokiness from the roasted peppers, spices, and chocolate that is balanced with a hint of sweetness from the raisins.
Does chicken mole taste like chocolate?
The chocolate in the sauce adds richness and depth to the flavor, but it's not overpowering and does not make the dish taste like chocolate.
What type of chocolate is used in mole sauce?
Traditionally, Mexican chocolate is used in mole sauce, which contains cinnamon and sugar. However, unsweetened chocolate can also be used to make mole sauce.
Is chicken mole spicy?
Chicken mole is mild-to-medium spicy. You can adjust the spice level by using different types of dried chiles.
Can chicken mole be made ahead of time?
Yes, chicken mole can be made ahead of time and stored in the refrigerator for up to 3 days. The flavors will actually deepen and intensify with time.
How to Store and Reheat
Store leftover chicken mole in an airtight container in the refrigerator for up to 3 days. Reheat in a saucepan set over medium-low heat, stirring occasionally; in the microwave on high for 1-2 minutes, stirring occasionally; or covered with aluminum foil in a 350°F oven for 20-30 minutes, or until warmed through.
How to Freeze
Freeze chicken with mole poblano in an airtight container or Ziplock bag for up to 3 months. Let thaw overnight in the refrigerator before reheating.
Serving Suggestions
Chicken mole is a versatile and flavorful dish that can be served with a variety of sides to complement its rich flavors. I like to serve mine with cilantro rice or fresh tortillas. It's also delicious with a side of refried beans, street corn, roasted vegetables, or guacamole.
A refreshing blood orange Paloma or Aperol margarita would pair so well with this rich, complex dish!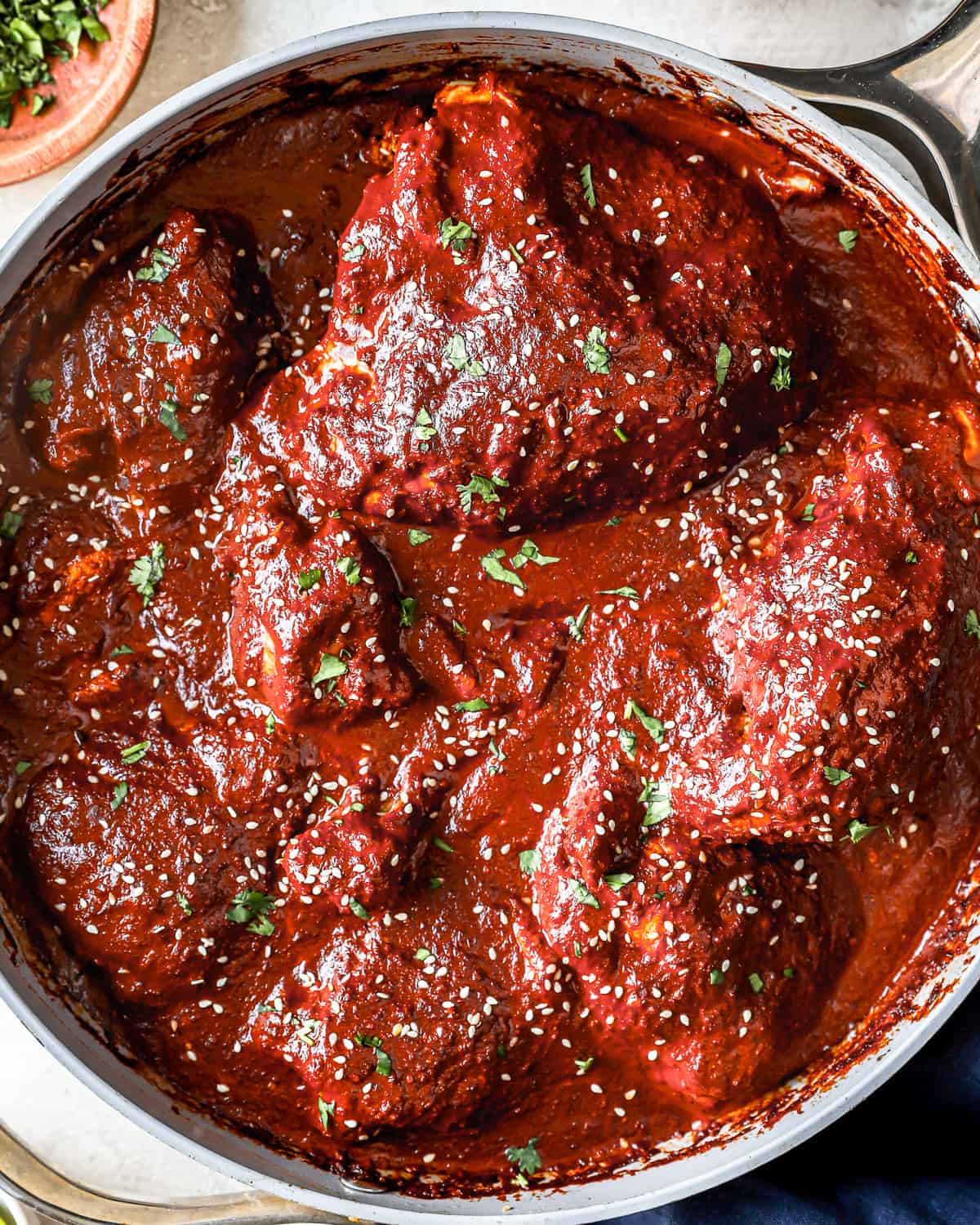 More Mexican Chicken Recipes We Love