Crock Pot Spaghetti is an easy, hands-off way to make everyone's favorite weeknight dinner. Pasta goes straight into the slow cooker with a tasty marinara sauce made with ground beef and Italian sausage, tomatoes, garlic, and Italian seasoning. Top everything off with lots of mozzarella cheese for a spaghetti casserole the whole family is going to love!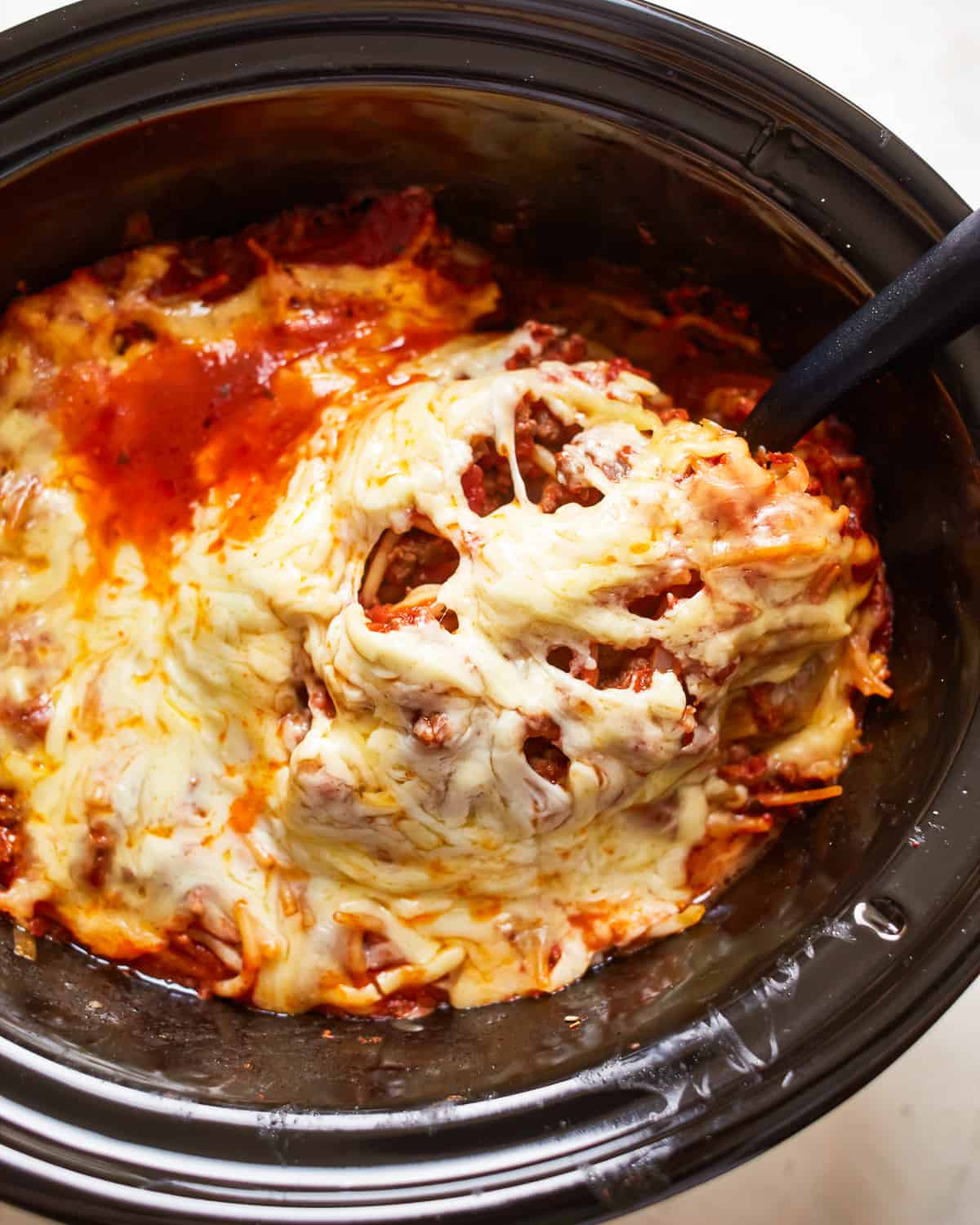 What's in Crockpot Spaghetti Casserole?
If you love baked spaghetti, you're going to love how easy it is to make this cheesy spaghetti recipe in a Crock Pot!
Ground Beef: I recommend using 80/20 ground beef in spaghetti sauce since it has more flavor and juiciness. But you can use a leaner option.
Italian Sausage: Ground Italian Sausage adds more savory flavor to the meat sauce mixture.
Spaghetti Noodles: Of course you need spaghetti! Either break noodles into thirds, or buy a box of pot-size spaghetti.
Marinara Sauce: Use your favorite jar of sauce, or try this homemade marinara sauce.
Diced Tomatoes: A can of diced tomatoes adds more texture and flavor into the sauce.
Onions: Mix diced onion into the meat sauce. I recommend using white or yellow onions.
Garlic: Minced garlic adds more savoriness.
Italian Seasoning: This blend is a mix of oregon, basil, rosemary, thyme, sage, marjoram, and crushed red pepper.
Water: Water helps to thin out the sauce.
Shredded Mozzarella: Top the entire casserole with lots of cheese so that it bakes and melts into everything.
Granulated Sugar: A pinch of granulated sugar sweetens things up just a tad for the perfect flavor.
Salt & Pepper: A little bit of salt and pepper helps to create the right taste.
Olive Oil: Use olive oil to cook the meat.
Pro Tip: If you prefer spaghetti and meatballs over spaghetti casserole, skip the meat in the crockpot, and add these old-fashioned Italian Meatballs when you serve!
Variations on Slow Cooker Spaghetti Casserole
It's easy to switch out a few ingredients to make this Crock Pot spaghetti recipe perfect for any night of the week.
Chicken Spaghetti: Instead of ground beef and sausage, use ground chicken and follow the same instructions. You can also use leftover or shredded chicken (fully cooked), and start at Step 2. If you prefer, use alfredo sauce instead of marinara for a creamier dish.
Taco Spaghetti Casserole: Swap Italian seasoning for taco seasoning; leave out the sausage; use diced tomatoes with green chiles; and use cheddar or colby jack instead of mozzarella. You can also mix in black beans or corn if you like.
Vegetarian: Skip the ground beef and sausage, and you'll have a meat-free spaghetti with marinara. Or you can use a plant-based ground meat if you like.
If you don't want all of the ingredients "baked" together, I recommend making this Crockpot Spaghetti Sauce instead. Then you can pair it with freshly boiled pasta!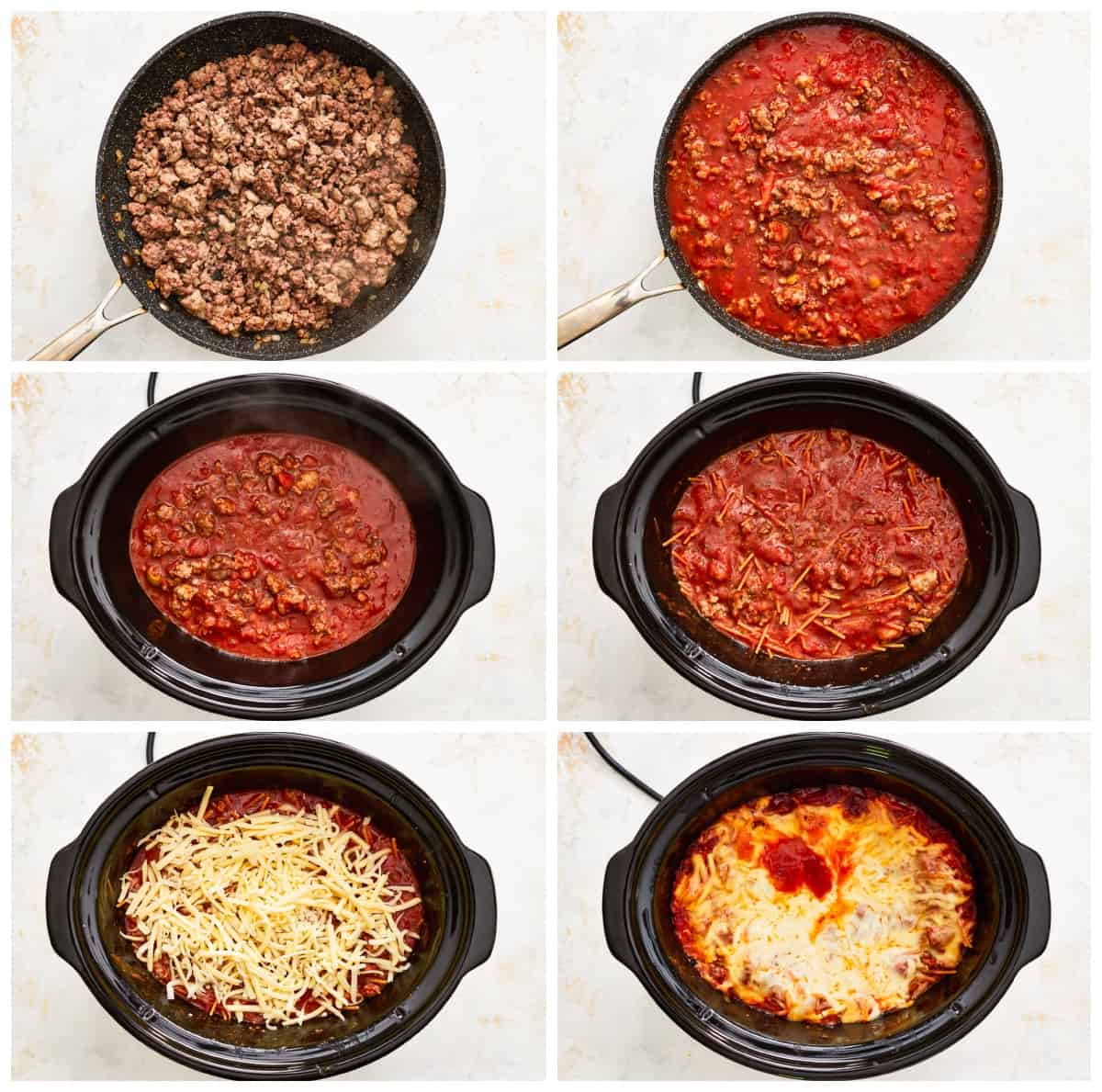 How long does it take to cook spaghetti in a crock pot?
Cook spaghetti casserole in a slow cooker set on LOW for 4 hours.
Can I keep spaghetti warm in the crock pot?
Yes, change it to the WARM setting and it will keep warm to 2 hours
Can you put raw spaghetti directly in the crock pot?
Yes, put uncooked noodles directly in the slow cooker with the sauce. There's no need to par-boil it first.
Can I make this spaghetti recipe without meat?
To make this dish meat free, you can omit the sausage and meat and add in other veggies like bell peppers and mushrooms. Alternatively you could use Beyond Meat sausage and ground 'beef'.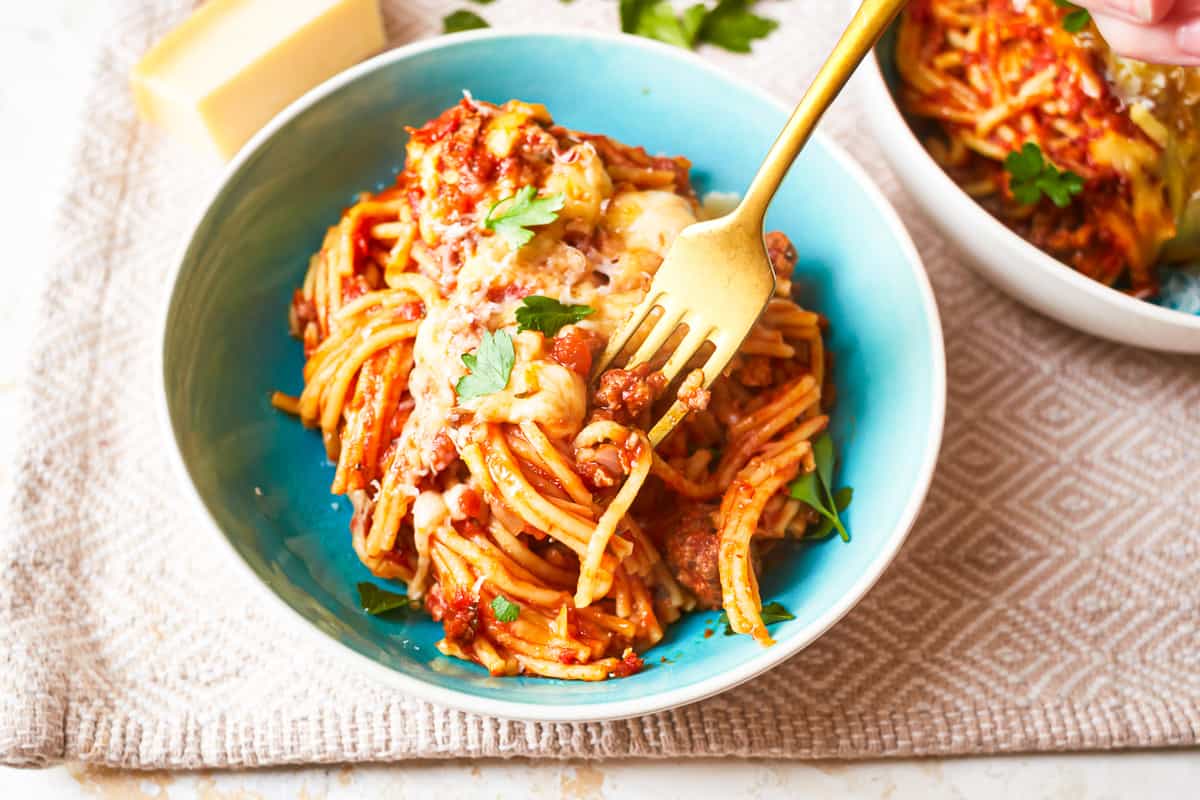 How to Store and Reheat
Let leftover Crock Pot baked spaghetti cool to room temperature. Then store it in an airtight container and keep it in the refrigerator for 4 days.
Reheat on the stovetop, microwave, or slow cooker, heating until fully warmed through.
How to Freeze
This slow cooker spaghetti makes for a great freezer meal because it will keep well for up to 3 months. Thaw the casserole in the fridge overnight before reheating it.
Serving Suggestions
Serve this delicious Crockpot spaghetti casserole with fresh garlic bread or Olive Garden style breadsticks, and a chicken caesar salad or Greek salad. This dish also tastes great with parmesan roasted potatoes, roasted mushrooms, or Air Fryer broccoli.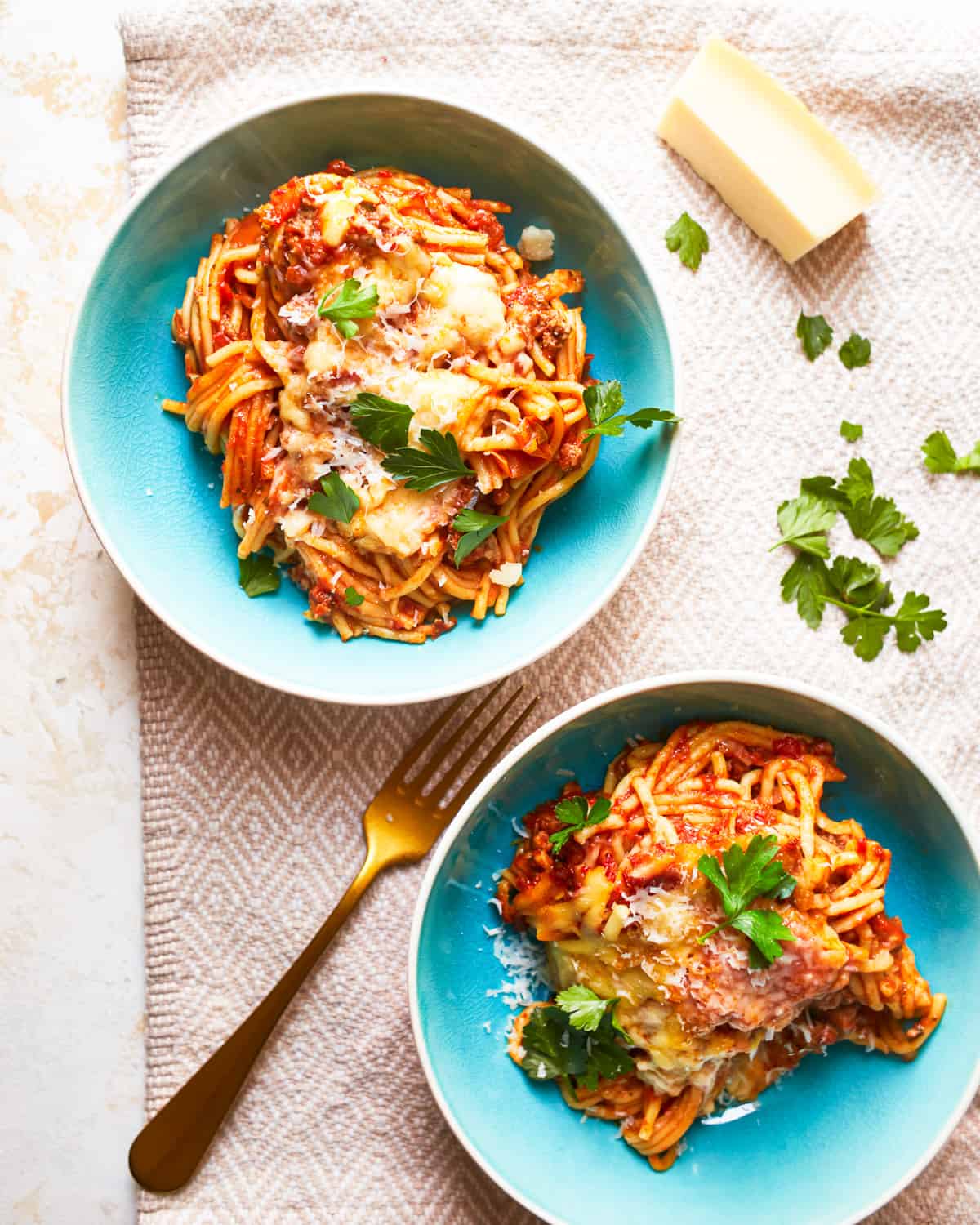 If you make this recipe be sure to upload a photo in the comment section below or leave a rating. Enjoy! You can also jump to recipe.
More Crockpot Pasta Recipes We Love