Grilled Pineapple is a simple, sweet, and juicy side dish that's perfect for pairing with your favorite grilled meats and BBQ dishes. Chili powder, lime juice, and brown sugar create the most delicious sweet, citrus-y, and slightly spicy flavor. So throw some pineapple slices on the grill next time you're cooking out for a fruity treat!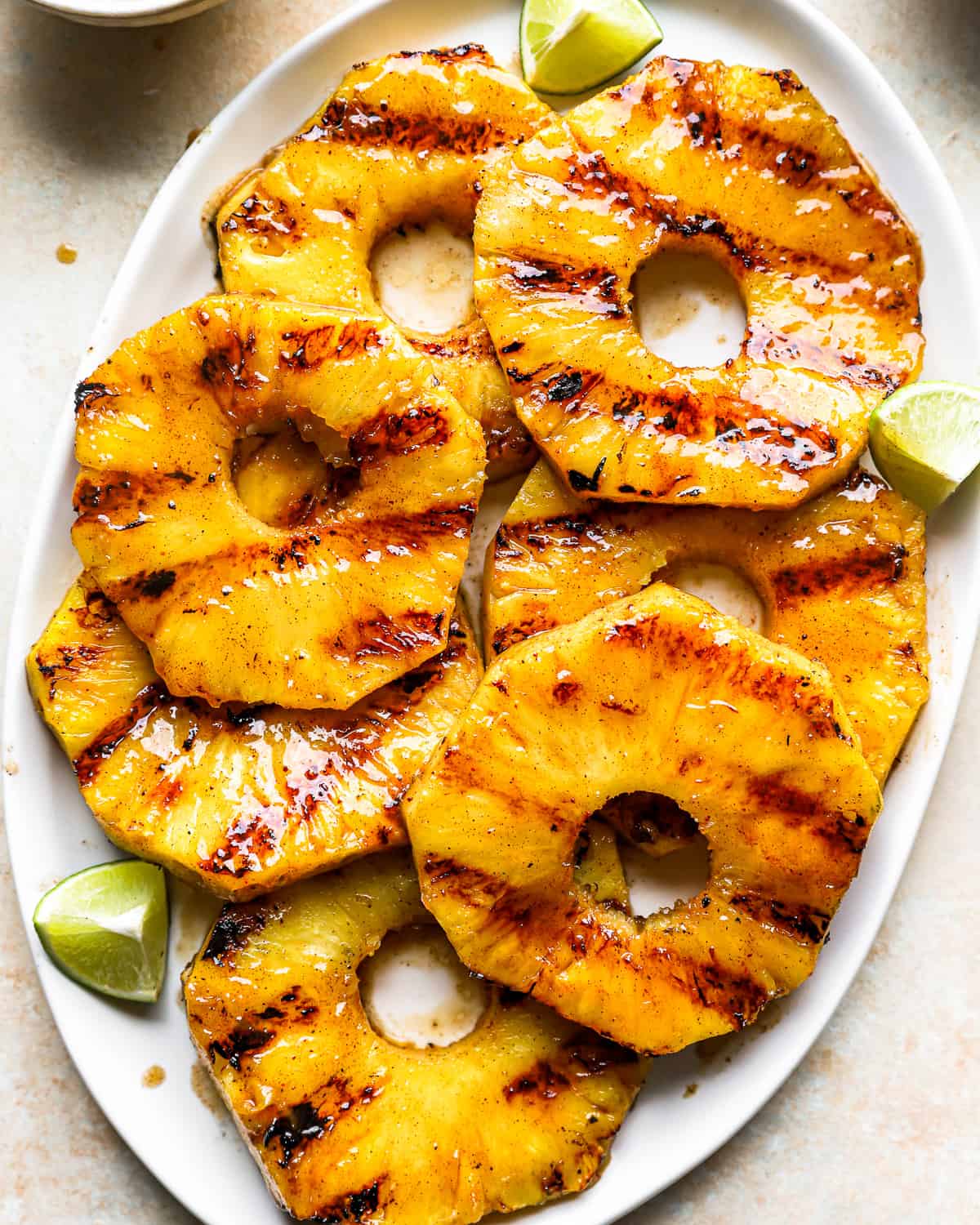 What's in this Grilled Pineapple Recipe?
Juicy pineapple slices are brushed with a sweet, sour, and spicy glaze to create the perfect BBQ side dish!
Pineapple: Choose a fresh, ripe pineapple. The rind of the pineapple should be yellow. If the rind is still green, then the pineapple is underripe; if it is dark orange, it is overripe. The stem of a ripe pineapple should also smell sweet.
Butter: Helps the glaze spread easily. I like to use unsalted butter so I can control the salt levels more precisely. If using salted butter, omit the kosher salt.
Lime Juice: Adds acidity to cut the sweetness.
Brown Sugar: Adds a rich sweetness to the glaze that compliments the acidic pineapple.
Chili Powder: Adds a little kick of heat.
Cinnamon: Adds a warm, spicy flavor.
Kosher Salt: Enhances the flavor of the pineapple and the glaze.
Pro Tip: Brush the grates of your grill with oil before laying down the pineapple slices to prevent sticking.
Variations on Grilled Pineapple Slices
Sweeter: Substitute the brown sugar for honey, maple syrup, or agave for a sweeter glaze.
Milder: Leave out the chili powder for a sweeter, less spicy glaze.
Boozy: After removing from the grill, brush the cooked fruit with a little rum. Do not add alcohol over the open flame!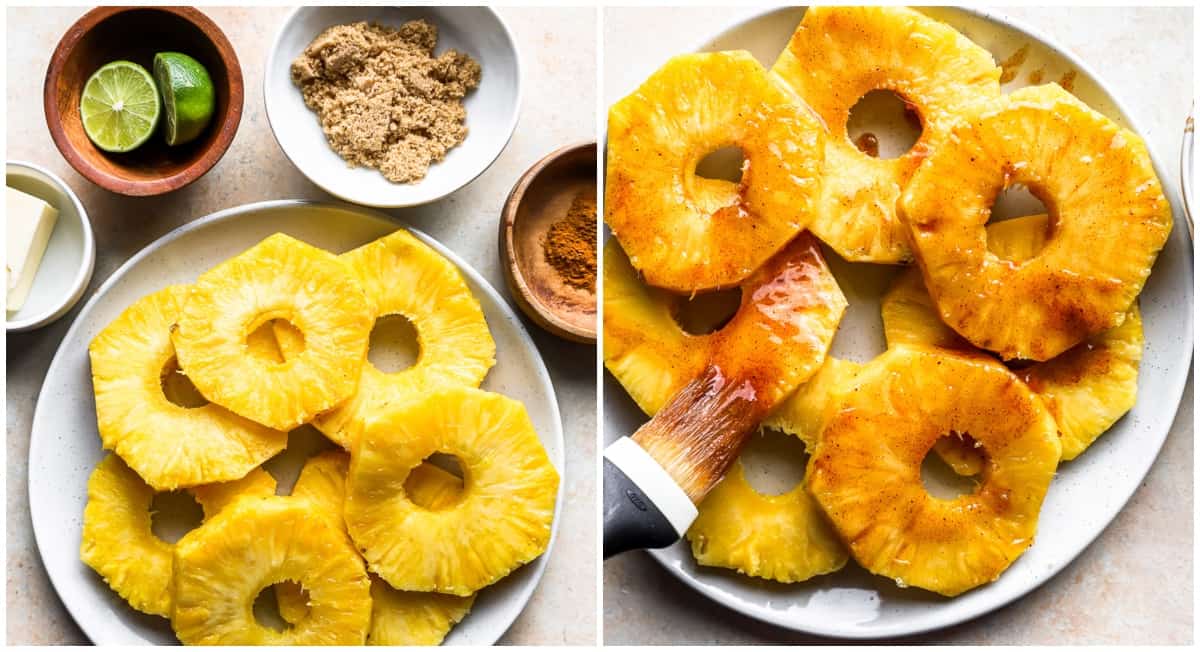 Why should I grill pineapple?
Grilling pineapple causes the sugars to caramelize, bringing out its sweetness and adding a little bit of smokiness. It's the perfect easy side for your next barbecue.
At what temperature should I grill pineapple?
Grill your pineapple over medium heat (375-400°F).
How do I cut a pineapple for grilling?
Use a sharp chef's knife to cut off the top of the pineapple about 1/2 inch down from where the leaves meet the flesh. Turn the pineapple upside down on a plate and let sit for about 30 minutes to redistribute the juices. Then, trim 1/2 inch from the opposite side of the pineapple. Stand the pineapple up and use a sharp knife to remove the skin, slicing from top to bottom. To slice into rounds, use a pineapple corer or sharp pairing knife to remove the core and cut into thick slices. Otherwise, cut the pineapple in half, then in half again to create quarters, then remove the cores and cut into thick slices.
Does grilling pineapple remove bromelain?
Yes! You know that tingling sensation you get when you eat raw pineapple? That's bromelain enzymes. The high heat from the grill renders bromelain inactive, so you won't get that sensation anymore.
Should I salt pineapple before grilling?
Yes! That's why there's salt in the glaze. Salt enhances the flavor of the fruit, making it irresistibly delicious.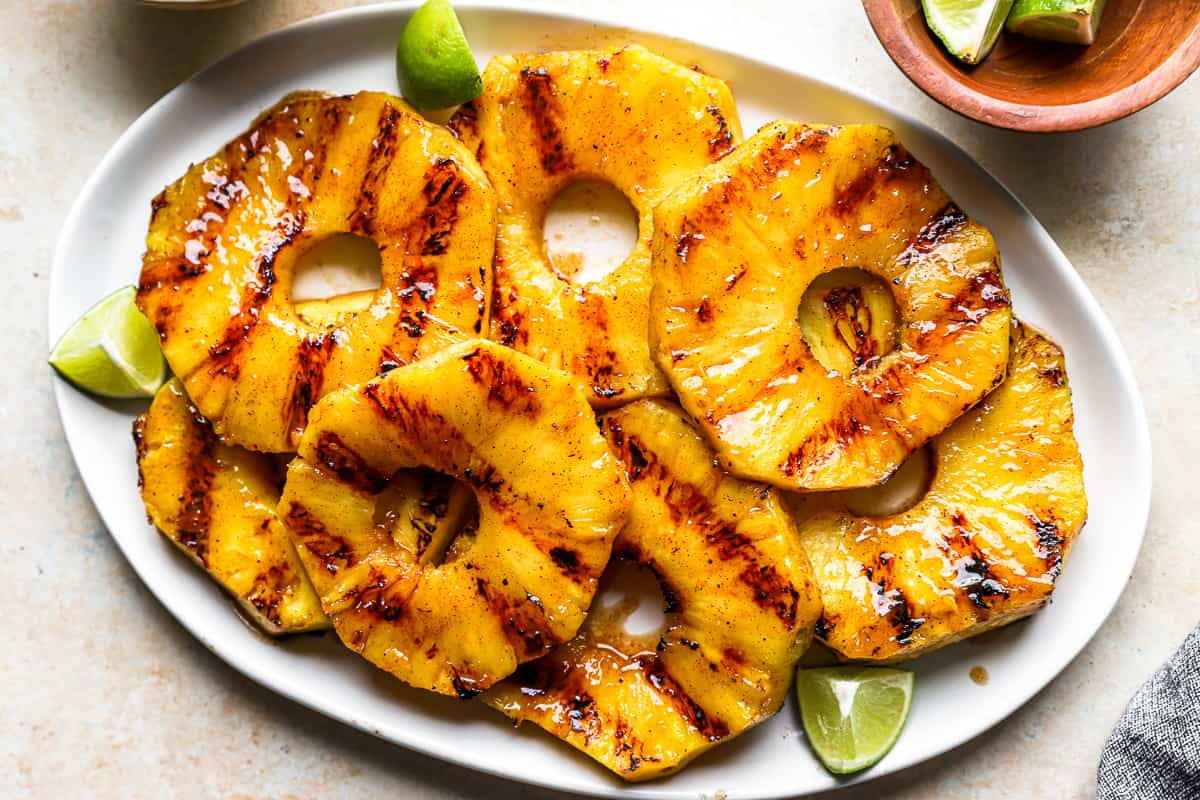 How to Store and Reheat
Store leftover grilled pineapple in an airtight container in the refrigerator for up to 4 days. To reheat it, you can either microwave it for a few seconds, or heat it up on the grill or in a grill pan on the stovetop for a couple of minutes until it's heated through. I do not recommend freezing grilled pineapple.
Serving Suggestions
Grilled pineapple slices are a great addition to pineapple-forward dishes, like Huli Huli Chicken, Hawaiian ribs, Hawaiian pizza grilled cheese, sweet and sour pork, or grilled Huli Huli turkey. It adds a great sweet and smokey flavor that enhances these dishes.
Pineapple pairs so well with barbecue sauce, so try it alongside grilled BBQ chicken, St. Louis Ribs, pulled pork, or BBQ brisket. It's also the perfect side for grilling favorites, like flank steak, grilled burgers, grilled pork chops, or marinated chicken breasts.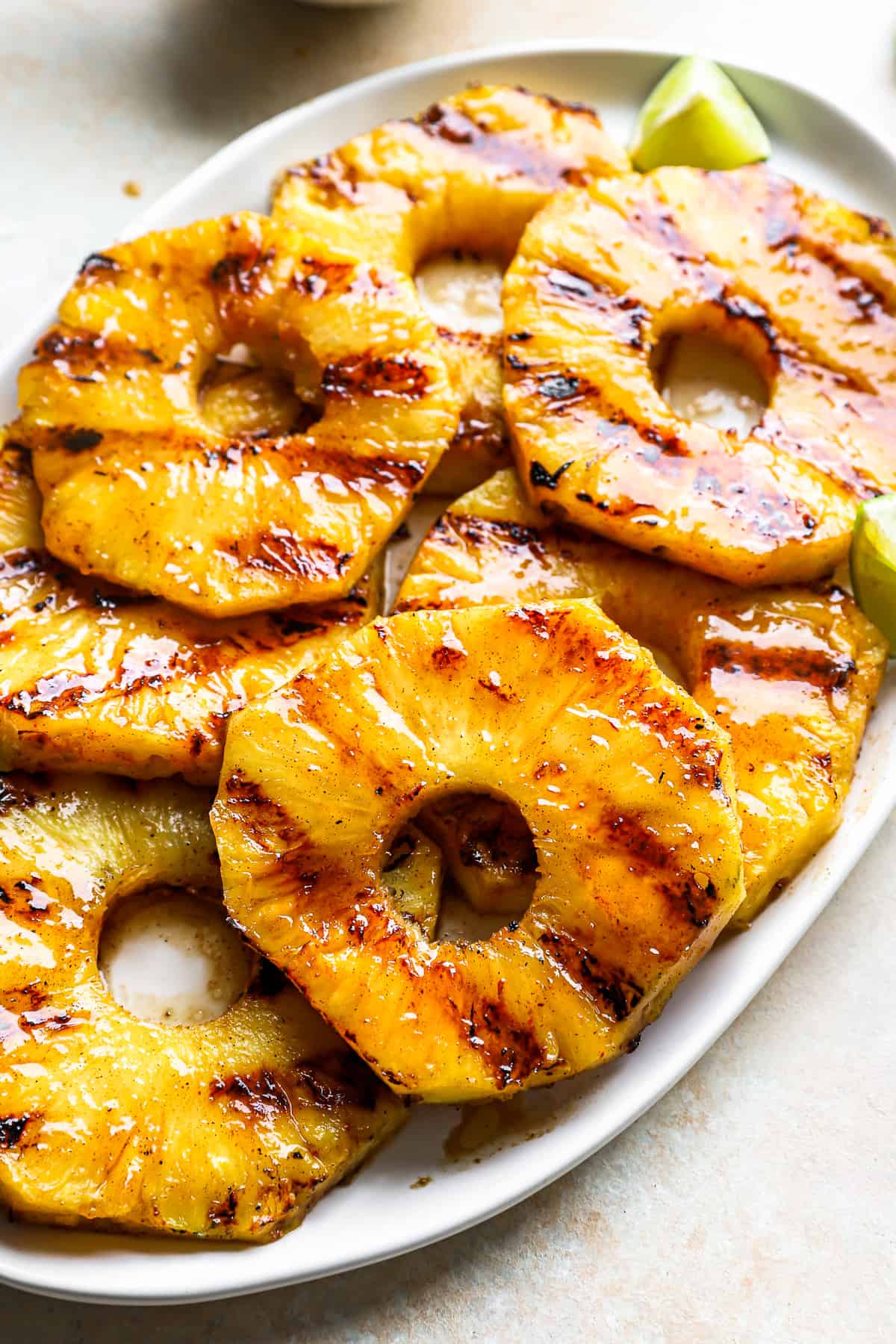 More Pineapple Recipes We Love
More Grilled Recipes to Try