Smoky, savory instant pot black-eyed peas are the perfect comfort food during the cool winter months. These little black and white beans are ready to cook without soaking, so you can easily pull this delicious recipe together fast. Delicious, healthy, and "lucky," these little legumes are perfect as a hearty one-pot meal or flavorful side dish.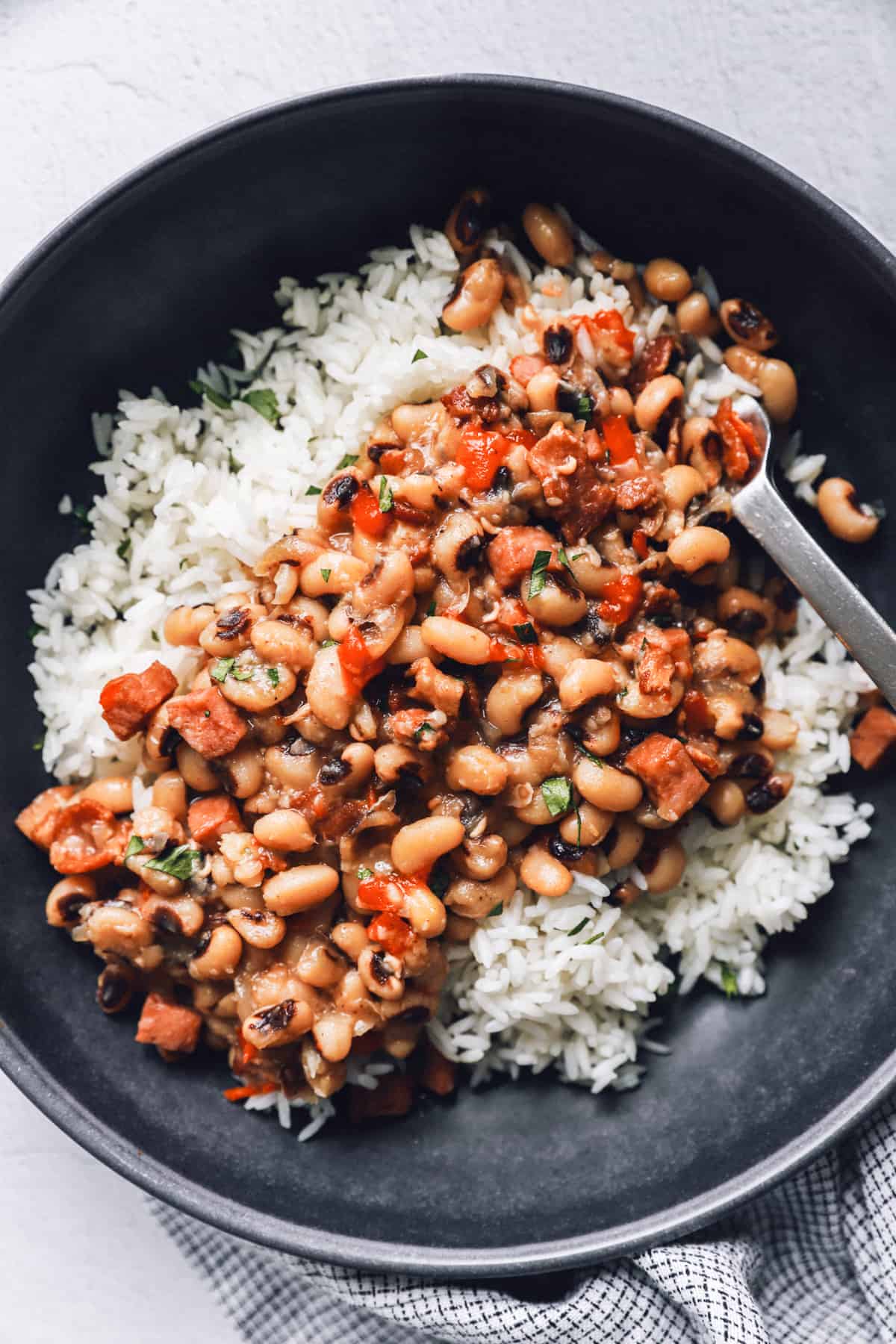 Pressure Cooker Black Eyed Peas
Southern cooks have made black-eyed peas throughout their cooler winter months for generations, and they're a New Year's tradition. According to the West African folklore adopted by southerners, these humble peas ward off trouble, attract luck, and bring prosperity for the coming year.
The tradition of sharing black-eyed peas with friends and family to usher in a lucky New Year now stretches far and wide to home cooks everywhere. If you haven't joined in with the believers, there is no better time than now. And this hearty instant pot recipe is the perfect way to start!
Why You'll Love this Instant Pot Black Eyed Peas Recipe:
No Soaking: Black eyed peas are good to go into the Instant Pot without any overnight soaking.
Good for You: These are highly nutritious and rich in fiber!
Insta Pot easy: Thanks to the pressure cooker setting on your Insta Pot, your black eyed peas will cook to perfection in 30 minutes.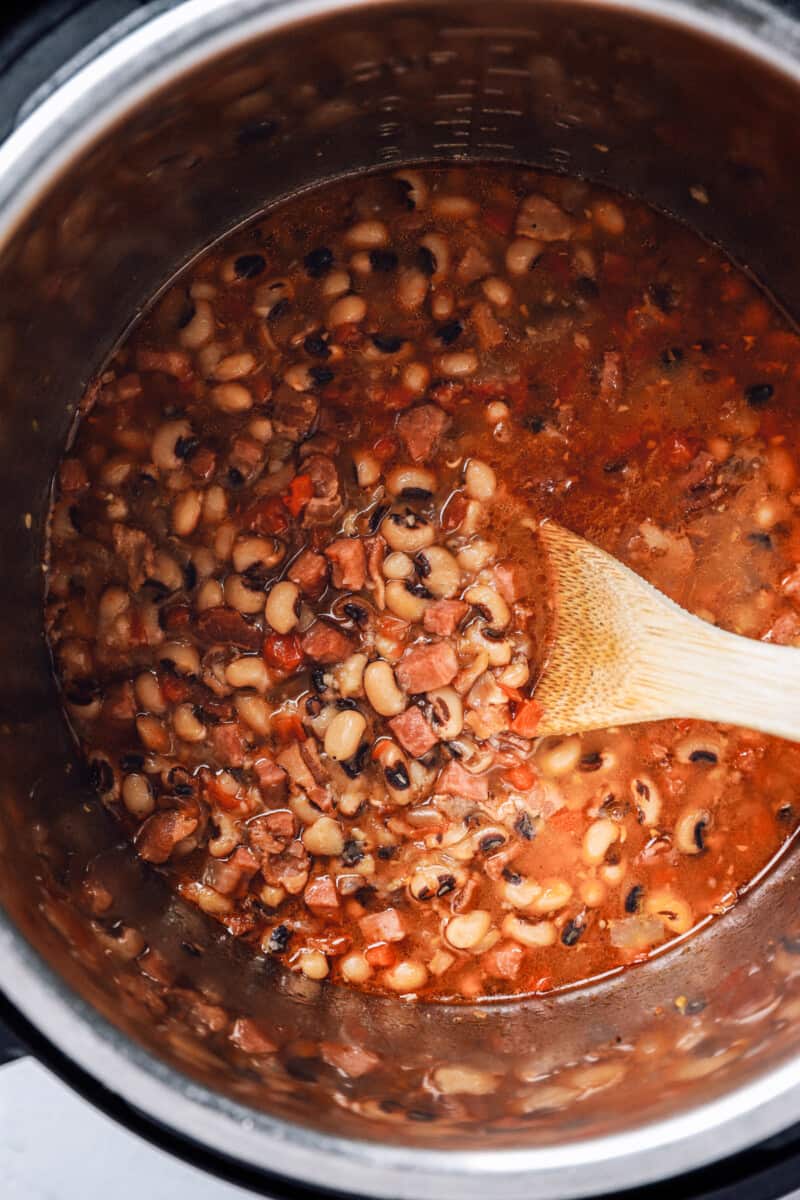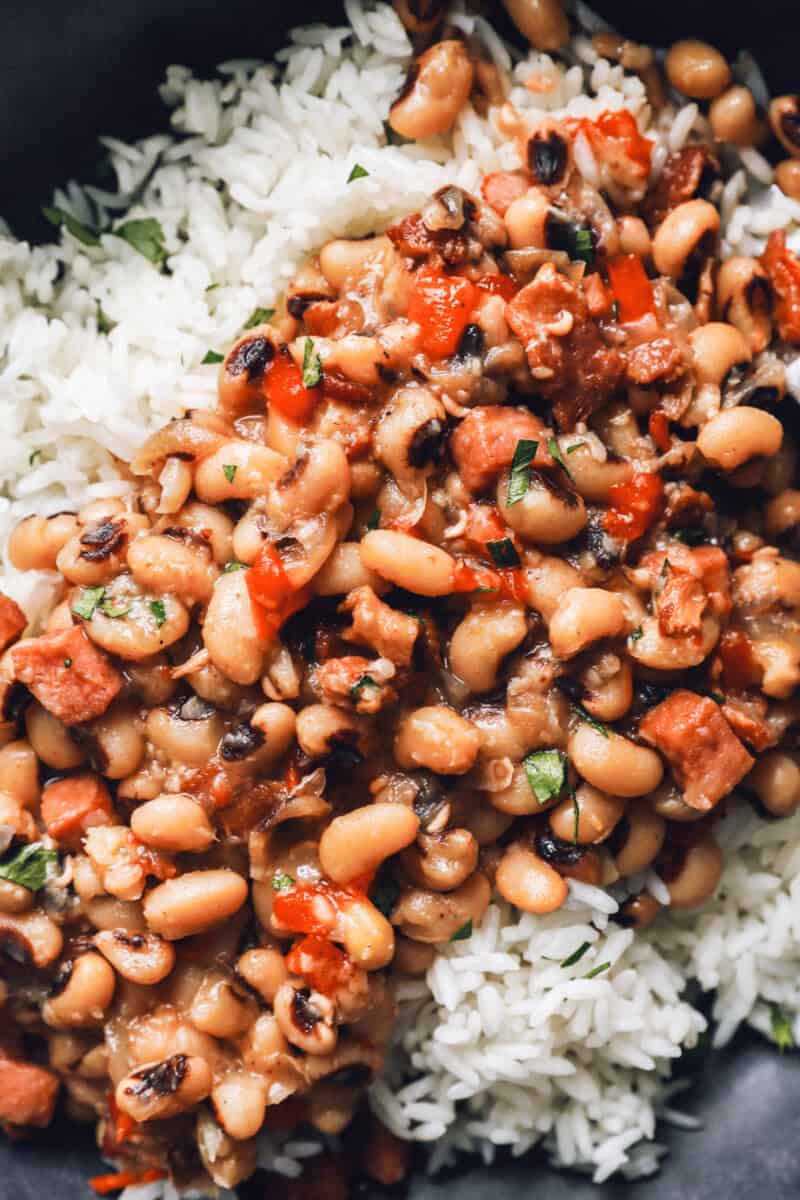 How to Cook Black Eyed Peas in an Instant Pot
You can jump to the recipe card for full ingredients & instructions!
Sauté the bacon in the Instant Pot until crispy.
Add the vegetables and seasonings, followed by the garlic and ham.
Stir in the black-eyed peas.
Add the broth, bay leaves, and salt.
Pressure cook the beans according to the recipe card's instructions.
Before serving, remove the bay leaves, stir and serve!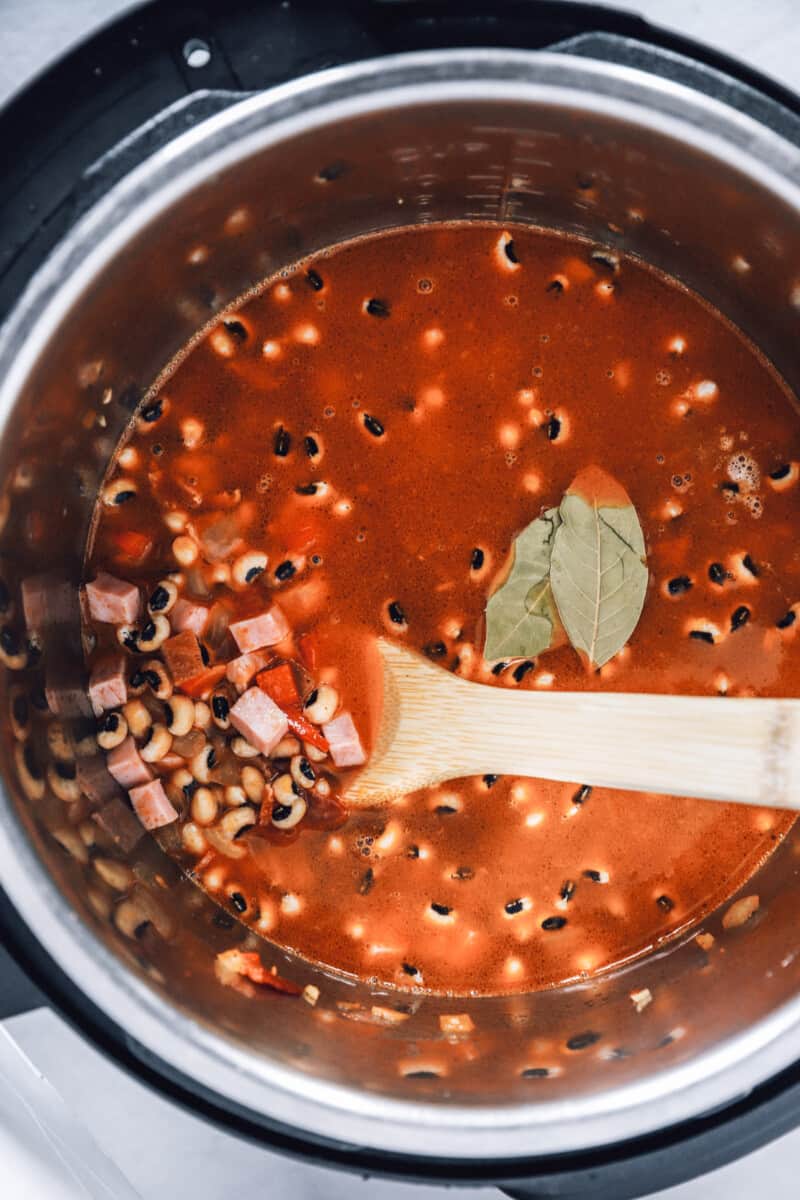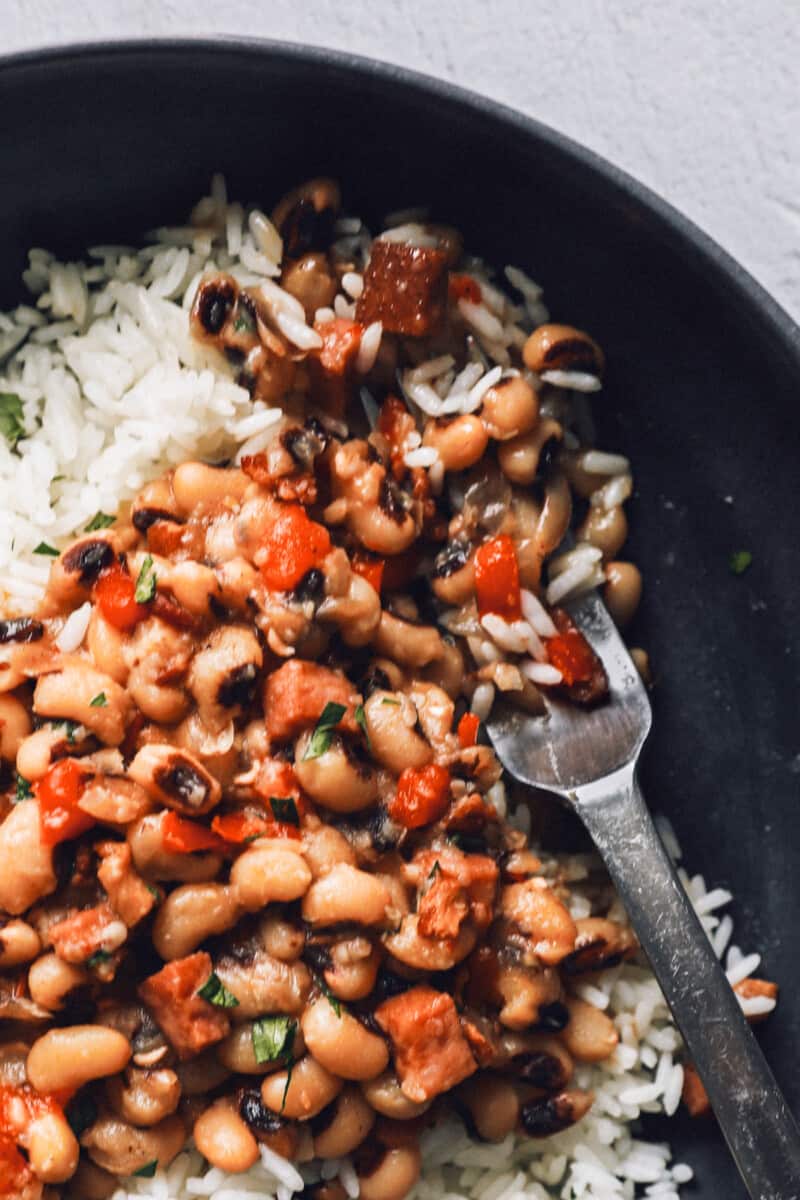 Are black eyed peas beans?
Yes! Black eyed peas are not actually peas; they are a type of bean (close enough though, right?). They get their name from the dark, black spot in the middle of the otherwise light-colored bean. And they're known as "peas" because they come from a cowpea plant.
Are black eyed peas good for you?
Beans are a great source of protein and fiber, which keeps you feeling full. So eating a soup filled with beans and a few other ingredients is a good choice for a simple filling meal.
Can dogs eat black eyed peas?
I don't recommend it! While dogs can eat plain cooked black eyed peas as an occasional treat, the dish black eyed peas contains too much seasoning and sodium for them!
Why are black eyed peas eaten on New Year's Day?
In the South, black eyed peas and the accompanying meal have become a tradition for good luck. So, eating them on New Year's day is meant to bring prosperity for the rest of the year. A full New Year's meal includes black eyed peas for luck and prosperity, collard greens for wealth and money, pork for positive motion, and cornbread for gold.
Why do people put a dime in black eyed peas?
Some people will put a dime in the soup, and whoever gets it in their serving will get EXTRA good luck. (Admittedly, this could be dangerous if people don't notice the dime in their soup!).
Do black eyed peas need to be soaked before cooking?
Nope! These black eyed peas can go in the instant pot without any soaking. However, if you'd like to soak them overnight first, you will need to reduce the cooking time by about half!
Why are my instant pot black eyed peas mushy?
Black eyed peas turn mushy when they are overcooked. Luckily, this recipe is designed so that you end up with perfectly-cooked black eyed peas. If you soak your beans ahead of time, you'll need to reduce the cooking time to avoid mushy black eyed peas!
What happens if I eat undercooked black eyed peas?
Unfortunately, beans are not safe to eat unless they have been fully cooked. Fully cooked beans are tender and creamy, and some of them may even split open. If you accidentally eat undercooked beans, you may experience gastrointestinal upset or vomiting. If these symptoms are severe or persistent, it's a good idea to visit the ER.
Serving Suggestions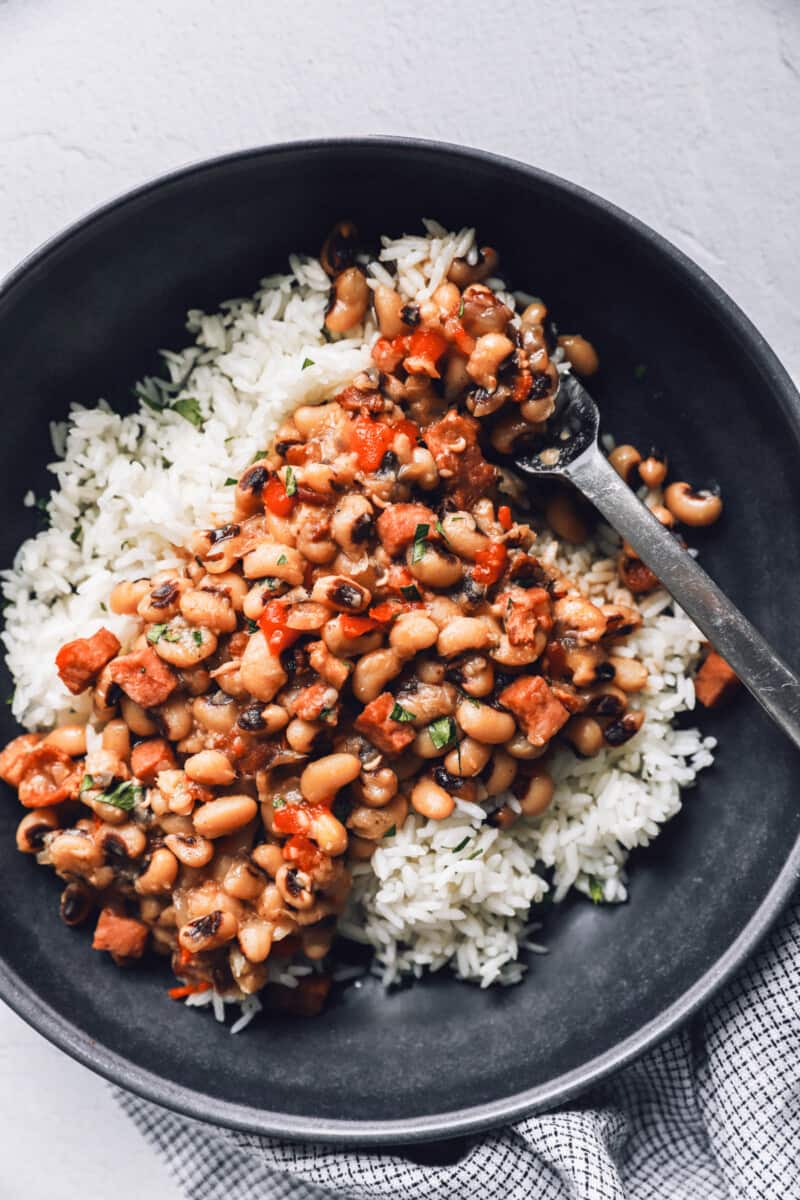 Make Ahead Instructions
Instant pot black eyed peas can be made up to 1 day in advance and stored in an airtight container in the refrigerator until ready to serve.
Storage Instructions
Store leftover instant pot black eyed peas in an airtight container in the refrigerator for up to 3 days. Reheat gently in the microwave or on the stovetop in a large pot set over medium-low heat until warmed through.
Freezing Instructions
Freeze instant pot black eyed peas in an airtight container for up to 3 months. Let thaw overnight in the refrigerator before reheating.
Substitutions/Variations
For vegetarian black eyed peas, swap the chicken broth for vegetable broth, omit the bacon and ham, and add

½ teaspoon of smoked paprika

(or use vegetarian bacon!).
In place of the bacon and ham, you can add 1 large or 2 small ham hocks. Simply remove the ham hocks, shred the meat, and return it to the instant pot at the end of cooking.
You can also sausage instead of bacon and ham.
Try adding kale or collard greens!
For spicier black eyed peas, add a dash of cayenne pepper.
Tips for the Best Instant Pot Black Eyed Peas
Make sure to sift through the beans before using them to remove any dirt or foreign objects.
If using older beans (check the expiration date!), you may need to cook them for a bit longer.
No need to soak the beans ahead of time; let the instant pot do the work for you!
Easily double this recipe with no need to increase the cook time!
Don't let the beans sit in the instant pot on warm for very long, as it can turn them mushy.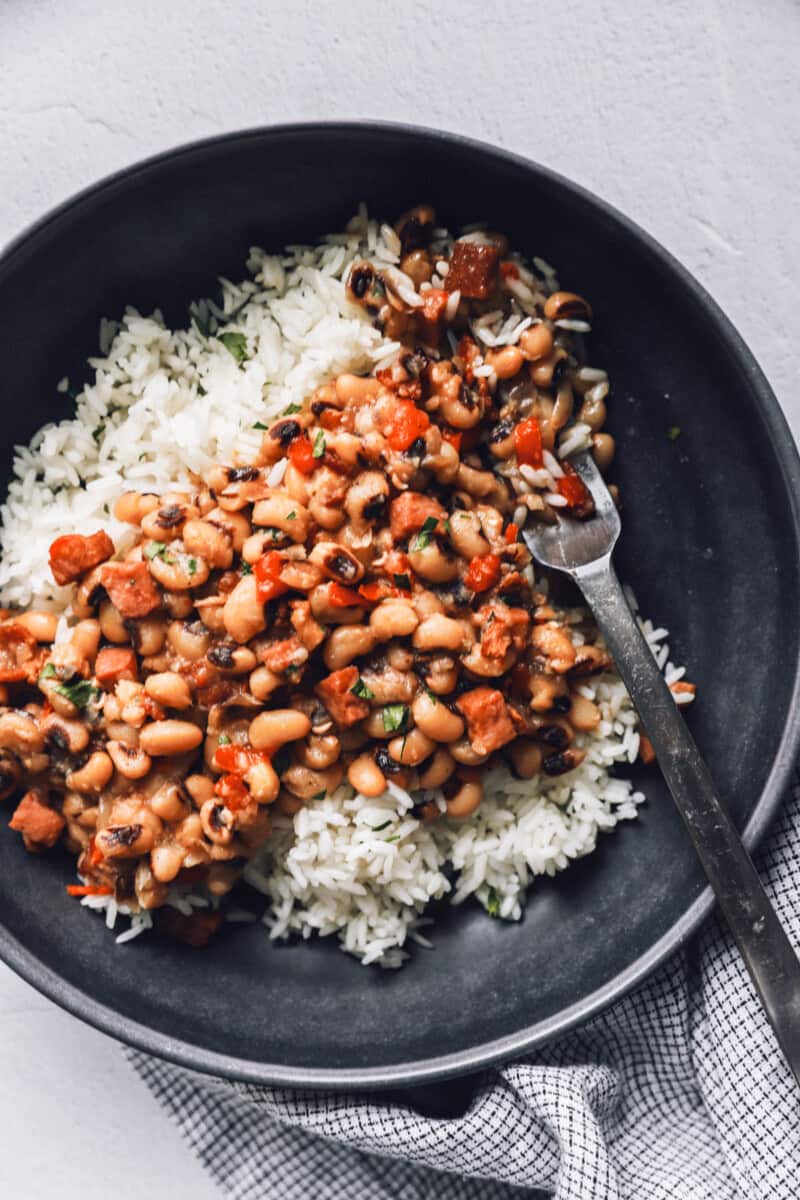 These Instant Pot black-eyed peas are so tasty and good, you will wonder why you never made them before. May they also bring you all the good luck and prosperity you deserve!
If you make this recipe be sure to upload a photo in the comment section below or leave a rating. Enjoy! You can also jump to recipe.