This Crockpot Pulled Pork recipe is so easy to make–just quickly prep, set the slow cooker, and let it cook. A deliciously smokey mix of spices, brown sugar, and dijon creates juicy pork with the best flavor. Shred it up, add some BBQ, make some sandwiches, or enjoy it however you like!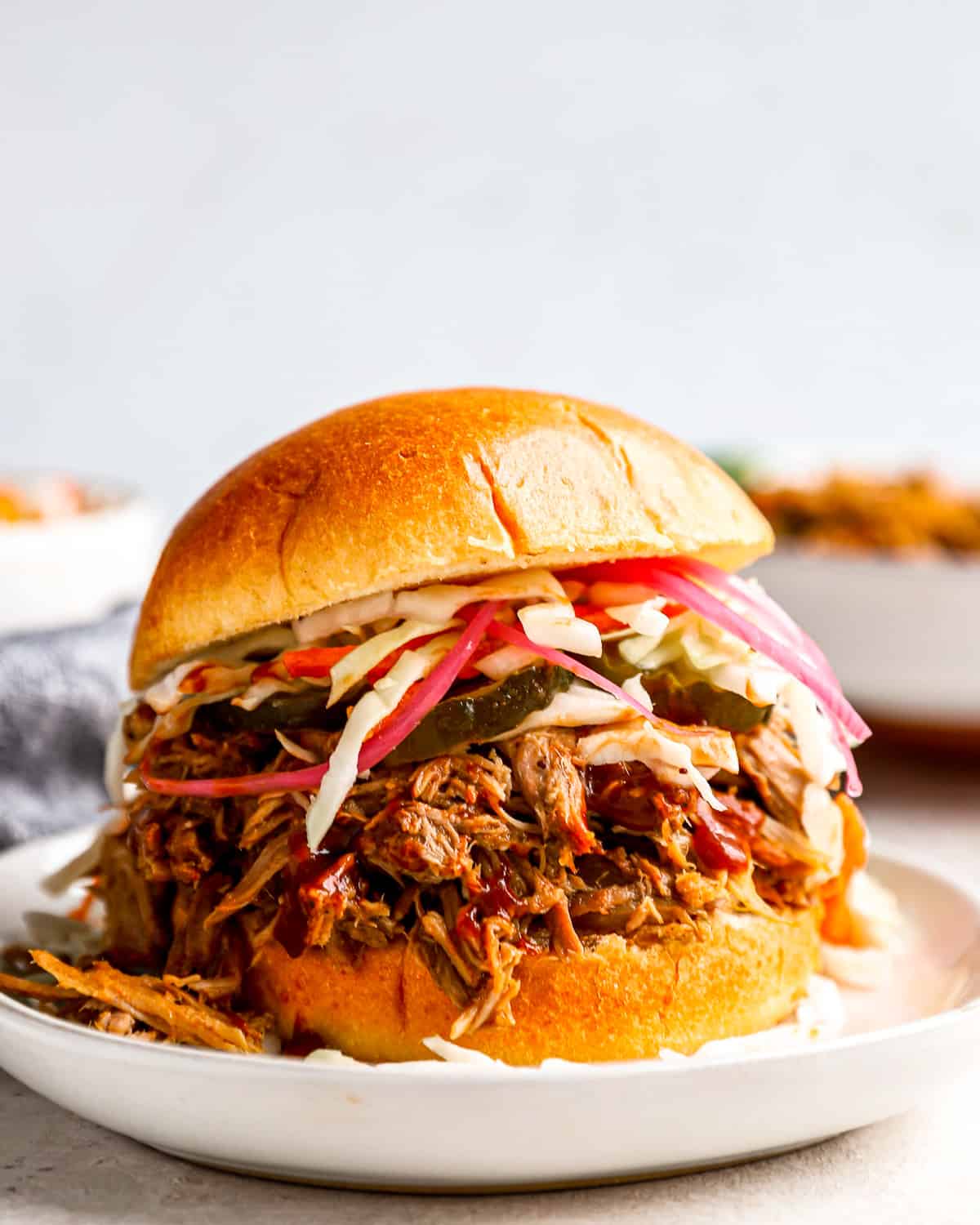 What's in this Crockpot Pulled Pork Recipe?
Tender, juicy pork is coated in a sweet, savory, and smoky rub, and cooked to perfection in the crockpot. Slow cooker pulled pork is the perfect hands-off recipe for your next weeknight dinner!
Pork Shoulder: Pork shoulder is best for pulled pork because it has a high fat content, so it turns out really juicy and tender, and it's easy to shred. I used a 3-pound boneless shoulder for this recipe.
Brown Sugar: Adds a touch of sweetness to the pork.
Spices: Smoked paprika, kosher salt, chili powder, cumin, onion powder, garlic powder, and black pepper enhance the flavor of the pork, creating a smoky flavor.
Apple Cider Vinegar: Adds a touch of acidity for balance.
Dijon Mustard: Adds a sharp and slightly spicy flavor.
Chicken Broth: Helps keep the pork super moist while it cooks and enhances the umami flavor.
Pro Tip: I like pork shoulder best, but pork butt (aka: Boston butt) will also work.
Variations on Slow Cooker Pulled Pork
For spicy crockpot pulled pork, add 1 teaspoon of cayenne pepper to the spice rub. You can also mix in some hot sauce. Toss the pork in your favorite sauce after cooking to add bold flavor. BBQ sauce, ranch dressing, or honey mustard are all delicious!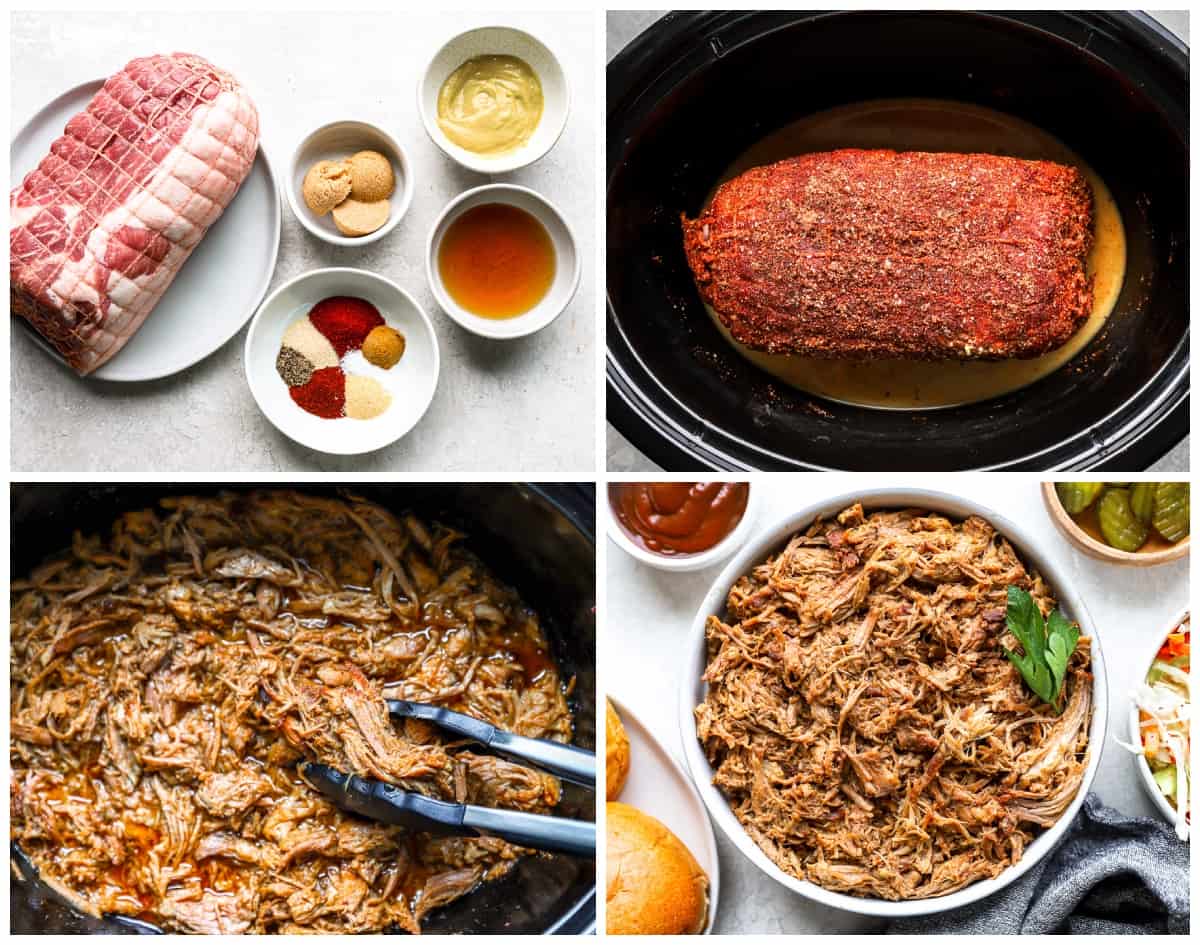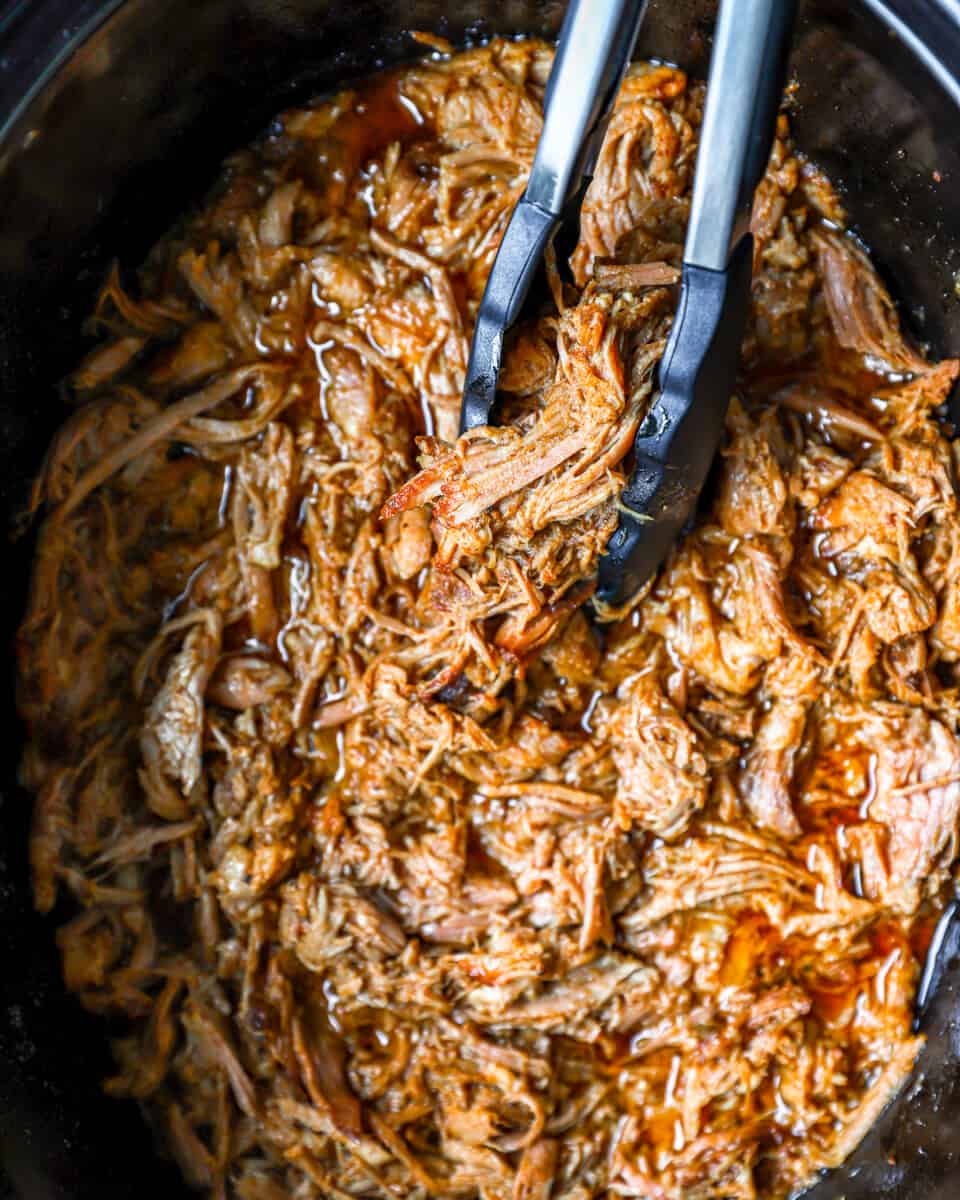 Does pulled pork in the slow cooker need liquid?
Yes! While you don't need a ton of liquid (the pork will release juices as it cooks), you do need some liquid to ensure this crockpot pulled pork stays juicy.
What is the best liquid to cook pulled pork in?
I prefer to cook my pork in chicken broth, as it enhances the umami flavor of the meat. You can also use apple juice, water, or beer, though!
Do you put pulled pork in slow cooker fat side up or down?
Always place your pork fat side up so that the fat bastes the meat as it melts.
What is the secret to pulled pork?
The secret to tender and juicy pulled pork is to cook it low and slow. That's why the crockpot is the perfect vessel!
What can I mix with pulled pork to keep it moist?
All of the liquid we're adding to the crockpot keeps the pork moist throughout the cooking process!
Why add apple cider vinegar to pulled pork?
The acid in apple cider vinegar helps to tenderize the meat, making it juicy and flavorful.
Should you flip pulled pork in the slow cooker?
There's no need to flip your pork, but you certainly can if you'd like.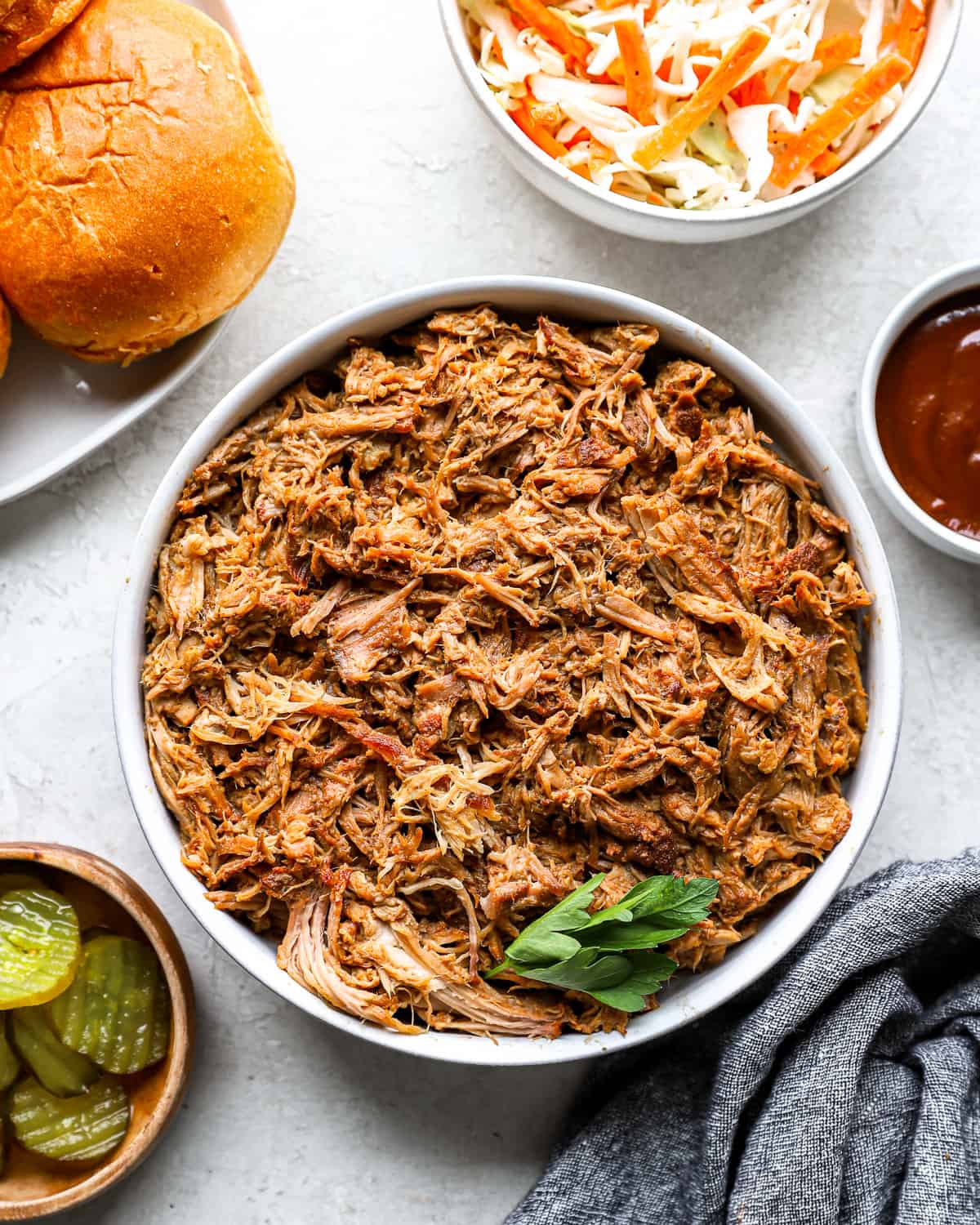 How to Store and Reheat
Store leftover crockpot pulled pork in an airtight container in the refrigerator for up to 3 days. Reheat in a 250°F oven until fully heated through. You can also warm it up in a slow cooker for about 2-3 hours.
How to Freeze
Freeze slow cooker pulled pork in a Ziplock bag, removing as much air as possible while sealing it, for up to 6 months. Let thaw overnight in the refrigerator before reheating.
Serving Suggestions
Serve this crockpot pulled pork as sandwiches on Hawaiian rolls topped with BBQ sauce, pickles, and coleslaw. Load up on some classic BBQ side dishes, like corn on the cob, mac and cheese casserole, German potato salad, pickled beets, baked beans, and cornbread.
You can also use this pork to make pulled pork grilled cheese or pulled pork nachos!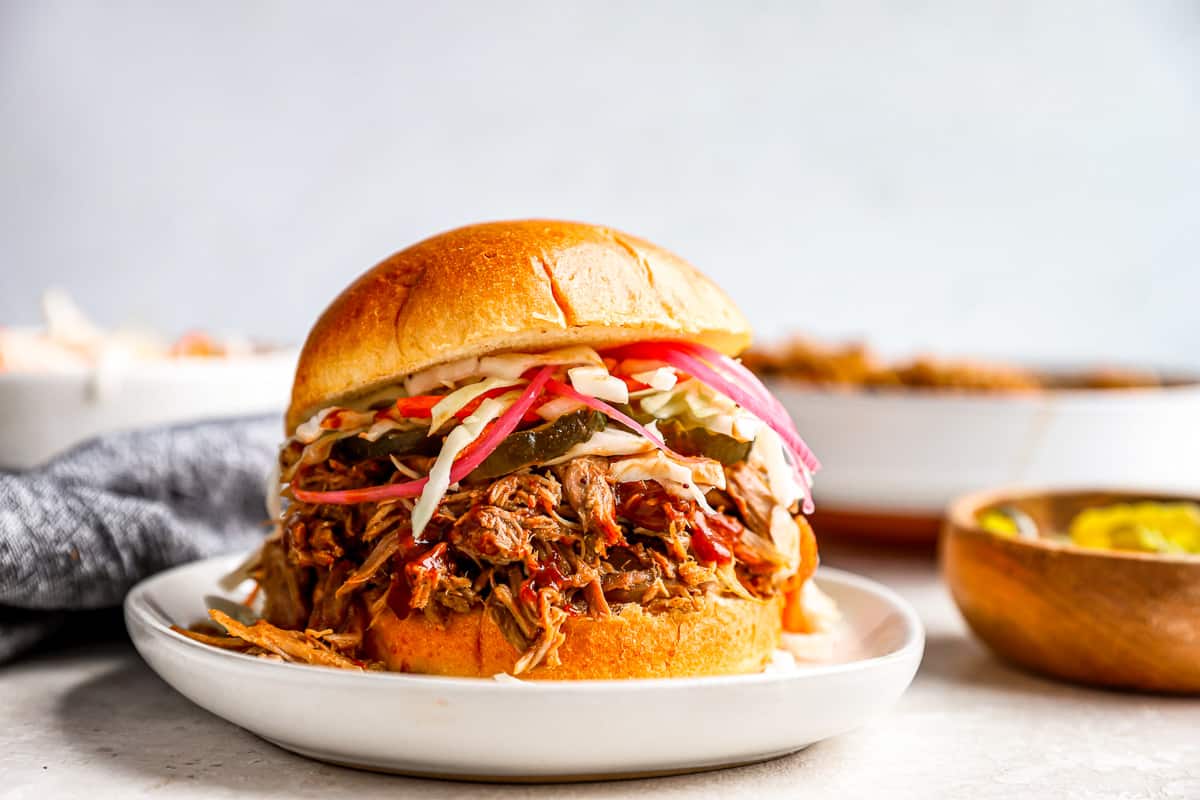 More Pulled Pork Recipes We Love