This easy Roasted Pumpkin Seeds recipe will come in handy when you're carving pumpkins for Halloween. Keep the seeds, add some salt and spices, pop them in the oven to roast, and you'll have a delicious little snack!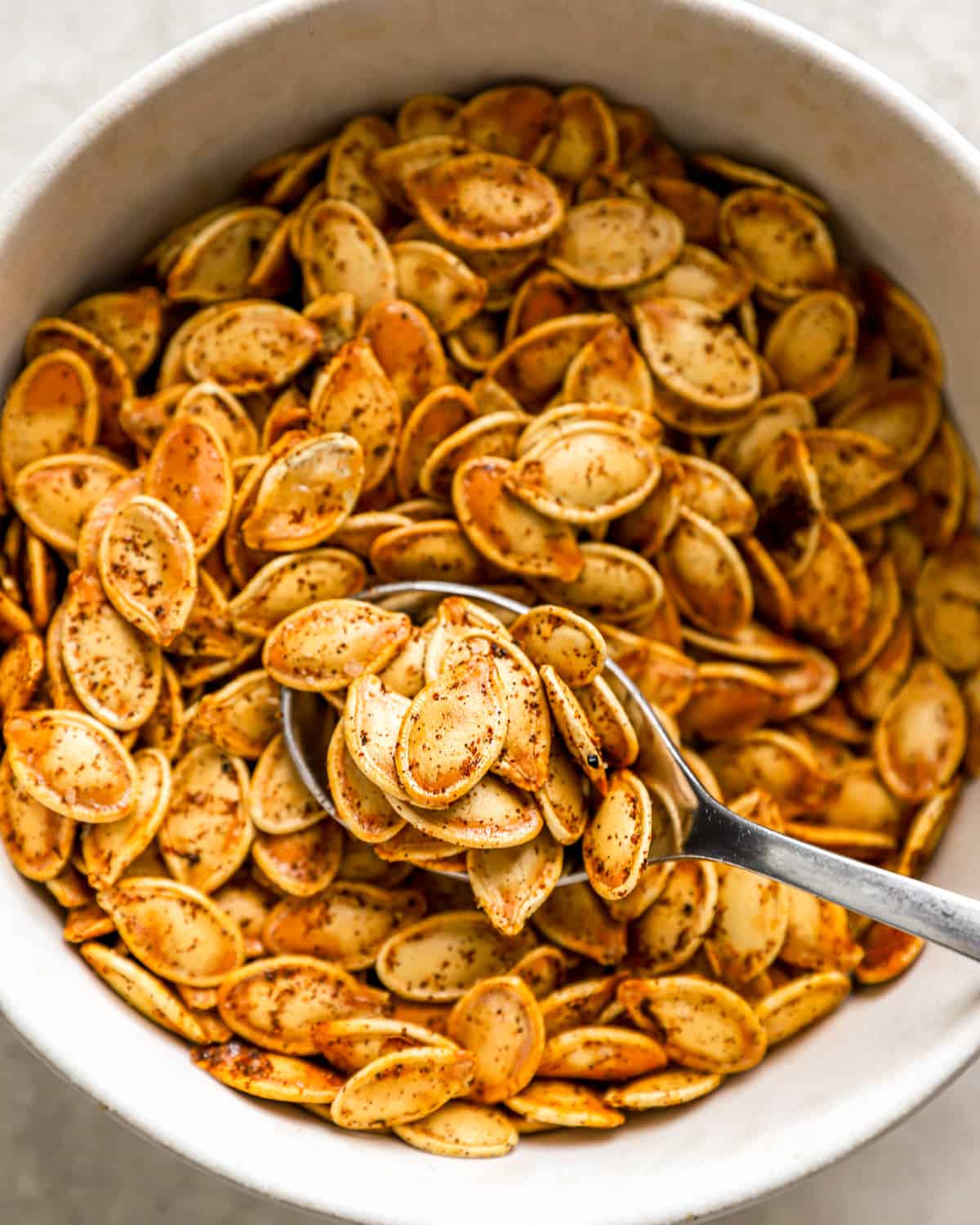 What's in this Roasted Pumpkin Seeds Recipe?
You've carved the pumpkin and now you're wondering how to roast the seeds…Well this quick and easy recipe makes it simple, so you'll have the perfect post-Halloween snack.
Pumpkin Seeds: Harvest them straight from your jack-o-lantern!
Olive Oil: Helps the seeds crisp up in the oven.
Spices: Kosher salt, ground paprika, onion powder, garlic powder, and black pepper create a savory spice blend that enhances the flavor of the seeds.
Pro Tip: Pat the seeds dry after rinsing to remove excess moisture.
Variations on Oven Roasted Pumpkin Seeds
You can flavor these pumpkin seeds with just about any spice blend you like. Try everything bagel seasoning, ranch seasoning, or opt for sweet pumpkin pie spice. If you don't have anything else in your spice cabinet, salt alone will still make them delicious!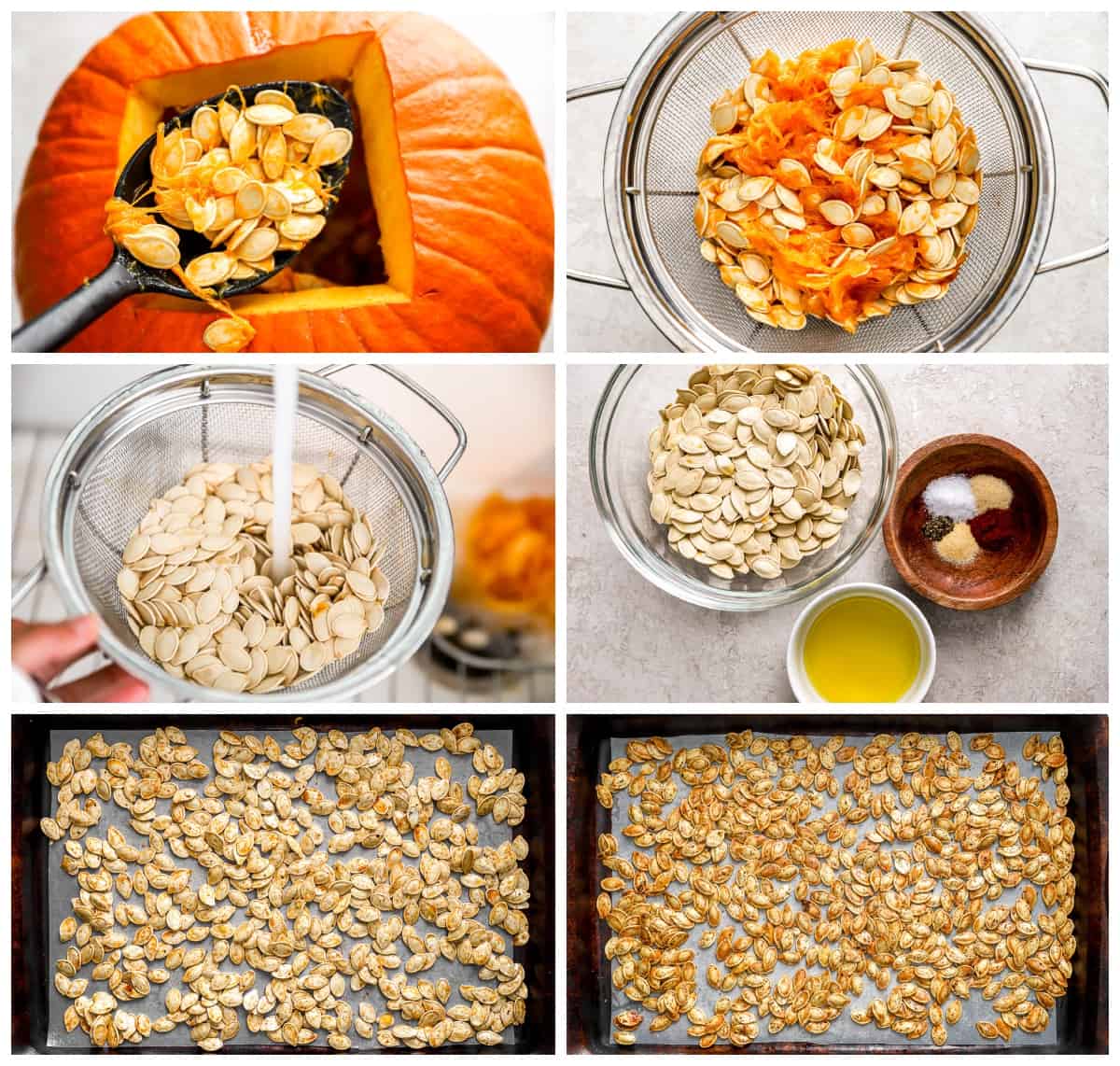 Are roasted pumpkin seeds good for you?
Yes, pumpkin seeds are a good source of fiber, unsaturated fats, magnesium, and vitamin K. They're a great part of a balanced diet.
Do pumpkin seeds need to dry before roasting?
Yes, drying the seeds out before roasting them helps them to crisp up in the oven.
What's the fastest way to dry pumpkin seeds?
I like to pat them dry with a towel, then pop them in the oven for 5-10 minutes to dry them out quickly.
Do you eat the whole pumpkin seeds after roasting?
I like to leave the shells on, as they are high in fiber and pretty easy to chew!
Why are my pumpkin seeds soggy?
If your seeds are soggy, it's likely that they were not dried well enough before being coated in olive oil and seasonings. The olive oil will seal in any excess moisture, so make sure to oven-dry the seeds before tossing them in oil.
Why are my roasted pumpkin seeds tough?
If your seeds are tough, it's likely that the oven temperature was too low. Make sure to keep the oven around 300°F to ensure the seeds turn out crisp.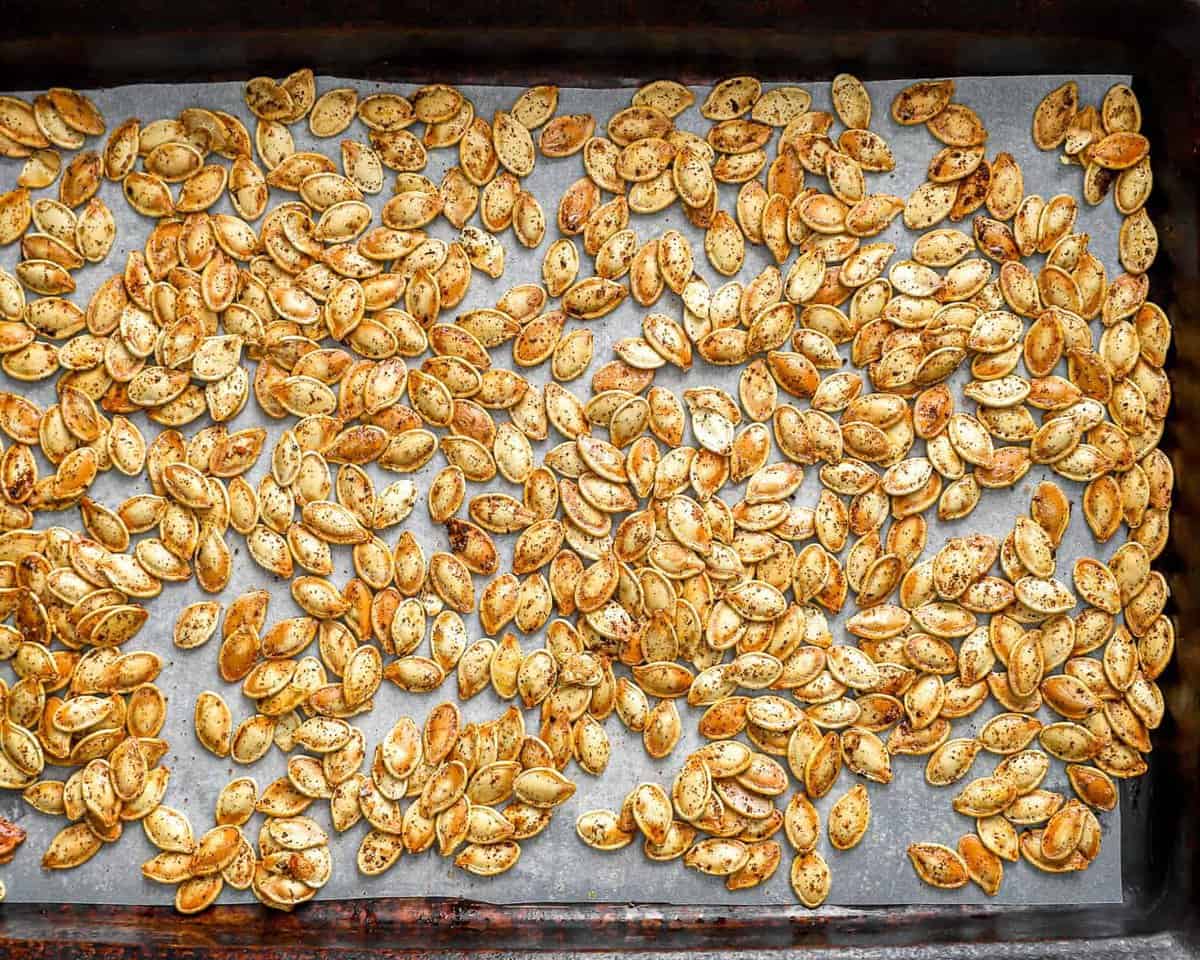 How to Store
Store leftover roasted pumpkin seeds in an airtight container at room temperature for up to 1 month, or in the refrigerator for up to 3 months.
How to Freeze
Freeze roasted pumpkin seeds in an airtight container or Ziplock bag for up to 6 months. Let thaw at room temperature for 10-15 minutes before enjoying.
Serving Suggestions
Add these crunchy toasted pumpkin seeds to your favorite soups, salads, and casseroles. I love them on top of kale salad, pumpkin soup, and cornbread casserole. They're also a great addition to granola!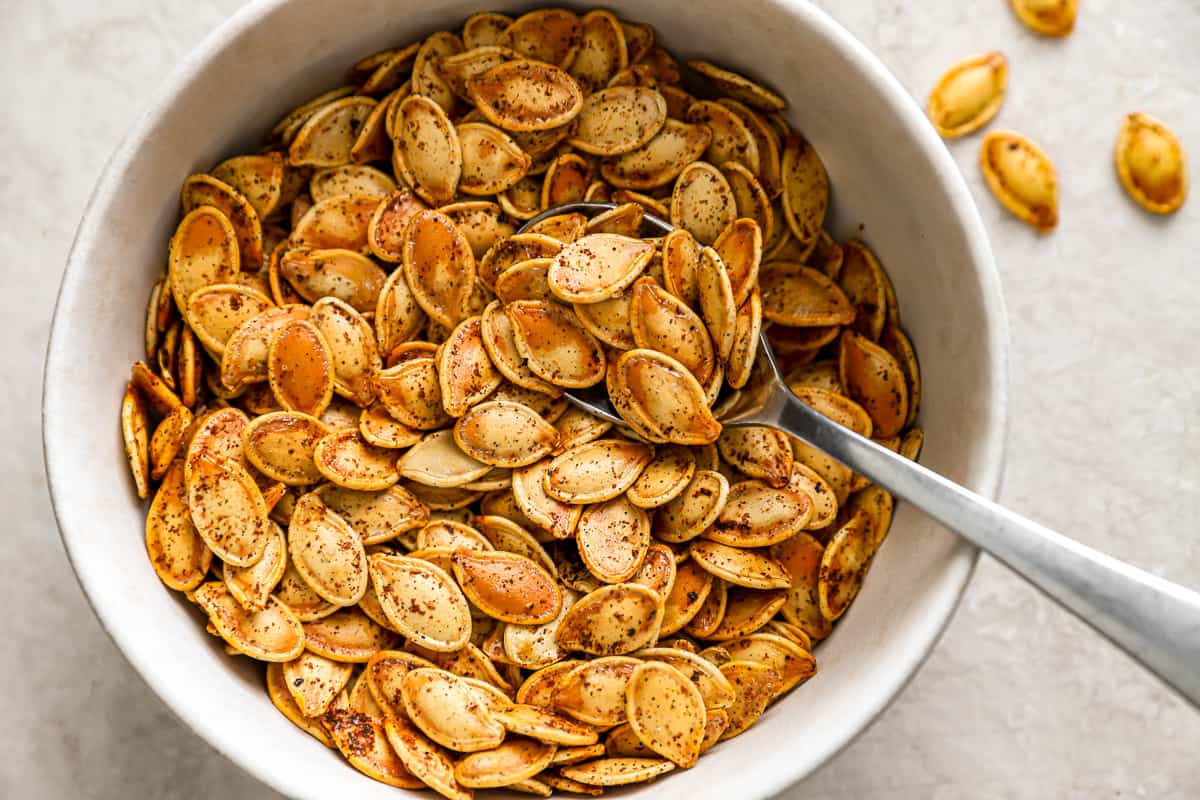 More Snack Recipes We Love