This rainbow-colored Veggie Pasta Salad recipe is filled with fresh vegetables and tossed with a balsamic vinaigrette. A bed of rotini pasta mixed with tomatoes, corn, sweet peas, olives, and bell peppers makes for a healthy and flavorful dish you'll want to bring to every potluck! It's the perfect summer dish for easy lunches and cookouts.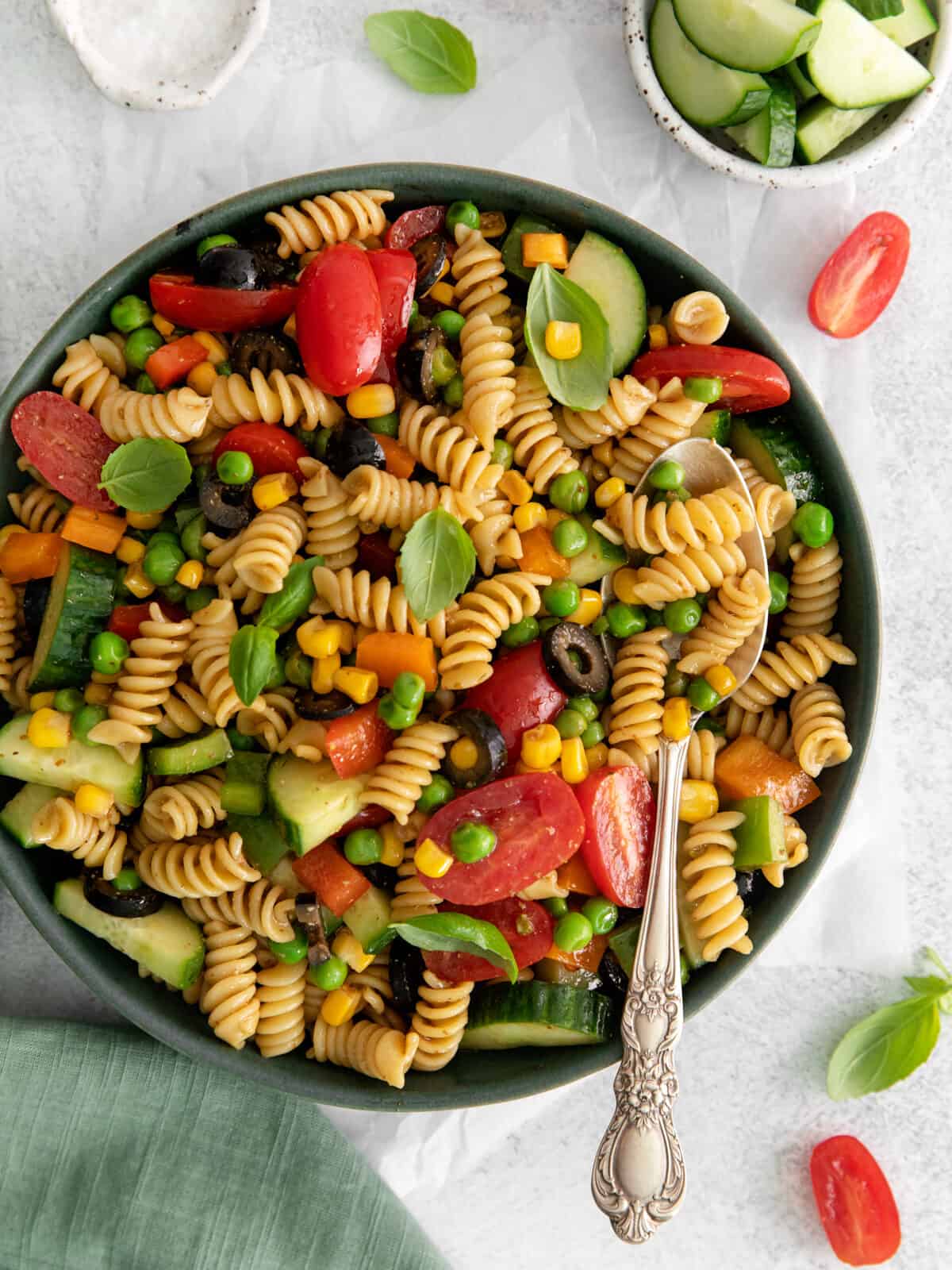 What's in Vegetable Pasta Salad?
Change up your classic Italian pasta salad by adding tons of fresh vegetables for a colorful, rainbow veggie pasta salad. It's healthy, quick to make, and perfect for BBQs, parties, and light lunches.
Rotini: I like using rotini, but any short shape pasta will work too. Try fusilli, penne, or farfalle.
Veggies: I'm using a combination of my favorite vegetables (peas, corn, tomatoes, bell pepper, cucumber, and olives). But feel free to switch it up and use whatever you have on hand.
Dijon Mustard: Helps emulsify the vinaigrette and adds a delicious tang.
Seasoning: I love Italian seasoning and garlic for a classic Italian flavor, but you could use anything you like, including herbs de Provence, red pepper flakes, etc. Feel free to make it your own!
Balsamic Vinegar: Adds a great sweetness and acidity to the vinaigrette.
Olive Oil: Helps bring the vinaigrette together. I recommend a good everyday extra virgin olive oil in this recipe.
Pro Tip: Boil the pasta in generously salted water and taste as you go to make sure the pasta isn't being over or under seasoned.
Variations on Pasta Salad with Vegetables
This veggie-packed pasta salad is so easy to change up! Instead of balsamic vinaigrette, try Italian dressing, poppy seed dressing, or spicy sweet dressing. Feel free to switch up the vegetables, adding what you love and subtracting what you don't. Carrots, celery, snap peas, pepperoncini, broccoli, cauliflower, asparagus, mushrooms, radishes, or green onions would all be delicious! You can also toss on feta crumbles and otehr simple mix-ins.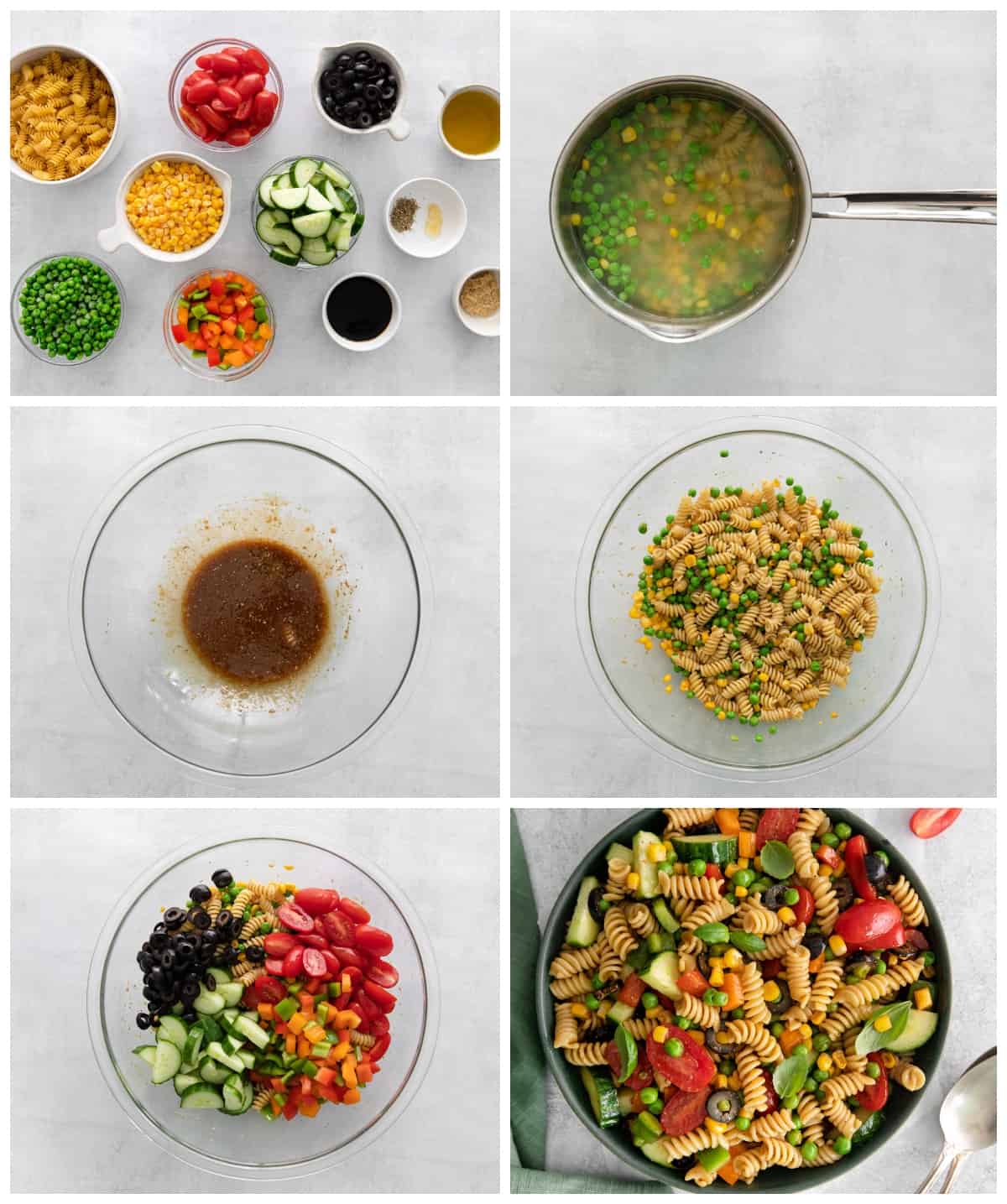 What kind of pasta is best for pasta salad?
Any short shaped pasta will work here! I like rotini because it really holds the dressing, but bowties, macaroni, cavatappi, or penne would also work!
Should I rinse the pasta after I cook it?
I recommend rinsing pasta after cooking it if you plan to use it in pasta salad. This helps rinse off any excess starch, and it helps to stop the pasta from overcooking, allowing it to cool much faster.
Can I make veggie pasta salad ahead of time?
Absolutely! This pasta salad can be enjoyed right after it is made or chilled before eating, but you can leave it overnight to allow the flavors to develop! I think it tastes best the next day.
Can I freeze pasta salad?
I do not recommend freezing this pasta salad, as the texture of the pasta will not be pleasant once thawed.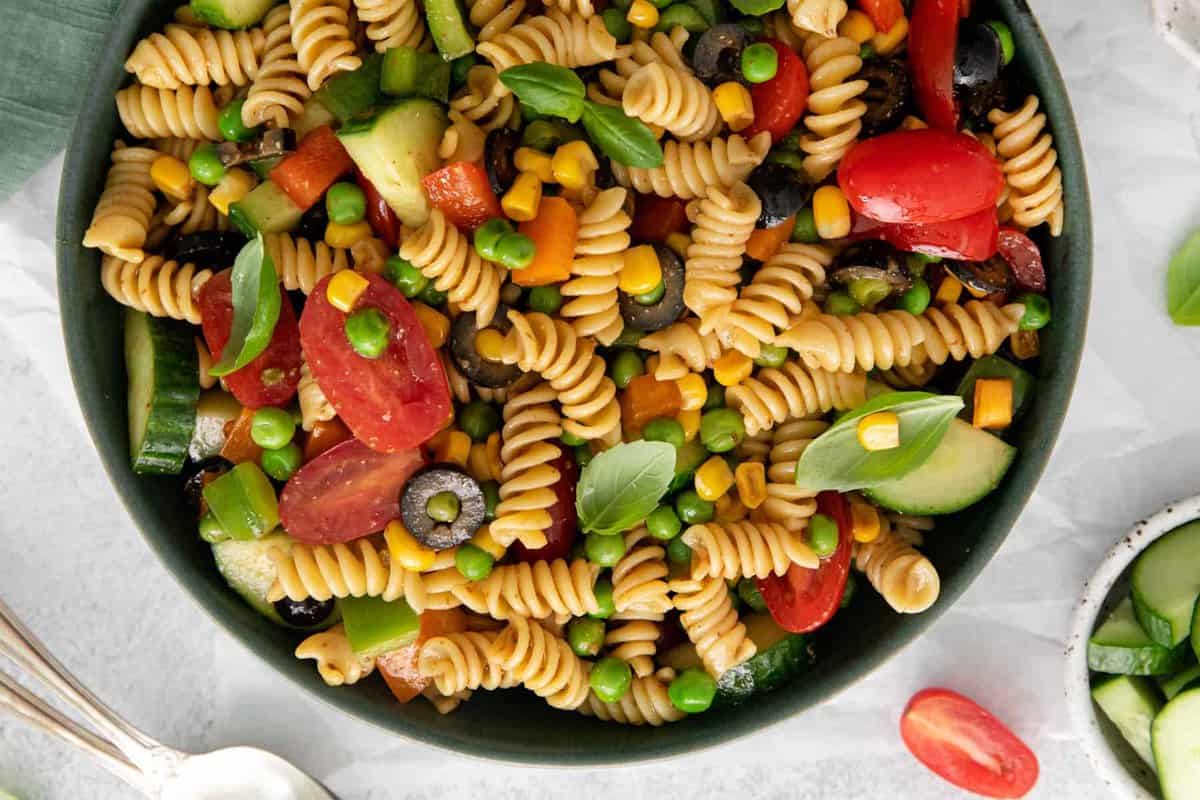 How to Store Veggie Pasta Salad
Store leftover veggie pasta salad in an airtight container in the refrigerator for up to 3 days. Serve chilled for the best taste.
Serving Suggestions
This rainbow pasta salad is the perfect BBQ side dish or potluck recipe! Serve it with smoked pulled pork, grilled BBQ chicken, St. Louis Ribs, grilled burgers, or foil-packet salmon. Additional sides like creamy cucumber salad, corn on the cob, or Air Fryer vegetables will round out a barbecue spread that'll be the envy of the neighborhood!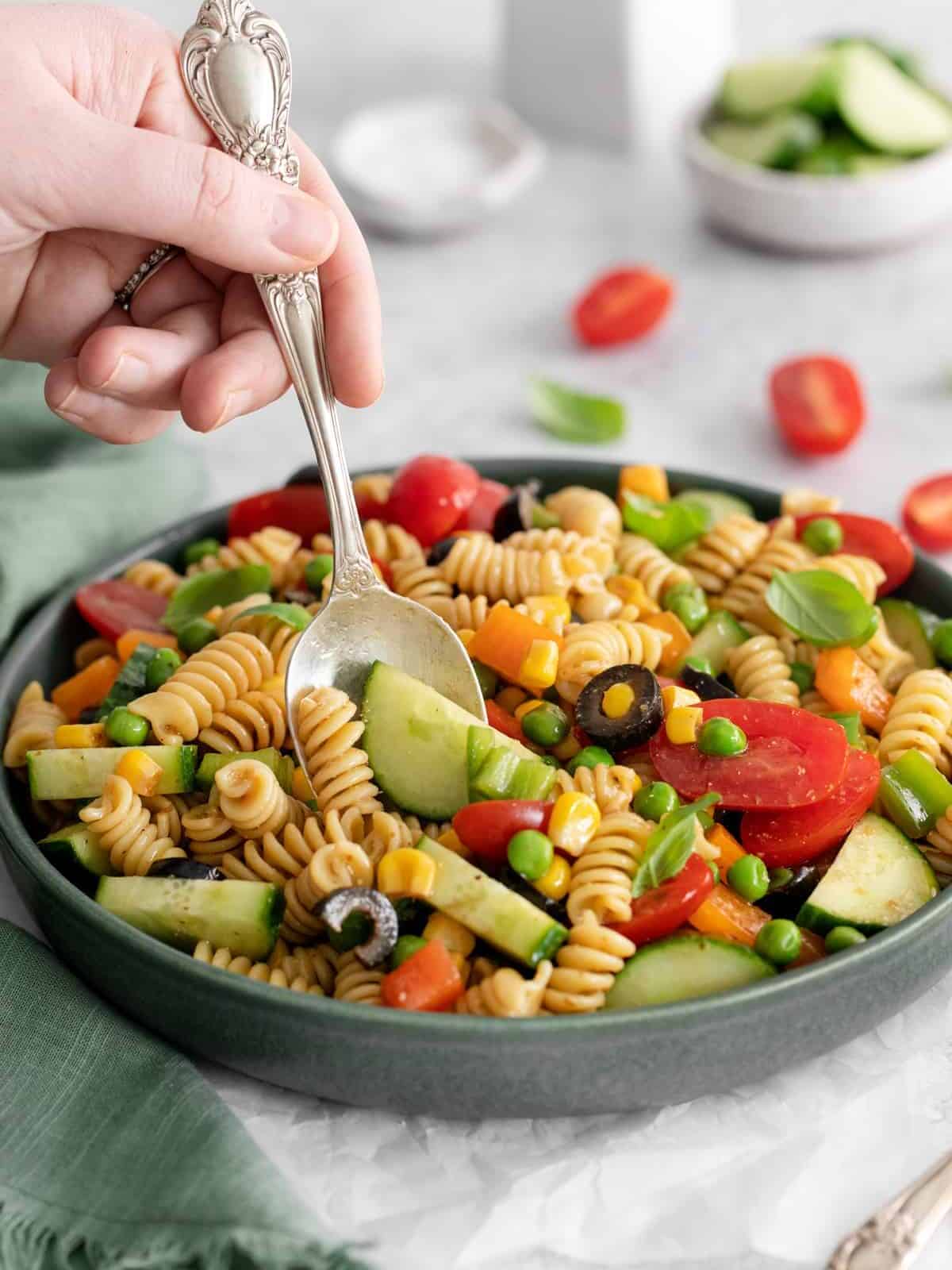 More Pasta Salad Recipes We Love