Caramel Apple Sangria is a light, refreshing, delicious, and easy fall sangria recipe that's perfect for crowds. This apple pie sangria is made with apple cider, caramel vodka, white wine, ginger ale, cinnamon, and fresh fruit in a pitcher. I call this my Thanksgiving Sangria because it's Autumn in a glass, and it's always a hit on holidays!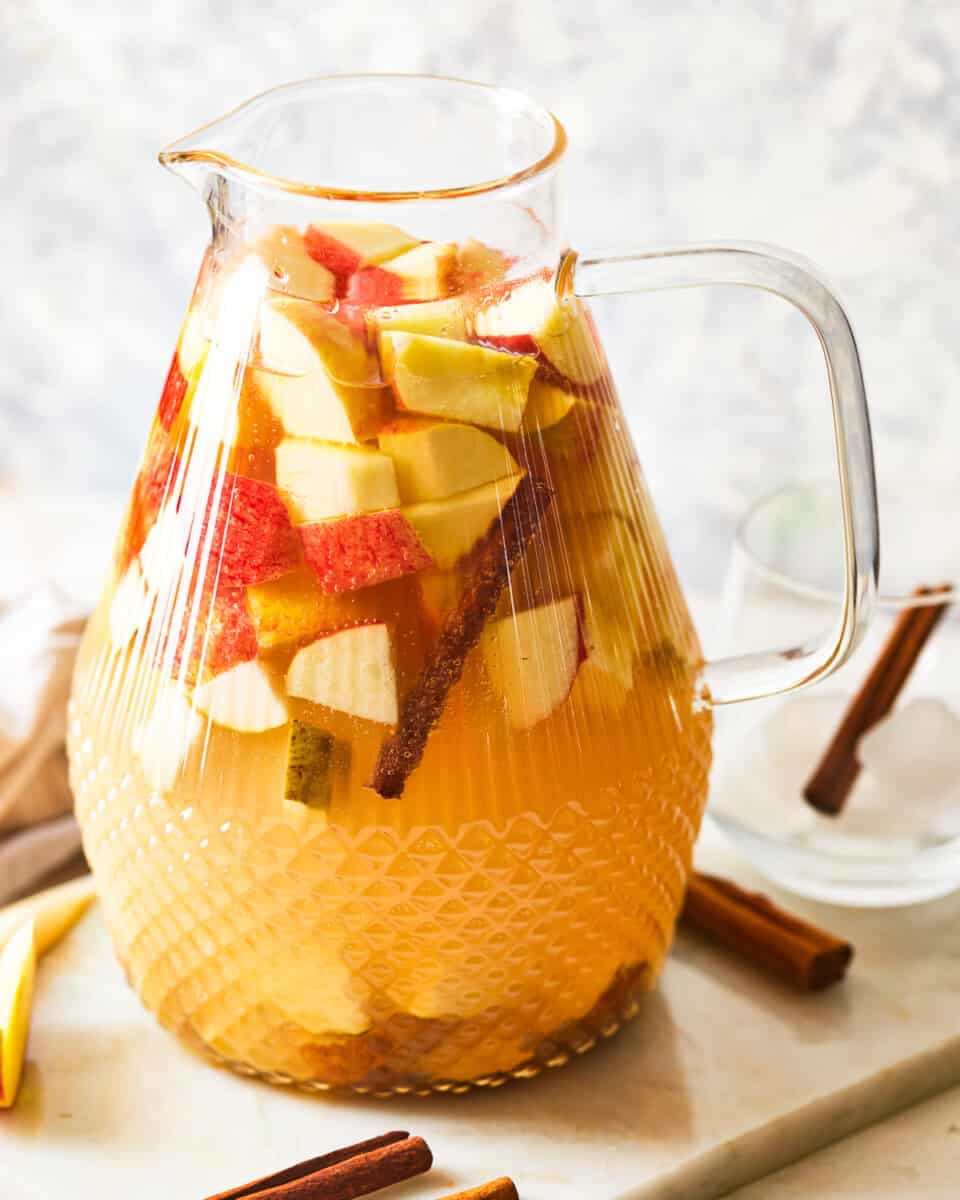 What's in this Fall Sangria Recipe?
This apple sangria tastes like a slice of apple pie! You only need a few things to make this tasty caramel apple pitcher cocktail. It's one of my favorite sangria recipes!
Apple Cider: Apple cider creates a sweet, juicy, and fresh apple flavor for the base of this sangria. Use your favorite cider from the store or apple orchard, or try making Instant Pot apple cider.
Wine: Use a white wine of your choosing–dry or sweet both work, depending on your taste preference. I recommend Pinot Grigio.
Caramel Vodka: This is what adds that sweet caramel apple flavor to this cocktail. You can make this apple pie vodka instead.
Apples: I love honeycrisp apples, but you can use your favorite type. These will sit in the pitcher of sangria and infuse more flavor.
Pears: More fruit to infuse flavor into the sangria.
Cinnamon: Cinnamon sticks will infuse a warm spiced flavor just by sitting in the liquid.
Ginger Ale: Ginger ale adds a bubbly texture and a kick of ginger flavor.
Pro Tip: If you like sweet wines, try this caramel apple sangria with moscato instead! You could also use a sparkling apple cider to increase the bubbly effect.
Can I make this apple sangria with regular vodka instead?
Absolutely! If you use a regular, unflavored vodka, you'll still have a delicious apple pie sangria recipe. If you don't have caramel vodka but still want that extra flavor, add a generous amount of caramel sauce or syrup at the bottom of the pitcher with the fresh fruit.
For best results, I recommend making a caramel simple syrup, or use a caramel flavored coffee syrup.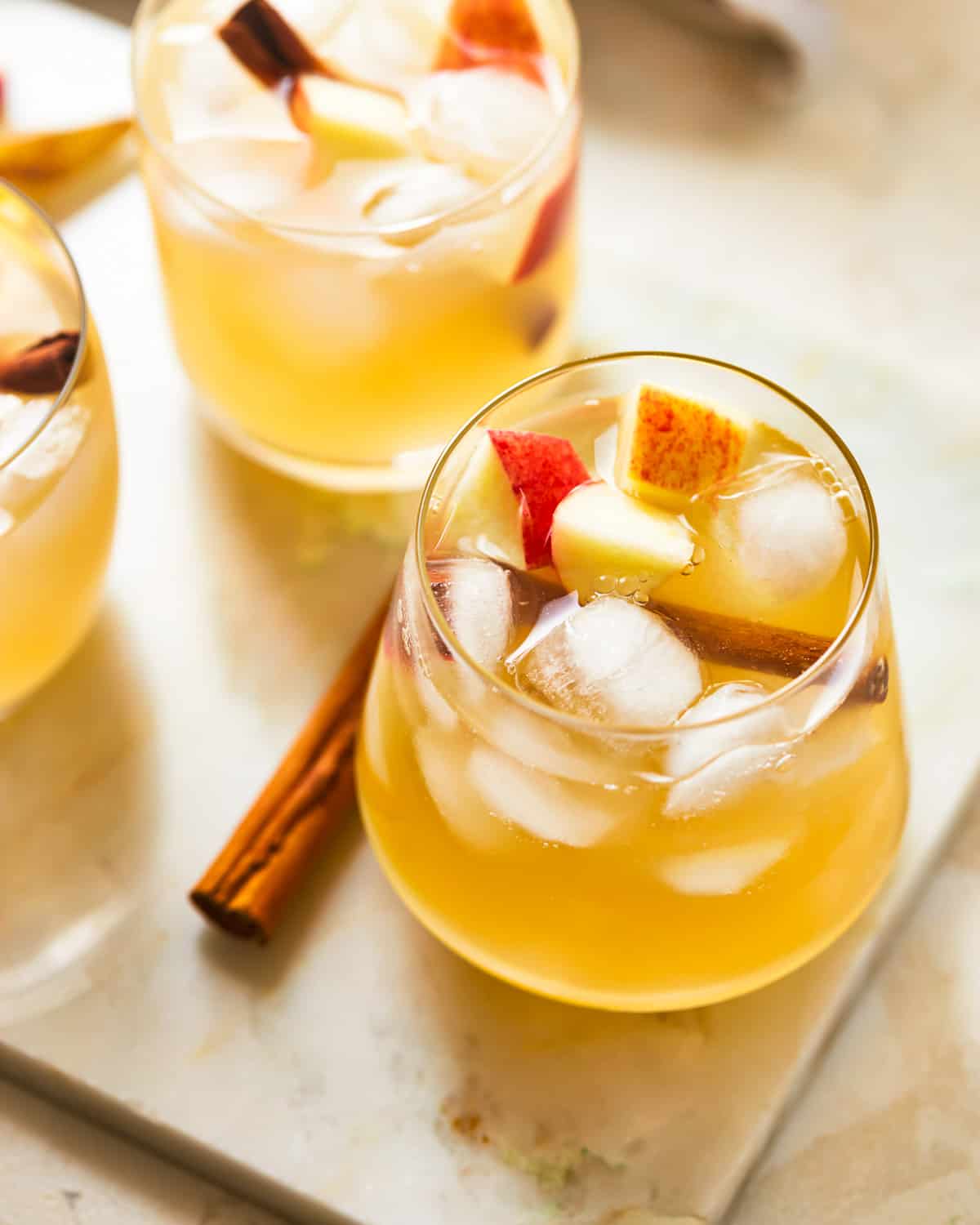 What kind of wine should I use for apple sangria?
This caramel apple sangria can be made with whichever wine you prefer, but it will change the overall flavor. I recommend a dry white wine like Pinot Grigio. A sweet white wine like moscato or riesling will, obviously, make it taste much sweeter and fruitier. A sparkling white wine will add a fizzy component.
Can I use apple juice instead of apple cider?
If apple juice is all you have, you can use it instead, but I highly recommend using apple cider for the best flavor. Cider and juice are made differently, so cider has a much deeper and more authentic apple flavor, while juice is much weaker.
How long does sangria need to be refrigerated before serving?
In order for all of the ingredients to mix and meld together, I recommend refrigerating your apple pie sangria for at least 2 hours before serving. The longer it sits, the more the cinnamon and fresh fruit flavors will infuse into the liquid.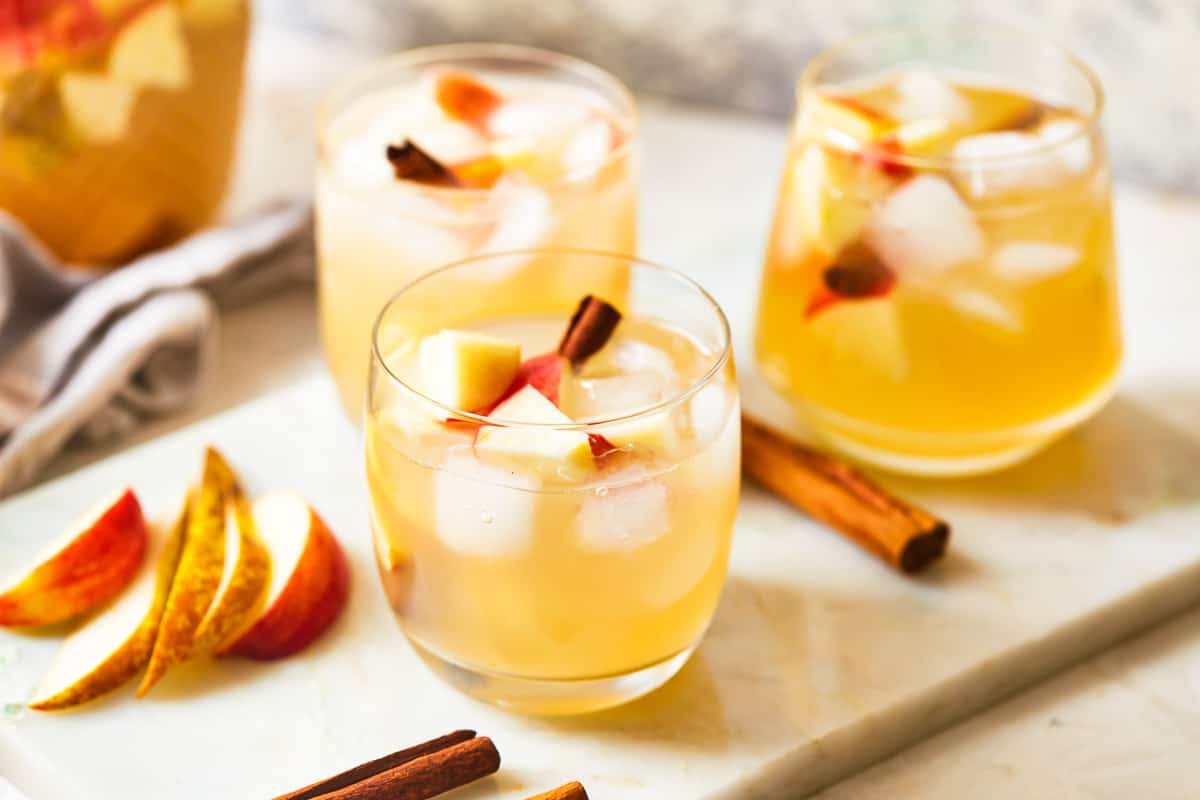 How to Make Ahead and Store
This caramel apple sangria needs time to "marinate" in the refrigerator, so it's best to make it at least 2 hours ahead of serving time. Combine ingredients, stir, and simply let it sit in the fridge. Leave the ginger ale out until right before serving.
If you have leftovers, store the pitcher in the fridge up to 2 days. The ginger ale will lose its carbonation, but it will still taste yummy.
Serving Suggestions
This caramel apple pie sangria recipe tastes amazing with all your favorite apple desserts and dishes. Serve it along with apple baked brie, apple butter and skillet bread, apple cake, or apple crisp. For dinner, it pairs beautifully with apple butter pork chops or apple ginger glazed ham.
If you make this recipe be sure to upload a photo in the comment section below or leave a rating. Enjoy!
More Apple Cider Cocktails We Love