Crockpot Turkey Noodle Soup is the best way to use up that leftover Thanksgiving turkey! Shredded turkey meat is served in a hearty soup filled with plenty of veggies and egg noodles. It's a comforting and easy to make dinner you'll love whipping up the day after Thanksgiving.
Crockpot Turkey Soup
Plug in that Crockpot and let's get to cooking! After Thanksgiving, none of us are exactly racing back into the kitchen to make a big fancy meal again anytime soon…at least not until Christmas! Instead of stressing yourself out, just use that leftover turkey in your fridge and let the slow cooker do all the work for you.
Essentially, this recipe is just like chicken noodle soup, but with turkey instead. It's got all of the same veggies, like carrots and celery, stirred together with tender egg noodles in a warm chicken broth. It's perfect for those days when the weather's a little chilly and you want something easy and comforting for dinner. Plus, you get to make sure your turkey doesn't go to waste!
Why You'll Love this Turkey Noodle Soup Recipe:
Leftovers: There's no worse feeling than throwing away leftovers you worked so hard on! Make sure your turkey doesn't get tossed into the garbage – toss it in the Crockpot instead!
So Easy: Set it and forget it. This Crockpot turkey noodle soup recipe is so easy, which is perfect for when you want to relax after Thanksgiving.
Classic: Whether it's with chicken or turkey, this noodle soup recipe is as classic as they come.
You'll love the way that the slow cooker makes all of the flavors from the turkey, herbs, and veggies meld together perfectly.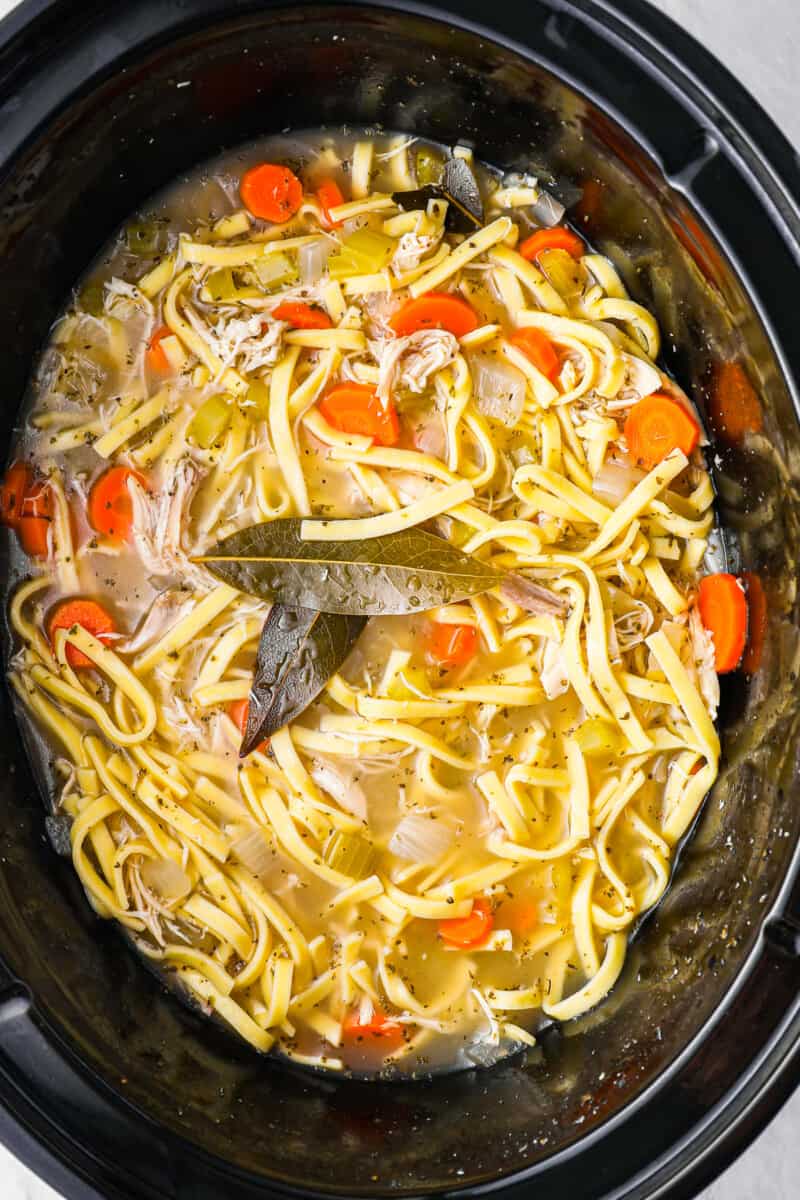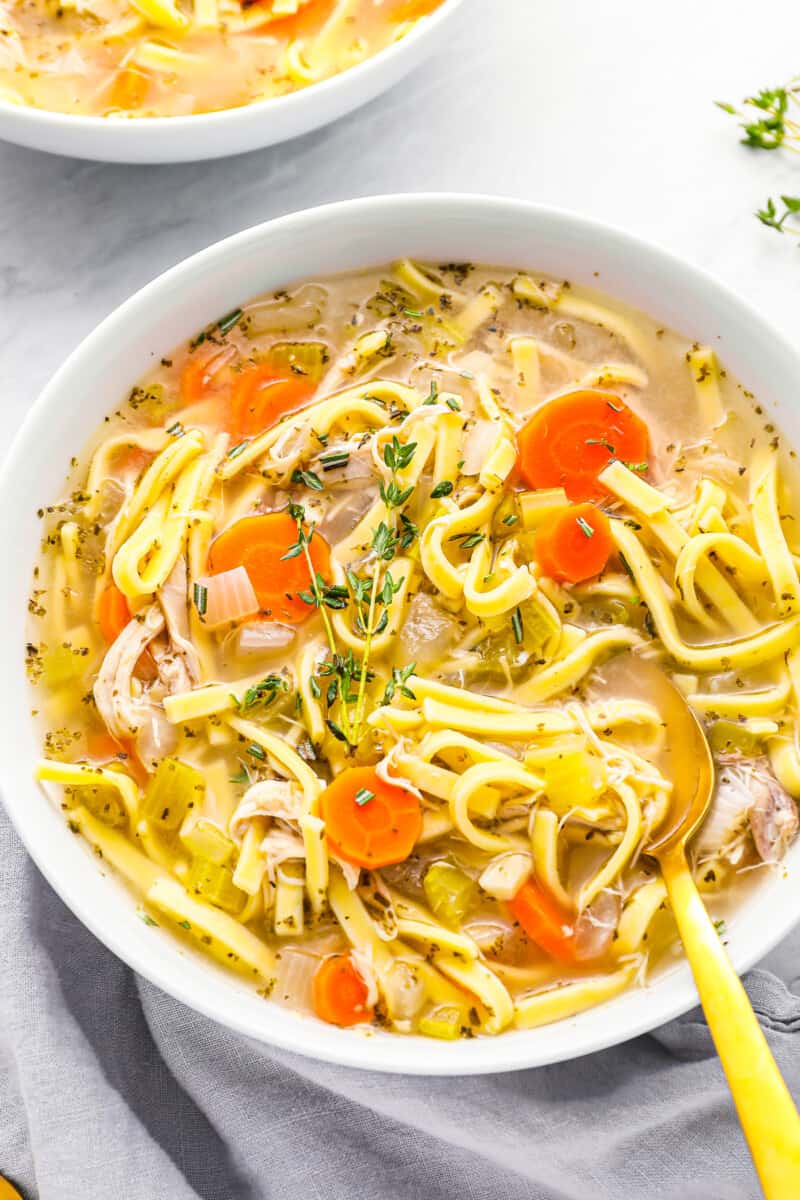 How to Make Crockpot Turkey Noodle Soup
You can jump to the recipe card for full ingredients & instructions!
Add all ingredients except for the noodles to the Crockpot.
Cook on high for 3 hours or low for 6 hours.
Boil the noodles, then toss them into the soup.
Recipe Notes
You can use any turkey meat you like here. This easy roast turkey is simple to make, or use this garlic rosemary turkey.
Turkey broth can be used in place of chicken broth.
I like Italian seasoning for the ease (just one spice!) and the complex herby flavor it imparts. You can also use 1 teaspoon dried thyme and ½ teaspoon dried rosemary in its place.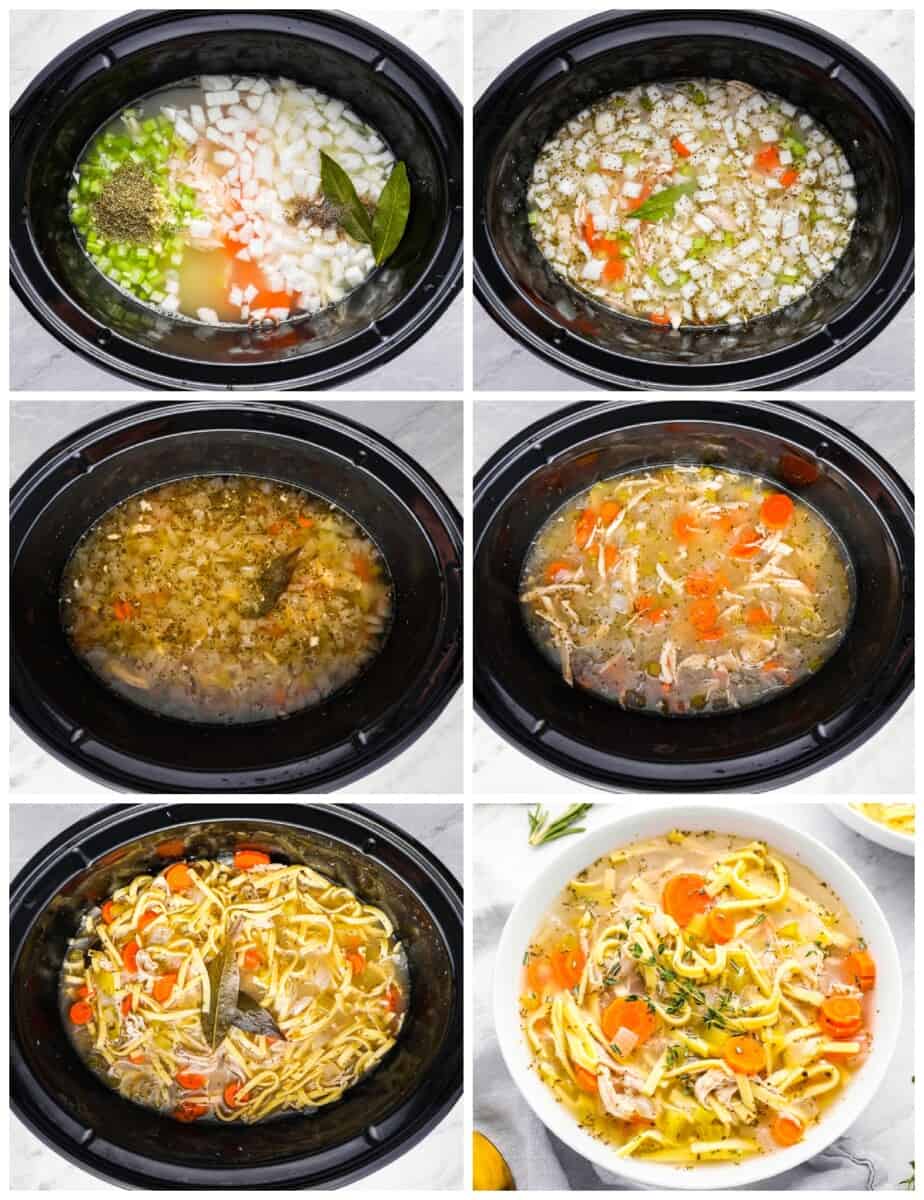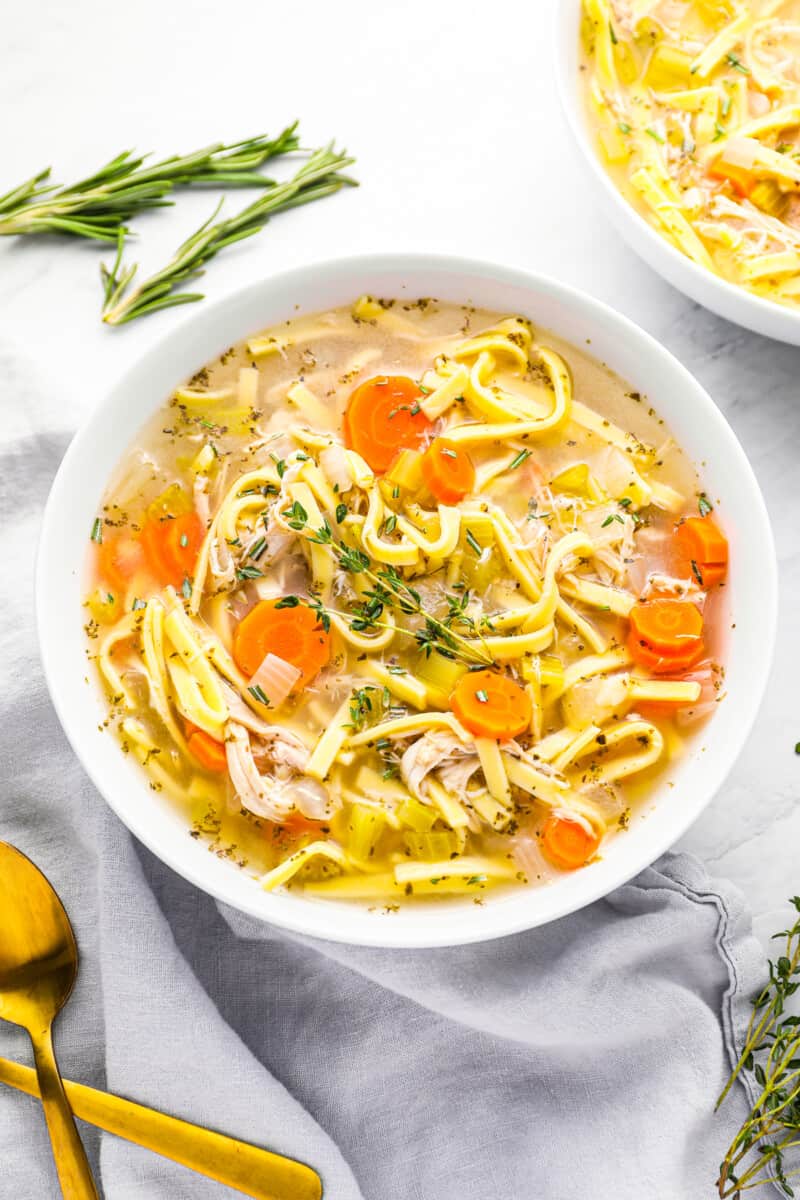 Is crockpot turkey noodle soup healthy?
Yes! Turkey noodle soup contains protein, fiber, vitamins, and minerals that are good for you and can help support your immune system when you're sick. It is best to use low-sodium chicken stock to control the sodium levels in turkey noodle soup, though!
Can I make crockpot turkey noodle soup with turkey broth instead of chicken broth?
Absolutely! You can use store-bought or homemade turkey broth or stock. If you've got a leftover Thanksgiving bird, toss it in a large stock pot or crockpot with leftover veggies and lots of water and let it simmer overnight or all day. Strain out the veggies and bones and use it right away or refrigerate for later use!
Can I make crockpot turkey noodle soup with raw turkey?
You can use raw turkey to make this turkey noodle soup. I recommend using cubed turkey breasts, but you can also add them whole. You may need to cook the soup for up to 1 hour longer, or until the meat reaches 165°F internally. If using whole turkey breasts, shred the breasts before adding the noodles.
This classic comfort food recipe just got even easier with the Crockpot!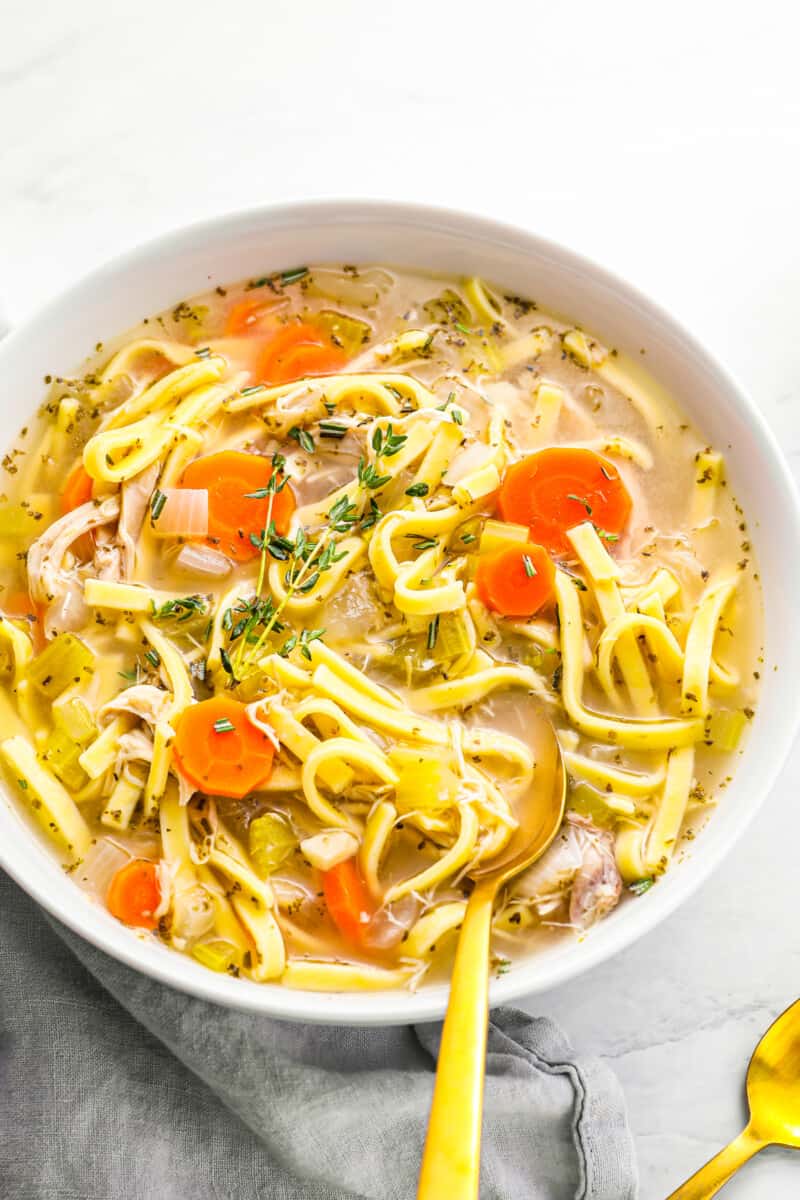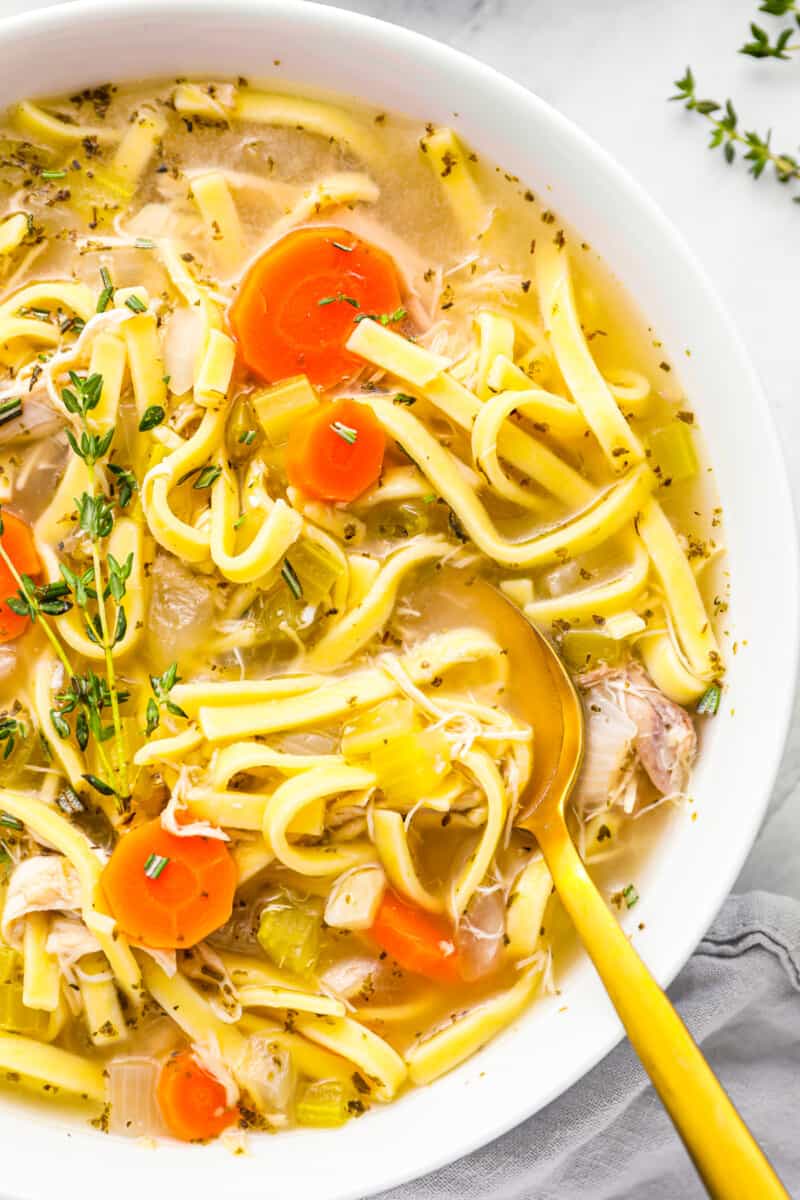 Make Ahead Instructions
Crockpot turkey noodle soup can be made up to 2 days in advance of when you plan to serve it. If making ahead, I recommend storing the noodles separately and combining just before reheating and serving. Store the soup and noodles in separate airtight containers in the refrigerator until ready to serve.
Storage Instructions
Store leftover crockpot turkey noodle soup in an airtight container in the refrigerator for up to 3 days. Reheat in the microwave, on the stovetop, or in the crockpot until hot, adding more broth if needed.
Freezing Instructions
If freezing crockpot turkey noodle soup, I recommend leaving out the noodles. Portion the soup into airtight containers and freeze soup for up to 3 months. Let thaw overnight in the refrigerator before reheating.
Variations
You can use turkey broth instead of chicken broth.
Feel free to swap the turkey for rotisserie chicken.
You can add a variety of other veggies, such as mushrooms, broccoli, or peas.
In place of the Italian seasoning, you can use 1 teaspoon of dried thyme and ½ teaspoon of dried rosemary.
Feel free to swap the egg noodles for your favorite short-shaped pasta.
For gluten-free crockpot turkey noodle soup, swap the egg noodles for gluten-free noodles or rice (if using rice, add it at the beginning of the cook time).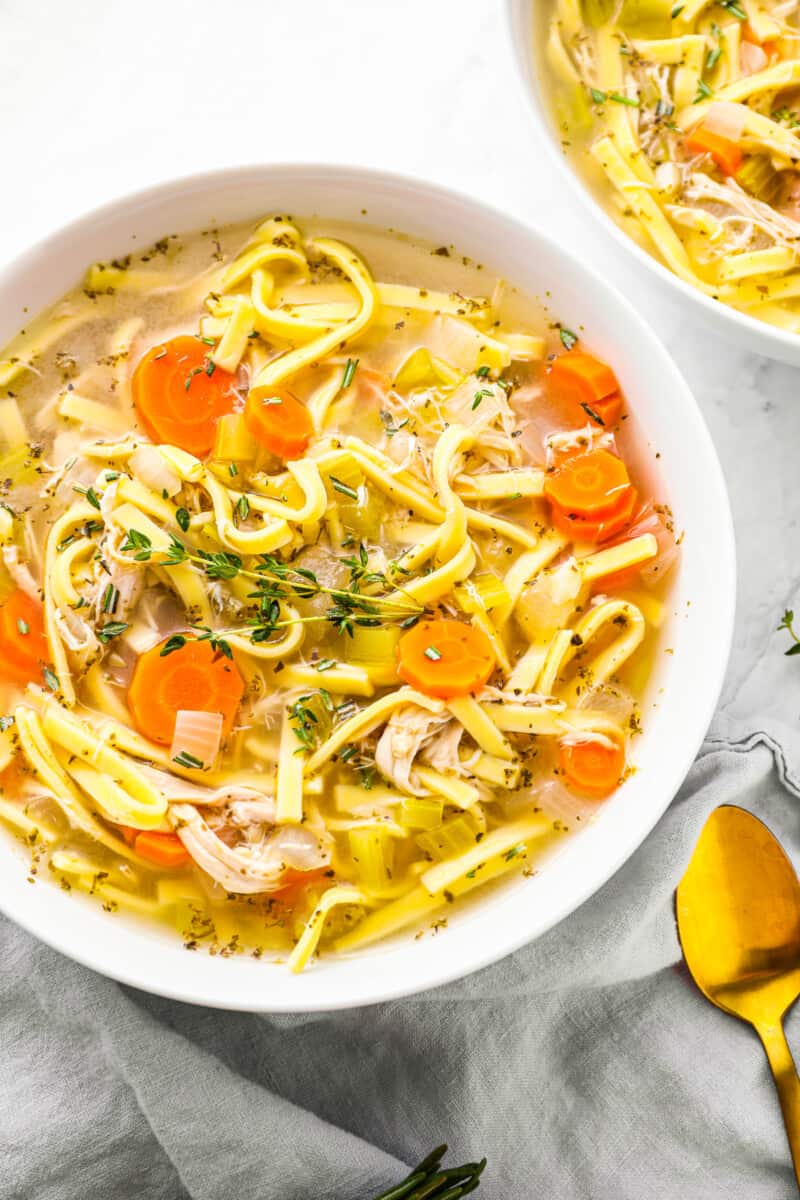 There are plenty of ways to enjoy leftover Thanksgiving turkey, but this Crockpot turkey noodle soup recipe might just be my favorite! It's so easy, comforting, and classic as can be.
If you make this recipe be sure to upload a photo in the comment section below or leave a rating. Enjoy! You can also jump to recipe.