This homemade Crunchwrap Supreme recipe has everything you love about the classic Taco Bell version. Crunchy tostada shells, ground beef, nacho cheese sauce, sour cream, and more are wrapped up in soft tortillas, then cooked until hot and crispy. This copycat recipe means you won't have to run to the drive-thru next time you get a craving!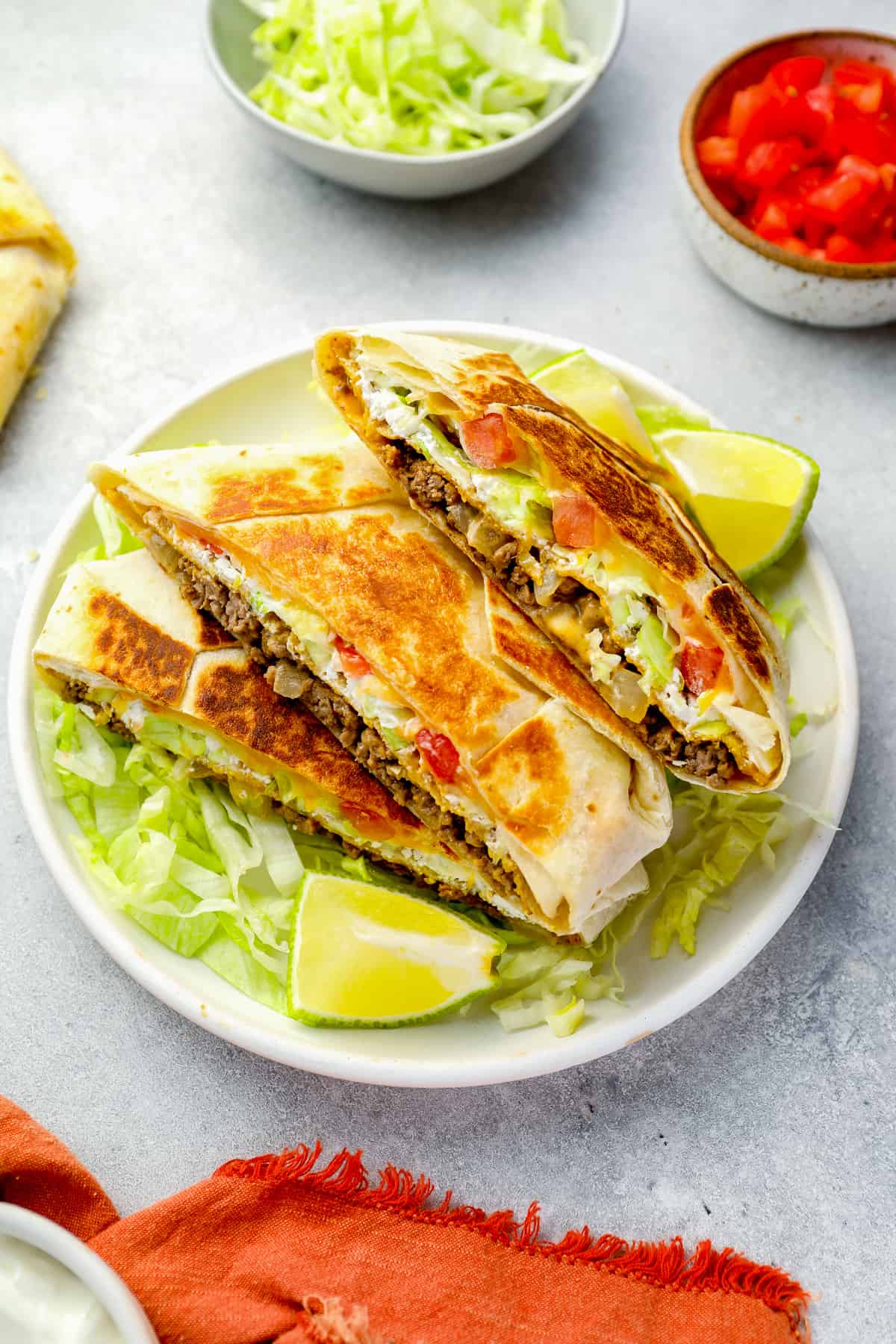 What's in this Crunchwrap Supreme Recipe?
The best part of this recipe is those first bites of soft flour tortilla, crispy tostada shell, taco meat, and all your other favorite ingredients.
Ground Beef: I'm using 85% lean ground meat.
Taco Seasoning: This perfectly-spiced blend adds the best flavor to the ground beef.
Tortillas: Large flour tortillas are best since you'll be wrapping them around the rest of the ingredients.
Tostadas: Deep-fried tostada shells add the crunch in Crunchwrap Supreme.
Nacho Cheese Sauce: Creamy, cheesy, melty nacho cheese is everything.
Sour Cream: Cool sour cream adds a delicious creaminess in every bite. You can use plain Greek yogurt as an easy ( and healthy) swap.
Lettuce: Shredded lettuce adds more texture.
Tomato: Chop tomatoes into bite-sized pieces. You can also swap in chunky Rotel tomatoes for more flavor.
Onion: Yellow, white, or red onions are all fine here.
Mexican Cheese Blend: More cheese is always good for me. Try a spicier blend if you like.
Vegetable Oil: Use vegetable or olive oil for cooking.
The bigger the tortilla, the better! You want to make sure it can completely fold over the crunchy tostada shell, so no filling escapes. And don't worry: I'll tell you how to fold it in the recipe card.
Variations on a Taco Bell Crunchwrap Supreme
While this recipe may seem more involved than your typical taco night, it still has all the beauty of customization!
The easiest way to modify your crunchwrap supreme is to change up the protein. Try swapping the ground beef for turkey, pork, or chicken. Or use shredded chicken or carne asada.
To make it vegetarian-friendly, skip the meat and add black beans, refried beans, air fryer potatoes, or your favorite meatless grounds.
Add even more flavor by layering guacamole, hot sauce, or taco sauce on top of the cheese!
Make this breakfast-friendly by adding scrambled eggs or breakfast hash.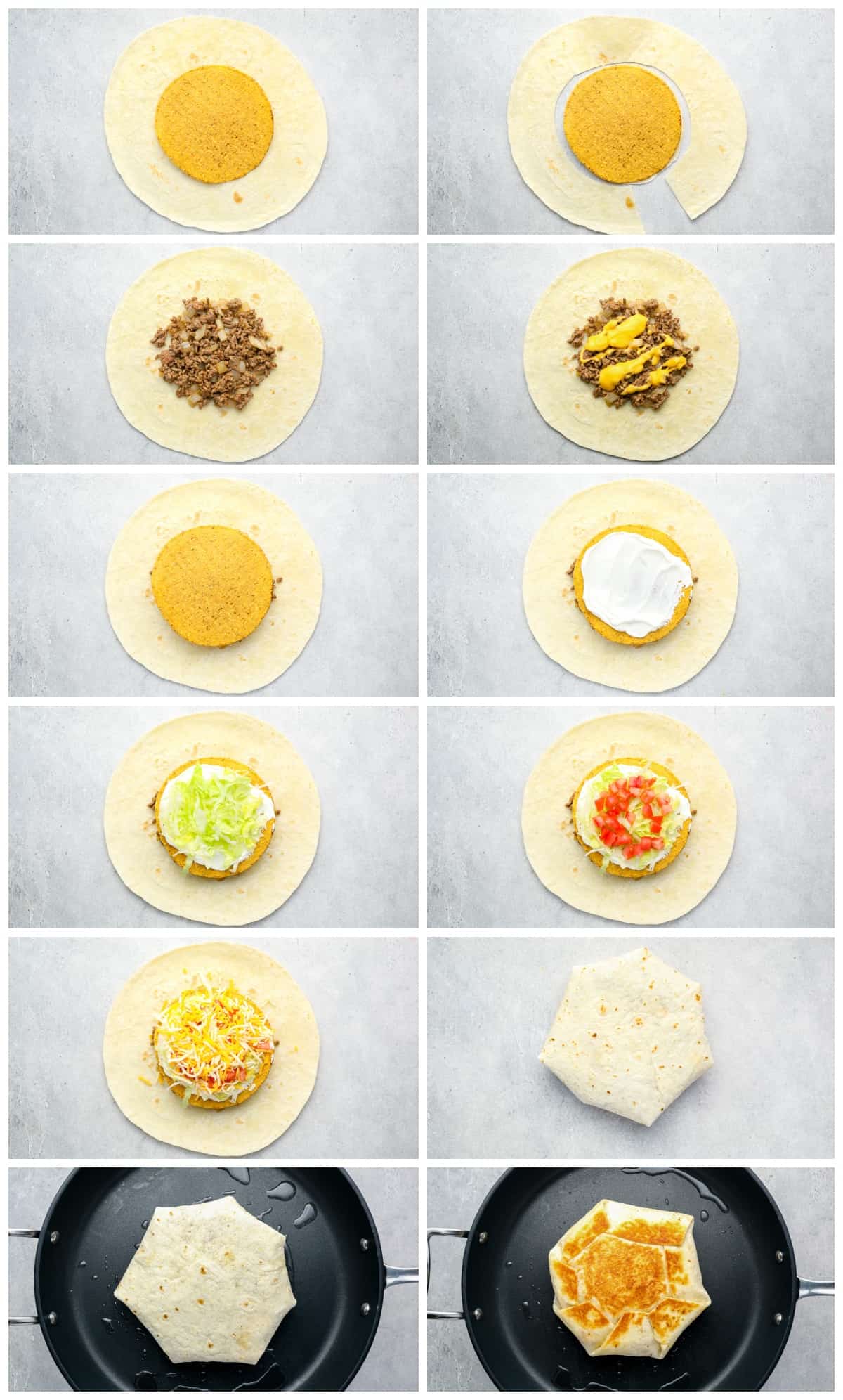 Trademark Note: In the spirit of transparency, I want to note that this is a copycat recipe for an existing product, Taco Bell's Crunchwrap Supreme. Taco Bell is a proprietary brand that I want to acknowledge and give credit to.
What is in a crunchwrap supreme?
A crunchwrap supreme contains ground beef, nacho cheese sauce, a crunch tostada, sour cream, lettuce, and tomato all folded up inside a toasted tortilla.
How much filling should I add to a crunchwrap supreme?
I would recommend adding no more than ¼ cup of the meat mixture to each tortilla, followed by about 1-2 tablespoons of each of the other ingredients.
Can I make a crunchwrap supreme vegetarian?
You sure can! Simply swap the ground beef for black beans or refried beans! You could also use meatless ground beef crumbles.
How many calories in a crunchwrap supreme?
There are 530 calories in a Taco Bell crunchwrap supreme. Ours is a bit healthier, coming in at just 413 calories.
How do you get a crunchwrap to stay together?
Placing the crunchwrap folded-side down in the hot oil will help to seal it together. You can then flip the crunchwrap to cook the other side without worrying about the filling leaking out.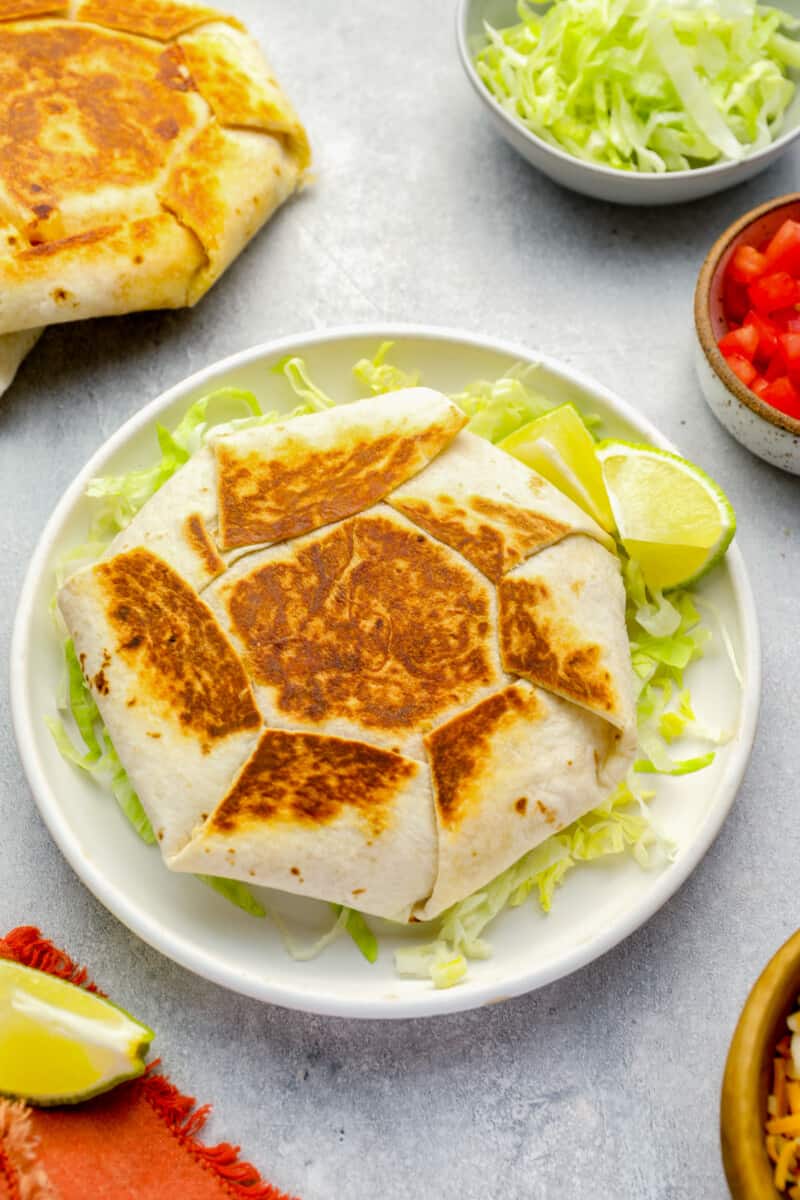 How to Store and Reheat a Copycat Crunchwrap Supreme
While crunchwraps are best enjoyed as soon as they are made, you can store them in an airtight container in the refrigerator for up to 3 days. Keep in mind that the tostadas may become soggy during that time. Reheat in a 350°F oven for 8-10 minutes, or until warmed through.
How to Freeze a Homemade Crunchwrap
Freeze a crunchwrap supreme tightly wrapped in 2 layers of plastic wrap and 1 layer of aluminum foil for up to 3 months. Reheat directly from frozen, adding an extra 5 minutes to the bake time.
What to Serve with a Crunchwrap Supreme
This is delicious as a midnight snack, or any time you're craving a Crunchwrap at home. Make it just like your favorite fast food run by serving this with tortilla chips and white queso, Mexican rice, and some potato wedges to use up extra nacho cheese.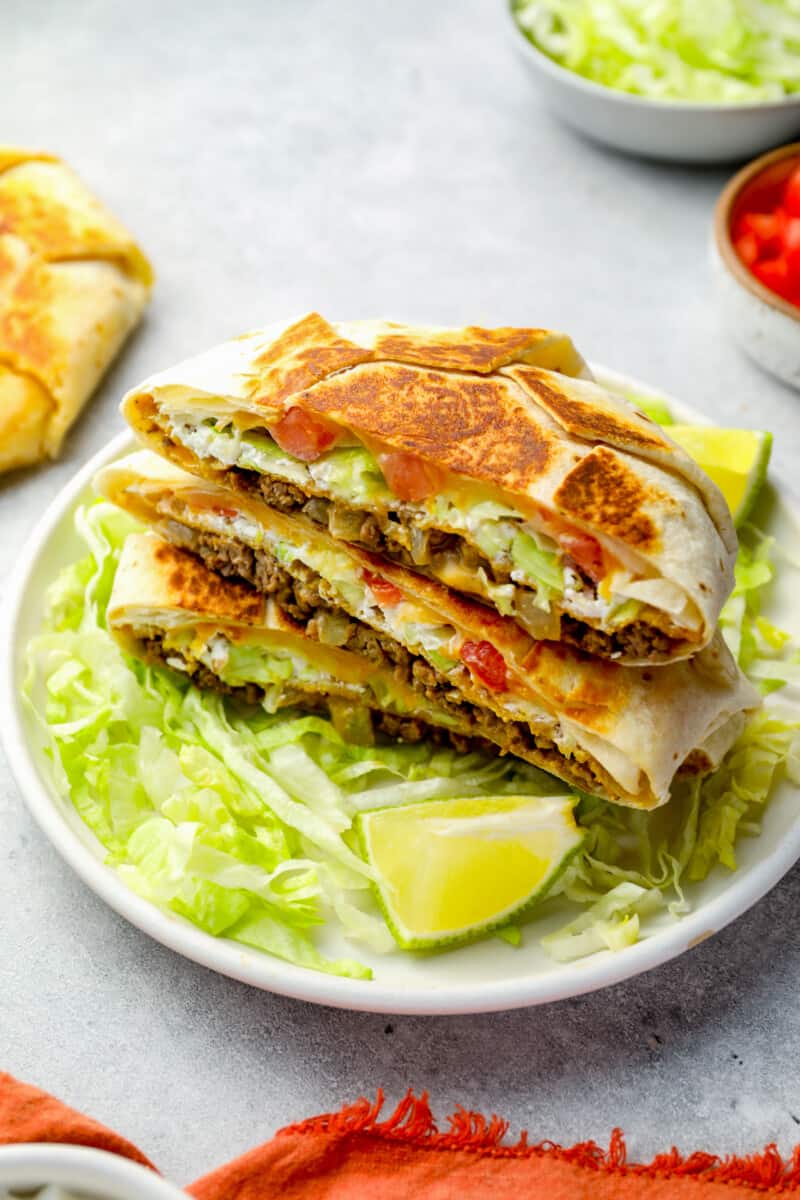 More Copycat Recipes We Love