Pumpkin Brownies are the perfect mix of two of my favorite desserts: chocolate and pumpkin pie! This easy fall recipe uses a boxed brownie mix of your choice with a layer of pumpkin in the middle to create something super fun and delicious. And they look really pretty too! I'm always looking for more easy fall desserts, and these brownies are perfect for Halloween, Thanksgiving, or any autumn party.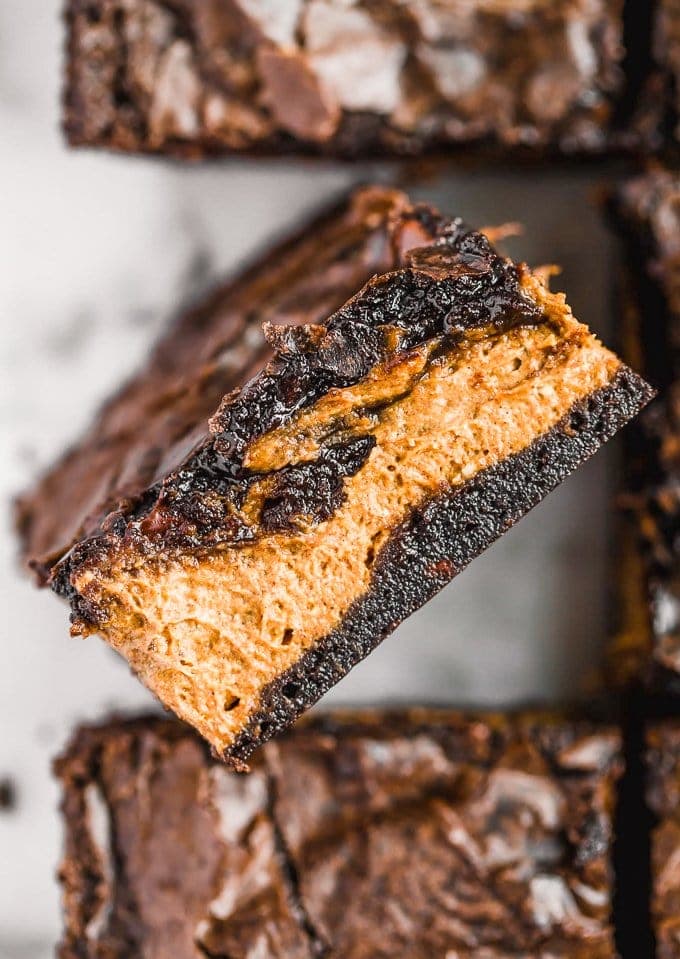 Pumpkin Brownies
Pumpkin Brownies are the perfect blend of chocolate and pumpkin. This easy fall dessert recipe is a boxed mix modification that turns ordinary brownies into AMAZING pumpkin treats!
These pumpkin brownies were one of the first recipes I came up with all on my own. They're easy, they're delicious, and they're so fun to make! That's what was important to me when I first started cooking and that is still important to me now.
I love easy recipes, and this is definitely that. I used a boxed brownie mix and added a layer of pumpkin right in the middle to create a creamy, chocolate-y, pumpkin-y treat for autumn.
You can use any brownie mix you like, so you can really make this recipe your own. The great thing about this easy fall dessert recipe is that you don't need to do much more than what you would normally do with a box mix.
There's just a couple extra steps to take these brownies up about a million notches in taste and style!
Pumpkin Brownies are the perfect thing to bake for Halloween parties, for a fun autumn treat, or for a Thanksgiving celebration. Of course you can make this dessert any time of year, but nothing says fall like pumpkin!
These Pumpkin Brownies are an easy, fun, and tasty autumn treat for Halloween, Thanksgiving, or any fall party!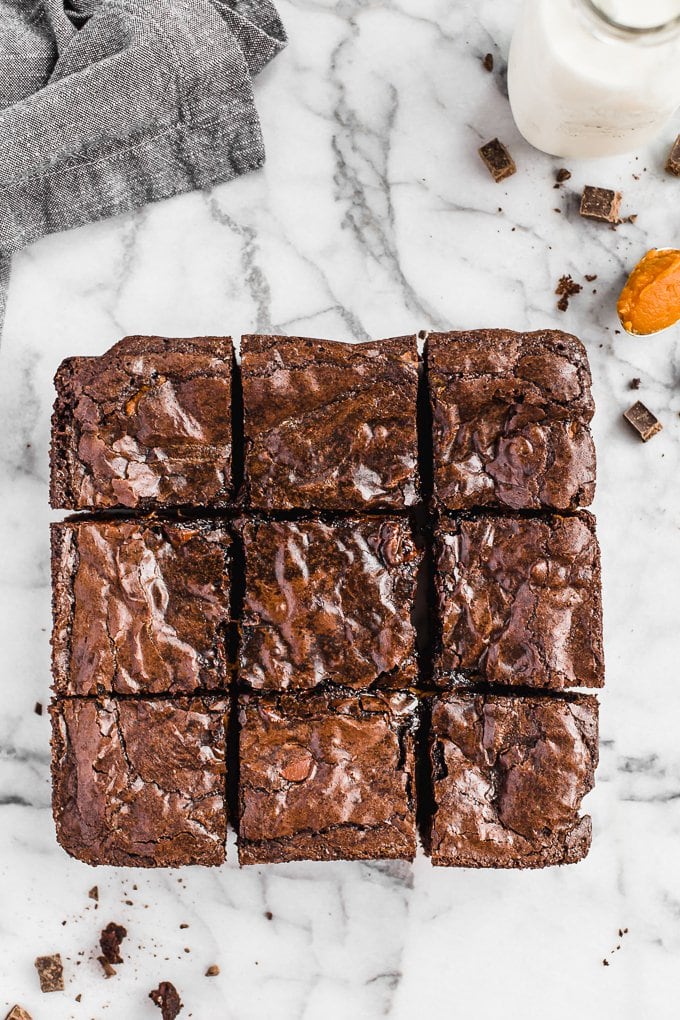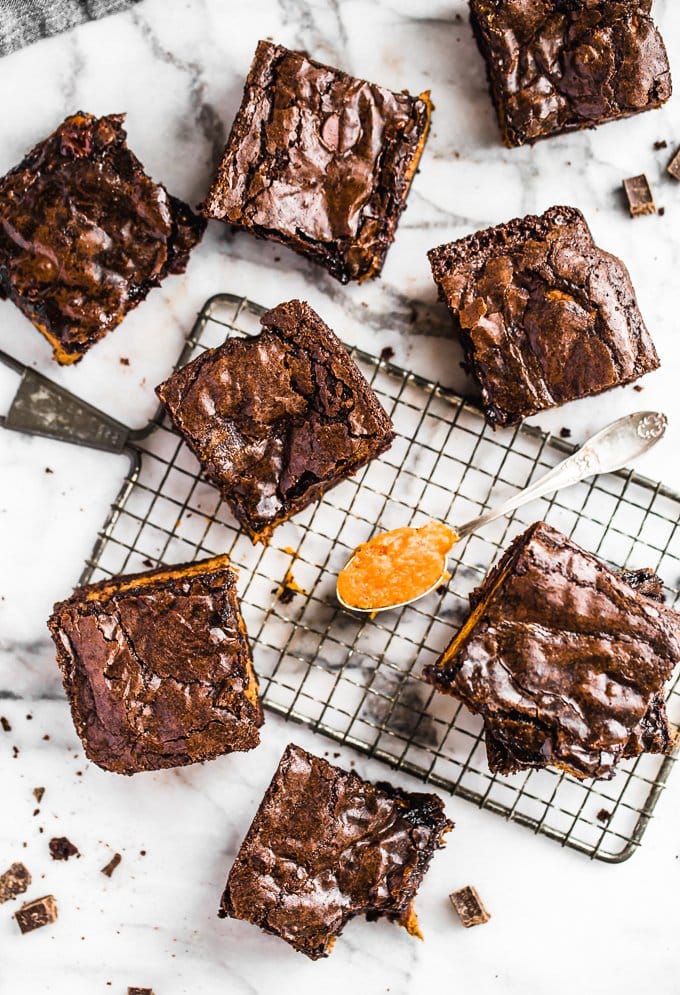 Super Easy Fall Dessert Recipe
Have I mentioned how easy these are yet? Yup, pumpkin brownies are crazy delicious AND super simple to make. No need to make brownies from scratch here!
I love a good box mix hack, especially when I need to make something for a party on short notice. You don't have to go all out, but you can still show up with something unique that everyone will absolutely rave about.
Here are a few more easy fall desserts that I just love: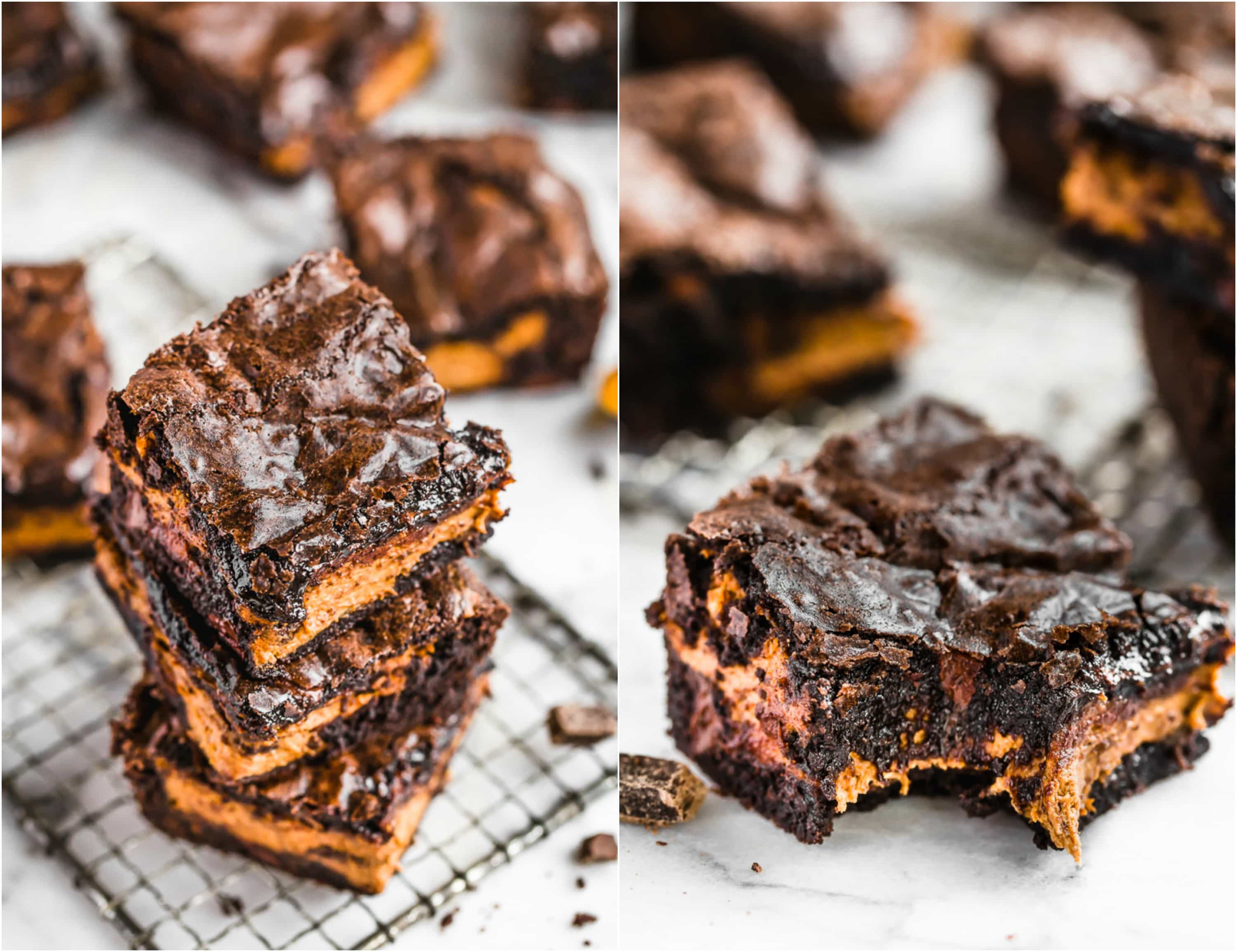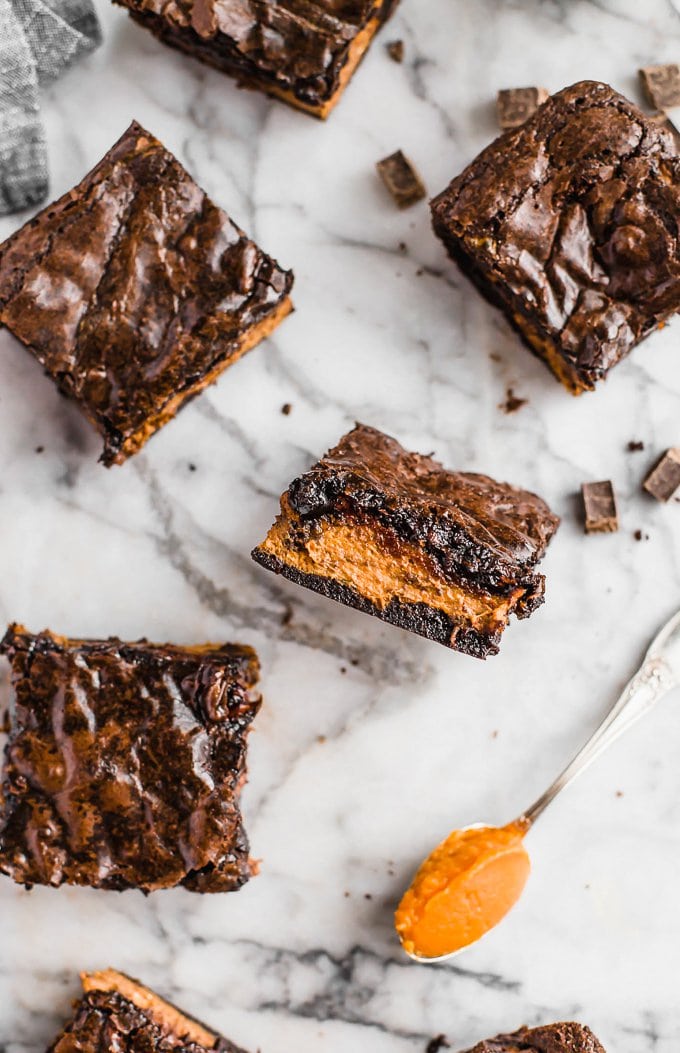 How to Make Pumpkin Brownies
The process for these tasty pumpkin brownies is simple. Make both parts of the final product (the brownie batter and the pumpkin mixture), put them together, and then bake!
You can use any brownie mix you like, so you'll be following instructions based on the one you choose. The box will tell you how to prepare the brownie batter and what temperature you should use on the oven. I'll help you out with the rest!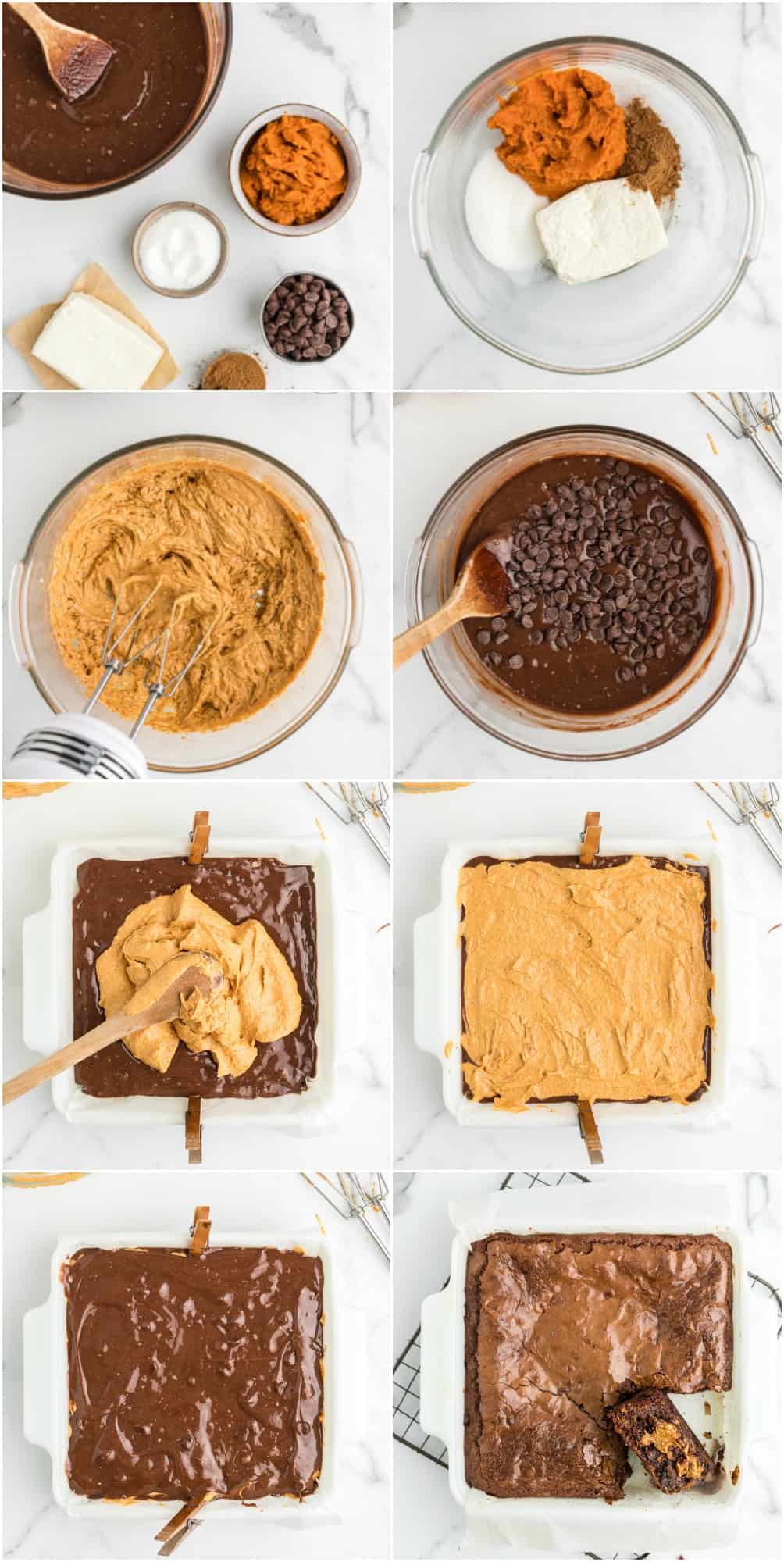 Recipe Tips and Notes: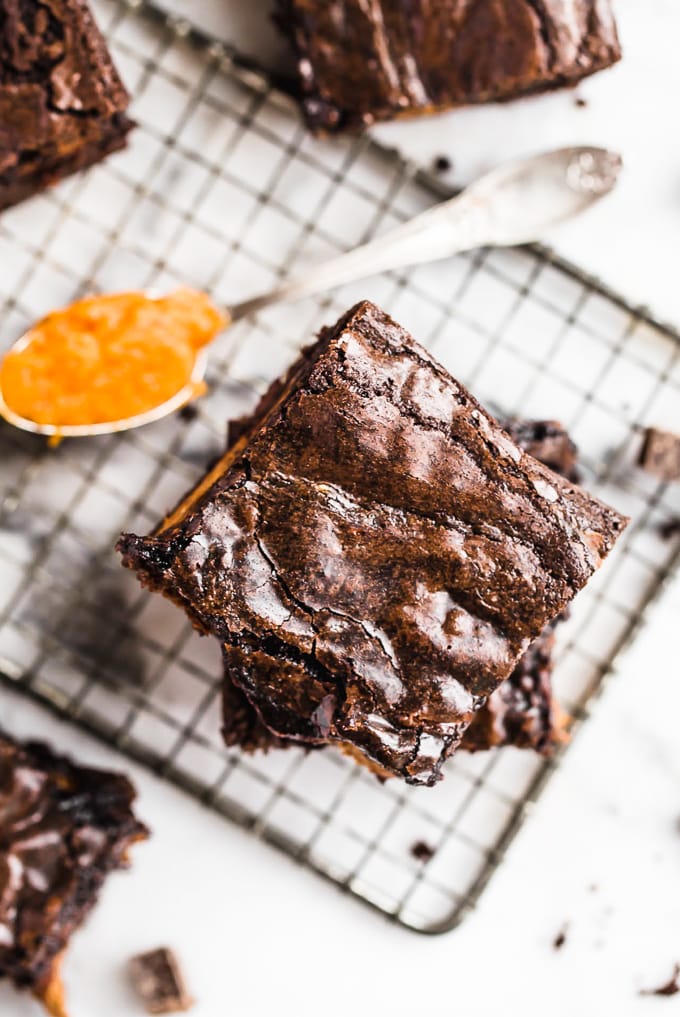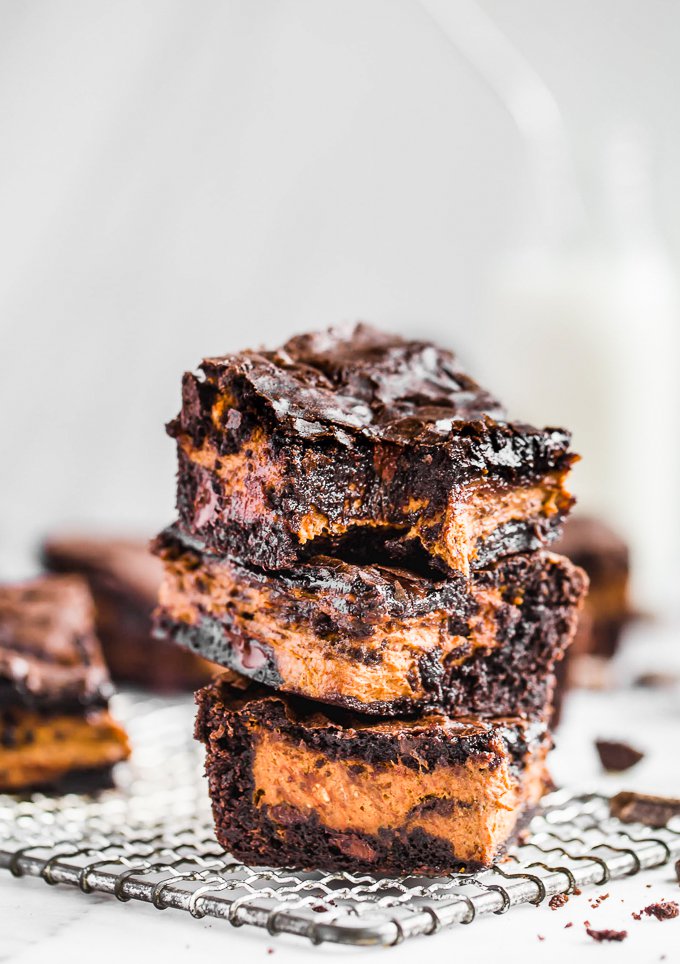 Do I need to store brownies in the fridge?
Brownies DO NOT need to be stored in the refrigerator. In fact, doing so will remove moisture and might just make them harder and more crumbly. They are best stored at room temperature, and will stay fresh for 3-4 days just fine. Seal them properly to ensure they stay soft and moist.
If you like this caramel brownies recipe, try some of our other favorites brownies: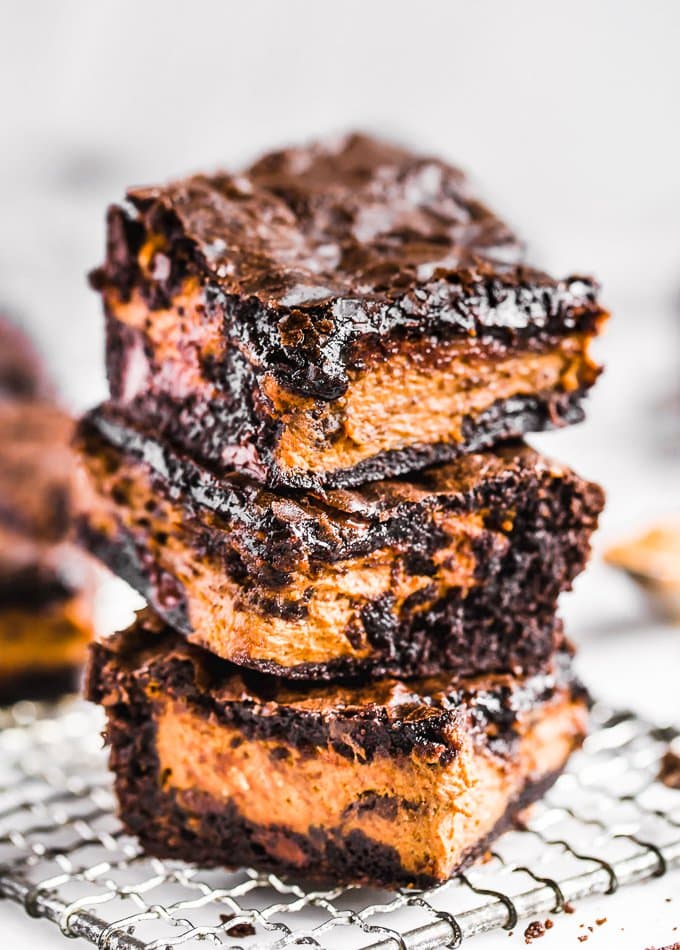 These pumpkin brownies are so delicious and so easy…right up my alley! These are absolutely perfect for fall, something fun to serve around Halloween or Thanksgiving. Once you try these, you'll want to make them again and again!
If you like this pumpkin brownies recipe, try these other easy pumpkin recipes: