Sheet Pan Breakfast Pizza is a favorite easy breakfast recipe! From the crescent roll crust to the eggs and cheese and everything in between, this pizza is filling and so easy to make!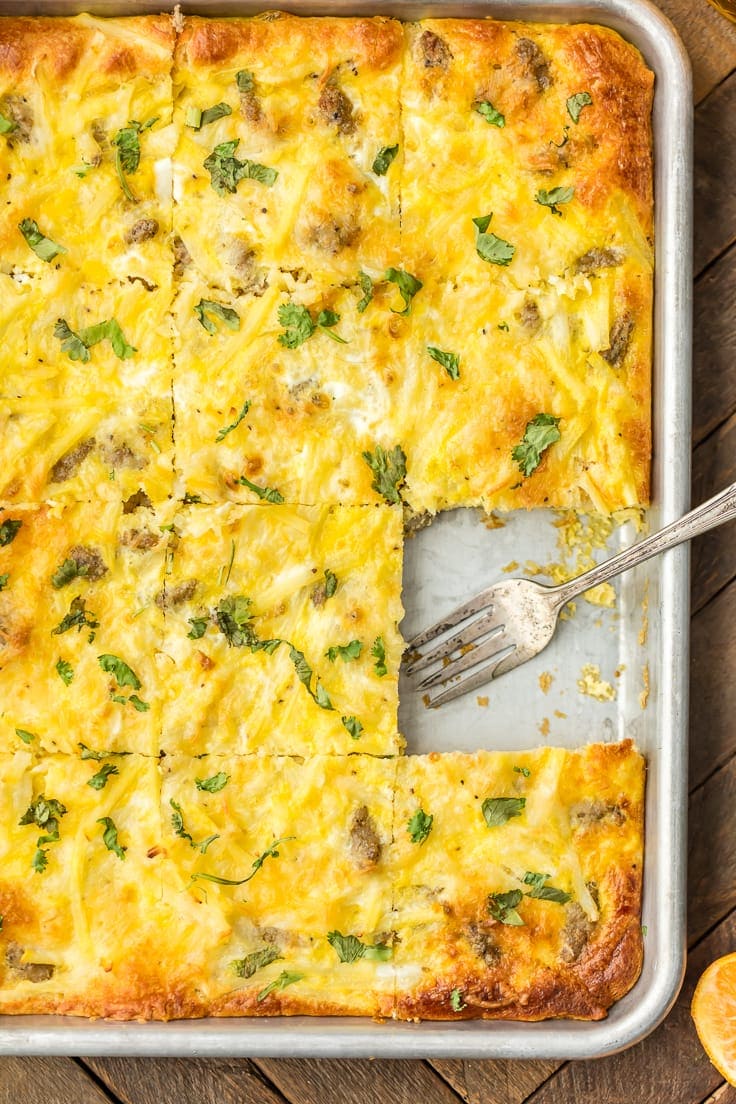 Sheet Pan Breakfast Pizza
This Breakfast Pizza Recipe is so easy! Using a sheet pan makes the whole process simple, clean and it makes a huge batch so you can feed a crowd. This pizza is a delicious centerpiece at a holiday brunch table, or a lazy Saturday morning breakfast.
Breakfast Pizza has had my heart since childhood. I love trying new breakfast recipes for Christmas each year.I tried Easy Cinnamon Roll French Toast Bakes and Skillet BLT Frittatas. They're all delicious, but I keep going back to my favorite favorite. EASY favorite favorite. Sheet Pan Breakfast Pizza.
Our family has been making this for years for Christmas morning for years and we never tire of it. It's filling, simple, hearty, comforting, and delicious.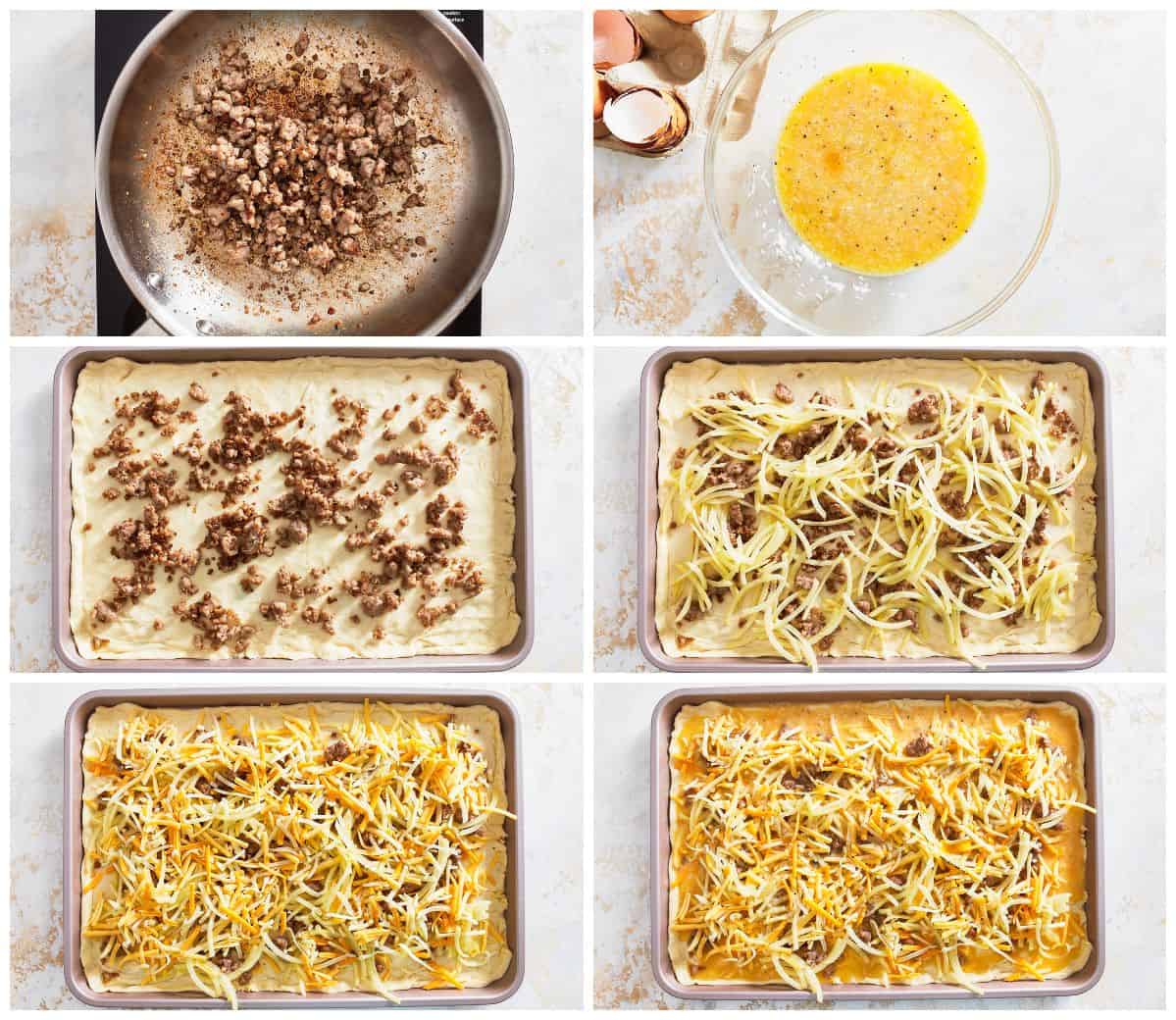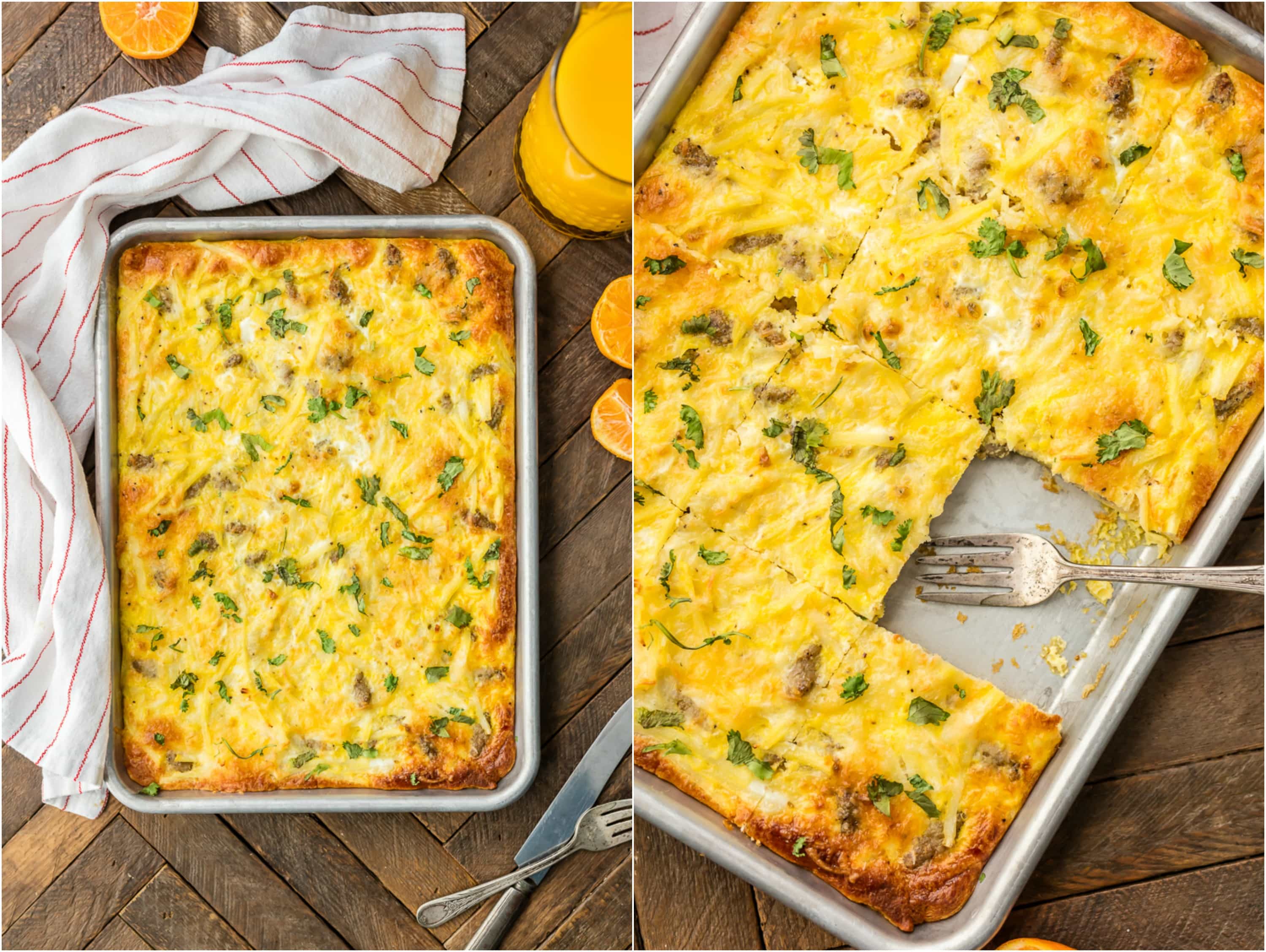 What Ingredients Do I Need to Make Sheet Pan Breakfast Pizza?
You can make this breakfast recipe with any toppings that you love! This version has sausage, eggs, cheese, shredded hash browns, and crescent rolls. We also have a Meat Lovers Breakfast Pizza recipe that has pepperoni, beef, bacon, sausage, but the same base recipe. You can fill this great breakfast recipe with whatever your family loves best! Here are some optional add-ins:
Bacon crumbles
Ham
Spinach
Sausage
Cheese
Onions
Mushrooms
Peppers
One Pan Breakfasts
In my opinion, the perfect breakfast and brunch recipes are the ones you can make in ONE pan, pot or skillet. Here are a few favorites: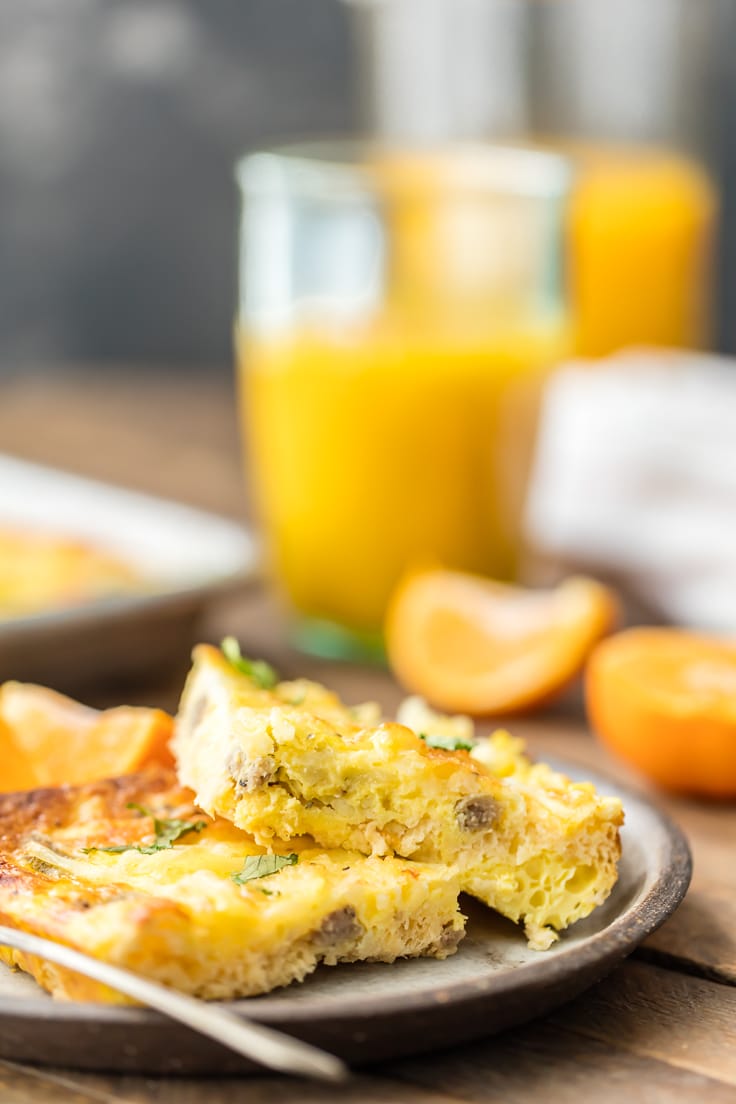 How Do You Make Sheet Pan Breakfast Pizza?
It's SO easy, you won't believe it!
First, roll out pre-made crescent rolls.
Next, layer on shredded hashbrown potatoes and any toppings you choose.
Then, pour a mixture of eggs, cheese and spices.
Finally, just bake, slice and serve! No fuss, stress, or slaving away in the kitchen. PLUS, only ONE pan to clean? Do you love me now?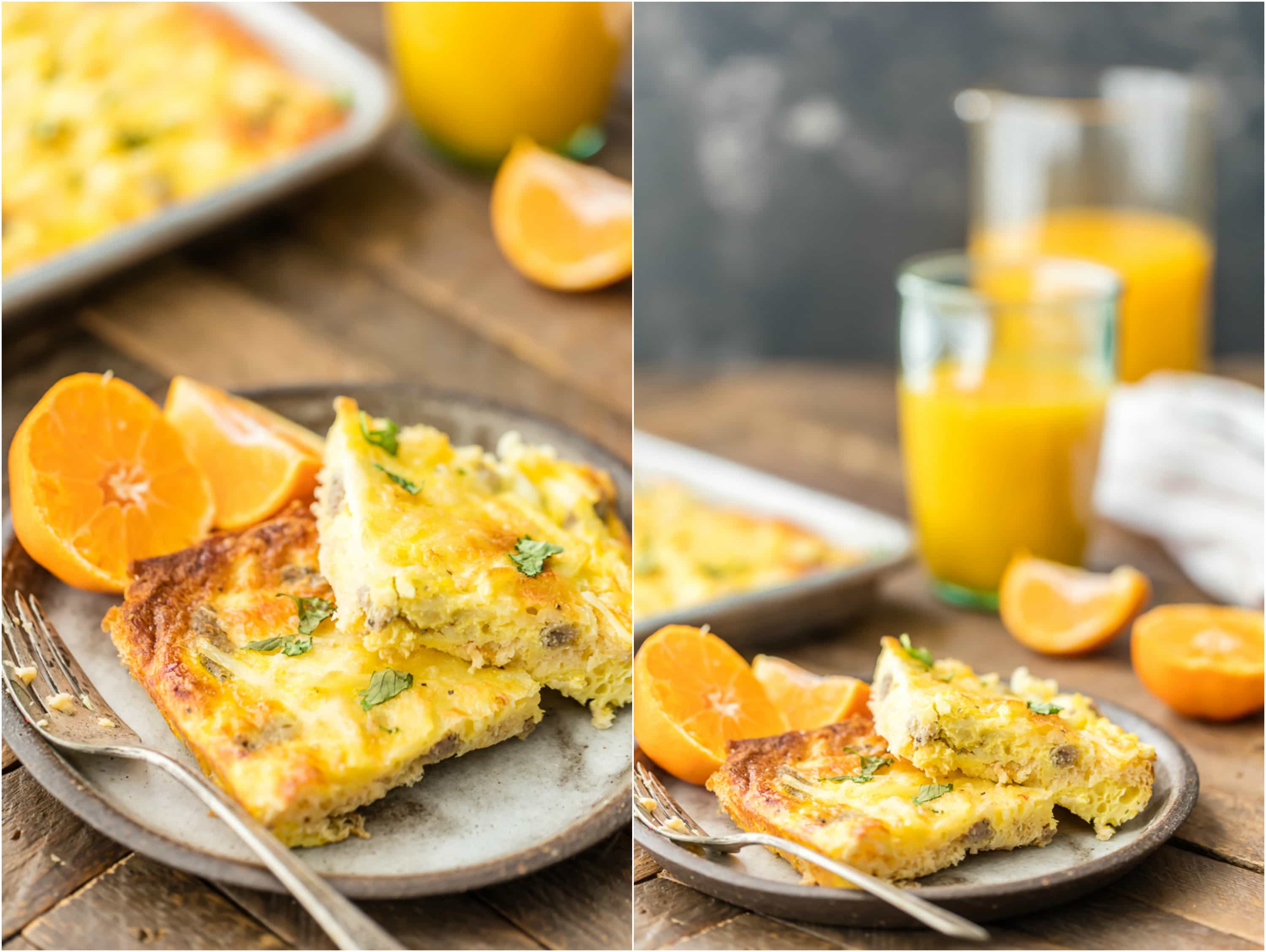 How many calories are in Sheet Pan Breakfast Pizza?
It varies because of toppings chosen, but this version has just over 350 calories per serving. So just pair it with some fruit and you have a well-balanced and healthy breakfast!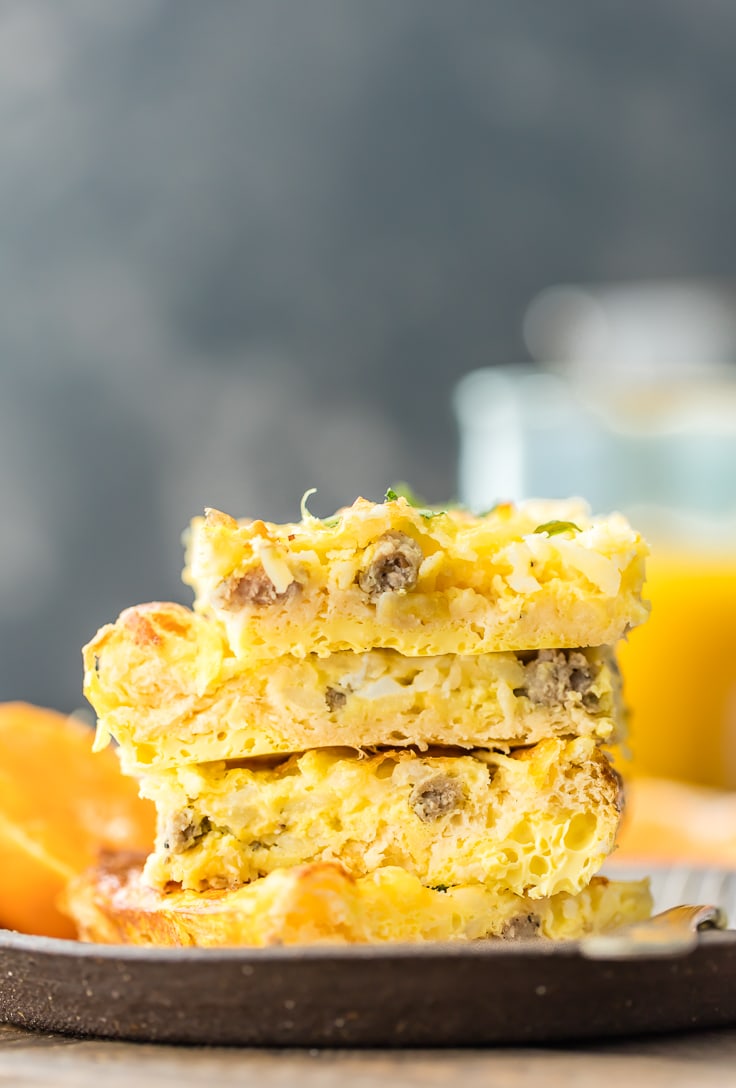 Beautiful Brunch Cocktails
What goes better with breakfast than a crisp cocktail? If you're in the mood for a cocktail with breakfast, check out our Apple Cider Mimosas, Sherbet Mimosas, or Champagne Sangria!
Be sure to watch our recipe video below or see the recipe card for details on how to make Sheet Pan Breakfast Pizza. Enjoy!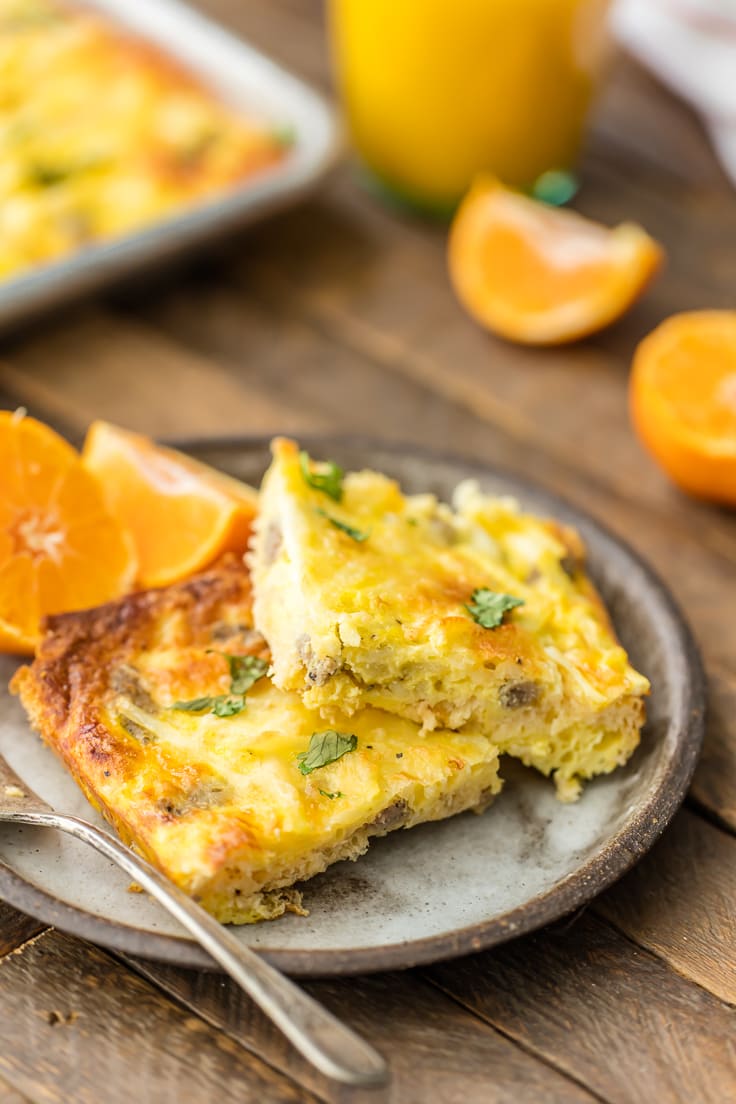 You and your family will love this fluffy Sheet Pan Breakfast Pizza. Serve it up for Christmas morning or even for a quick weeknight supper. Enjoy!