This Thanksgiving, use your leftovers to make a Thanksgiving Quesadilla! We all need some ideas to use up the extra food from the big feast, and this turkey quesadilla is the solution. Skip the sandwich and use this Thanksgiving leftover recipe instead!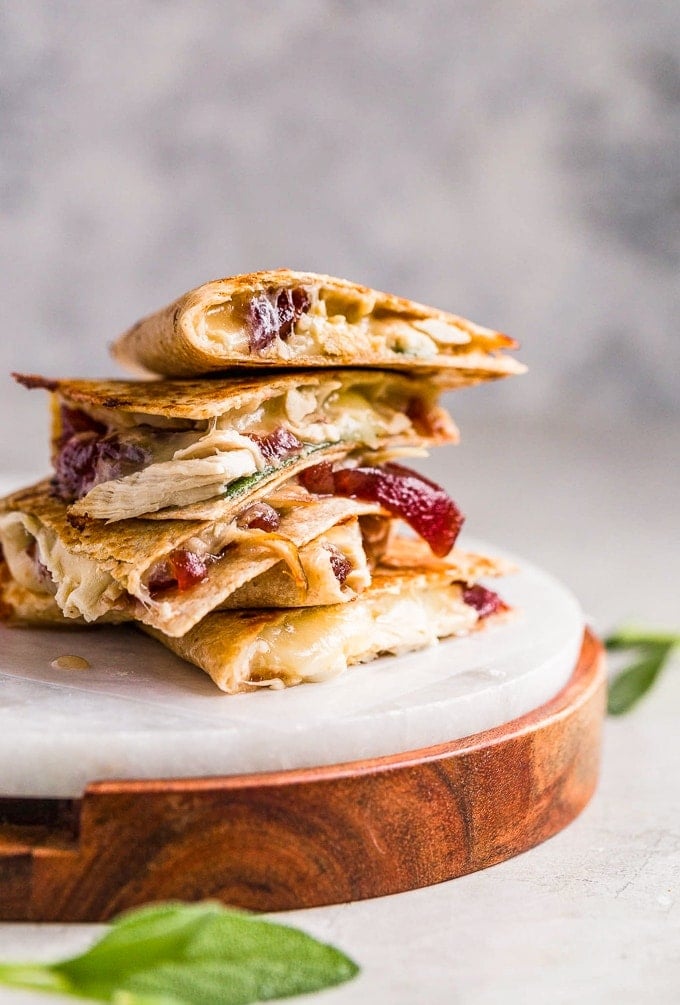 What's in a Turkey Quesadilla?
We make so much food for the big feast, and we end up with soooo many leftovers. They crowd the fridge and call out to you for days, begging to be eaten. This is the perfect way to use up all that turkey and also have something really fun to eat that doesn't make you feel like you're eating leftovers.
Whole Wheat Tortillas: Make this dish feel a little healthier without compromising the taste.
Thanksgiving Turkey: You thought you planned out your feast perfectly, but somehow you still have pounds of the stuff in the fridge. Might as well put it to good use!
Cranberry Sauce: Adds a bit of a zippy, tangy flavor to the quesadillas that cuts through the cheese.
Shredded Cheese: I used cheddar, Asiago, and pepper jack in mine and it was *chef's kiss* — feel free to use your favorites, though!
Fresh Sage: Adds a pop of freshness and herbal flavor that ties everything together!
Pro Tip: If you're repurposing cheese from Thanksgiving appetizers, you can use thinly sliced or cubed cheese in the quesadillas– no need to shred it.
Variations on a Thanksgiving Leftover Quesadilla
The best thing about this Thanksgiving leftover recipe is that it's versatile. Use whatever you have (looking at you, mashed potatoes!) mix it all up, and let it melt together. Pick your favorite leftovers and flavors. Have some sweet potatoes? Add them in! Broccoli casserole? It's the perfect thing to mix in! Have fun with it. You really can't go wrong with this quesadilla.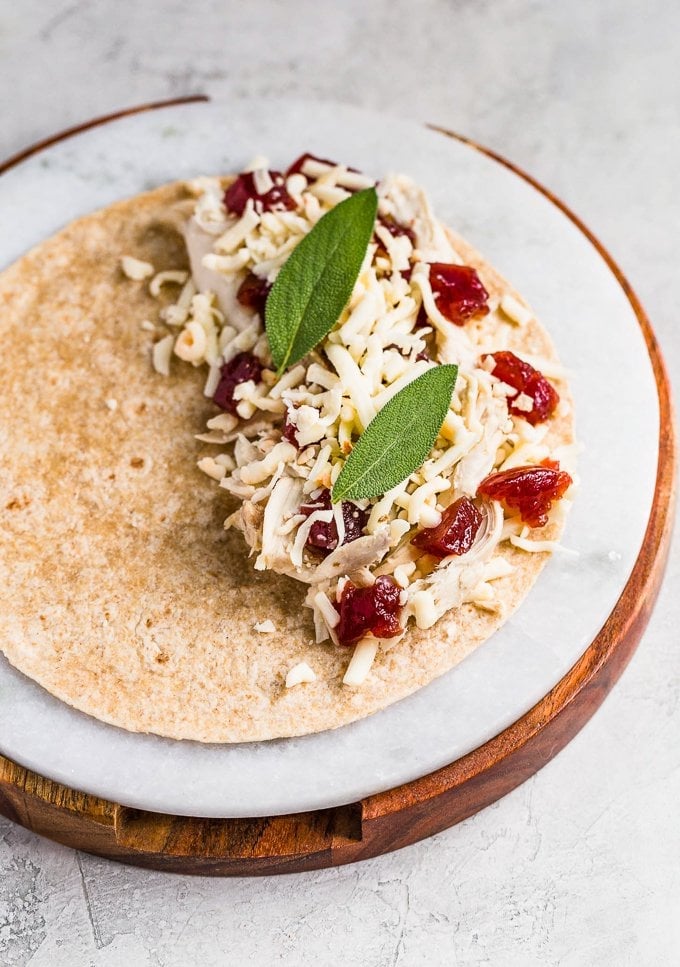 Should I use dark or white turkey meat?
Use whatever meat you prefer, or whatever type you have the most of. Breast meat is easy to cut into bite-sized pieces, dark meat is generally moister….so much to decide!
How do you flip a quesadilla without making a mess?
Once the cheese is melted, everything holds together beautifully. But before that happens, it can be tricky to flip the quesadilla. Use a spatula to slide the quesadilla onto a small plate. Top with a second plate, this one inverted. Flip the whole thing, remove the top plate, and slide the tortilla wrap back into the pan to finish browning!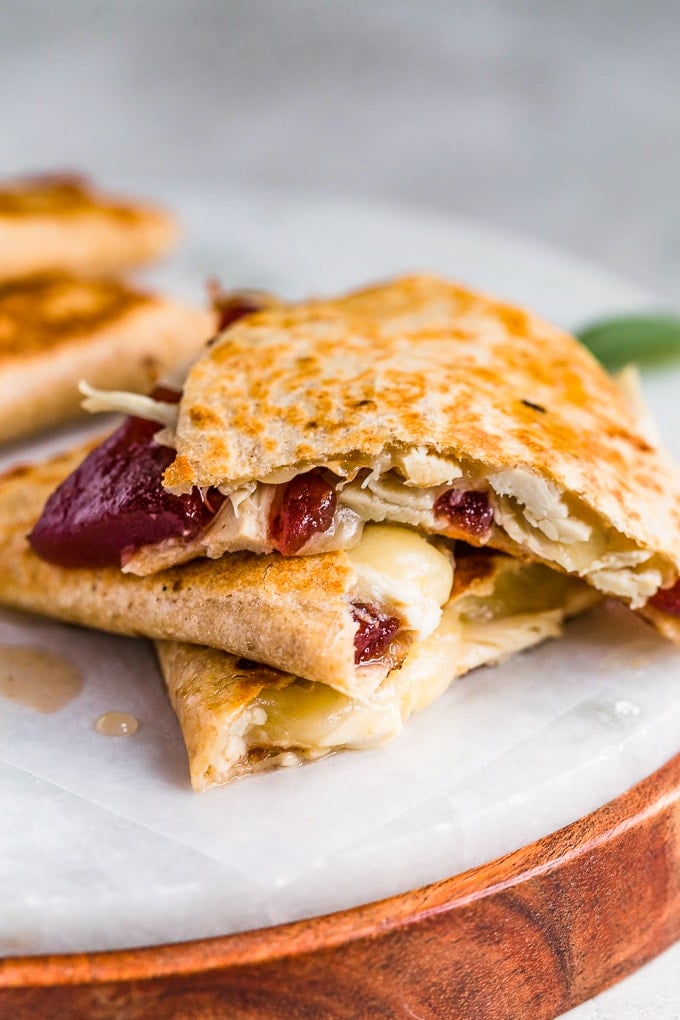 How to Store and Reheat
Store leftover Thanksgiving quesadillas in an airtight container in the refrigerator for up to 2 days. Reheat in a pan set over medium-low heat, flipping once, until warmed through and melty.
How to Freeze
To freeze these turkey quesadillas, I recommend cutting them into wedges and stacking them in an airtight container or Ziplock bag. They will keep for up to 3 months. Bake directly from frozen in a 350°F oven for 10-15 minutes, or until warmed through and melty.
Serving Suggestions
Serve your Thanksgiving quesadilla with some turkey gravy for dipping and a side of basmati rice, sweet potato fries, or refried beans.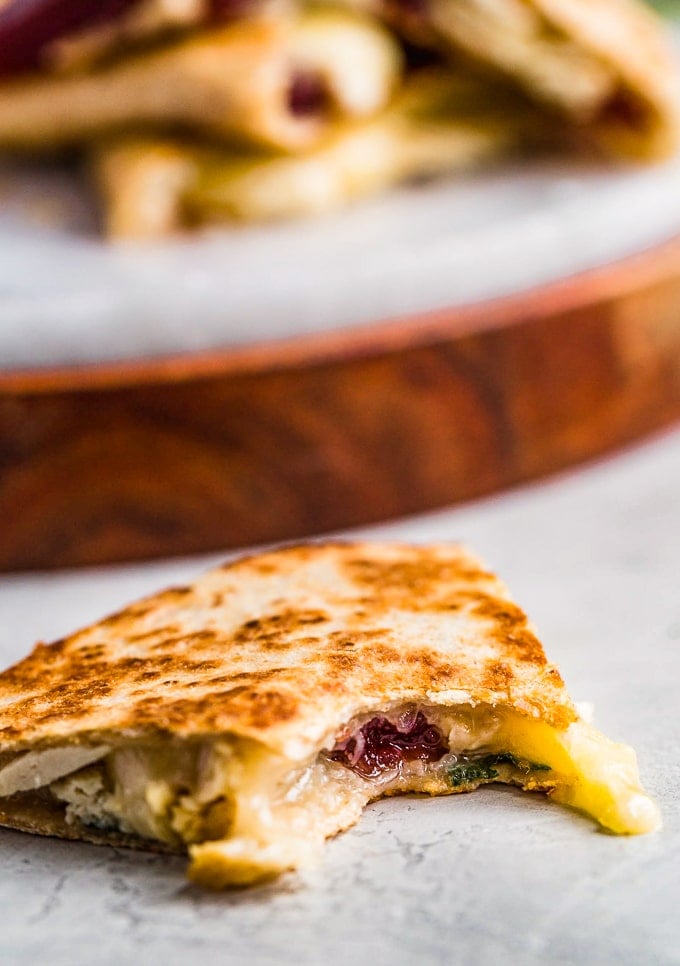 5-Star Review
"I can't believe I hadn't thought of leftovers quesadillas! Brilliant! And so versatile. " – Mel
More Leftover Turkey Recipes We Love