Chicken Flautas are a delicious and easy snack made up of shredded chicken, salsa, and cheese wrapped up in tortillas, then pan-fried until crispy. These rolled chicken tacos are a fun dinner or appetizer for Cinco de Mayo, taco night, or game day.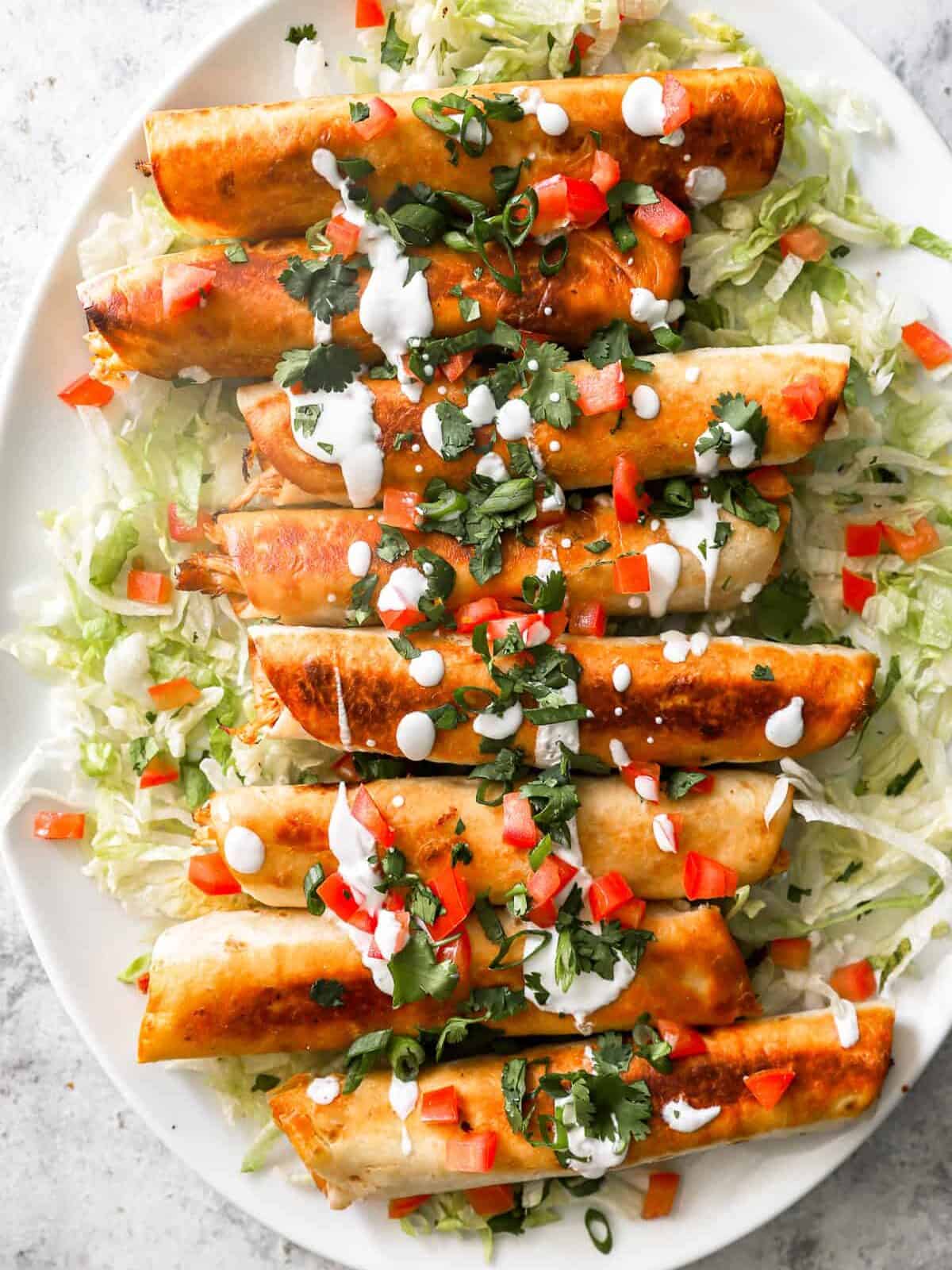 What's in this Chicken Flautas Recipe
Leftover chicken, fresh salsa, and creamy cheese fill these crispy, crunchy chicken flautas. They'll be ready in just about 30 minutes, but prepare to see them fly off the plate!
Shredded Chicken: This recipe is great for using up leftover cooked chicken. I like shredded, but cubed also works.
Flour Tortillas: The perfect vessel for rolling up these flautas. If they're cracking as you roll them, warm them for a few seconds in the microwave.
Salsa: Use your favorite store-bought or homemade salsa to add fresh flavor to the chicken.
Cheese: Helps hold the flautas together. I like Monterey jack, but Mexican blend or cheddar also work.
Olive Oil: Helps the onion cook without burning.
Onion: Diced onion adds earthy flavor.
Spices: Kosher salt, chili powder, and cumin give these rolled chicken tacos authentic Mexican flavor.
Vegetable Oil: The perfect neutral oil for frying.
Pro Tip: I chose to shallow fry mine, but you can also deep fry these. If deep frying, use toothpicks to hold the flautas closed.
Variations on Rolled Chicken Tacos
To make chicken flautas spicier, try adding a pinch of cayenne pepper in with the seasonings, opt for a spicy salsa, and use pepper jack or ghost pepper jack cheese.
You can also make these flautas with ground beef or pork carnitas. Or try using salsa verde!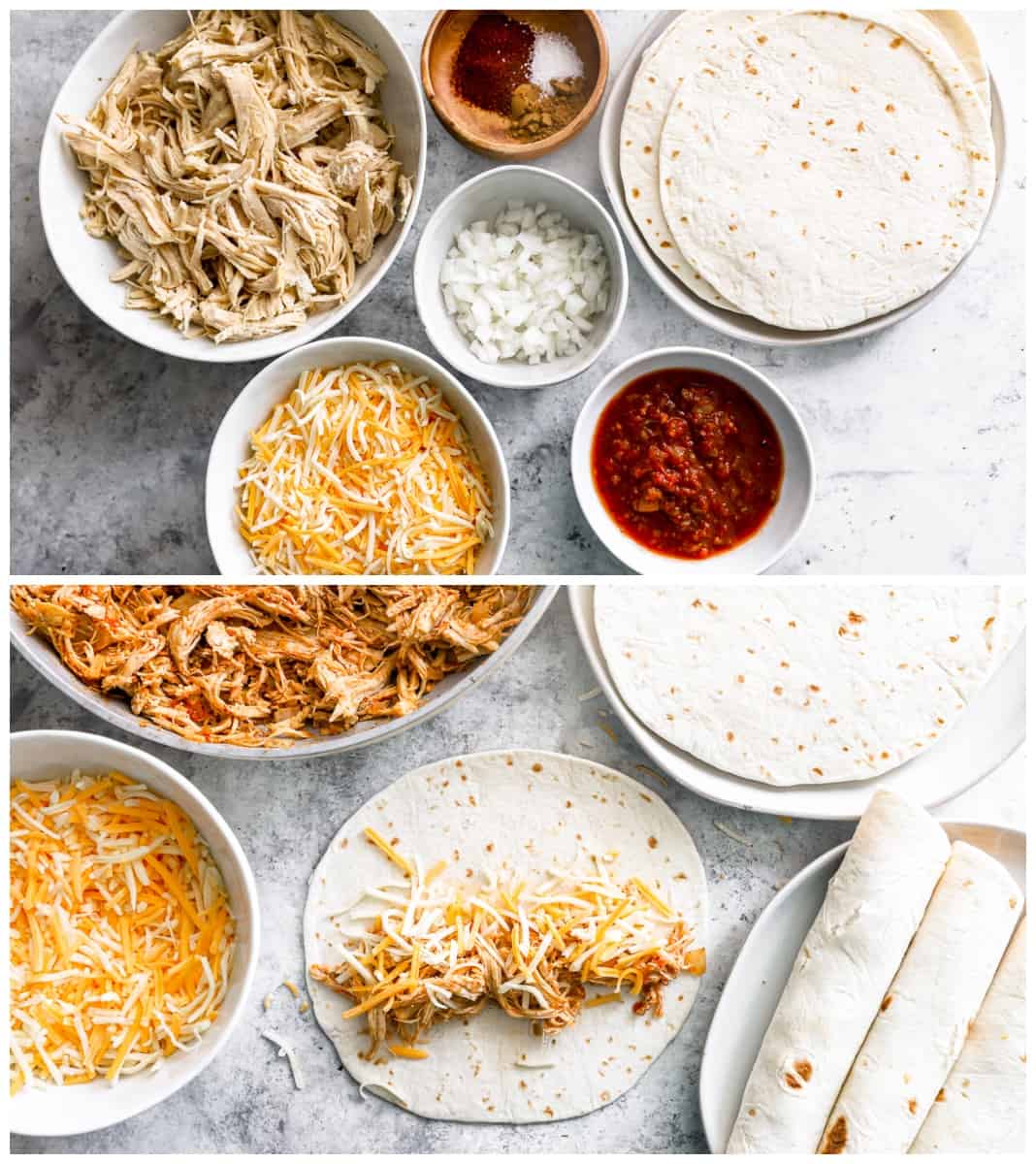 What's the difference between flautas and taquitos?
The difference between flautas and taquitos is subtle. Taquitos generally utilize small corn tortillas, whereas flautas use larger flour tortillas. Furthermore, flautas can be served as an appetizer or an entree, whereas taquitos are usually just an appetizer.
How do you keep flautas rolled when frying?
Make sure to place the flautas seam-side down in the pan to seal the edges when frying. You can also push a toothpick through the seam to hold them together.
How do I reheat flautas?
For best results, reheat these flautas in the oven at 350°F until warmed through. This helps them stay crispy instead of soggy.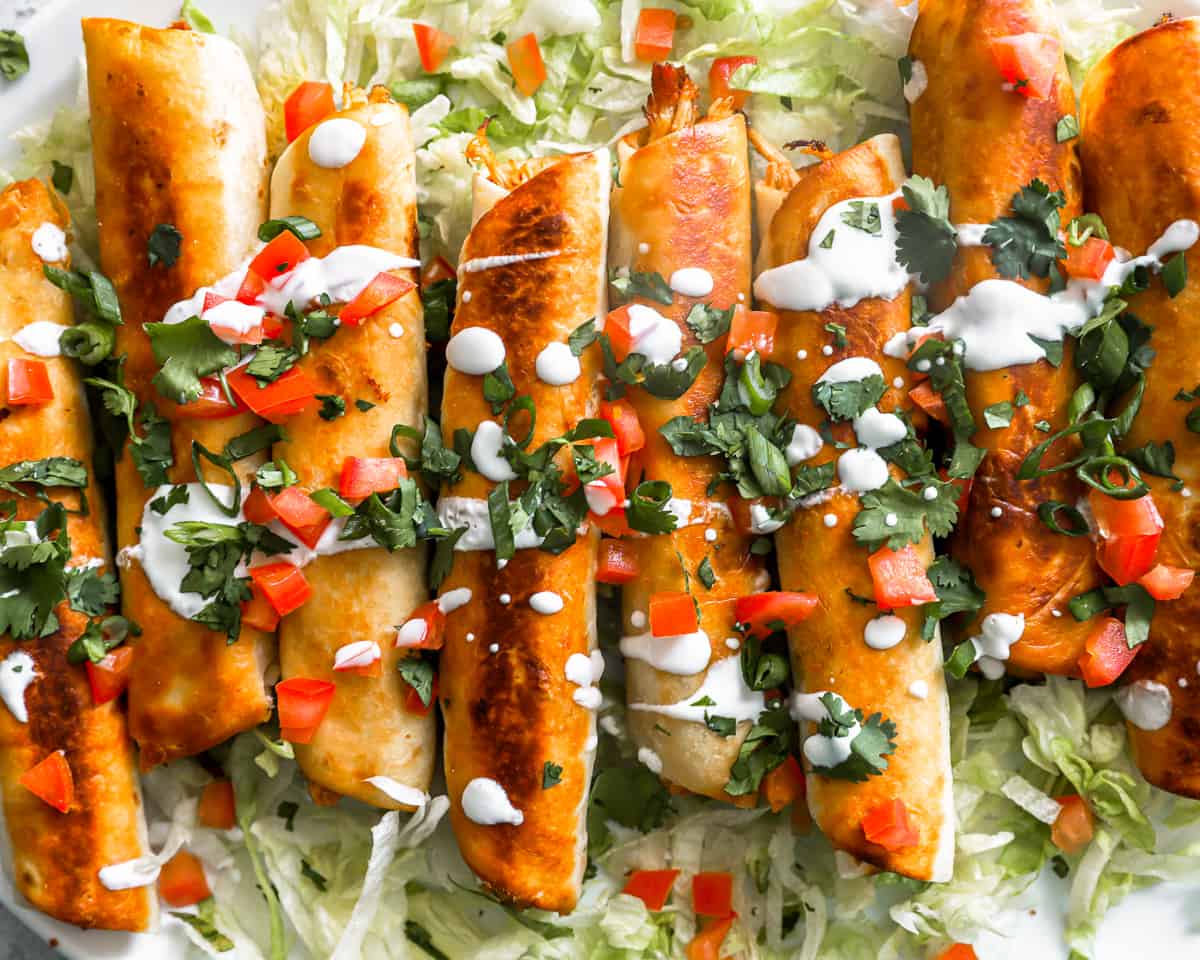 How to Store and Reheat
Store leftover chicken flautas in an airtight container in the refrigerator for up to 3 days. Reheat in a 350°F oven for about 10 minutes, or until warmed through.
How to Freeze
Freeze rolled chicken tacos individually wrapped in 2 layers of plastic wrap and 1 layer of aluminum foil, for up to 2 months. Reheat directly from frozen, adding a few minutes to the bake time.
What to Serve with Chicken Flautas
Cheesy, warm, and flavorful chicken flautas are worth celebrating! If you're looking for Cinco de Mayo appetizers, pair these flautas with a tall Margarita to really get the party started. Top your flautas with fresh guacamole, pico de gallo, sour cream, and shredded cheese, and serve them with a side of cilantro lime rice and refried beans. They're also great for dipping, so try my favorite white queso for pure bliss!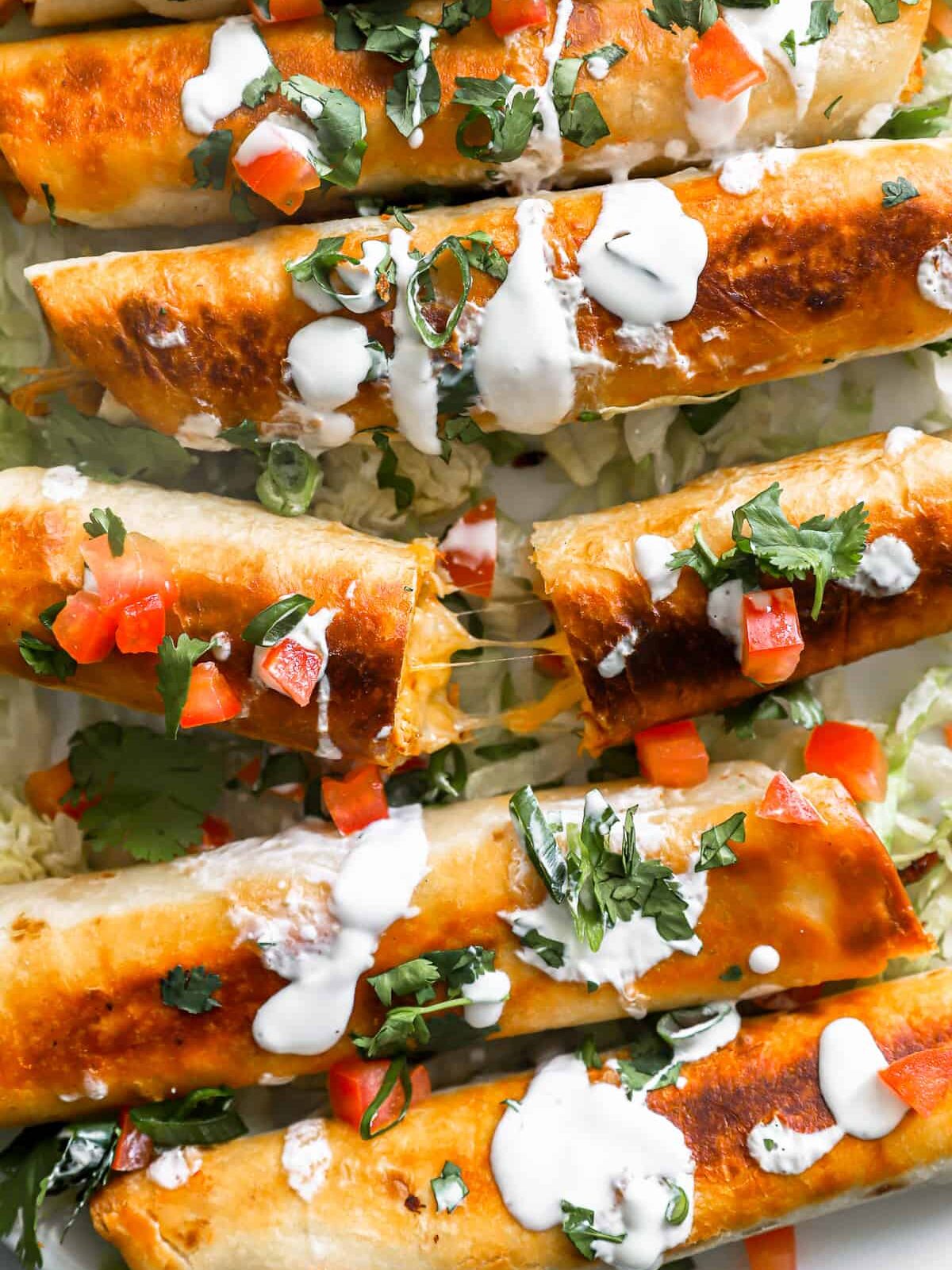 More Rolled Taco Recipes We Love