Walking Tacos combines typical taco ingredients in a bag of corn chips, so you can eat them on the go! Add seasoned ground beef, cheese, tomatoes, lettuce, and other taco toppings to the bag, grab a fork, and chow down. It's an easy lunch or snack for busy days, and the kids always love eating these.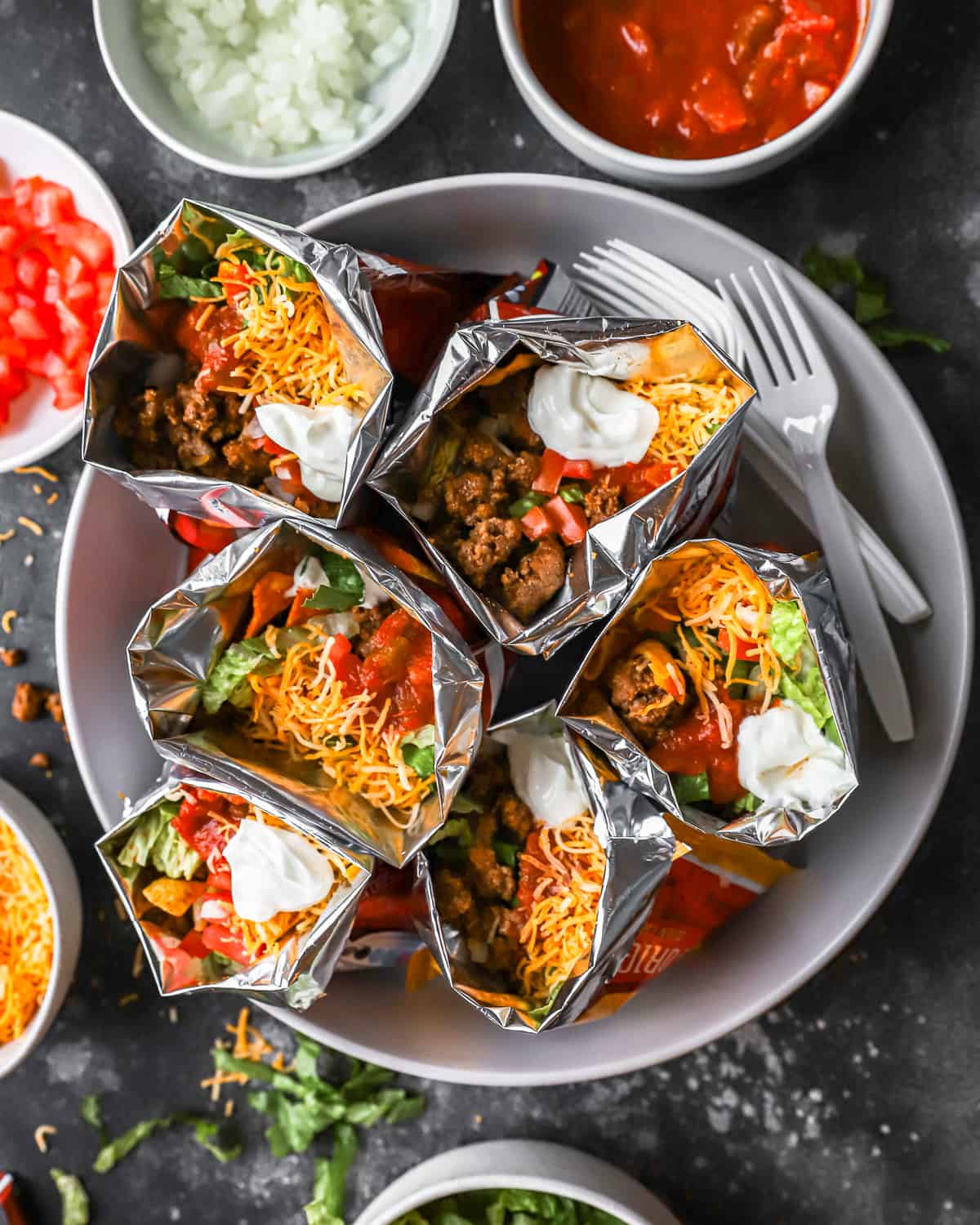 What's in this Walking Taco Recipe?
If you've ever wished you could take your tacos with you, this walking taco recipe is going to be your new favorite! Assembled right in the chip bag, these deconstructed tacos are portable, mess-free, and so much fun.
Ground Beef: I used 85% lean, but any ground beef will work. Just make sure to drain off the excess grease.
Taco Seasoning: This mix go spices adds a tasty taco flavor to the ground beef. You can use store-bought or homemade.
Corn Chips: Grab a variety pack of 1-ounce chip bags to make all different flavors! Frito's and Dorito's are the most popular options.
Lettuce: Adds a bit of crunch and freshness.
Tomatoes: Add a pop of juicy freshness. I like roma tomatoes, but any kind will work.
Onion: Adds a bit of sweetness and bite.
Cheddar Cheese: You could also use your favorite cheese, like Monterey jack or Mexican blend.
Pro Tip: Serve these tacos in a bag topped with salsa and sour cream!
Variations on Walking Taco Bags
You can make these tacos with any kind of chips you like. Fritos, Doritos, ruffle chips, or even Cheetos work well. You can also make your own homemade tortilla chips and serve these walking tacos in Ziplock baggies.
For a healthier alternative, swap out the ground beef for turkey, chicken, or vegetarian chili! And feel free to add more toppings, like guacamole, street corn salsa, or pico de gallo.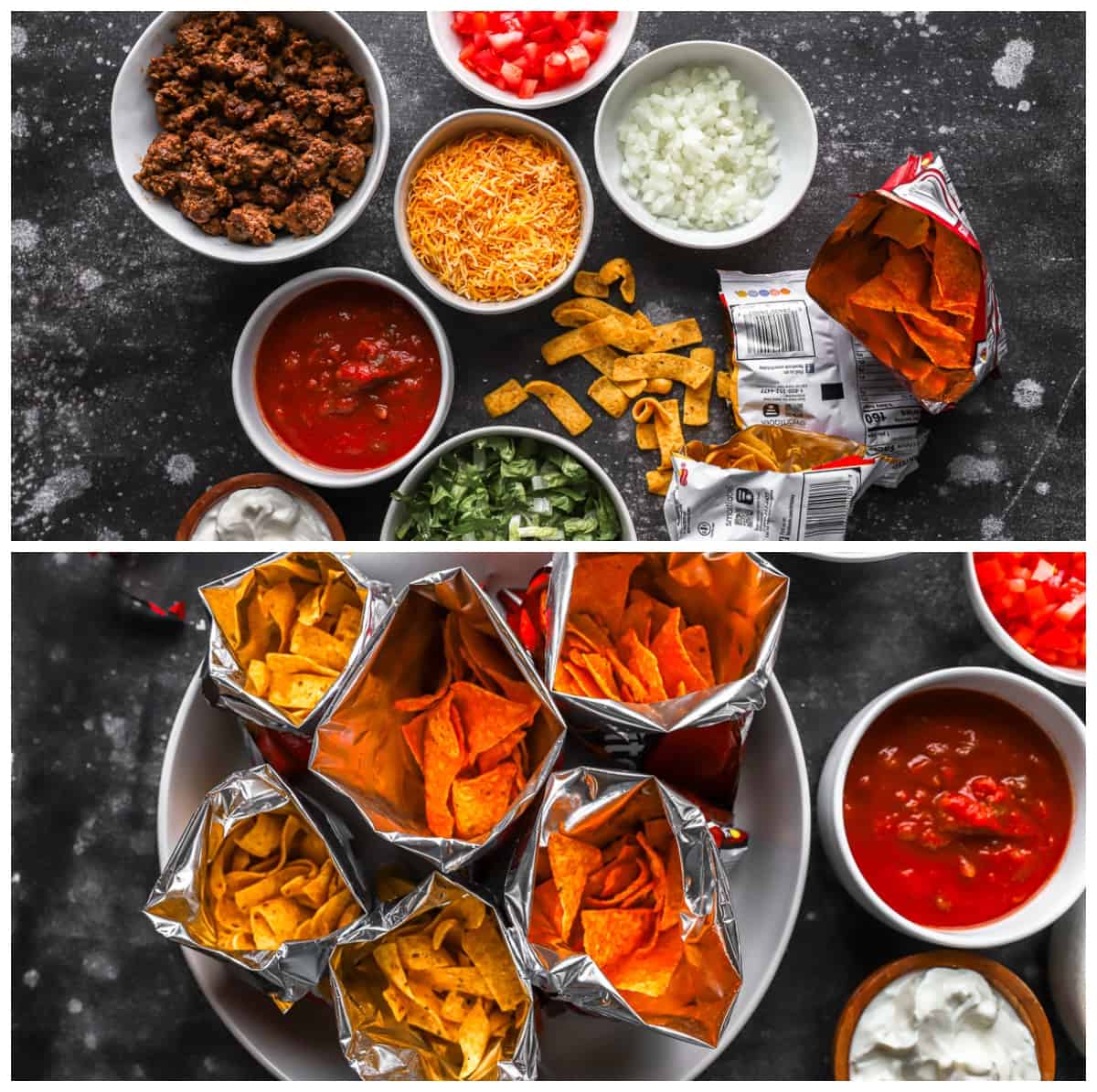 What is a walking taco?
This fun take on a classic taco is assembled in a bag of corn chips!
Why is it called a walking taco?
These tacos are named because you can walk around while eating them without making a mess, because everything is contained in the chip bag.
What is the difference between a taco and a walking taco?
A traditional taco is served in a tortilla, whereas a walking taco is served in a bag of chips.
Are walking tacos a Midwestern thing?
Walking tacos is the Midwestern name for this dish. It also goes by the name Frito pie or tacos in a bag.
How are you supposed to eat a walking taco?
You eat these fun tacos with a fork!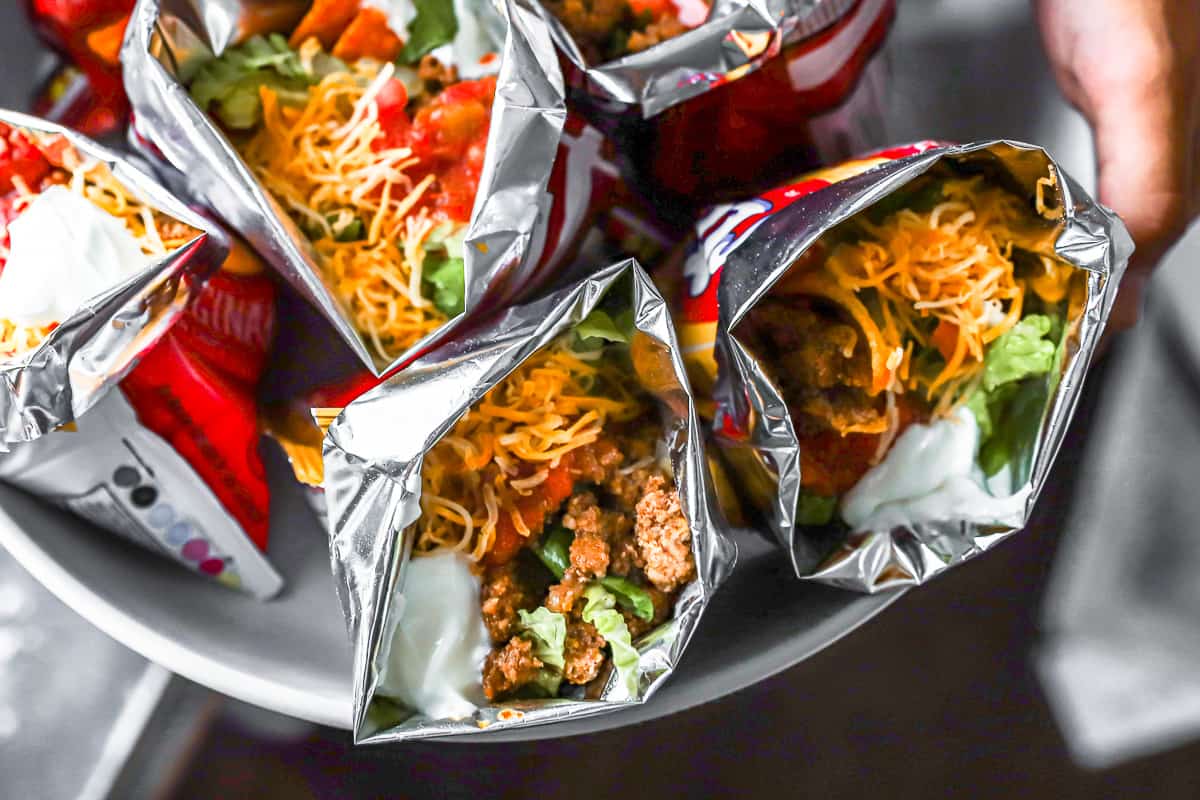 How to Store and Reheat
Store leftover walking tacos in an airtight container in the refrigerator for up to 4 days. I recommend keeping the component parts stored separately, then assembling the tacos as you plan to eat them. Reheat the beef in the microwave or on the stove set over medium-low heat.
How to Freeze
While I don't recommend freezing the assembled tacos, you can freeze the ground beef for up to 3 months. Let thaw overnight in the refrigerator before reheating.
Serving Suggestions
The great thing about these walking tacos is that they're a complete meal in a bag! To get a street food feel, serve them alongside esquites cups. If you're sitting still, you can also serve them with sides like refried beans or Mexican rice.
They make a great party snack and can be served as part of an appetizer spread including taquitos, enchilada cups, avocado egg rolls, Mexican pinwheels, 7 layer dip cups, Mexican potato skins, or chicken empanadas.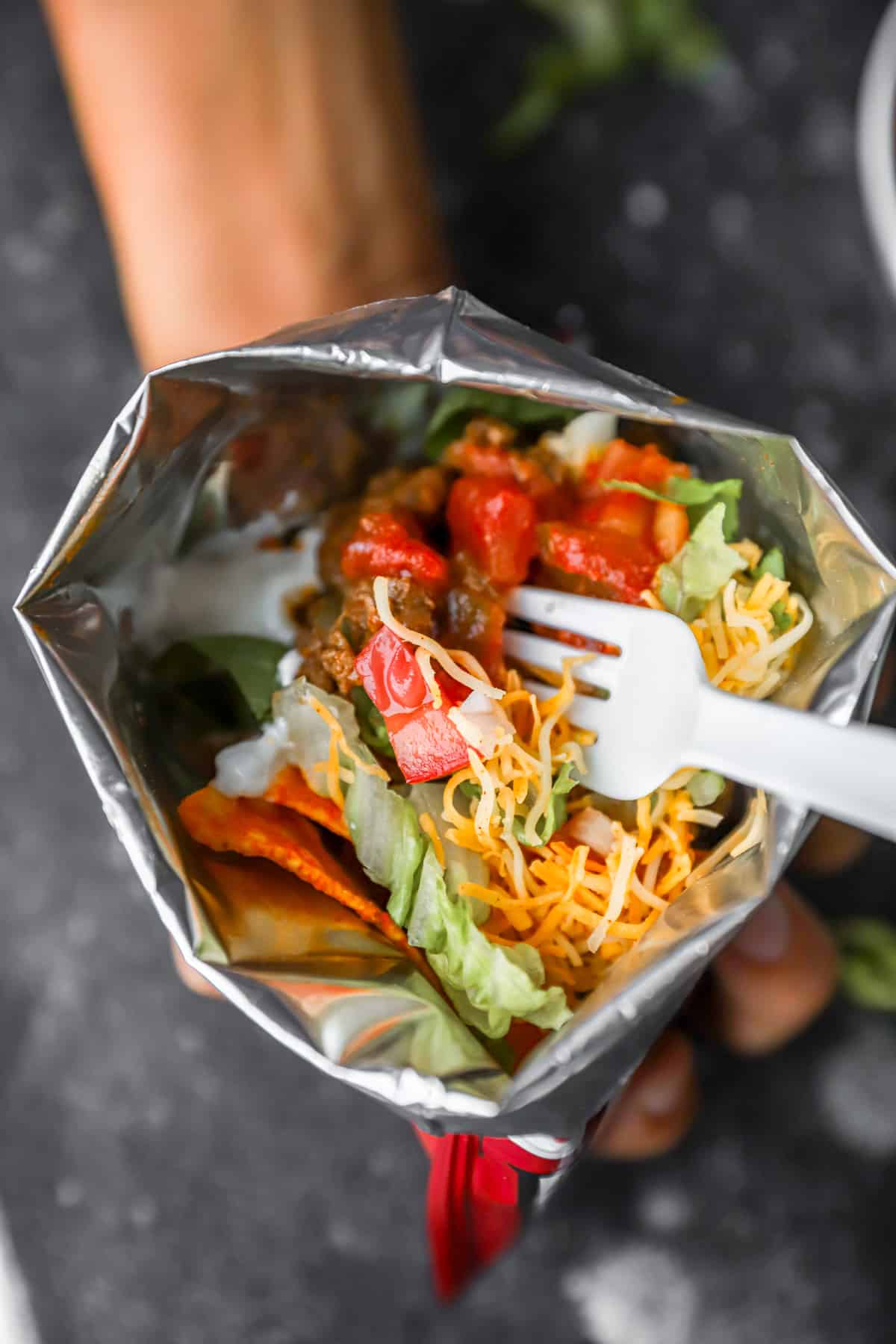 More Beef Taco Recipes We Love