This stuffed Turkey Roll recipe (aka turkey roulade) is the perfect Thanksgiving or holiday dinner! Juicy turkey breast is filled with garlic, apple, and herb stuffing, slow-roasted in the oven, and served with rich gravy. You'll have delicious turkey and stuffing in every bite!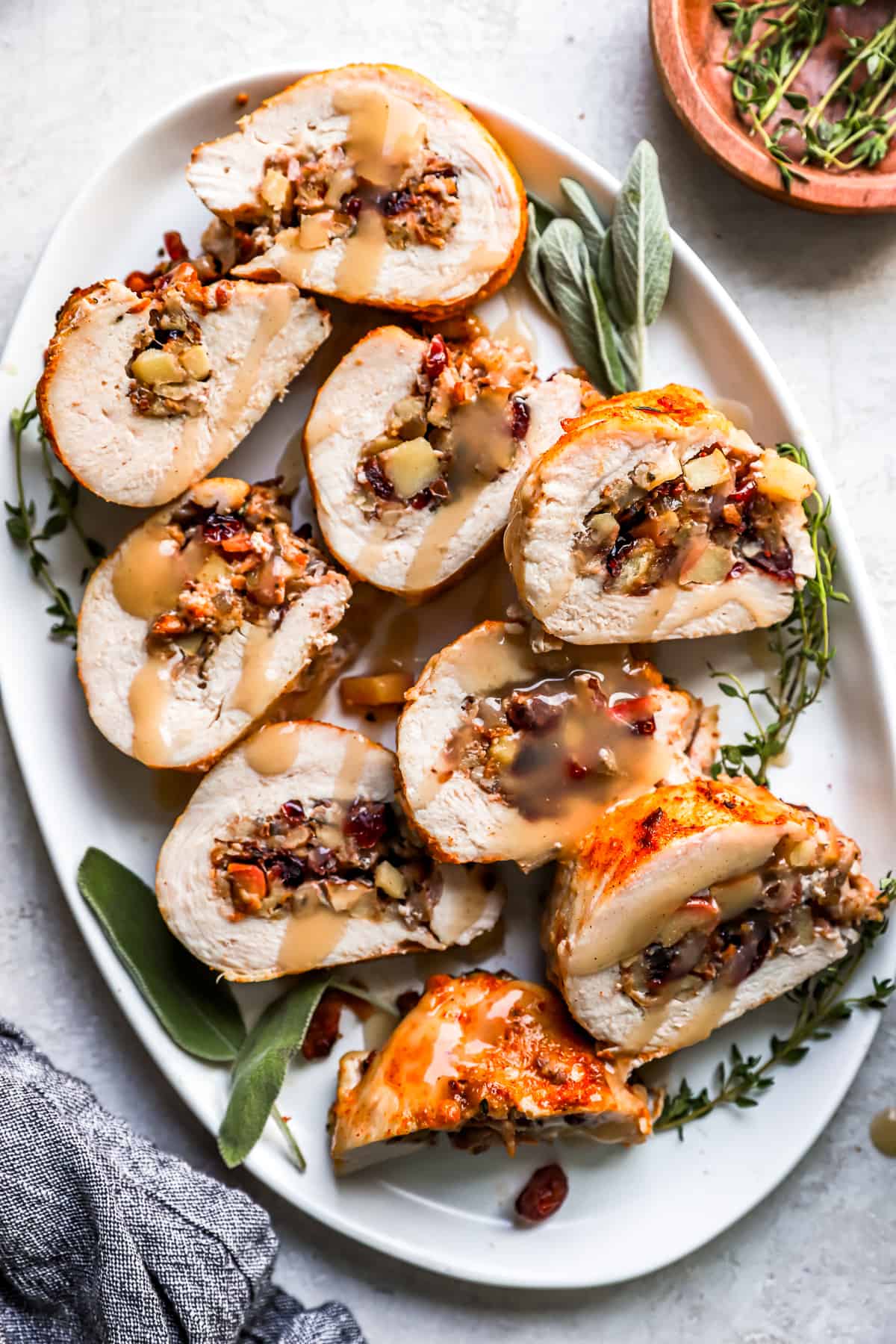 Why We Love This Turkey Roll Recipe
This impressive turkey roll is filled with sweet and savory stuffing, rolled up, and tied with kitchen twine to create show-stopping slices of turkey breast!
Flavorful. The combination of bacon, apples, cranberries, pecans, and herbs makes the filling sweet, savory, and so delicious.
Festive. Turkey and classic Thanksgiving flavors make this dish perfect for the holidays.
Beautiful. The finished slices of this turkey roulade are so impressive!
Variations on Turkey Roulade
You can change up the stuffing ingredients to alter the flavor of this turkey roll. Consider incorporating vegetables like sautéed spinach or mushrooms, roasted red peppers, or caramelized onions into the stuffing mixture. Or add a layer of your favorite cheese, like gruyère, Swiss, or feta.
You could also brush the rolled turkey breast with a glaze or sauce before baking, like maple glaze, Dijon mustard sauce, or a balsamic reduction for added depth of flavor.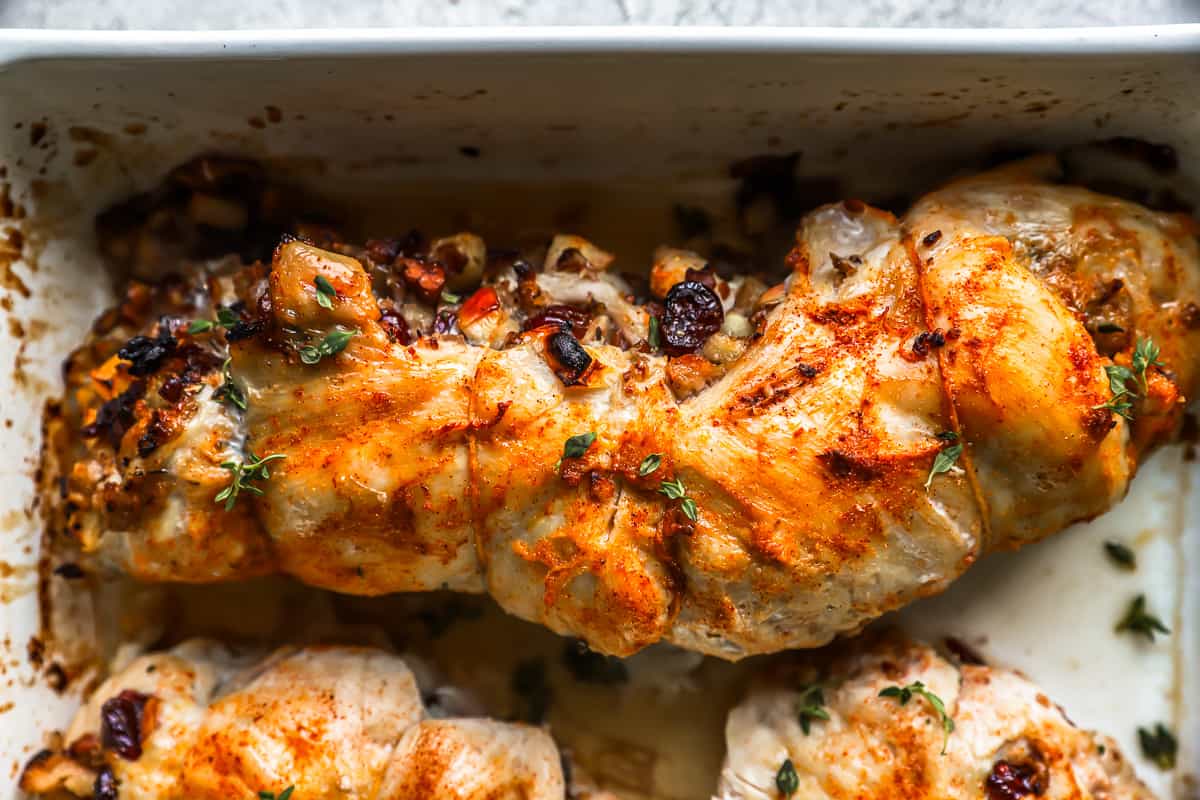 How to Store and Reheat
Store leftover turkey roll in an airtight container in the refrigerator for up to 3 days. Reheat individual slices in a 350°F oven for 10-15 minutes, or in the microwave in 30-second increments until warmed through.
How to Freeze
Freeze slices of stuffed turkey roulade in individual airtight containers or Ziplock bags for up to 3 months. Let thaw overnight in the refrigerator before reheating.
Serving Suggestions
Serve this sweet and savory turkey roll with creamy mashed potatoes, cranberry sauce, Thanksgiving rolls, and honey glazed carrots, or any of your favorite Thanksgiving sides. Drizzle everything with some turkey gravy for an easy Thanksgiving-inspired meal any time of year.
What is a turkey roll made of?
A turkey roll consists of a flattened turkey breast stuffed with stuffing, rolled, and tied up with kitchen twine to keep its shape. This particular recipe uses a sweet and savory stuffing featuring breadcrumbs, dried cranberries, apple, and pecans.
How do you cut a turkey breast for roulade?
If your breast is thin enough to begin with, you can simply pound it out to a large shape. If it is very thick, you'll need to butterfly it before stuffing to create enough surface area to stuff and roll.
How do you truss a turkey roulade?
Simply roll up the turkey breast, then tie pieces of twine around it at 1-inch intervals to hold it closed.
Do you cook a turkey roll covered or uncovered?
I prefer to bake my turkey roll covered for the majority of the bake time to seal in moisture. Uncover in the last 15 minutes to encourage browning.
How long do you cook a turkey roll per pound?
It should take 13-16 minutes per pound for this stuffed turkey breast to cook through.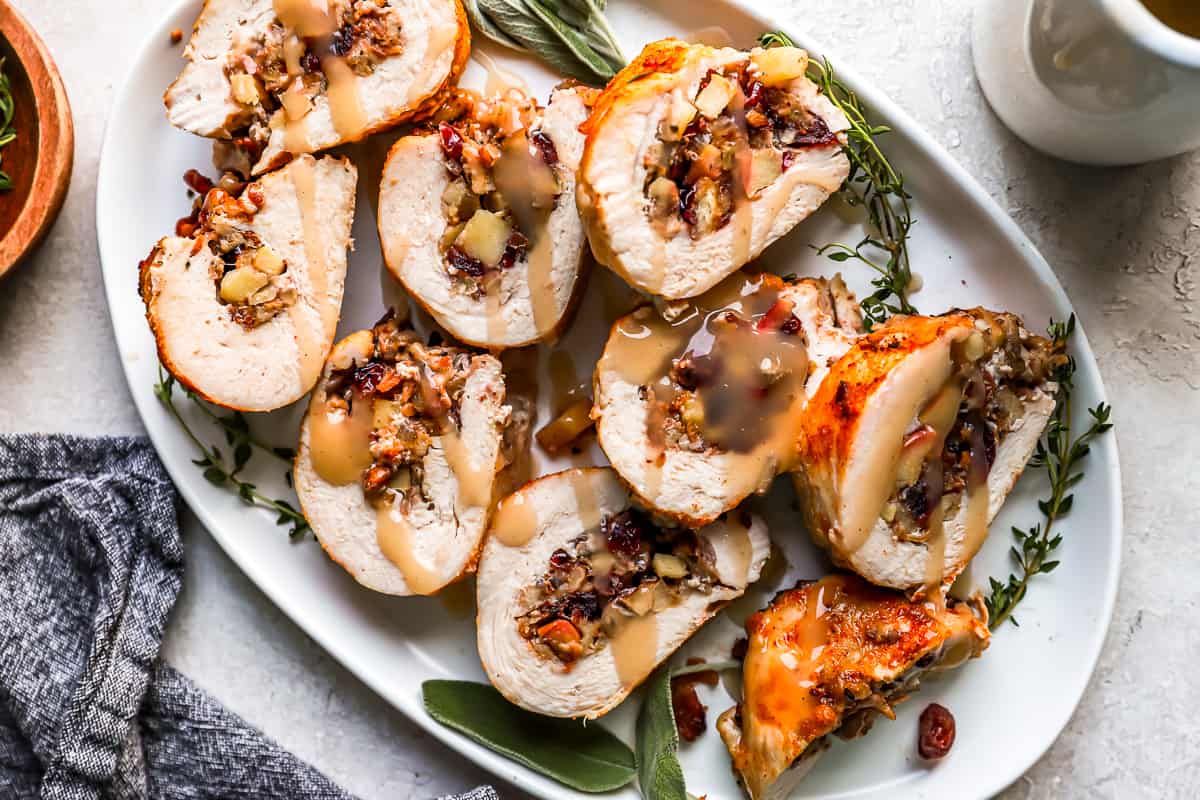 More Turkey Breast Recipes To Try
How to Make a Turkey Roll Step by Step
Fry the Bacon: Fry 5 slices of bacon until crispy. Remove from the pan and place on a paper towel-lined plate. Then, crumble the bacon.
Make the Stuffing: In the same pan with the bacon grease, add in ½ of a chopped onion and a sprinkle of salt. Sauté until softened. Add in 2 cloves of minced garlic, 1 chopped apple, ½ cup of dried cranberries, and 1 tablespoon of chopped fresh herbs. Cook for a few minutes until the apples are softened. Stir in ½ cup of breadcrumbs, ⅓ cup of chopped pecans, and the crumbled bacon.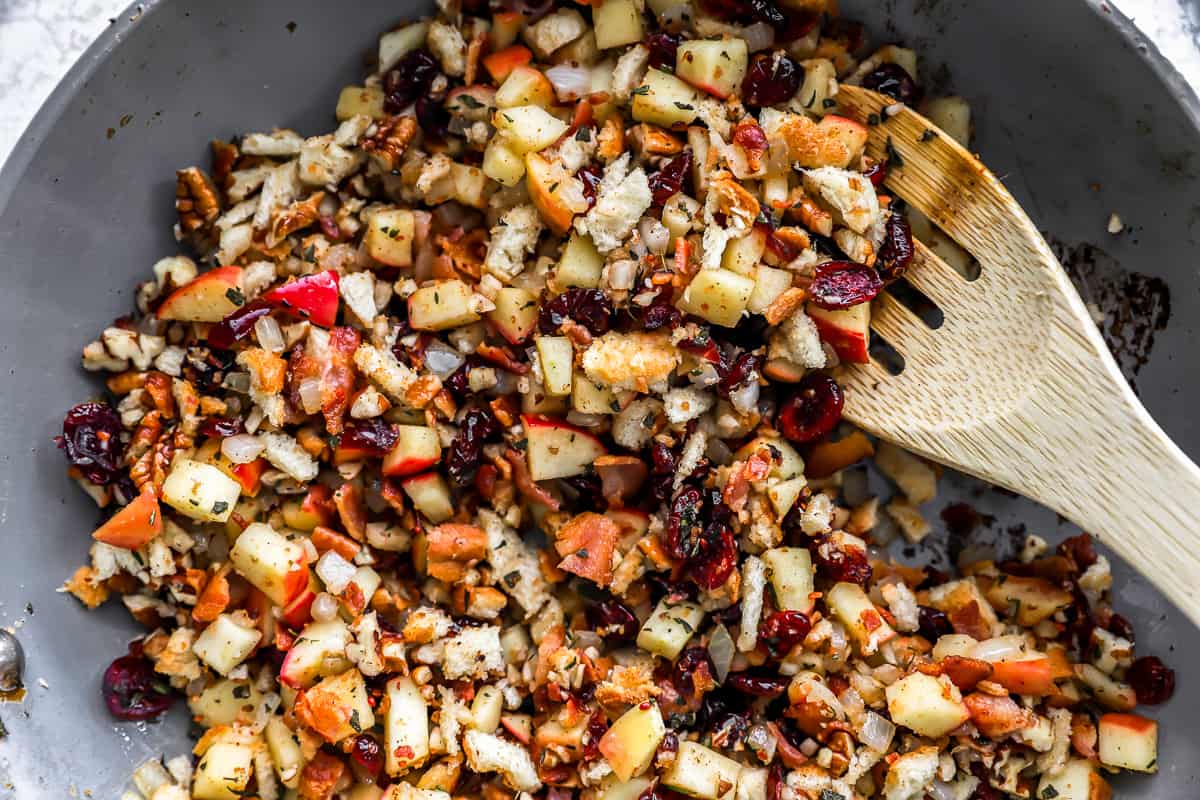 Pound the Turkey: Preheat the oven to 375°F. Place 1 3-4 pound boneless, skinless turkey breast between 2 pieces of parchment paper or plastic wrap. Pound the turkey thin with a rolling pin or meat mallet. Spread an even layer of the apple cranberry mixture over the surface of the turkey breast.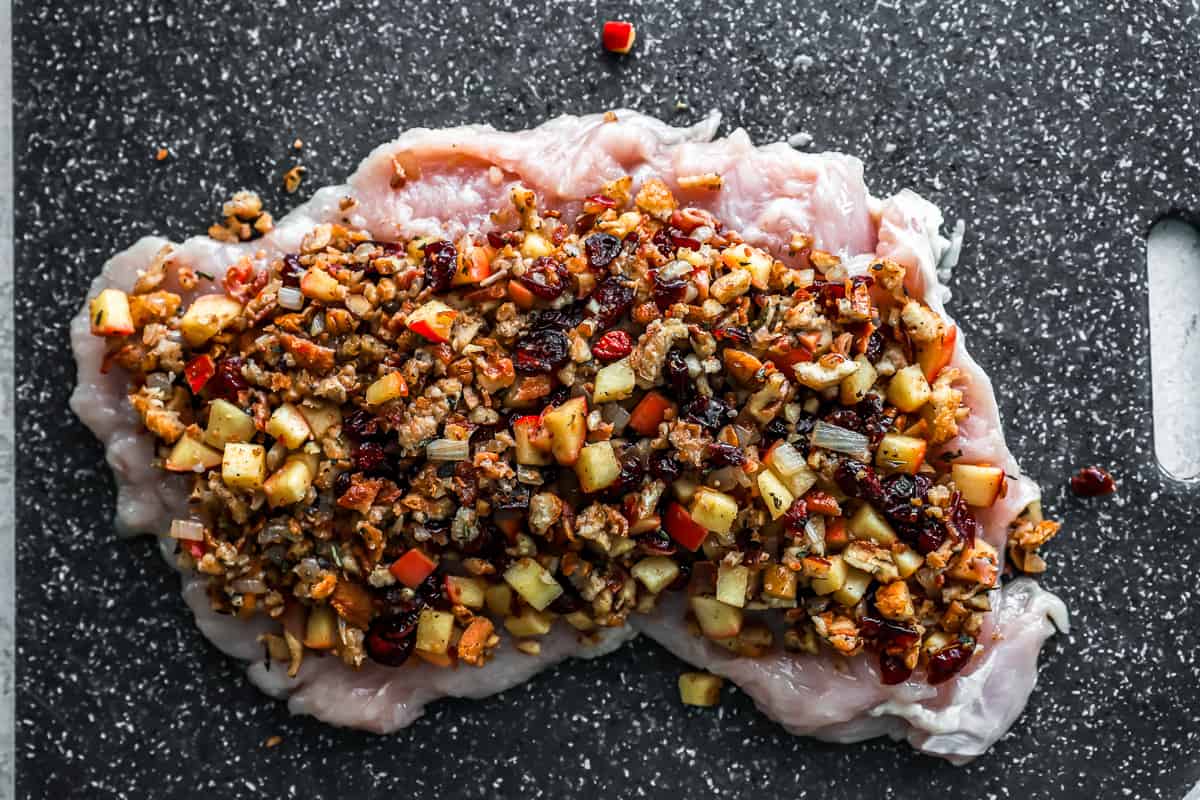 Roll the Turkey: Gently roll up the turkey breast and secure it with kitchen twine. Combine 1 teaspoon of kosher salt, ½ teaspoon of onion powder, ¼ teaspoon of garlic powder, and ¼ teaspoon of ground paprika in a small dish. Rub 1 tablespoon of olive oil and the spices over the outside of the turkey breast.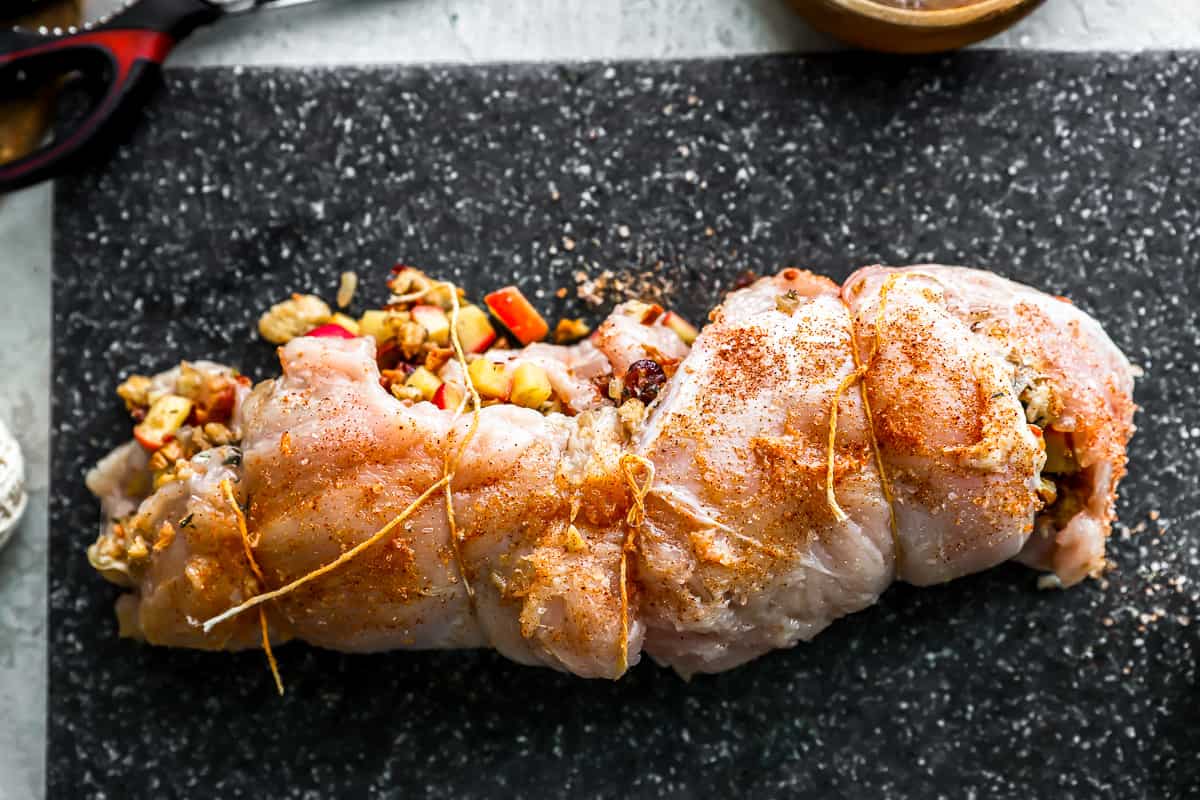 Bake the Turkey: Place the turkey in a greased casserole dish and cover with foil. Bake for 35 minutes. Then, remove the foil, and bake for another 15 minutes. Broil for the last 2-3 minutes if desired. Let the turkey rest for 5 minutes. Then, slice and serve with gravy.