APPLE PIE SANGRIA is one of my all-time favorite drinks for Fall! It was one of the first recipes I made for the blog, and it is still one of my most popular. Yes the pictures are outdated, but I mean isn't Scout so cute?! I hope you enjoy this Apple Pie Sangria throughout the years as much as we have!
Be sure to try our other Sangrias as well!! Sugar Plum Sangria, Champagne Sangria, Chocolate Covered Cherry Sangria, and Peach Pie Sangria! Click on the titles to see the recipes :)
its officially autumn, and i'm officially in love with this new drink, Apple Pie Sangria.  it is….amazing.  it tastes like leaves turning colors and christmas on its way! (i know i'm very dramatic) but this drink really is SO good.  its simple, has only a few ingredients, and was a big hit.  it even had beer drinking men asking for more.
last year my mom and i made my reigning favorite drink, the caramel apple hot toddy. this drink isn't all that different in its ingredients, but its so refreshing and light.  it might just be my new favorite!
i used to have an irrational fear of making sangria.  i really have no idea why.  i can't wait to try more types now…now that i know all it takes is: cut some fruit, add everything together, and stir.  couldn't be any easier than that.
i let it sit overnight and then added two cinnamon sticks about 2 hours before serving.  i didn't want the cinnamon to be too strong, but the subtle flavor was great.  (note: you can also save the club soda until right before serving if you want the bubbly effect.  i used it more to cut the sweetness, but it would be good bubbly!)and be sure you stir, stir, stir,  stir it plenty before it sits overnight and stir some more before you serve.
the secret (and key) ingredient to the Apple Pie Sangria is the caramel vodka.  You can either use Caramel Vodka or Apple Pie Vodka. (Homemade recipe for APPLE PIE VODKA is HERE!) i love that it isn't overpowering, but really adds to the taste.  that stuff is dangerous!
i used honey crisp apples, and they were delicious.  they have so much flavor.
we have made this a couple times to try it out with different types of white wine.  my favorite is the white table wine (sweet, fairly light, and inexpensive), and my husbands was the pinot grigio.  I liked it both ways, but the pinot made the drink considerably less sweet.  definitely a personal judgment call.  if you like sweeter, go with a sweet table wine, riesling, or moscato.  if you prefer it a tad dryer, go with the pinot grigio.  hope that helps! or you could do one bottle of each!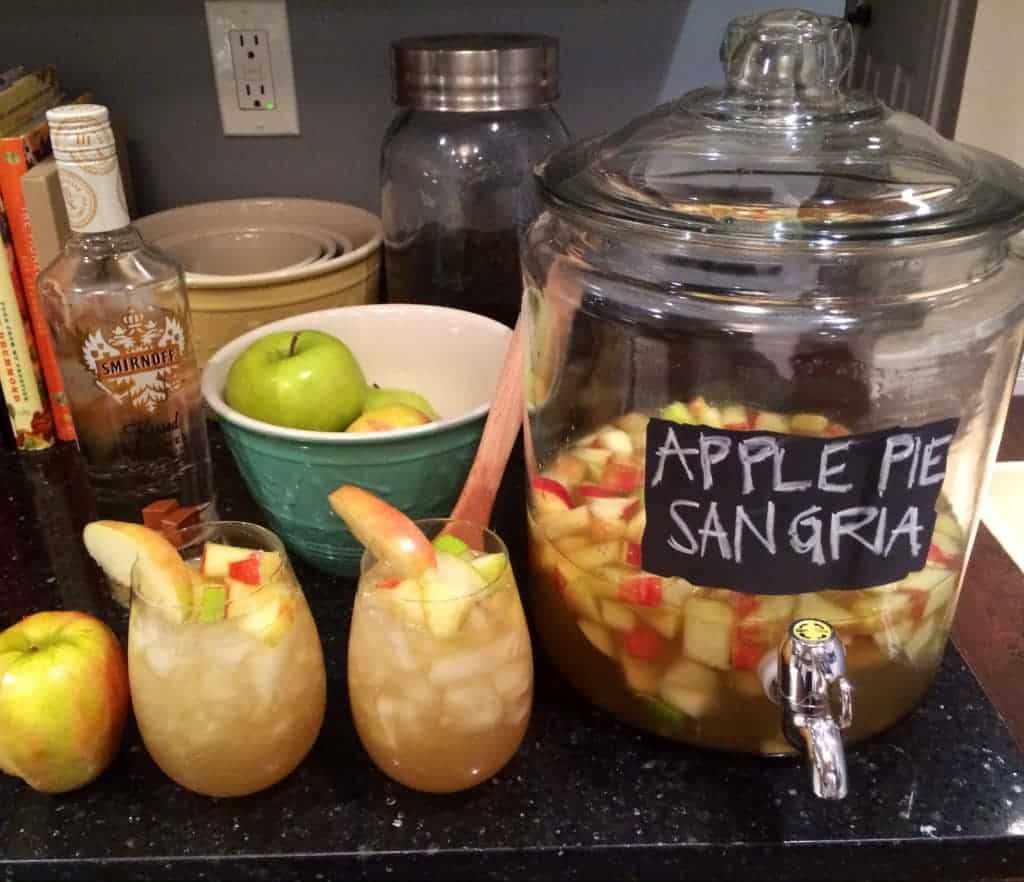 isn't that a great jug? TARGET! the wonderful kupferle family got us that as a housewarming gift.  so cute.
scout lives to model.  and lives for food.  so this blog is her heaven. 
enjoy! and happy autumn :)
in need of some great complimentary recipes?! try these!
the cookie rookie
Apple Pie Sangria
the perfect sangria for fall and winter. absolutely delicious!
Ingredients
2 bottles (standard size) white table wine, riesling, or moscato (we used table wine because its inexpensive and I like the sweetness with the cider. if you want to make it less sweet, use something like a pinot grigio of sauvignon blanc...or do one bottle of sweet and one bottle of dry for somewhere in between)
5 cups fresh apple cider
2 cup club soda
1 cup caramel vodka or apple pie vodka (recipe for HOMEMADE APPLE PIE VODKA HERE
4 honey crisp apples, chopped
3 pears, chopped
2 cinnamon sticks
Instructions
cut the fruit and place in the bottom of your pitcher or jug
combine all of the ingredients except the cinnamon sticks
stir, stir, stir
let sit overnight (or at least a couple hours)
about 4 hours before serving, throw in the cinnamon sticks
stir, stir, stir :)
serve over ice
enjoy!
**note: you could also save the club soda until right before serving. this would make the drink a bit crisper
7.6.4
2061
http://www.thecookierookie.com/apple-pie-sangria/
JOIN OUR MAILING LIST
TO GET COOKING!
Subscibe to recieve all the latest, greatest, and EASIEST recipes sent straight to your email inbox. If we post something yummy, you'll be the first to know.