CREAMY WHITE CHICKEN CHILI RECIPE WITH CREAM CHEESE is the ultimate comfort food! The best White Chicken Chili recipe out there! This Cream Cheese Chicken Chili is loaded with everything good and so comforting on a cool night. We top ours with avocado, jalapenos, sour cream, and more! BEST CHILI RECIPE EVER.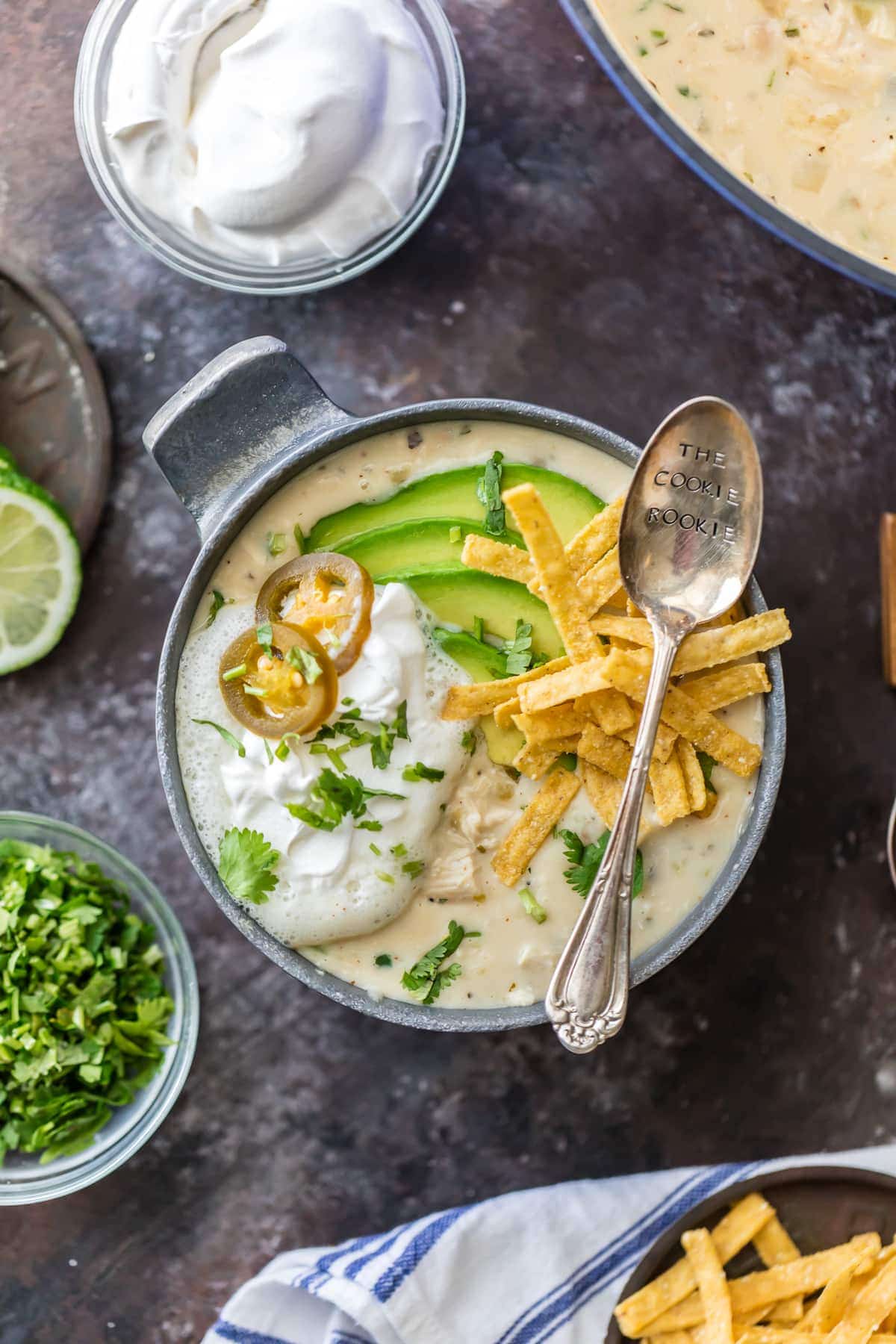 Creamy White Chicken Chili – THE BEST
CreamyWhite Chicken Chili is the only white chicken chili you'll ever need. THIS RECIPE!!! Since I cook so much, it takes a lot for me to get really really really excited about a new recipe.
It's SO easy (just how I like my recipes) and made in minutes. You can have the ultimate comfort food on your table (and in your freezer for later feasting) in about 30 minutes! You won't be disappointed, trust me!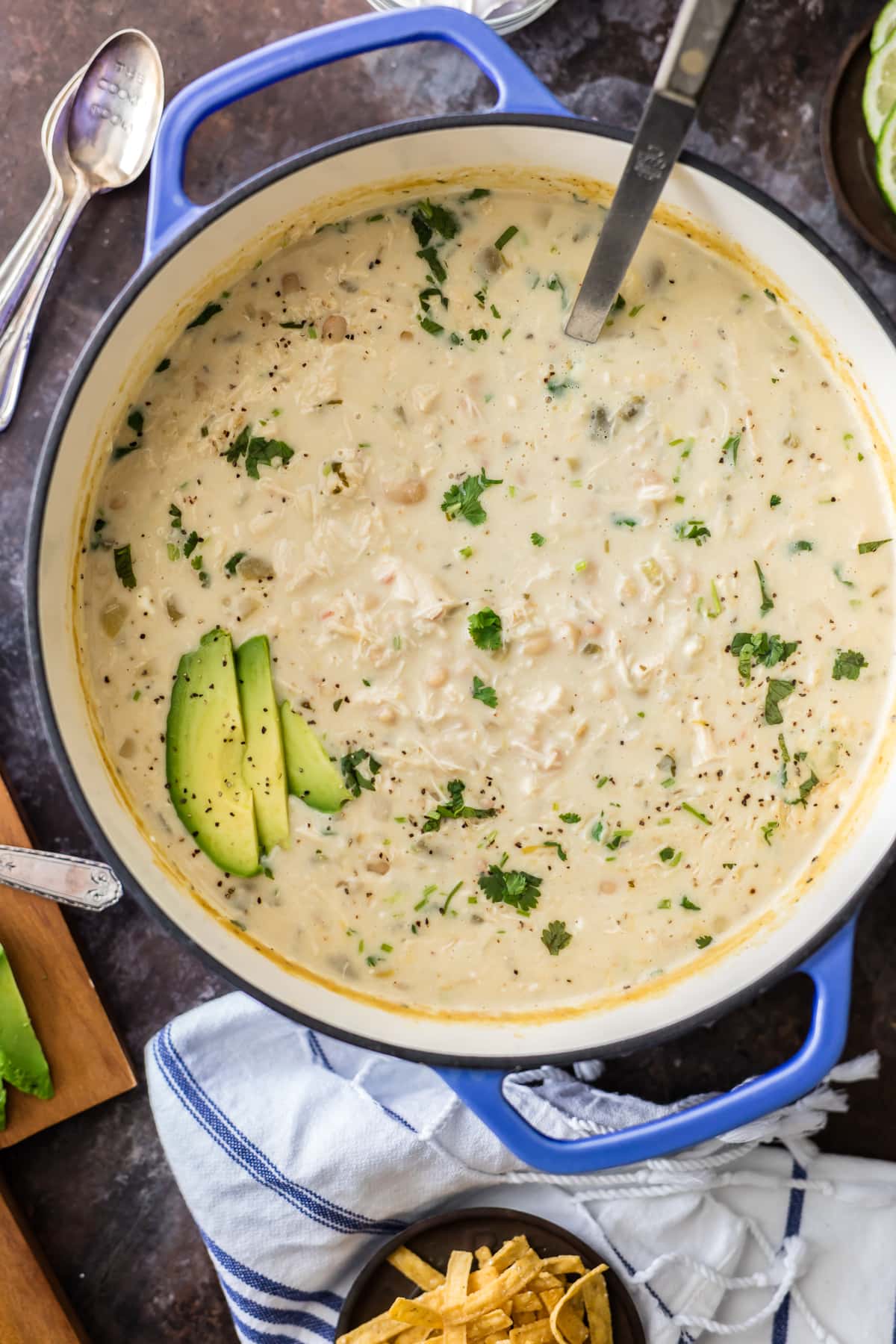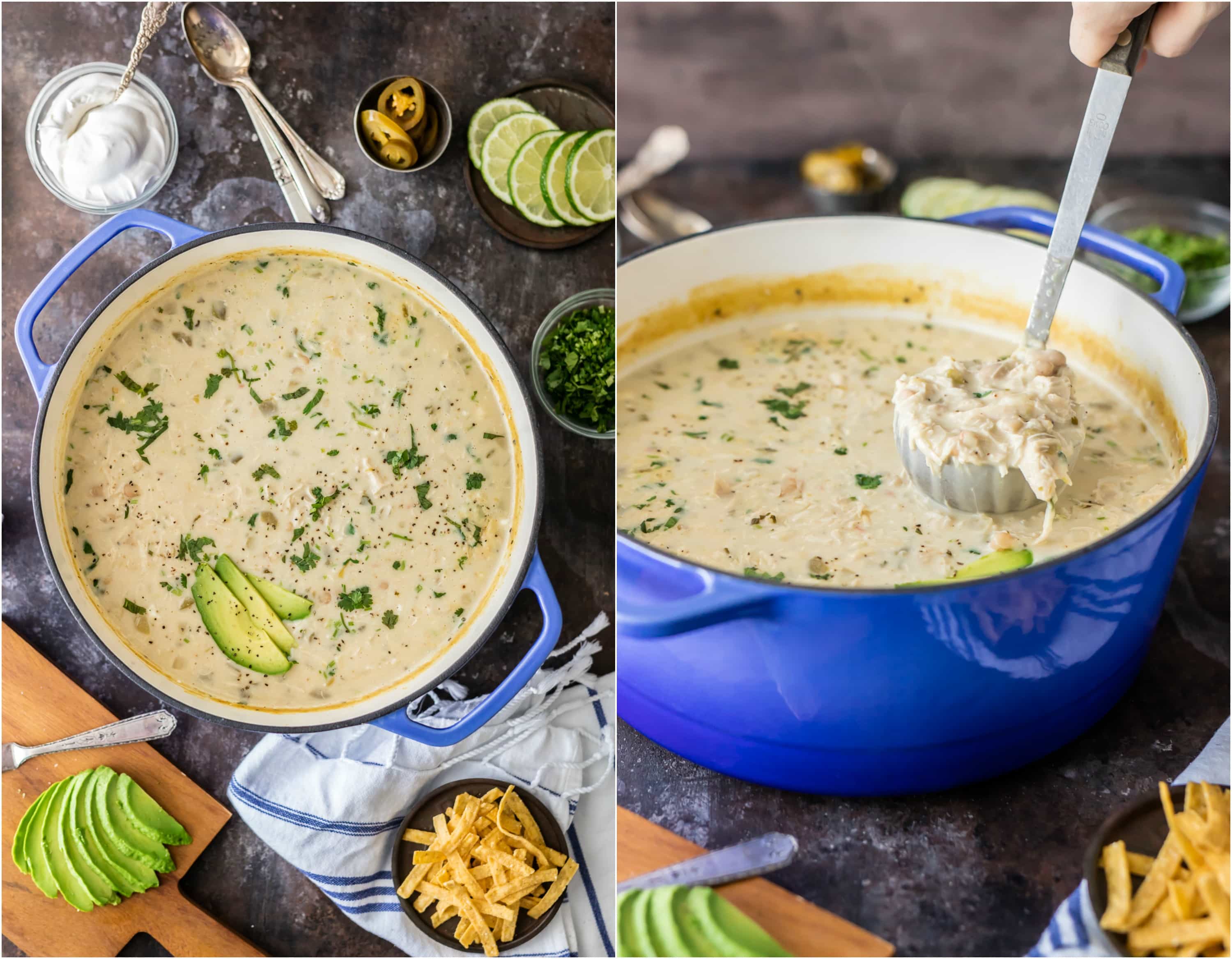 The Best White Chicken Chili Recipe
I realize it's not a healthy recipe, but I want it in bulk anyway. I've got to be shivering off some calories….right? It's just the ultimate comfort food plus it's SO easy!
This Creamy White Chicken Chili with Cream Cheese is loaded with everything that makes White Chicken Chili a favorite; chunky chicken, lots of spices, beans, fresh cilantro, and green chiles. YUM! Then to kick things up a big notch, I added heavy cream and cream cheese. TO DIE FOR!
This Chili Recipe was good on its own, but it was REALLY GREAT with all the creaminess. This recipe is meant for a crowd (up to 14!), but I'm selfish. I didn't share it with anyone and instead froze a bunch for later. I'm already looking forward to eating it all Fall, the best! The best Creamy White Chicken Chili EVER! (and the easiest…win win!)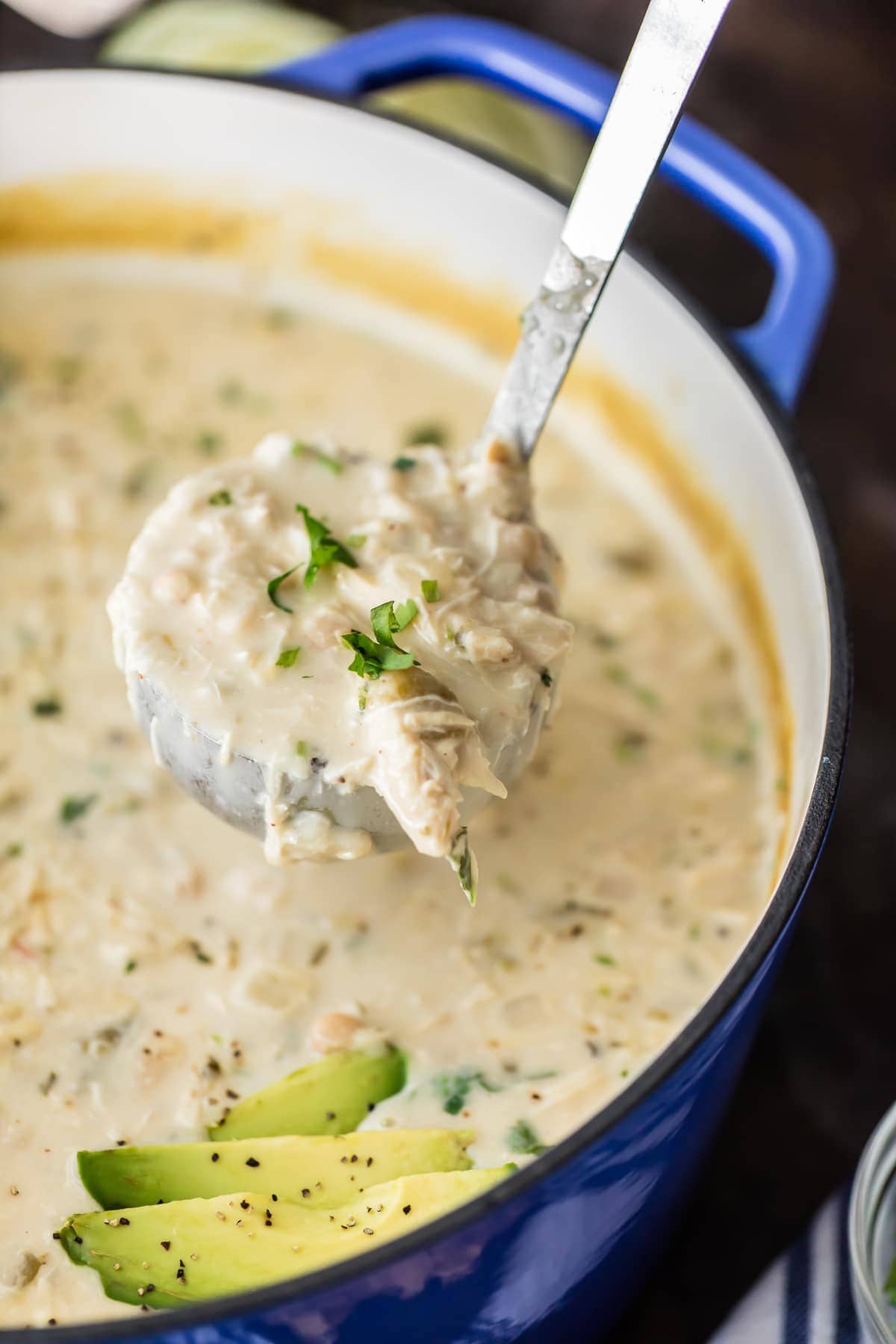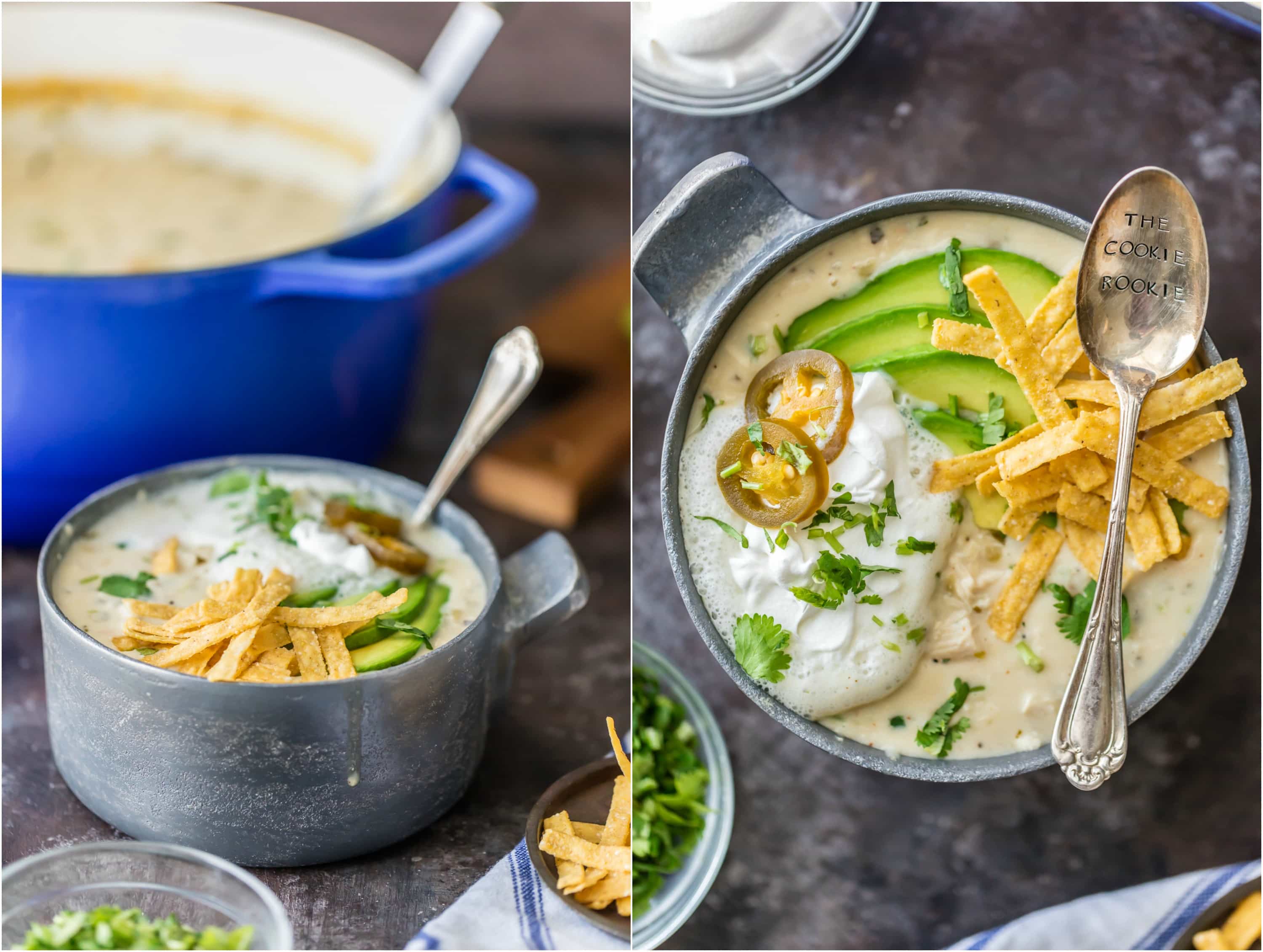 A good White Chili Recipe can't be beat. It's such an important recipe to have in your arsenal.
I like to think this is one of the best chicken chili recipes out there…I hope you try it and let me know what you think! We have been making Cream Cheese Chicken Chili for years now and it's a hit every single time!
If you make this Creamy White Chicken Chili with Cream Cheese…please don't let me down by forgetting ALL THE TOPPINGS! Go as crazy as possible…tortilla strips, sour cream, cilantro, avocado, jalapeños, or shredded cheese!
You can't go wrong…unless you skip them all together! Make this a feast…you deserve it! You just slaved away in the kitchen for around 30 minutes…whew! :)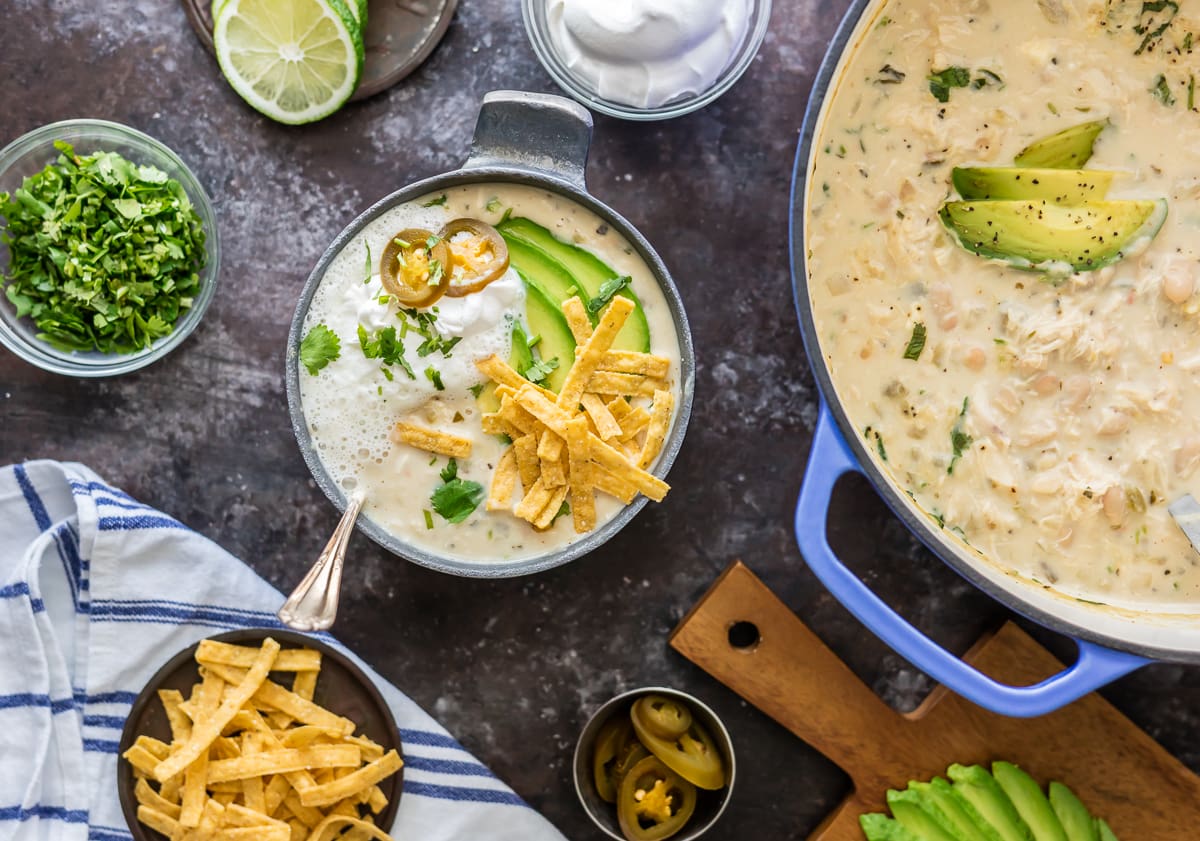 Tips for Making White Chicken Chili
I make it no secret that my Mom's Chili is the Best Chili Recipe Ever…but this Creamy White Chicken Chili is a close second.
I go back and forth on which one to take to chili cook-offs. This recipe has won a few awards for readers and nothing makes me happier!
I hope this Creamy White Chicken Chili with Cream Cheese makes all of your comfort food dreams come true. I know it did mine! Speaking of…it's calling my name. If White Chicken Chili isn't your thing, I bet you'd love our Best Chili Dog Recipe, Best EASY Chili Recipe, Instant Pot Chili Verde, Crockpot Chili, Crock Pot Chicken Stew, or our Instant Pot Chili Mac! We have something for everyone, so be sure to check out all of our Soups and Chilis.
Are you looking for something to pair with this Chili Recipe? Try my Cheesy Garlic Cornbread Drop Biscuits, Garlic Butter Hawaiian Rolls, or Oatmeal Molasses Rolls. So yummy!
Watch How to Make Creamy White Chicken Chili in the video or check out the recipe card for full details. Enjoy!