This easy to prep roasted butternut squash is the prefect side dish for fall. Wonderfully salty and sweet, this hasselback squash is flavored with bacon, honey and parmesan.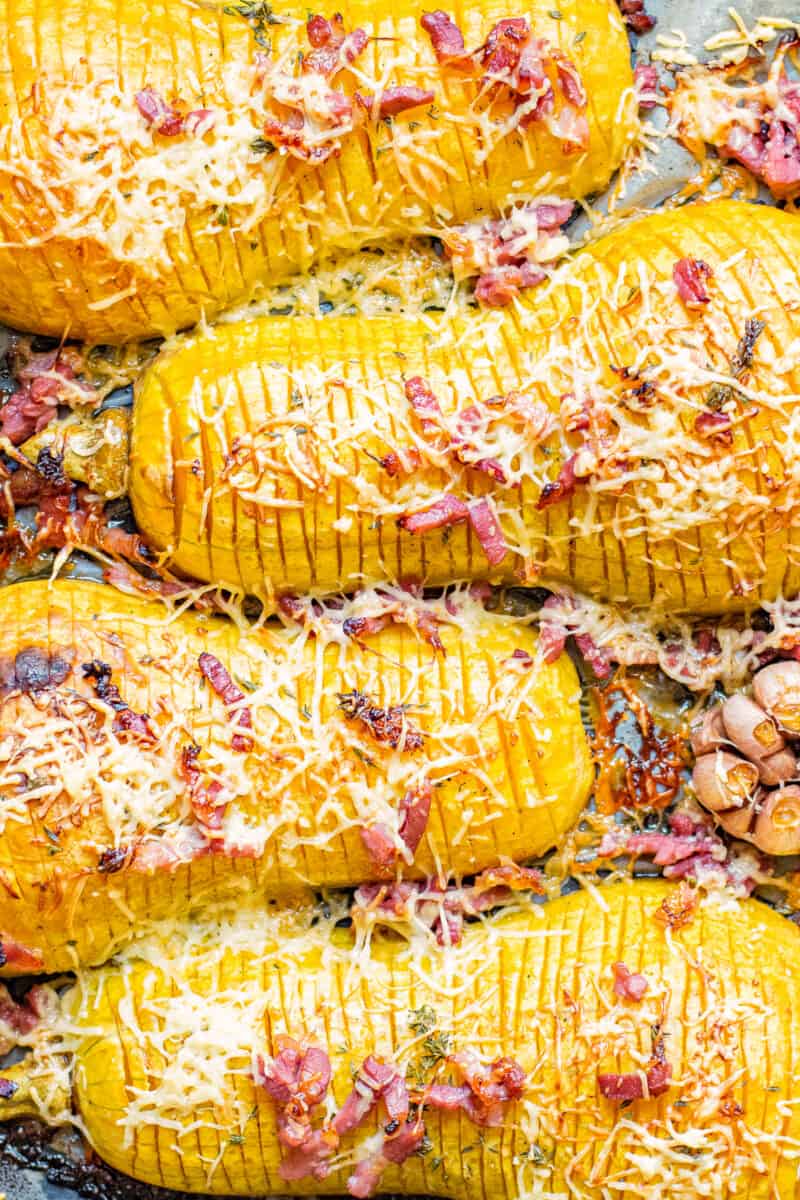 Add a little flare to your fall table this year with this delicious hasselback roasted butternut squash. It's the perfect addition to any Thanksgiving table and can be served as a main or side.
Full of flavor, be sure to impress your guests with this recipe!
If you love butternut squash, be sure to try my Baked Butternut Squash Maple Glaze.
Why you will love this roasted butternut squash recipe!
Easy: It takes about 15 minutes to make this dish before it goes in the oven and is made with simple ingredients.
Perfect for a crowd: This recipe will easily serve 6 as a side, so it's great for holiday and family feasts.
Easy to make vegetarian: This butternut squash is easily customized to make a vegetarian main course.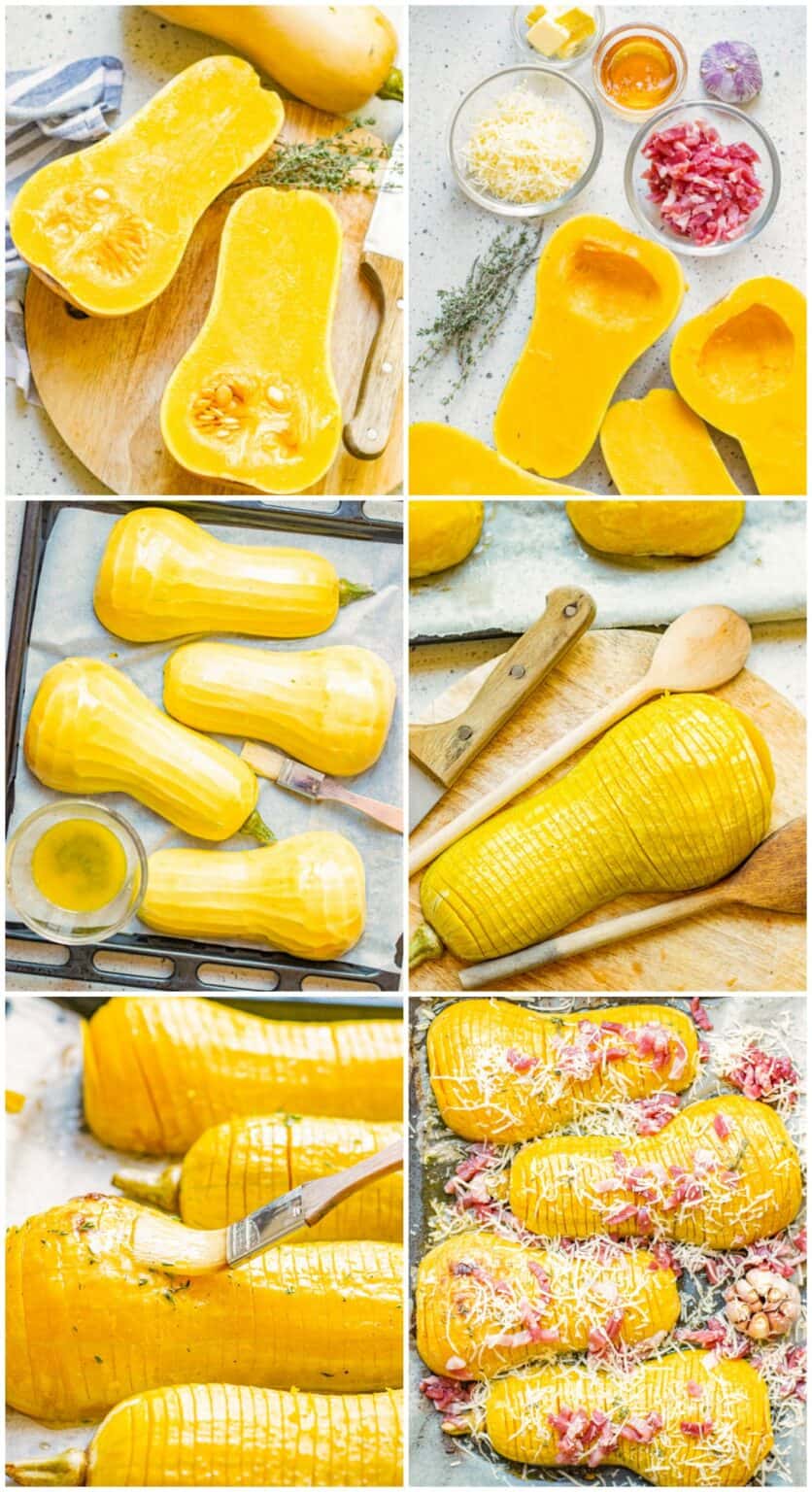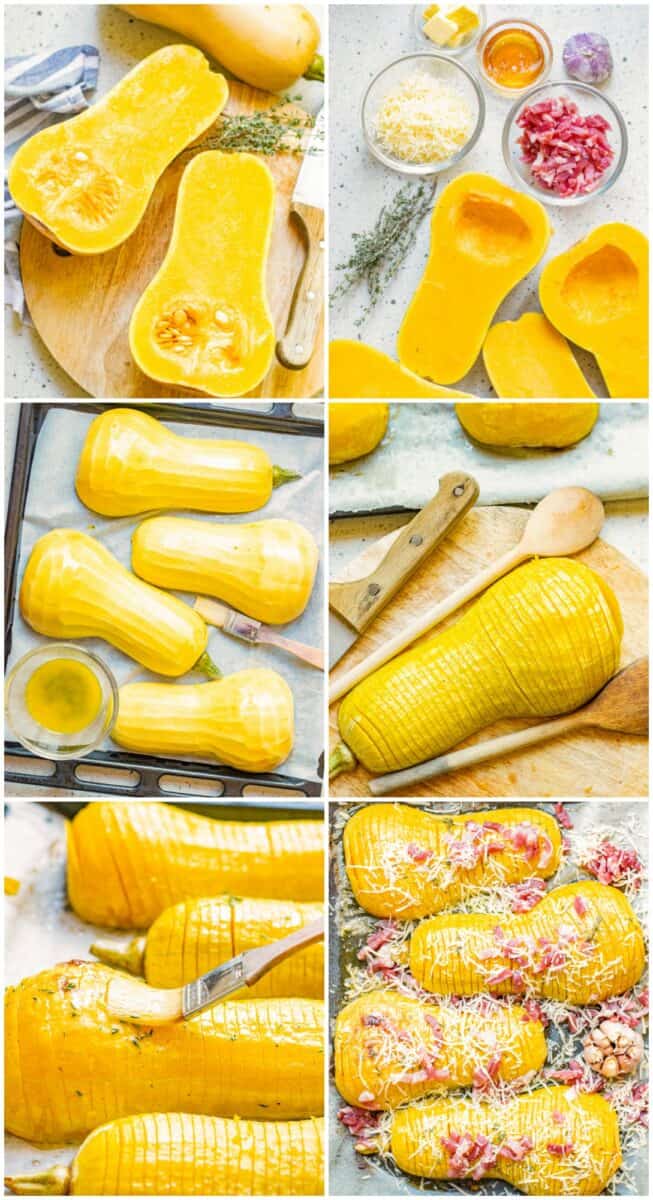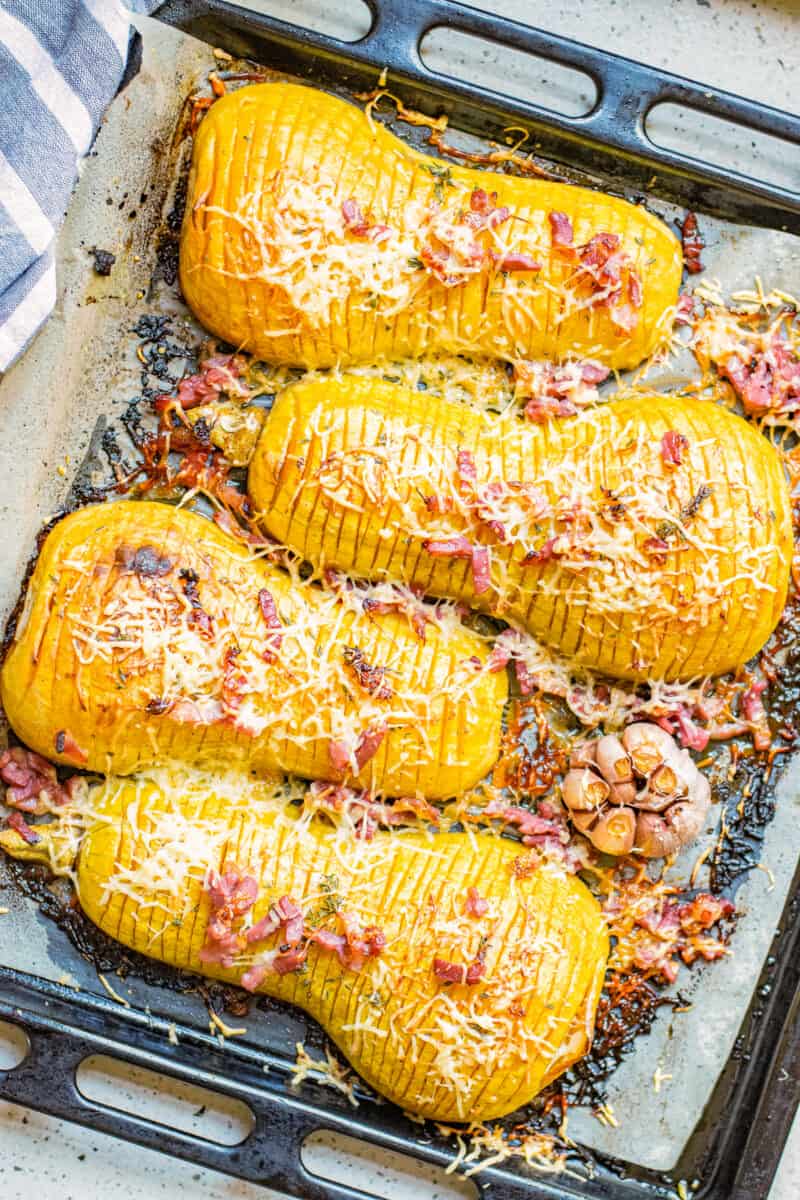 How to make Roasted Butternut Squash
Cut, peel and remove the seeds from the butternut squash.
Brush melted butter over the squash and roast to soften.
Make cuts in the cooked squash to hasselback it.
Brush with oil and thyme and continue to roast.
Top with bacon, parmesan and honey and bake again until done.
Be sure to see the recipe card below for full ingredients & instructions!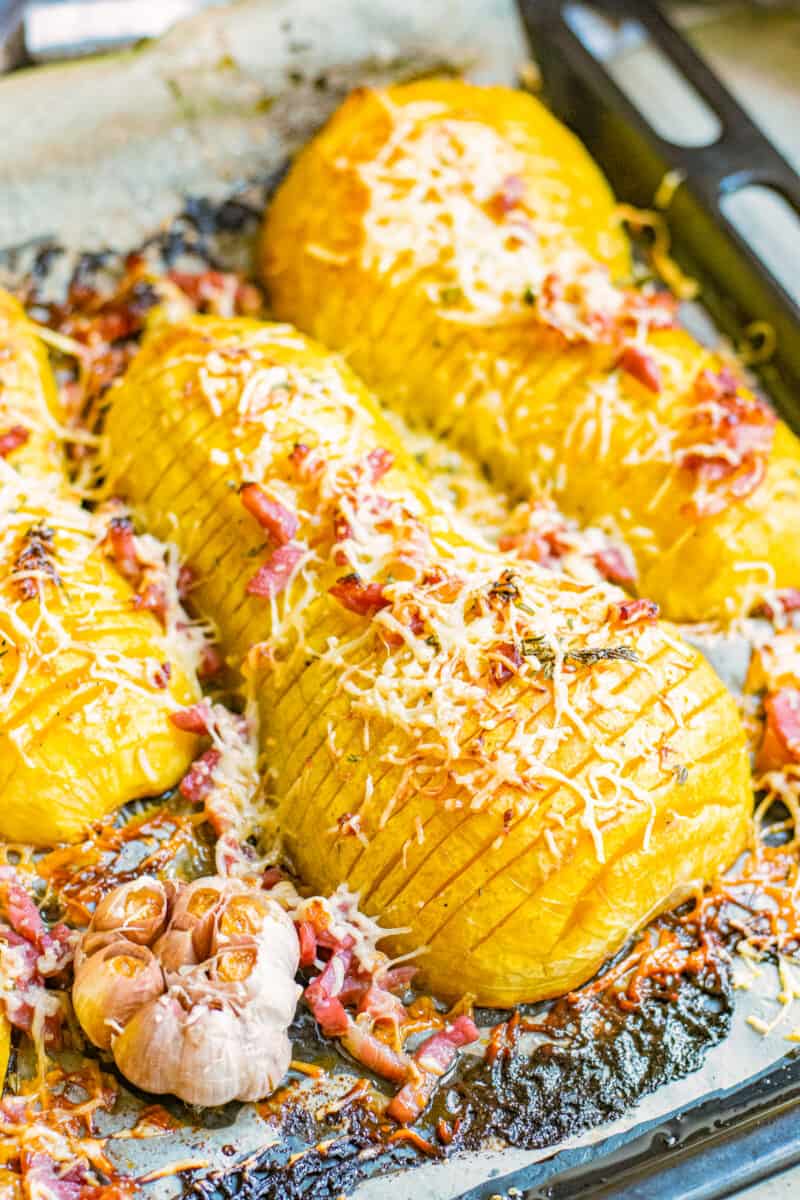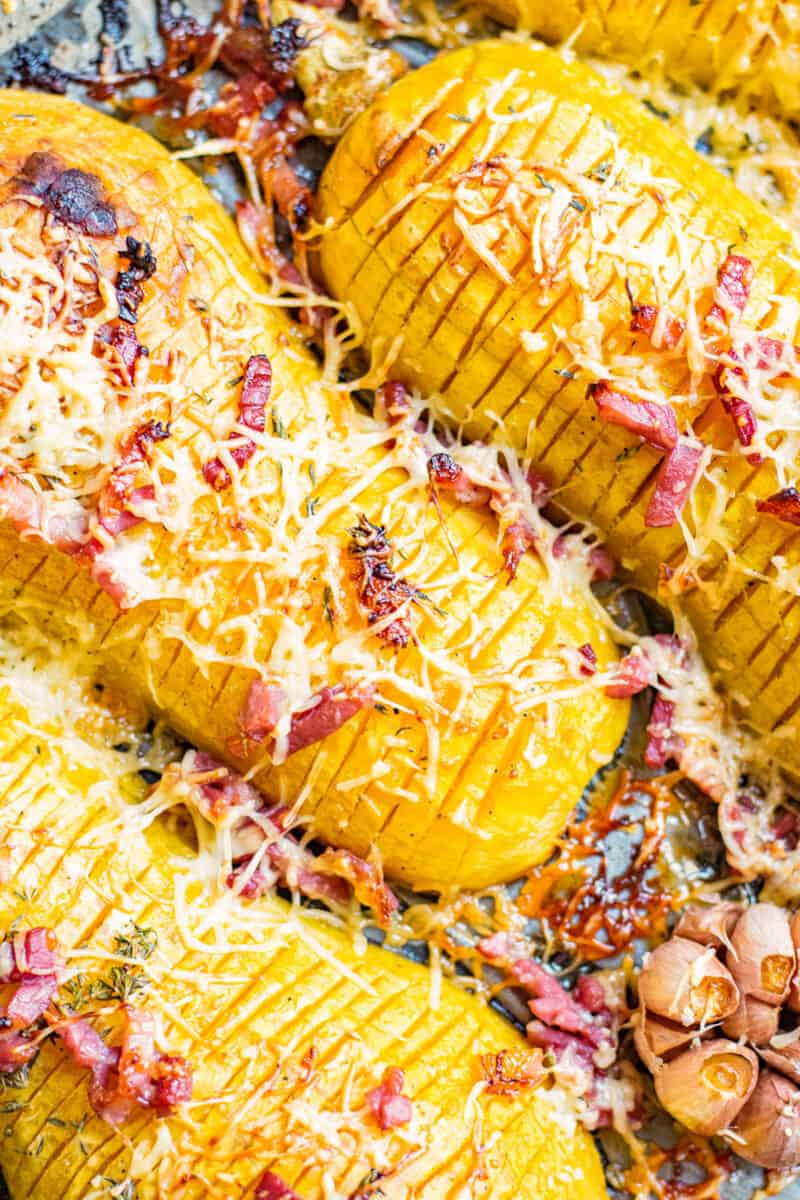 What do you serve it with?
This roasted butternut squash is a versatile side to serve all kinds of tasty mains! If you're roasting meats then this is especially great to cook alongside them. Here's some ideas:
How to slice a Hasselback Butternut Squash
The trick to hasselbacking anything, really, is to make thin, uniform slices that go about 3/4 of the way through.
The easiest way to get uniform cuts that do not slice right through is to line up a wooden spoon on either side of the squash. They act as guides for the knife, this ensures you don't accidentally slice the squash in half!
Remember, you are cutting this after a stint in the oven, it's much easier that way, the squash will be softer. Start your slicing at the thinner end, it's more stable, then finish with the wider, hollow end.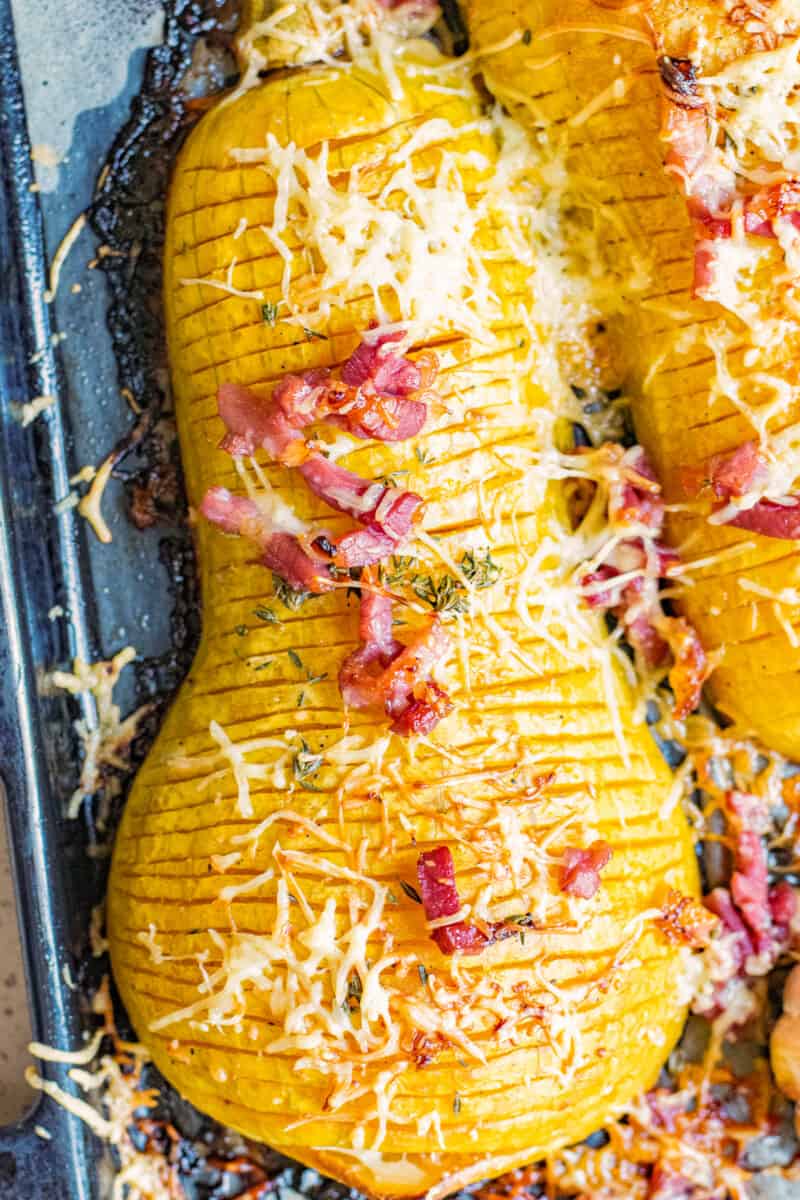 Can I make this in advance?
If you are cooking up a storm and have other dishes to bake, you can make the whole thing in advance, allow it to cool and keep in the fridge until you're ready.
It'll last about 3-5 days in an airtight container in the fridge. Then simply re-heat in the oven for 10-15 minutes when you're ready to serve.
Tips!
Use a preheated oven.
Make sure you use a strong peeler to remove the skin!
For a touch of heat, add some crushed red chili flakes.
To make this vegan, swap out the honey for maple syrup, the butter for olive oil and leave off the bacon.
Make it vegetarian by removing the bacon and adding nuts.
For a festive touch and a pop of color, sprinkle on some fresh pomegranate seeds.
You can replace thyme with sage or bay leaves.
You can also use small butternut squash for individual portions but baking time will take half less time.
Freeze leftover squash and use it in the future as a soup, or mash it up for a tasty side.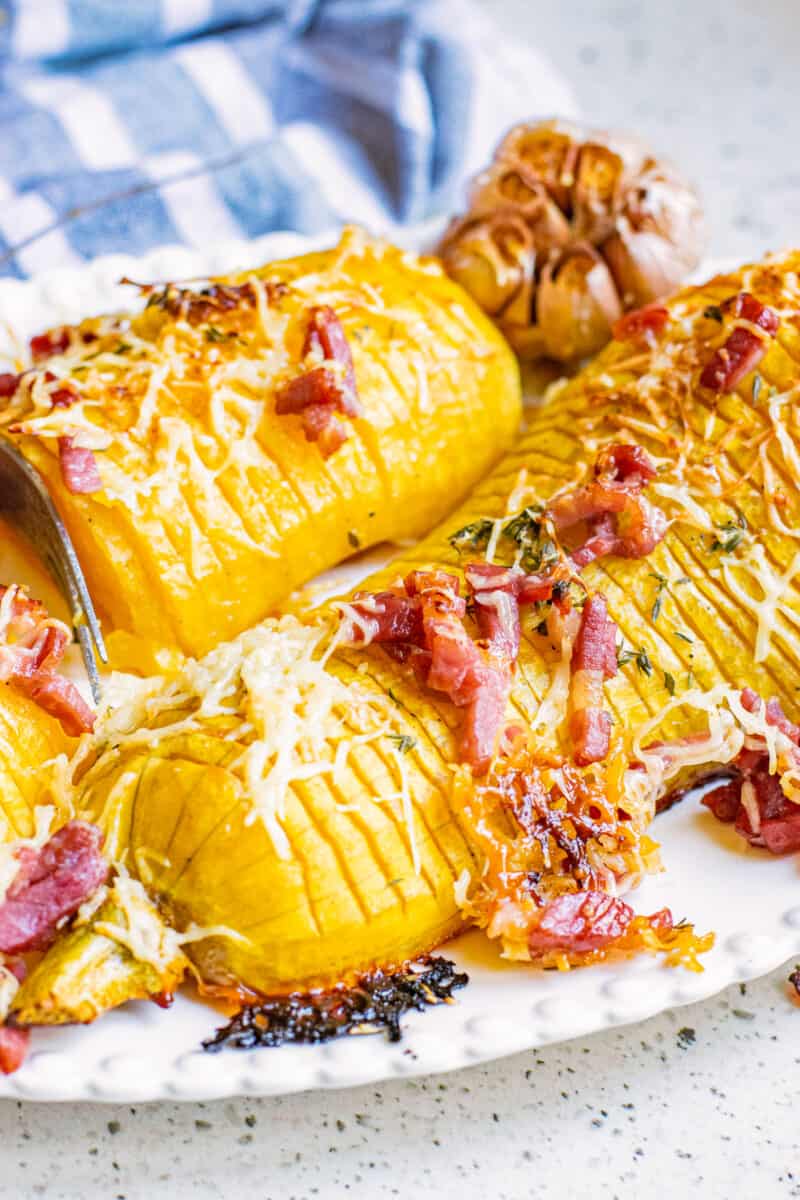 More Delicious Side Dishes